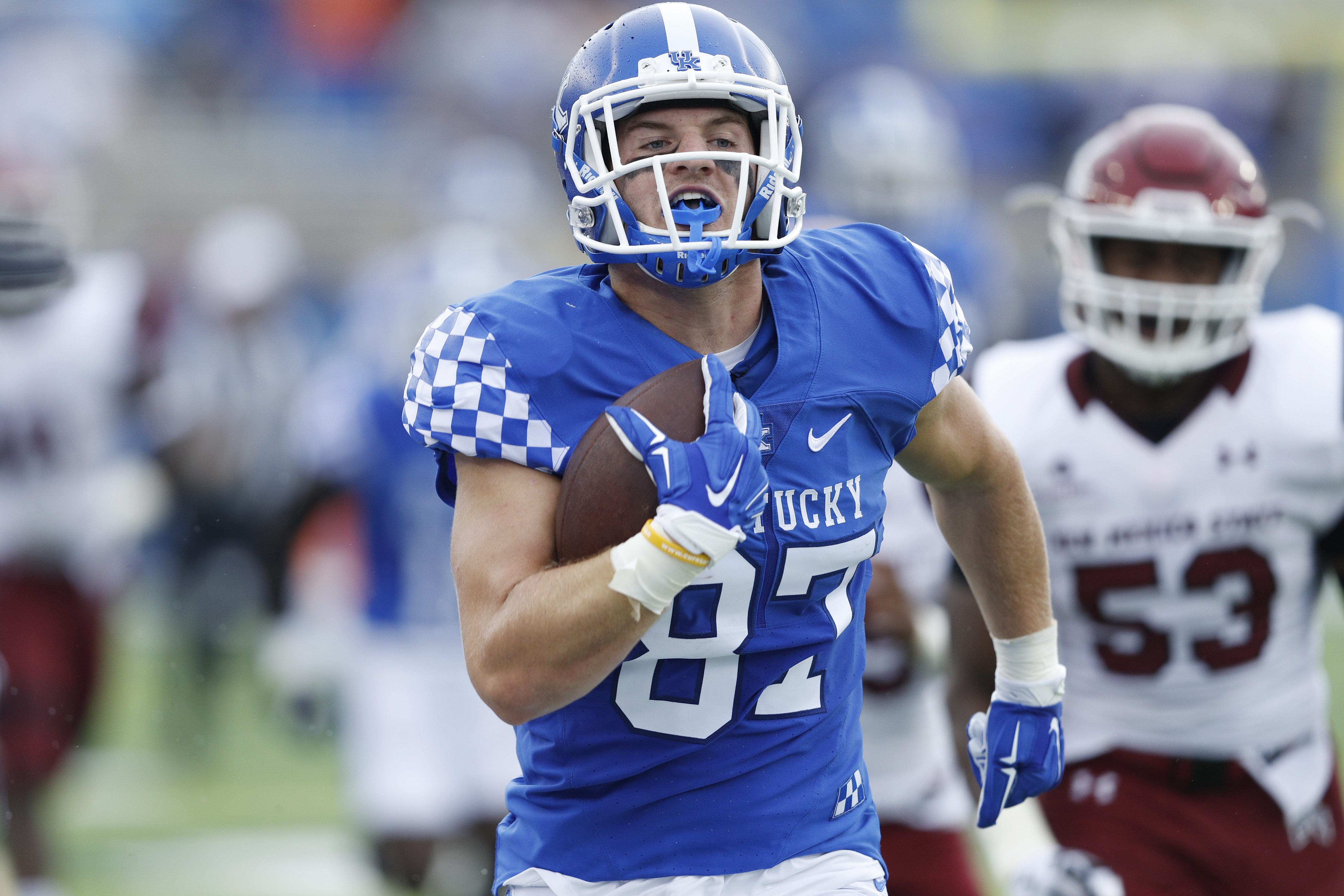 LEXINGTON, KY - SEPTEMBER 17: C.J. Conrad #87 of the Kentucky Wildcats runs after a reception for a 72-yard touchdown in the first quarter against the New Mexico State Aggies at Commonwealth Stadium on September 17, 2016 in Lexington, Kentucky. (Photo by Joe Robbins/Getty Images)
Similar to redraft leagues, dynasty and devy fantasy football leagues see stock fluctuations throughout the season. However, they are not always as obvious since these fantasy owners are playing both a short and long-term game. This series will examine some dynasty and devy options who are emerging or fading as a result of injury, performance, or opportunity.
Dynasty stock up
Mitch Trubisky, QB, Chicago Bears
Looking at the Bears offense, Trubisky has been working with table scraps at the receiver positions after injuries to Cameron Meredith, Kevin White, and Zach Miller decimated their main targets. Nevertheless, Trubisky is 13th among fantasy quarterbacks in scoring over the last two weeks and has avoided turnovers with just two interceptions on almost 150 pass attempts overall. He isn't afraid to go for big plays, ranking fourth in passer rating on deep targets this season. If the team continues to use him on play action — his completion rate is 13 percent higher on those throws — Trubisky could improve even more. The Bears could add multiple weapons this offseason similar to the Eagles and Rams, making this season a terrific buy-low.
Samaje Perine, RB, Washington Redskins
If Washington is ready to commit to the rookie, Perine could be a strong playoff option for teams struggling at the running back position. His biggest hurdle may be the offensive line, a group that has given him less than one yard before initial contact. In Week 11, Perine gained 96 of his 117 rushing yards after contact. Knowing his history at Oklahoma, Perine is capable of handling a heavy workload and gaining extra yardage. With Chris Thompson now out for the season, expect Perine to be heavily featured and a potential offseason sell high in dynasty leagues.
Cooper Kupp, WR, Los Angeles Rams
Kupp has the look of a strong possession receiver. He is tied for third in the NFL with 10 missed tackles forced and his 5.2 average yards after the catch are just behind teammates Robert Woods (5.7) and Sammy Watkins (5.5). The issue is a sudden glut of receivers on the Rams, a phrase not uttered since The Greatest Show on Turf. Kupp has been consistently targeted with less than five targets in only two of ten contests. With the Rams able to get out of the contract of Woods and Watkins becoming a free agent after the season, Kupp could see his stock soar if one is not brought back.
Adam Shaheen, TE, Chicago Bears
The aforementioned Miller injury opened the door for the mammoth (6-foot-6, 270 pounds) rookie tight end. The former basketball player (another one) caught 26 touchdowns in his last two college seasons and is starting to flash some of those skills with the Bears. The fourth-highest-scoring tight end over the last two weeks, Shaheen works primarily over the middle. He has seven of his nine targets for the season in that area of the field and has already grabbed two touchdowns. Shaheen is another of the rookie tight ends exploding early and could be flying under the radar enough to be undervalued still.
Devy stock up
Rashaad Penny, RB, San Diego State
Already a workhorse, Penny has blown up of late. He has three straight games of 200-plus rushing yards and has multiple touchdowns in each of those contests. Penny now leads college football in rushing yards (1,831) ahead of Bryce Love and has a chance to reach the 2,000-yard mark this week. Scouts are split on the young runner but his production and ability to break tackles (65, ranked second) should give him opportunity to prove himself this offseason.
Jordan Lasley, WR, UCLA
An up-and-down season culminated in a three-game suspension for unspecified reasons, but Lasley clearly is a dynamic player. During his time away, the Bruins offense averaged 150 fewer passing yards than the rest of the season. Over the last two weeks, Lasley has caught 17 passes for 366 yards including 204 against USC last weekend. He also has touchdowns in five of his seven games and has caught 50 percent of his deep targets (28th-best). Lasley is only a junior and still needs to polish his technique, but teams could be enamored by his game breaking ability enough to overlook the suspension.
Dynasty stock down
Tyrod Taylor, QB, Buffalo Bills
Regardless of whether the Bills go back to Taylor as the starter, his standing in Buffalo may be irreparably damaged. The Bills ds hold an option for the 2018 season, and they may exercise it simply looking to get value back for the veteran starter. It could come down to the team's draft results and offseason movement at the position as to Taylor's future with the Bills.
Devontae Booker, RB, Denver Broncos
Maybe John Elway owns him in a high-stakes dynasty league, but the Broncos can't seem to quit Booker. That's unfortunate, since he has shown little to warrant the amount of faith the front office has given to him. He did catch five passes in Week 11 but did little else on his 19 touches overall. This will continue to be a committee situation with the team perhaps looking to an NFL draft featuring another strong running back class.
D'Onta Foreman, RB, Houston Texans
This is less of a downgrade of his value as it is a missed opportunity to raise his stock further. Foreman saw double-digit carries in three of his last four appearances, but unfortunately a torn Achilles tendon will end his season. With his general stock down, this is the time to buy on Foreman as most owners temporarily lower the price on injured players. Lamar Miller is not guaranteed money after this season, so the team could move on from him quickly if they believe Foreman is the answer. It could be a cheap price to take a guess on that question.
Tyrell Williams, WR, Los Angeles Chargers
This isn't a suggestion to sell Williams, but clearly the ship has sailed on his position as a primary option in this offense. He has failed to catch more than two passes in a game in the past four weeks despite playing just 18 fewer snaps than Keenan Allen during that time. He has also only caught one of nine deep targets (11 percent) this season after catching nine of 25 (36 percent) in 2016. Williams is a hold for owners but a change of scenery couldn't happen soon enough.
Devy stock down
Richie James, WR, Middle Tennessee
A personal favorite, James was expected to have a season similar to the volume-heavy 2016 enjoyed by Zay Jones. Unfortunately, a collarbone injury ended what was an inconsistent season. 18 receptions in the first two weeks were a great start until a high ankle sprain in Week 3 derailed him for nearly a month. He came back only to suffer this setback, which costs James the opportunity to build momentum leading towards the NFL draft.
C.J. Conrad, TE, Kentucky
Conrad, among the top-rated tight end prospects heading to the NFL draft, also suffered an injury that will end his season. He may not enter the draft — he still has eligibility remaining — and decide to stay to try and improve his stock further. Conrad has the size (6-foot-5, 245 pounds) and showed big-play ability with his 2.33 yards per route run, good for eighth at the position prior to the injury.