Hello, and welcome to the Week 10 Actual Opportunity Report. Actual Opportunity is our approximation of how many fantasy points a player should score based on workload. If you're unfamiliar with Actual Opportunity and how it applies to fantasy football, you can read the in-depth explanation here.
Essentially, we're using a 10-season sample of play-by-play data to calculate expected fantasy points from a player's seasonal or weekly usage. We look at each target (by distance from the end zone and depth of target) and each carry (by distance from the end zone and down and distance) and add this up to determine how valuable a player's role is for fantasy purposes. We can contrast this with fantasy production to measure efficiency.
In layman's terms, Actual Opportunity is "how many points a player should have scored" given his workload, based on what the average player would have scored. "Expected fantasy points" will be used interchangeably with "Actual Opportunity" throughout this article.
Through nine weeks, here are the top-35 players in expected fantasy points per game. After that, we'll look at some notable standouts: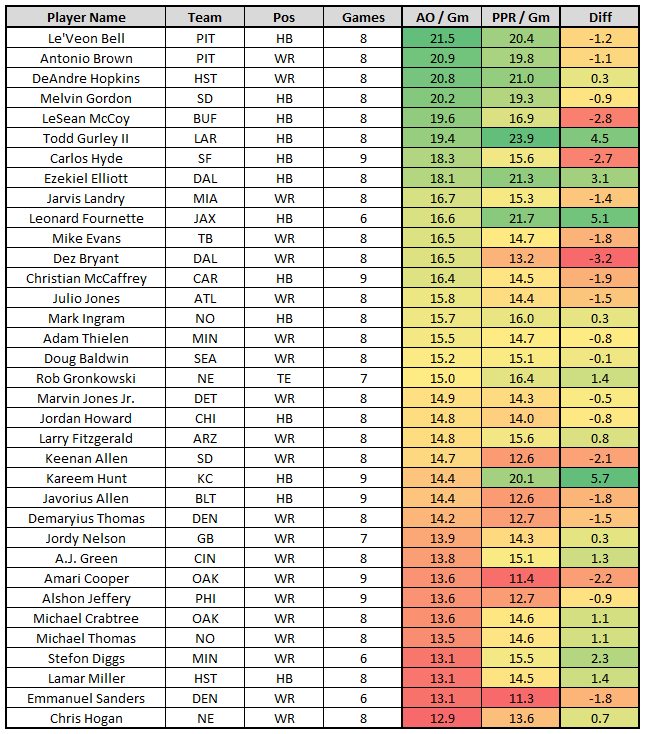 (AO: 11.9, PPR: 13.6)
Hilton was our single most efficient player in Week 9, and put together the most efficient week of any wide receiver this season. He saw eight targets, including three deep targets and one end-zone target, turning 15.7 expected fantasy points into 34.5 actual fantasy points. The majority of his production came on a simple 5-yard target that he turned into an 80-yard score. He also caught two of his three deep targets for a combined 75 yards and another touchdown. The matchup was especially strong in this regard, up against a Texans defense allowing the second-most deep fantasy points per game to opposing receivers. Head coach Chuck Pagano had also said earlier in the week that the team needed to find ways to get Hilton the ball, but there really wasn't much separating Hilton and TE Jack Doyle in terms of volume in Week 9. Doyle led in targets (nine to eight), but was trumped in expected fantasy points (15.7 to 13.5). Doyle leads all tight ends in targets per game (7.9) and still leads the team (and ranks fourth among tight ends) in expected fantasy points per game (12.1).
Subscribe to PFF Edge to continue reading
Already have a subscription? Sign In