After grading and analyzing every player on every play of every game during the 2018 college football season, it's time we unveil the 2019 Preseason PFF All-AAC first team, second team and honorable mention for every position on offense and defense as well as for the first time ever, specialists.

The Preseason All-AAC list may differ a bit from any year-end look back at the previous season as we project to the 2019 season ahead of us. Find out which of these athletes made the PFF All-American team as well.
First-Team Offense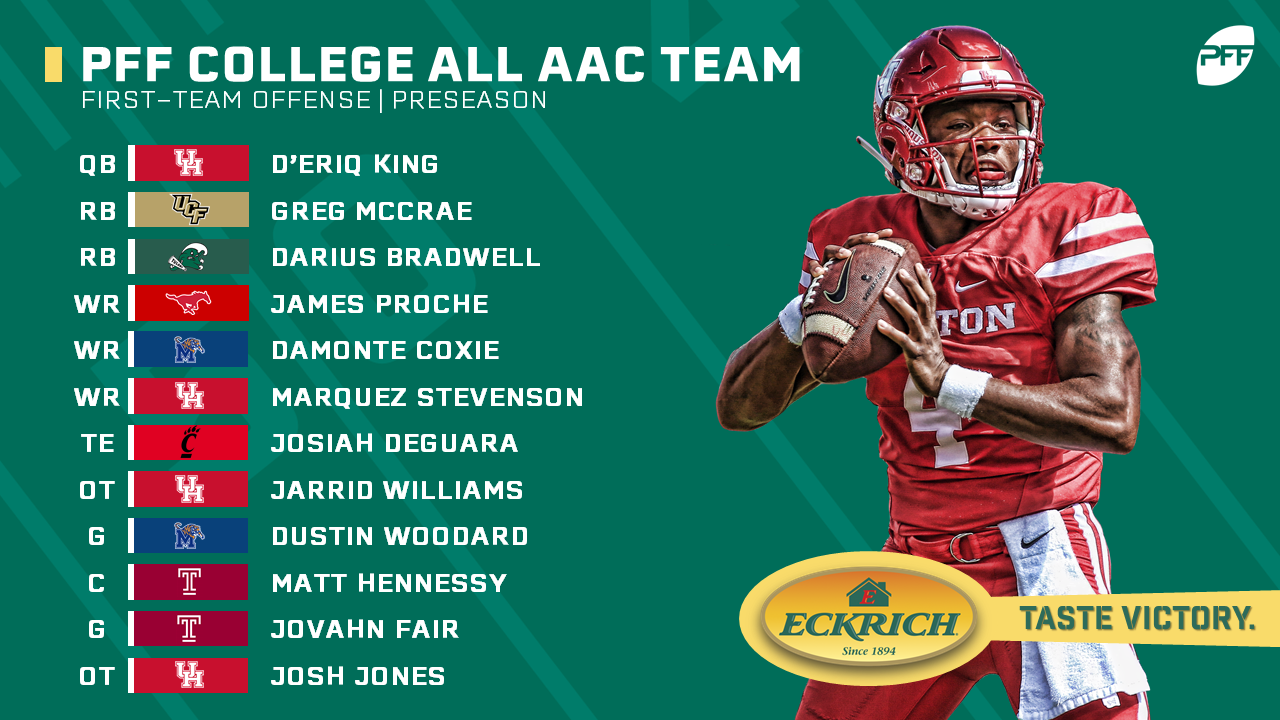 Quarterback play is the name of the game in the AAC this season as D'Eriq King, Anthony Russo and Desmond Ridder receive all the chatter, rightfully so. King is one of the most electric players in all of college football while a duo of central Floridians highlight the defensive team in UCF's Richie Grant and USF's Mike Hampton.
QB
D'Eriq King, Houston
Second-Team: Anthony Russo, Temple
Honorable Mention: Desmond Ridder, Cincinnati
RB
Greg McCrae, UCF
Second-Team: Michael Warren II, Cincinnati
Honorable Mention: Patrick Carr, Houston
RB
Darius Bradwell, Tulane
Second-Team: Johnny Ford, USF
Honorable Mention: Patrick Taylor Jr., Memphis
WR
James Proche, SMU
Second-Team: Darnell Mooney, Tulane
Honorable Mention: Isaiah Wright, Temple
WR
Damonte Coxie, Memphis
Second-Team: Reggie Roberson Jr., SMU
Honorable Mention: Randall St. Felix, USF
WR
Marquez Stevenson, Houston
Second-Team: Gabriel Davis, UCF
Honorable Mention: Jalen McCleskey, Tulane
TE
Josiah Deguara, Cincinnati
Second-Team: Joey Magnifico, Memphis
Honorable Mention: Mitchell Wilcox, USF
OT
Jarrid Williams, Houston
Second-Team: Marcus Norman, USF
Honorable Mention: D'Ante Smith, ECU
OG
Dustin Woodard, Memphis
Second-Team: Dylan Parham, Memphis
Honorable Mention: Cam DeGeorge, UConn
C
Matt Hennessy, Temple
Second-Team: Jordan Johnson, UCF
Honorable Mention: Ford Higgins, Navy
OG
Jovahn Fair, Temple
Second-Team: Nino Leone, UConn
Honorable Mention: Morgan James, Cincinnati
OT
Josh Jones, Houston
Second-Team: Matt Peart, UConn
Honorable Mention: Ryan Van Demark, UConn
First-Team Defense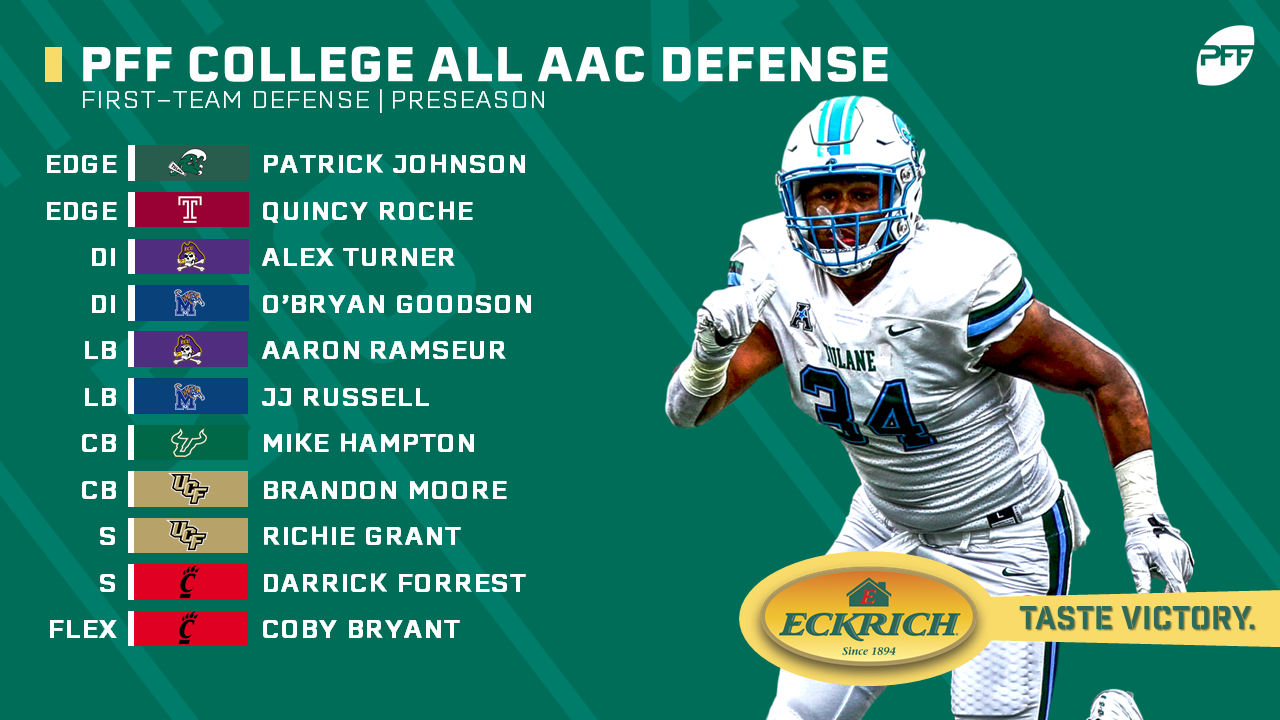 Edge
Patrick Johnson, Tulane
Second-Team: Trevis Gipson, Tulsa
Honorable Mention: Joseph Dorceus, Memphis
Edge
Quincy Roche, Temple
Second-Team: Kirk Livingstone, USF
Honorable Mention: Bryce Huff, Memphis
DI
Alex Turner, ECU
Second-Team: Travis Jones, UConn
Honorable Mention: Kevin Kegler, USF
DI
O'Bryan Goodson, Memphis
Second-Team: Tyarise Stevenson, Tulsa
Honorable Mention: Dan Archibong, Temple
LB
Aaron Ramseur, ECU
Second-Team: Sam Franklin, Temple
Honorable Mention: Austin Hall, Memphis
LB
JJ Russell, Memphis
Second-Team: Perry Young, Cincinnati
Honorable Mention: Zaven Collins, Tulsa
CB
Mike Hampton, USF
Second-Team: Colby Gore, ECU
Honorable Mention: Linwood Crump, Temple
CB
Brandon Moore, UCF
Second-Team: Kevin Johnson, SMU
Honorable Mention: Cameron Jefferies, Cincinnati
S
Richie Grant, UCF
Second-Team: Jacob Springer, Navy
Honorable Mention: Sanchez Blake Jr., Memphis
S
Darrick Forrest, Cincinnati
Second-Team: Benny Walls, Temple
Honorable Mention: Patrick Nelson, SMU
Flex
Coby Bryant, Cincinnati
Second-Team: T.J. Carter, Memphis
Honorable Mention: Chase Kuerschen, Tulane
First-Team Specialists
K
Jake Verity, ECU
P
James Smith, Cincinnati