The ACC has had its share of stops and starts this season, between Virginia Tech, Notre Dame and North Carolina, among others, but the conference is still playing good football when it does get on the field.
Clemson's Trevor Lawrence continues to be special, while Pitt's Kenny Pickett might be the third-best quarterback in the conference, just as everyone predicted.
Let's get into the film room.
No Explosives
Sam Howell and the North Carolina offense continues to sputter. They were eventually able to score some points in their 31-6 victory over Syracuse in their first game of the season, and after some time off, they went back to work against Boston College in Week 5 and scored 14 points in the first quarter but only 10 points after that. They ended up holding off the Eagles at the death, but the offense still looked incredibly out of sync.
Sam Howell posted a disappointing 55.5 grade against Boston College this past Saturday, though full marks must be given to an improved BC defense. Against the RPO-heavy Tar Heels, the Eagles played a ton of single-high man coverage and were sticky in one-on-one situations.
Howell actually threw the ball well in the short and intermediate parts of the field, going 5-for-6 for 107 yards in that 10- to 19-yard range — he was accurate, especially to receivers on the move.
The problem with the Phil Longo offense is that its reliance on vertical go-balls makes it a potentially hit-or-miss outfit. For example, Sam Howell did not complete a single one of his six passes that traveled at least 20 yards in the air downfield. That put his two-game season totals at 0-for-10 on those throws.
You'd believe there will be some positive regression heading their way. Still, Howell simply has to do a better job of looking off safeties in order to throw these balls down the field. We saw Andre Cisco come down with an easy interception against Howell in NC's first game, and the same thing happened this past Saturday against Boston College.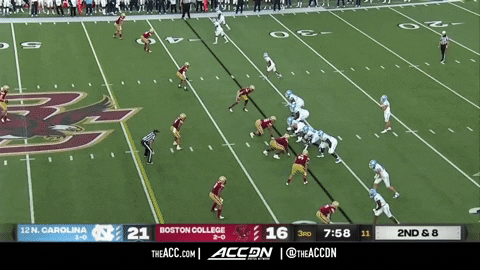 There isn't much to say here other than Howell stares down the wide side of the field against Cover 1 for the whole snap.
The safety opens to that side of the field and keeps making his way to the sideline with Howell never telling him otherwise. With a throw to the far sideline, the ball will almost inevitably be thrown a little inside, which allows the safety to make one of the easiest interceptions of his life. The above play was called back due to pass interference on the Boston College cornerback, but the point still stands.
Last season, Howell hit three 20-plus-yard throws a game, and his 92.8 passing grade on those throws was good enough for 24th in the FBS. This season, however, that grade is at 30.6, ahead of only Army quarterback Christian Anderson.
These types of offenses need those vertical shots to hit because they take so many of them. Howell was not the most accurate quarterback overall last season — in fact, he was the 48th-most-accurate quarterback in the FBS last season, per PFF's ball-location data — but he hit so many explosive plays down the field that it didn't matter. He seems to have become a little more refined in other areas of playing quarterback, but until those go-balls start hitting again, it will be tough sledding against the better ACC teams. The Tar Heel defense has kept them in both games.
UNC still sports a 2-0 record even though the supposedly explosive offense is still trying to find some footing, and that's good news. They can make corrections and still know that they are not out of the ACC title-game race.
The Eyes Tell the Whole Story
Trevor Lawrence continues to put the finishing touches on what will go down as one of the 10 best quarterback careers in college football history.
Lawrence struggled to use his eyes to manipulate defenders in 2019, especially during the first half of the campaign, which was a significant contributing factor to his very bad 68.8 passing grade after the first six weeks. He was staring down receivers and assuming he could always make an accurate throw, regardless of coverage.
His eyes have been superb this year, and this new development is a part of the reason why he's leading the nation's quarterbacks in PFF passing grade (94.5) to start the year.
Lawrence's timing has always been superb — it's why he ranks among the nation's best in pressure rate — but now that he's going through progressions in such an incredible manner, there's almost no doubt he's going to be the first quarterback off the board in the 2021 draft.
This completion on the smash concept showed off exactly what Trevor Lawrence is as a quarterback right now: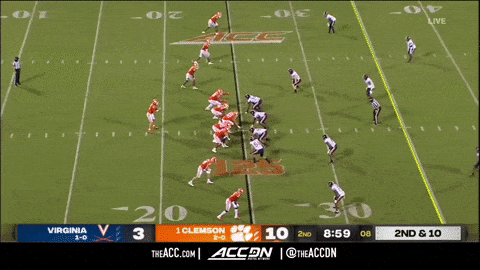 The Cavaliers lined up with three high safeties pre-snap on this second-and-long play, so Lawrence isn't sure exactly what Virginia is going to be playing. So, he starts his dropback looking to the top side of the screen and sees the middle safety rotate down a little before the snap.
The Clemson QB could probably work that curl-flat combination to the top, but he knows the bigger play is the corner route to the weak side of the field against what is now a two-high zone coverage. As Lawrence gets his eyes to the weak side of the field, his eyes pass through the (very) deep safety, which means that once he hits the last step of his dropback, he'll need to get his eyes on the bottom-side cornerback. All of this is happening within three steps. He gets to the end of his dropback, sees that the cornerback is low, and fires off one hitch. Everything leading up to the throw is super clean, and he then uncorks a beauty to the sideline.
Also, he did this: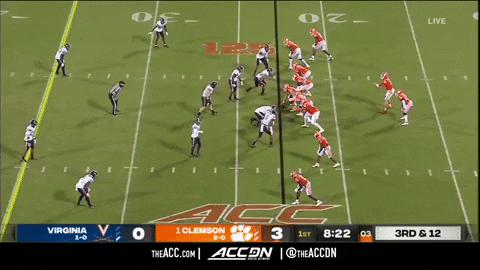 Lawrence was off by a bit on a couple of his patented wide-side speed routes, but other than that, he was lights out once again. Virginia has a good ACC defense, but it doesn't even matter. The big test will come next week against Miami.
Pickett's Charge
 Are we finally seeing the real Kenny Pickett?
The Pitt quarterback was inconsistent last season while playing behind a porous offensive line that ranked 75th nationwide in our pass-blocking efficiency metric. He was put under pressure on 223 of his dropbacks — just by volume, it was the second-highest total in the FBS.
Pickett responded with a 59.2 passing grade under pressure, which is not bad all things considered, but his 83.4 passing grade when kept clean was not elite by any means, though you can understand how skittish a quarterback would be when he's constantly staring at defenders bearing down on him.
This season, with a slightly better offensive line, Pickett has been able to stay calm and create big plays down the field. His 91.4 grade when kept clean is eighth-best in the FBS, and he's yet to have a turnover-worthy play. There are still issues under pressure, but when the rate of pressure goes from 39% to 27%, at least there is more chance of good quarterback play.
Pickett might not be an NFL quarterback, but Pitt finally looks to have a sturdy presence back there. Pickett's two highest-graded games in his career have come this season. He really has turned a corner.
The Panthers lost a heartbreaker to NC State over the weekend, but if Pickett keeps playing like this, his team could make for an upset or two.
Finally, a Quarterback?
Florida State's Tate Rodemaker got the start against Jacksonville State, but it quickly became clear that the true freshman was not ready for college football, and he certainly was not ready to play behind that FSU offensive line.
Rodemaker's 26.9 passing grade is the worst mark for any FSU quarterback with at least 10 dropbacks in a game since 2015. And while the team saw something similar from both James Blackman (29.1) and Alex Hornibrook (29.9) last season, at least those grades came against the Clemson defense.
Florida State found themselves down big against their FCS foe in Week 5, so Mike Norvell turned to Jordan Travis to get the machine going, and Travis ended up with a 79.4 grade — the 12th-best single-game grade by an FSU QB since 2015. A whale of a difference.
The most important thing he did was deliver on the called shot plays he was given. He hit two big posts — one for a touchdown, and both while FSU trailed — that kept them in the game.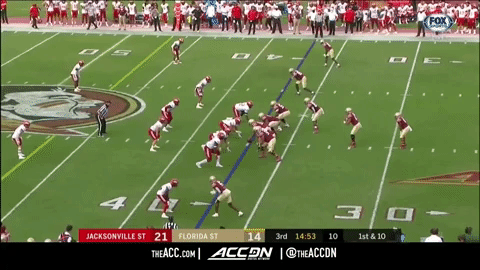 This is designed to go either to the post route or the slot receiver's deep crossing route. Travis is reading the weakside safety in JSU's two-high coverage shell. Once the quarterback gets outside off the play fake, that safety has stayed low enough with his eyes on the crossing route. This opens up the post route that Travis throws for a big play.
The two big-time throws already make up 40% of the big-time throws by Florida State this season, even though Travis has taken just 18% of the dropbacks.
Any type of quarterback stability would be huge for this program, but we should still pump the brakes a bit. It's just one game, and while Jacksonville State is a very good FCS program, they are still an FCS program.