The Big Ten created its football championship game in 2011 after a conference realignment in the midst of Ohio State's rocky split from Jim Tressel, a one-year rebound with Luke Fickell and then a marriage to Urban Meyer — with a first-year probation attached to it.
This meant Ohio State did not or could not make the first two Big Ten championship games. As such, Wisconsin came out on top in the first two editions of the contest. The Big Ten may have hoped for some parity regarding the conference winners, but since those early years, Ohio State has dominated.
The Buckeyes have played in six of the past eight championship games, winning five in total and each of the past four. Their three most recent titles came by an average margin of 15 points. It's been a dominant run for the class of the Big Ten.
Could we see another team upset the apple cart and win the Big Ten this season? Based on PFF's conference title odds — Ohio State is at 47% — here are the three teams that could pull off the upset.
Subscribe to
Conference Title Odds: 17%
Iowa is set everywhere except at quarterback. The Hawkeyes return one of the best offensive lines and secondaries in the country and have a very reasonable Big Ten schedule, missing out on both Michigan and Ohio State.
The offense will be hoping quarterback Spencer Petras takes his play up a notch because trying to win games off a solid run game and defense alone is not going to cut it. Last season, 98 FBS quarterbacks took at least 100 dropbacks without screens, RPOs, play action or rollouts, and Petras ranked 98th in overall grade (53.1). The Hawkeyes will inevitably be in a high-leverage situation in need of a big play in the passing game. They failed to execute in such situations last year.
As of now, we have no evidence that Petras can pull those plays off. His biggest issue is accuracy. His 28% uncatchable throw rate ranked 114th among the 133 quarterbacks with at least 100 throws overall last season. It didn't really matter where he targeted his receivers, either. He was 86th out of 109 passers with at least 50 attempts between one and nine yards in the same stat category. He also slotted into 108th out of 125 throwers with at least 25 throws in the 10-19 yard range and 86th out of 99 throwers with at least 25 throws beyond 20 yards.
It's going to be tough for Iowa to sustain its offense when almost one-third of the offense's throws — in any situation, not just straight dropbacks — are uncatchable.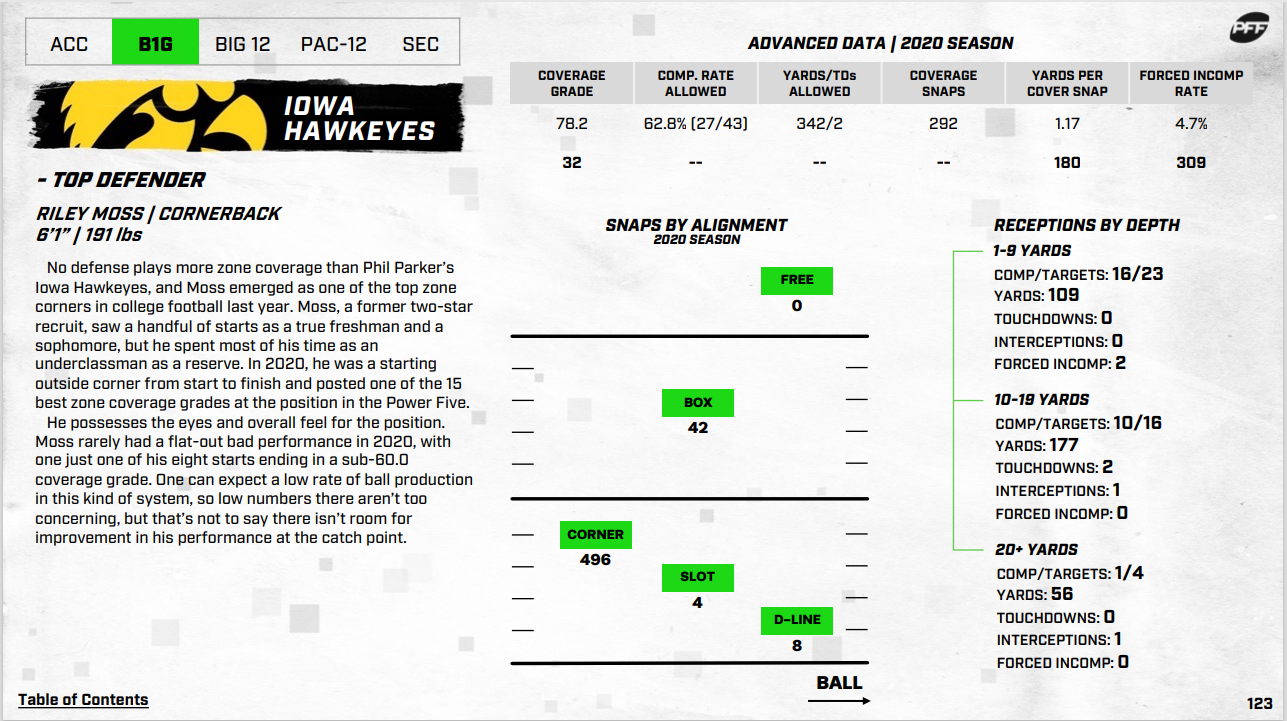 Hawkeyes fans will be hoping that Petras follows a similar trajectory to TCU quarterback Max Duggan, who took his play to new heights from 2019 to 2020. Duggan's passing grade in 2019 was 57.0, right next to Petras' 56.9 mark in 2020. Duggan was able to cut down on turnover-worthy plays and up his accuracy and big-time throw rate slightly to push his grade to 69.9.
Subscribe to PFF Edge to continue reading
Already have a subscription? Sign In