Simple variables like score, venue and date of each game are the core of most rating systems, and they usually are plugged into a calculation to measure past performance. However, utilizing historical point-spread and total odds — instead of the game score — shows how betting markets viewed each team pre-game.
Based on where the market has previously expected games to land, we can build market-implied power ratings based on the latest information for each team. By updating our offensive and defensive ratings using this approach, we get a useful look into how the betting market measures each team's strength heading into a given week.
Subscribe to
Besides betting ratings, we can also gauge sentiment from previous performance to understand how a team is viewed in the eyes of the market. Knowing which teams are becoming popular or overlooked can help us identify buying opportunities on certain matchups. This article is agnostic of matchups but should help you find betting opportunities on any given weekend. 
The basis is our market-adjusted Massey Rankings, which input spread and total for each week to build a power rating based on betting markets for each team. Each team is listed in order of where it falls in this ranking, along with how it compares to a league-average team on the point spread. This is useful information for how the betting market views teams, but some situations aren't fully understood using this methodology. An example is the Cowboys, who were a quality team to start the season, but are in shambles with Dak Prescott on the sideline. They continue to slide in these ratings, but at a slower pace than a manual adjustment to remove quarterback play would cause them to fall. 
We also provide data on a team's previous betting market performance, along with PFF specific metrics that we use in our version of Elo power-rankings and opponent-adjusted grades. These ratings help in situations like the Cowboys, where we can include player-level components into our models.  Putting all of this information in one place, along with context on how it is actionable going forward, can help NFL bettors get an initial gauge on the betting outlook for every NFL team.
Market-adjusted Massey Rankings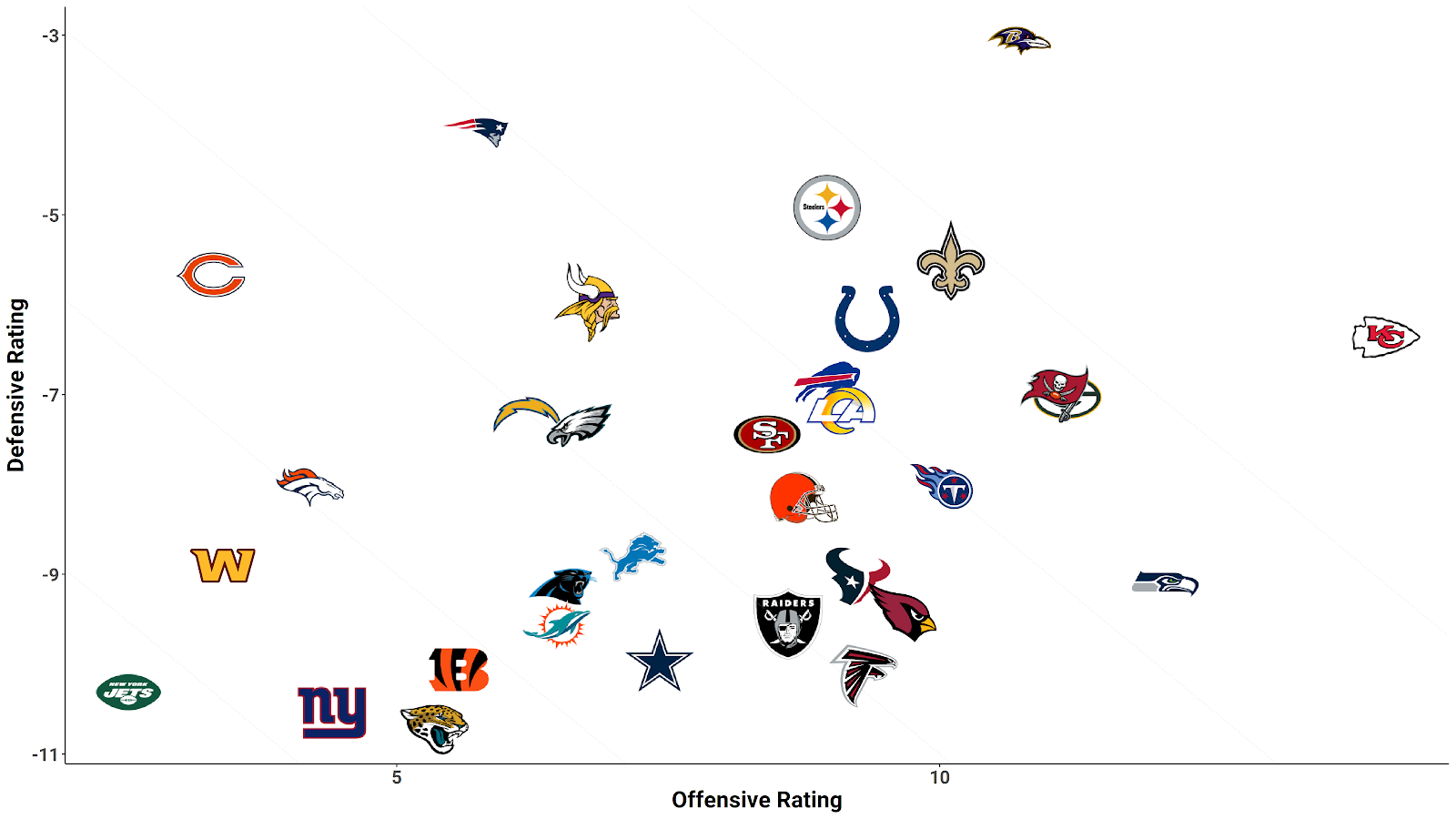 Let's take a look at where all 32 NFL teams stack up when using this method.
ARZ | ATL | BLT | BUF | CAR | CIN | CHI | CLE | DEN | DAL | DET | GB | HOU | IND | JAX | KC | LVR | LAC | LAR | MIA | MIN | NE | NO | NYG | NYJ | PHI | PIT | SF | SEA | TB | TEN | WFT
Power Ratings
| | | | | | | |
| --- | --- | --- | --- | --- | --- | --- |
| Market-implied Massey ranking | Elo ranking | Opponent-adjusted passing grade | Opponent-adjusted rushing grade | Opponent-adjusted receiving grade | Opponent-adjusted coverage grade | Opponent-adjusted pass-rush grade |
| 1 | 1 | 2 | 5 | 4 | 17 | 29 |
Outlook
The Chiefs are in a class by themselves, as it is obvious that Mahomes is the best quarterback on the planet. They are just shy of 10 points better than a league-average team based on spread but haven't received a ton of in-week line movement in their direction. 
They have a pretty significant leverage spot this weekend, with a current 93% probability to win the AFC West. At +330 to win the Super Bowl, our latest simulation gives a slightly better probability of 25%, indicating value still exists at their short number. They appear to be a lock for the playoffs no matter the outcome this weekend, but a loss could provide further value on all of their future markets. 
The betting market could be overvaluing the spots where they have looked beatable, as their 6-3 ATS record means they have exceeded market expectation. 
Betting market performance
Spread points above average:

9.9

Against the spread record:

6-3

Games where they received majority of cash percentage:

8 of 9

Total line swing:

2

Playoff odds:

100%




---