• Panthers QB Josh Love impresses in Week 1: He recorded a 100% adjusted completion rate after his receivers dropped his only two incompletions.
• Maulers DI Boogie Roberts makes his presence felt: He finished with two tackles for loss or no gain in the run game and five quarterback pressures as a pass rusher.
Estimated reading time: 4 minutes
---
PFF has you covered for all offseason leagues, in addition to grades and analysis for the NFL and college football. We'll be diving into every USFL team's highest-graded players each week. Let's get into the numbers ahead of Week 2.
Be sure to also check out our XFL highest-graded players.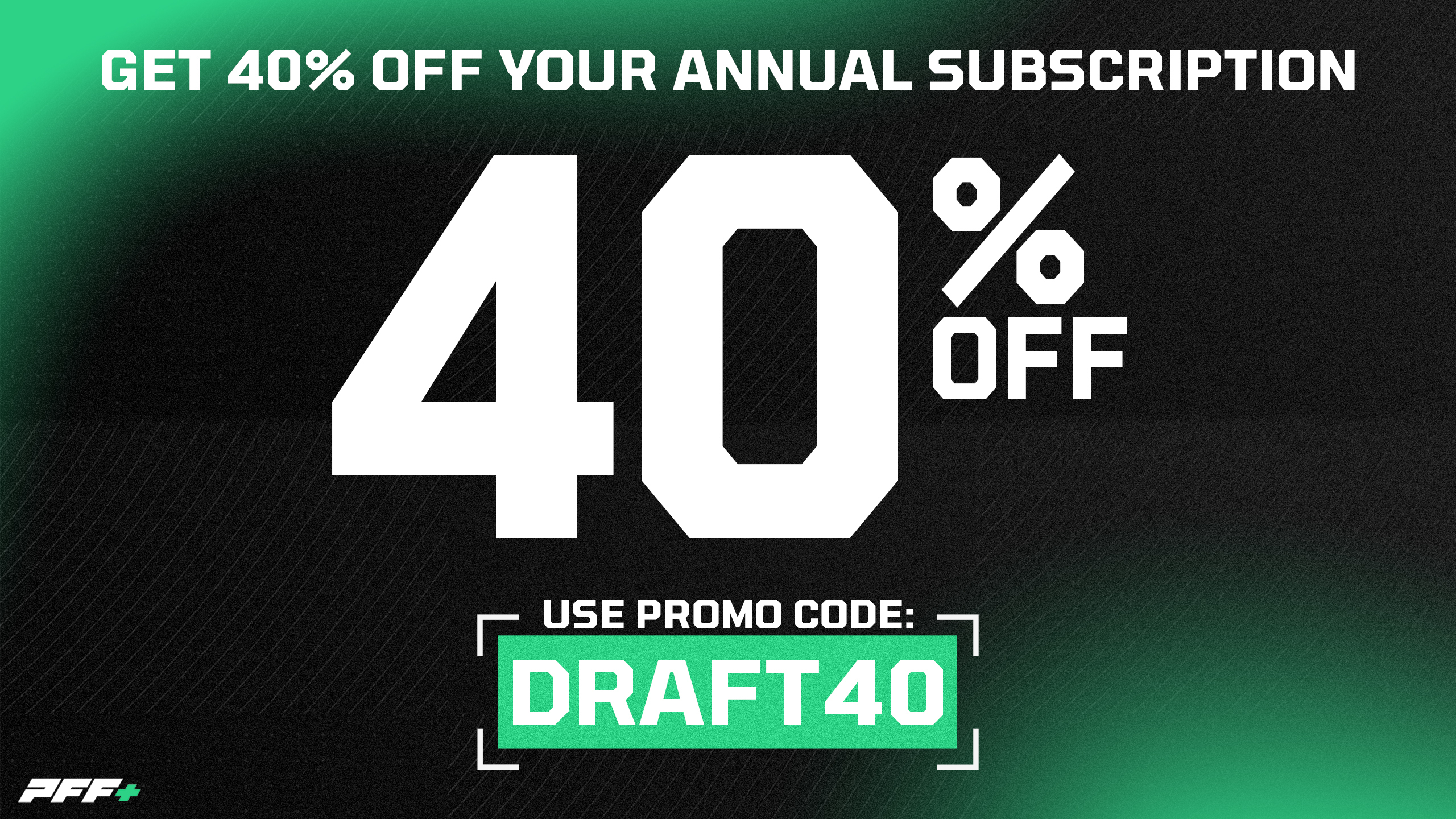 ---
Birmingham Stallions
QB Alex McGough (76.2)
CB Brian Allen (73.7)
TE Jace Sternberger (72.8)
EDGE Joe Jackson (71.8)
S Tyree Robinson (70.7)
Alex McGough's best play of Week 1 came with his legs rather than his arm. A third-quarter, 29-yard scamper put the Stallions up 24-10, in full control. With J'Mar Smith now on injured reserve, McGough will be tasked with leading the Birmingham offense moving forward.
Brian Allen allowed just 10 yards in coverage on four targets this past week, making two tackles to boot. He played 42 snaps overall, including 25 in coverage.
---
Houston Gamblers
OT Na'Ty Rodgers (70.7)
EDGE Reggie Walker (70.5)
CB Nick Grant (70.2)
DI Chigozie Nnoruka (68.6)
WR Teo Redding (68.2)
Na'Ty Rodgers didn't allow a single pressure on 26 pass-blocking snaps en route to an 82.0 pass-blocking grade in Week 1. He was part of a Gamblers offensive line that surrendered only six pressures on the day, albeit in a 29-13 loss to the Panthers.
Although it was a clean-up sack, Reggie Walker finished Week 1 with one pressure on 16 pass-rushing snaps to earn a 77.2 pass-rushing grade. He beat his blocker on another pass-rush rep, as well.

---
Memphis Showboats
TE Daniel Helm (79.3)
OG Terronne Prescod (76.5)
OT Jarron Jones (73.0)
WR Rashard Davis (73.0)
WR Ryan McDaniel (71.8)
While Daniel Helm caught just one pass for 19 yards, it was his work as a blocker that vaulted him up the leaderboard. His 25.0% positively graded run-block rate easily paced all USFL receivers in Week 1.
Also part of the reason the Showboats managed to average 4.6 yards on the ground in Week 1 was the work of Terrone Prescod, who recorded five positive grades on 21 run-blocking snaps. As a result, the Showboats are tied for the league lead with six 10-plus yard runs.
---
Michigan Panthers
QB Josh Love (91.5)
EDGE Breeland Speaks (91.3)
S Warren Saba (86.7)
OT Josh Dunlop (84.0)
S Corrion Ballard (82.9)
Josh Love recorded an otherworldly 100% adjusted completion rate, going 18-of-20 passing with two drops from his receivers. He added two big-time throws for the best quarterback performance of the first week of USFL action.
Breeland Speaks was one of five USFL pass rushers to record five or more pressures in Week 1, and two came in the form of sacks. He tacked on another three winning reps that didn't result in pressure to earn a 91.1 pass-rushing grade.
---
New Jersey Generals
DI Toby Johnson (92.3)
LB Chris Orr (80.1)
CB DJ Daniel (72.8)
RB Darius Victor (71.8)
WR Cam Echols-Luper (71.6)
Toby Johnson's Week 1 stat line included two quarterback pressures and two run stops — the latter of which came on just nine run-defense snaps. He made the most of his 24 snaps on the week.
Darius Victor racked up a league-high 89 rushing yards in Week 1 to go along with three forced missed tackles, 69 yards after contact and zero runs for a loss or no gain.
---
New Orleans Breakers
EDGE Justus Reed (90.0)
CB Greg Eisworth II (86.4)
WR Lee Morris (81.2)
QB McLeod Bethel-Thompson (74.8)
OG Kirk Kelley (72.8)
The name of the game is efficiency, and Justus Reed was efficient in Week 1. He tallied two quarterback pressures and another pass-rush rep win on only 10 such snaps. He also made a tackle for loss or no gain in the run game.
While Greg Eisworth II allowed catches on all three targets into his coverage this past week, they went for just 10 yards combined. He finished with four stops (tackles that result in an offensive failure) in coverage — by far the most among all defenders in Week 1.
---
Philadelphia Stars
DI Tyler Clark (90.3)
OG Shamarious Gilmore (89.0)
OC C.J. Perez (80.6)
WR Chris Rowland (78.6)
WR Devin Gray (77.0)
Tyler Clark recorded three quarterback hurries on 19 pass-rushing snaps in Week 1. His 21.1% pass-rush win rate ranks third among interior defenders through the first week of action.
One of only two guards to play 30 pass-blocking snaps and not allow any pressure in Week 1, Shamarious Gilmore is the USFL's highest-graded guard overall thus far.
---
Pittsburgh Maulers
OT Justin Evans (90.8)
DI Boogie Roberts (86.8)
LB Reuben Foster (85.3)
DI Olive Sagapolu (79.6)
LB Malcolm Howard (77.7)
Justin Evans finished Week 1 as the USFL's highest-graded run blocker (91.0). Six of his 18 run-blocking snaps earned a positive grade — a 33.3% rate that leads the league. He also didn't allow any pressure in pass protection.
With two tackles for loss or no gain in the run game and five quarterback pressures as a pass rusher, Boogie Roberts was a constant presence in Week 1. He is the USFL's third-highest-graded interior defender thus far.