Everybody loves quarterback rankings — well, almost everybody. Earlier this offseason, we published our official PFF QB rankings that group players into tiers rather than explicitly rank them from No. 1 to No. 32.
But we all want to see a ranking done the old-fashioned way, so I decided to step up and offer my "unofficial" quarterback rankings. These rankings are obviously rooted in the PFF data, but the gray area between them is fleshed out by my own take and opinion and is not an indication that PFF hates anybody.
Patrick Mahomes is already arguably the greatest quarterback talent the game has ever seen; all that remains is for him to sustain it long enough to be seen as the new G.O.AT.
Mahomes has the PFF grades and the raw stats, but what's most amazing about his play is that he still thrives in the most disadvantageous of situations. Since he has been the starter in Kansas City, Mahomes has a PFF grade of 92.3 when trailing, the best mark in the NFL. That grade also features most of the playoffs this past season, including the Super Bowl, where he came from behind after being under more duress than almost any team had been able to put him under up to that point. Mahomes is the kind of special player who is virtually unstoppable if you give him long enough to work. You may keep him down for most of the game, but eventually, he's going to find the big play. He is the best quarterback in the NFL right now.
While I think Mahomes is the best quarterback in football, I think it's a closer discussion to the next-best guy than most are willing to entertain. The difference between Wilson and Mahomes may be more environment, scheme and playcalling than anything else, and I think there is a genuine argument that Wilson playing within an Andy Reid offense would have a significantly better reputation as a generational talent and transcendent player.
As it is, Wilson's PFF grade since the start of the 2018 regular season is just a tick behind Mahomes. But over the last three years, nobody has a better grade than Wilson in the fourth quarter of games (93.0). Wilson may not be given license to air it out as frequently as some other passers, but he still leads the league in big-time throws since 2018.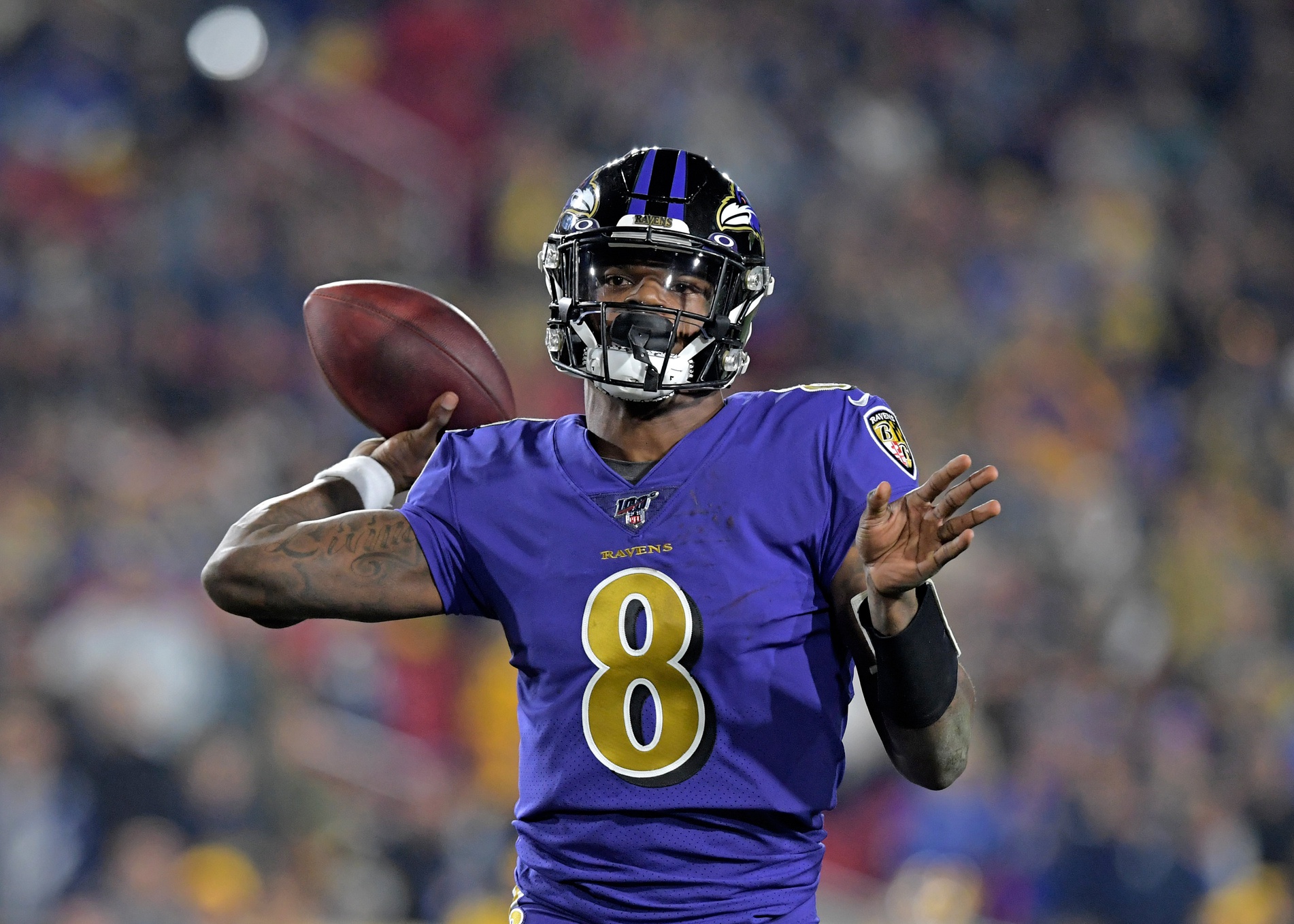 Ranking Jackson is a tough proposition because there is still more unknown about his future than most other passers. He was spectacular in 2019, and the leap forward he took as a passer may immunize him from the threat of NFL defenses "figuring out" the Ravens offense and Jackson's threat. He is now the architect of his own support structure, being so dangerous as a runner that he manipulates defenses and opens up spaces in coverage to make his own life easier as a passer. Some of what he was doing last season seems, on the surface, to be completely unsustainable — his 8.0% touchdown rate, for example — but he still has room to get even better as a passer, and the inevitability of that decline doesn't factor in how much Jackson himself influences those numbers with his rushing threat.
Ultimately, I suspect some of Jackson's numbers may decline in 2020, but he will remain a singularly devastating player and well worthy of this ranking.
I keep wanting to write Brees off, but the level he plays at down-to-down despite declining physical tools remains incredible and consistent. Despite the late-season slip in play in each of the past two years, Brees has the highest PFF grade of any quarterback over that time (94.4). His big-time throw rate has declined with his arm strength, but he remains one of the safest quarterbacks with the ball in his hands and has the lowest turnover-worthy play rate over that time. Brees remains the most accurate passer in football, leading all quarterbacks with a 68.6% accuracy rate since the start of the 2018 season.
Brady didn't play like a top-five quarterback in 2019, but if you put on the tape, you can trace almost all of the issues down to the receiving corps, which was one of the worst in the league from top to bottom. Brady's receivers just couldn't get open, which saw Brady's average time to throw jump to 2.51 seconds, his longest in a decade. The six-time Super Bowl champion then struggled under defensive pressure, as his 62.3 PFF grade under pressure was almost 30 points lower than it was when he was kept clean. With a vastly superior receiving corps in Tampa Bay, Tom Brady still has more than enough left in the tank to bounce back and look like a top-five quarterback once more.
For 80% of his games, Watson is a rival for the top spot in this ranking, but he hasn't quite eliminated the ugly games from his season that cap how good he can really be. Russell Wilson had the same issue but has now virtually eradicated the poor performances that used to be held up as evidence against his elite status. With no DeAndre Hopkins in 2020, there is an argument to be made that this is the year Watson can become a fundamentally more sound quarterback and take that next step. Watson's worst games are crippling — he had three performances earn PFF grades in the 40s in 2019 alone — but if he can cut them out, his baseline is already up with the best in the league.
Rodgers is one of the biggest conundrums in the NFL. The player of 2010-11 or even 2014 is likely gone, at least on a consistent basis, but Rodgers still has a game that can be incredibly effective. Over the last two seasons, his overall PFF grade is No. 4 in the NFL, and only Russell Wilson and Patrick Mahomes have more big-time throws over that time. Rodgers also remains incredibly risk-averse; he has just eight interceptions over the past two seasons as well as the joint-fewest turnover-worthy plays of anybody with at least two full seasons of play under their belt. Rodgers has clearly declined from his best, but his best was peerless, so even a declined version is still a top-end quarterback.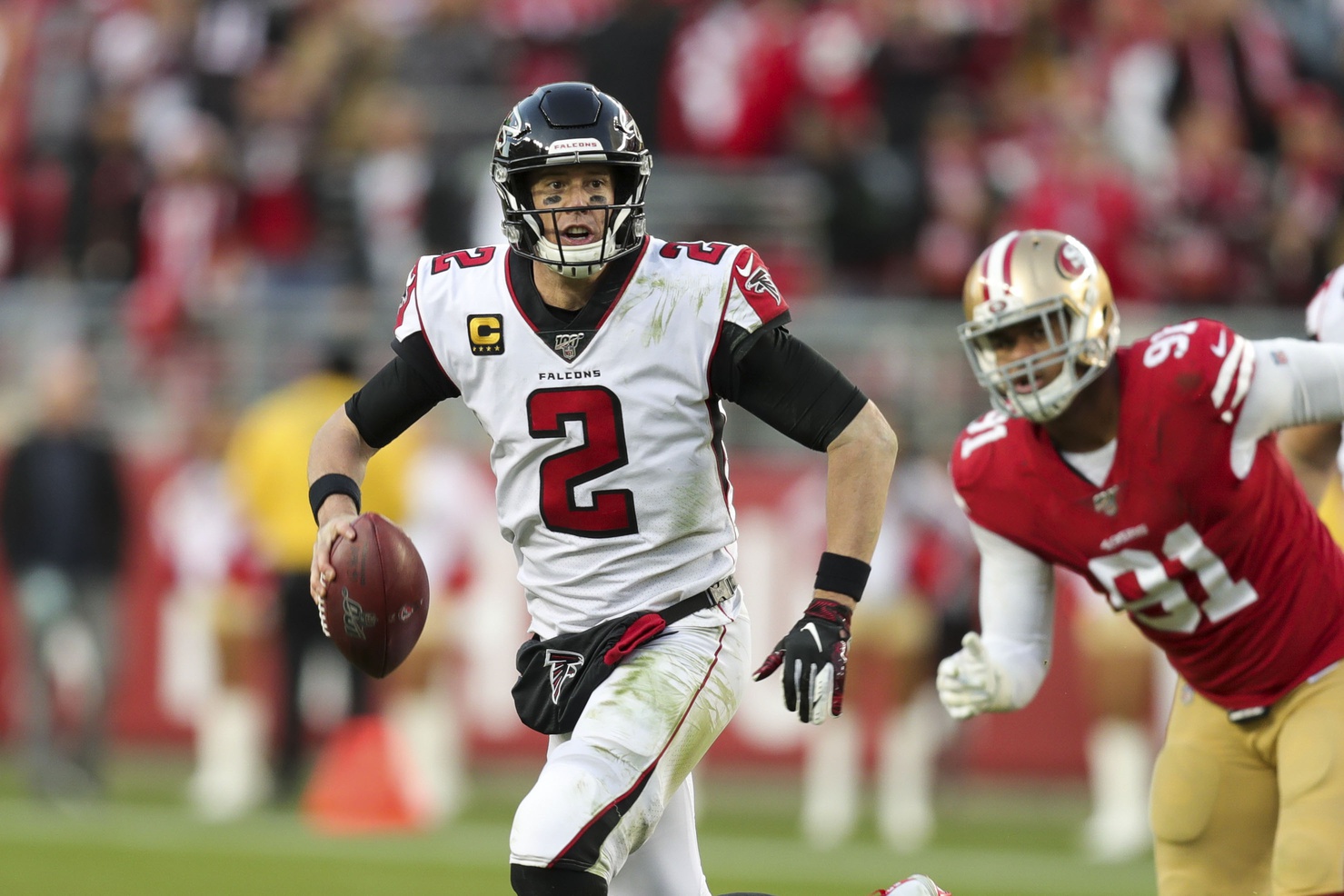 Ryan might be the best of the quarterbacks who don't have it in them to be transcendent and raise the level of everybody around them. Ryan showed in 2016 that he could be an MVP-caliber player if the situation around him is optimal, but his grades before and after that season showed how dependent he is on that support structure around him. Last season saw the worst pass-protection he has had in front of him since 2013, and unless the offensive line can improve, he will be limited in terms of his ceiling. Still, Ryan can be as good as any passer in football when he has the help — he even completed 73.9% of his passes from a clean pocket last year, earning a PFF grade of 91.9.
Dak Prescott is another player who can look spectacular in the right environment with an optimal supporting cast, and he likely has never had a better one surrounding him than this year in in Dallas. Prescott's best seasons have come on the best teams the Cowboys have had since he entered the league — 2020 might be the best yet with a new head coach in Mike McCarthy as well as bolstered weaponry in rookie Ceedee Lamb. Don't be surprised to see Prescott look like a top-five quarterback this season or even push his way into the MVP conversation.
Carson Wentz may never return to the MVP-level play he showed early in his career, but it isn't because he's a bad player, it's just that the level he hit for a stretch was unsustainably good and leaned heavily on the most volatile areas of playing quarterback. Upgrading his receiving corps for this season should go a long way toward helping him look better, as no quarterback has suffered more dropped passes than the 68 Wentz has seen hit the ground since the start of the 2018 season. If a few more of those passes stuck, Wentz would have more wins under his belt, not to mention a little more of a positive reputation.
If you take out a disastrous outing against the Packers in Week 2 last season, Kirk Cousins earned a PFF grade in the 90s and was as good as any quarterback in the league overall. But it's those lapses or failures in critical situations that keep Cousins out of the elite tier of players at his position. He's as good as any passer from within a solid structure — Cousins has the same grade as Patrick Mahomes from a clean pocket over the past two seasons — but his play breaks down the more difficult the situation. While the best quarterbacks in the league thrive under disadvantageous situations, Cousins shrinks from them. What he can do from a good platform, though, is impressive enough to rank him this highly.
The first major question mark of the rankings comes in the form of a slimmed-down, injury-recovered Ben Roethlisberger. At his best, there is no doubt that Roethlisberger is a top-10 quarterback, but we haven't seen his best for a couple of years now, and he is attempting a comeback from a significant injury to his throwing arm at age 38 and with significant wear and tear on his body over his NFL career. Even in 2018, Roethlisberger had an overall PFF grade of 78.2, almost 10 points lower than the previous year. Enough questions linger that it would be tough to have confidence in a ranking higher than this, but Roethlisberger's ceiling is certainly higher and it wouldn't be a shock to see him get back to that level once more.
The 2019 version of Matthew Stafford was better than this ranking — he had an overall PFF grade of 82.6 when he went down hurt, good for seventh in the NFL — but there is reason to suspect that his performance will regress to the mean a little. His average depth of target through half the year was 11.4 yards, which would be the second-highest figure we have ever seen over a full season, and yet despite that he was unusually efficient on these deep passes. It seems likely that his aggression level will come down a little in 2020 but also that his efficiency might dip, dragging his ranking down a little compared to where he was a season ago. Stafford remains a player with all of the physical tools and a good supporting cast around him to succeed, so his ability to push far higher than this isn't in question.
Derek Carr is a classic case of a quarterback who is just missing a little something from his game that keeps him from reaching the level his tools suggest he should be in. The 2016 season saw him earn an overall PFF grade of 85.3, and he looked like he was set to become one of the game's best quarterbacks before he suffered a broken ankle. He has never hit those heights again. Carr lacks a degree of aggression needed to dominate in the NFL and over the past two seasons has the lowest average depth of target (7.0) in all of football. When pressure comes, he is also one of the least-effective passers, earning a PFF passing grade of just 45.1 under duress. Carr, like Cousins, is far better from within structure and from a solid platform, but when things break down he struggles.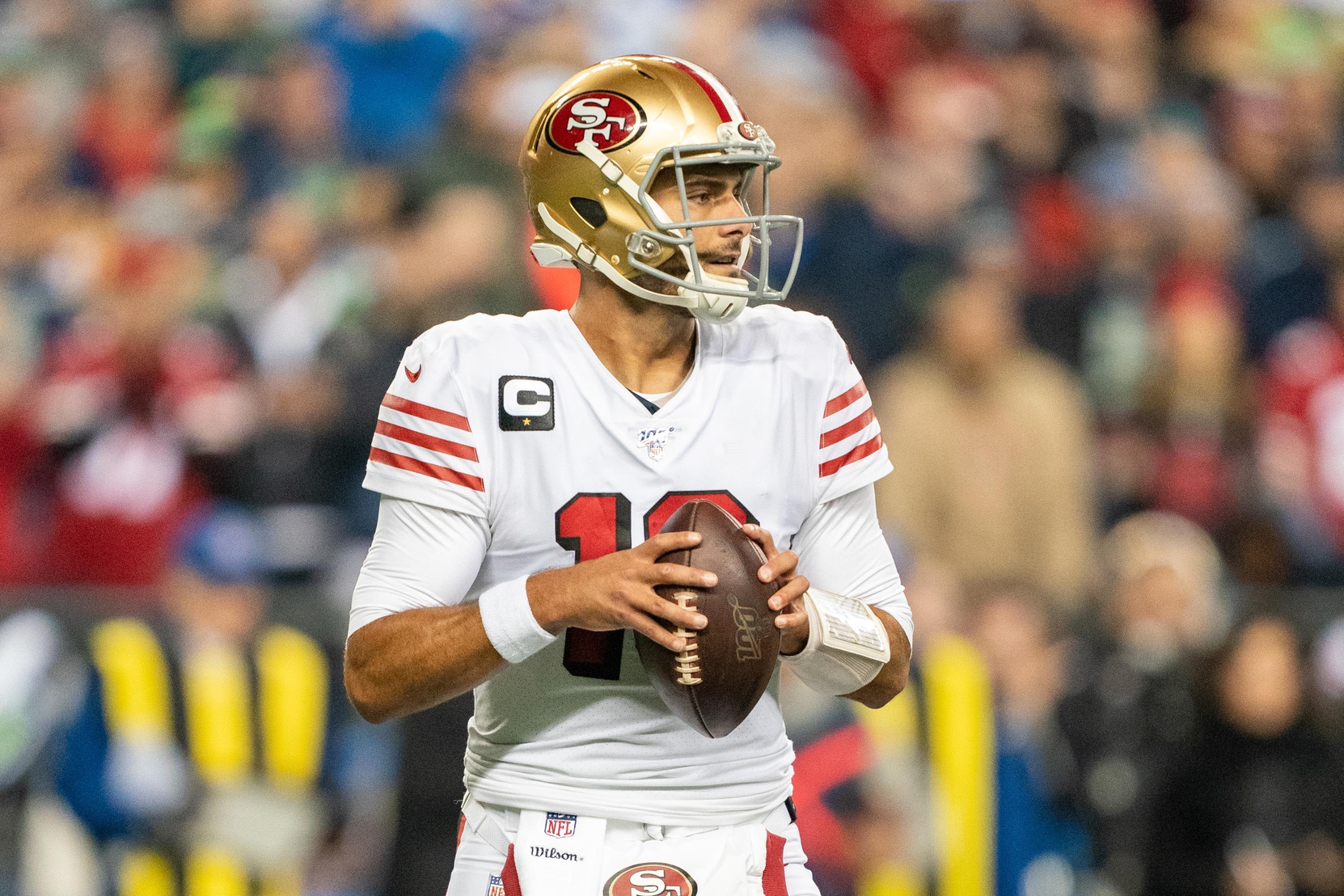 Few quarterbacks in the league have a better situation around them than Jimmy Garoppolo working within Kyle Shanahan's offense. He has shown stretches of elite play but hasn't become the player many expected him to be when the 49ers traded for him to be the leader of this offense. Garoppolo isn't just a product of the offense, however, and some of his best PFF game grades have come in games where he was expected to do more than just manage the offense. If he could cut down on the inexplicable errors in his game (18 turnover-worthy plays in 2019), he would look more like the player many expected him to be based on the early flashes of potential.
Philip Rivers has had down years before in his career and typically bounced back in a major way the following season. Last year's 74.3 was the lowest overall PFF grade he has posted since 2016, and the following year he jumped back above 80. That trend is complicated by the fact that he's now starting over in Indianapolis, plying his trade for a new franchise for the first time — but also by the inexorable march of Father Time. Rivers will enter this season about to turn 39, and some kind of physical decline is inevitable. The good news for him is that he will be playing behind the best offensive line he has ever seen in front of him at the NFL level, and that should go a long way toward maximizing what he can do for the Colts.
When the Rams were an unstoppable offensive juggernaut, Jared Goff was a top-10 quarterback — and not just as a passenger within the system. Goff added significant value above and beyond what was schemed open in 2018, but when things have been less rosy around him, his play shows a notable decline. In the two seasons that bookended that great year, Goff's highest PFF ranking has been 15th, and while he has been solid, he doesn't look like a player who can elevate the level of those around him unless that baseline is already incredibly high.
Goff's performance will depend hugely on that of his pass protection, which deteriorated last season and put him under pressure on 36% of his dropbacks.
Reports of Baker Mayfield's demise may have been greatly exaggerated in 2019, but the bad to his game last year was certainly enough to bring about concern moving forward. Including college, we now have five years of play-by-play grading on Mayfield, and four of them have been excellent. As such, it's a little much to write off his prospects, but the bad habits he leaned into a season ago were ones that have torpedoed good NFL quarterbacks in the past.
Over the past two years, Mayfield ranks fourth in the league in big-time throws, with 68. However, he also ranks just behind Mitchell Trubisky in terms of turnover-worthy plays, and his trademark accuracy fell off a cliff in Year 2. Mayfield's situation is markedly better going into this year, but it's a real "prove-it" season for him.
The hype surrounding Kyler Murray is rapidly outpacing what we have seen on the field from him. The highs are spectacular, and there is a clear reason for optimism, but his rookie season also featured a lot of bad that isn't a lock to disappear overnight. Murray was responsible for 23 of the sacks the Cardinals allowed on offense — five more than any other quarterback in 2019 and the highest figure PFF has ever charged to a passer. What we expect from Murray is extremely exciting, but his former teammate Baker Mayfield is a reminder that we should tread lightly before getting too carried away with a player after a strong rookie showing.
Cam Newton is one of the biggest X-factors in the 2020 NFL season. His best play saw him win an MVP award, but there is almost no way of knowing where he now resides on the spectrum between MVP and the injured shell of that player we last saw. Newton as a passer has always been a big-play threat, but he's also been average at best from an efficiency standpoint. What made him great at his best was his run-game threat.
And with Newton playing in a new offense in New England, we have no idea how much that is going to be a feature of his game or how effective he'll be on the ground, given his injury history. Newton may have the widest range of outcomes of any quarterback in the NFL in 2020, all assuming he continues to take hold of the starting job in the face of whatever competition there is in New England.
From the moment Ryan Tannehill entered the starting lineup for Tennessee last season, the team completely changed. Tannehill finished the season as PFF's highest-graded quarterback (92.5) before coming back down to earth a little in the postseason. His regression is inevitable, and now the question is: How hard will it be?
Early-career Tannehill had one season with a grade above 80.0 and two more that were at least 74.0. And while his situation in Tennessee may be better, it seems a solid bet that he will land somewhere closer to 80.0 overall than to the 90.0 he enjoyed in 2020. Tannehill is a talented quarterback with all of the physical tools to be elite, but last year was the first time he put it all together for a stretch.
Projecting rookie quarterbacks is always an impossible task. Though it's certainly possible for them to hit the ground running, few are special right out of the gate. Joe Burrow's season at LSU last year was as good as we have ever seen from a college passer, but the situation he will have to work from in Cincinnati is vastly different. The offensive line, in particular, could be what prevents us from seeing what Burrow is really capable of in Year 1.
PFF ranked the Bengals' offensive line 30th in the league at the end of last year, and despite the return of Jonah Williams after an injury derailed his rookie season, the unit slots in one spot lower entering this year. All quarterbacks need a certain baseline of pass blocking to thrive — and young passers even more so. Burrow's ceiling is far higher than this ranking, but we may not see it consistently until further down the line.
Despite his role as a bridge to rookie Tua Tagovailoa, Ryan Fitzpatrick has been quietly playing the best football of his career over the past two seasons. His overall PFF grades of 83.9 and 76.5 have been the best two marks of his career, and his aggressive playstyle gives receivers a chance in a way that doesn't happen with many other quarterbacks. Fitzpatrick is good enough to keep even a bad team in contention in plenty of games. And if he plays as well as he did a season ago, it will be no sure thing that Tagovailoa takes the starting job from him on merit any time in Year 1. 
The last time we saw Teddy Bridgewater complete a full season of play was 2015, but his 2019 campaign gave us the first real glimpse of who he is as a signal-caller after recovering from a devastating knee injury that almost cost him his leg, let alone his career. Bridgewater started slowly, but by the end of his run in place of an injured Drew Brees, he was throwing with more aggression and playing some solid football.
His lack of down-field aggression will likely always be what limits how good he can be, but Bridgewater is an accurate passer with a good understanding of defenses and where to go with the football. He is the definition of solid, with the potential to be a bit more if he can just ratchet up his aggression with the football.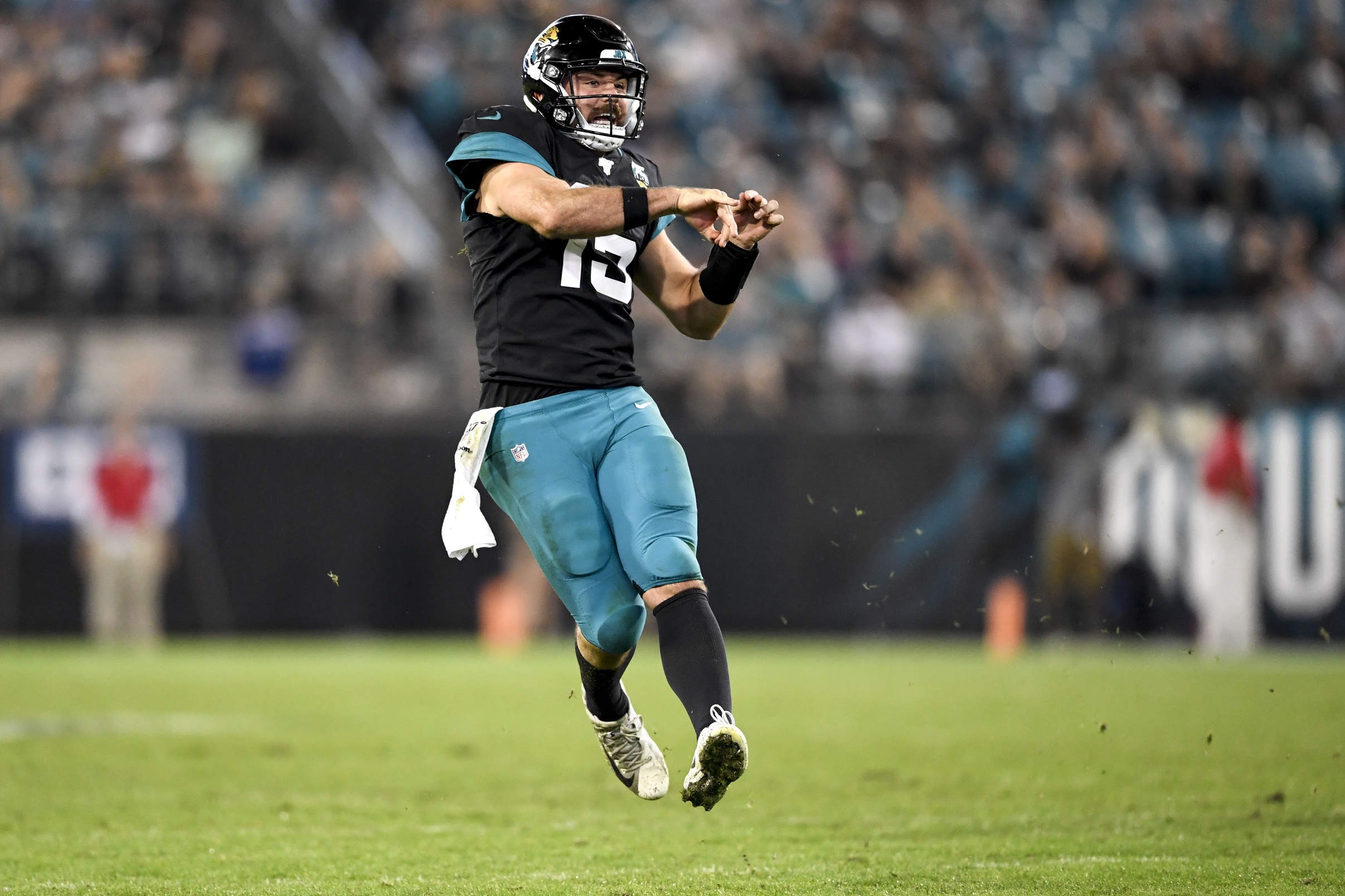 Gardner Minshew's play as a rookie was encouraging. He ended the season with the highest overall PFF grade (70.3) among all the rookie passers, and for a player whose arm strength was his biggest red flag as a draft prospect, he also had arguably the best deep ball in the league. Minshew posted a 129.0 NFL passer rating on passes that traveled 20 or more yards downfield, throwing five touchdowns without a single interception on those attempts.
His biggest weakness was holding onto the ball too long and sometimes freezing up when processing his reads, and his physical tools remain a limiting factor on how good he can become. A step forward for Minshew in Year 2 would put him in the middle of the pack of NFL quarterbacks.
Daniel Jones was impressive in his rookie season, especially considering his ideal supporting cast couldn't stay on the field together for any time due to injury, but there were also a lot of negatives on his tape. Jones had some of the worst fumbles from any quarterback in the league, and those are plays that often get overlooked when people evaluate quarterbacks. Only three other passers amassed more turnover-worthy plays, including those fumbles, than Jones, and Jones didn't even start all season.
As a young player, Jones taking a significant leap in Year 2 is entirely possible, but it requires him to cut down a lot on mistakes while still flashing high-end play. 
Ranking Josh Allen is extremely challenging. He clearly has the buy-in from everyone in Buffalo, including the fanbase — but it's difficult to find data that points to him being the source of optimism as opposed to the beneficiary of it, given the improvements from the franchise as a whole. While many will point to his handful of fourth-quarter comeback victories, his PFF passing grade in the fourth quarter over the past two seasons ranks just 11th in the league, and at least some of that must be offset by grading 35th out of 37 qualifiers in the first three quarters.
Allen made strides between his rookie and sophomore seasons, but he needs another significant campaign to elevate himself to the level that his supporters would have you believe he is already at. Allen certainly has the leadership, arm strength and playmaking ability to be a far better quarterback than this. Now, he needs the consistency. 
Tyrod Taylor was a solid, if unspectacular, starter for the Bills for three seasons before they passed on his potential ceiling and decided to shoot for the moon with Josh Allen. His brief stint as a starter in Cleveland was a disaster, as he earned a 47.0 overall PFF grade and was ultimately benched for Baker Mayfield before he went to back up Philip Rivers with the Chargers. That's where he resides now, warming the seat until rookie Justin Herbert is ready to take over. Taylor has the potential, particularly within an offense built around his skill set, to be a solid NFL starter again, but his floor is also worryingly low and could see him quickly replaced in the starting lineup once more.
Few — if any — quarterbacks have been more volatile quarterbacks on a week-to-week basis than Nick Foles throughout his NFL career. He owns some of the most spectacular single-game performances we have ever seen, including on the biggest stages (NFC Championship and the Super Bowl), but he is perhaps just as likely to return an outing that is graded in the 30.0s and is bad enough to have you scanning the waiver wire.
The best news for Bears fans is that Foles' best play has all come in quarterback-friendly systems, including within one that is a close cousin to the offense that Matt Nagy runs in Chicago. If Foles starts over any extended period for the Bears, we will likely see some incredible highs and lows. Where that nets out at is more of an open question.
Dating back to Sam Darnold's college years, it is possible to find stretches of play where he ranks among the best quarterbacks in football, but they have never lasted. In the NFL, he has been working with some significant mitigating factors — catching mononucleosis — but we are running out of time for Darnold to show he can be consistently better than he has been. In back-to-back seasons, Darnold has posted an overall PFF grade under 65.0, ranking among the bottom few passers in the game. And while he regularly flashes the potential to be far better than that, there's no point in continuously bringing up potential if it's never realized.
Dwayne Haskins was better than the box score numbers from his rookie season suggest. Though he had seven touchdowns to seven interceptions, he actually had the lowest turnover-worthy play rate of any of the rookie passers. He was also only marginally behind the best in terms of big-time throw rate. Working with little beyond Terry McLaurin, Haskins showed significant improvement in limited playing time in Year 1, but the situation remains a concerning one for him.
Haskins needs to take a significant step forward in Year 2 when it comes to throwing with anticipation because arm strength at the NFL level will only take you so far.
Despite even less evidence of quality play than Haskins, optimism surrounding Drew Lock seems to be far higher. As rookies, Lock had fewer positively graded plays and big-time throws than Haskins, albeit on fewer snaps as a starter. He certainly flashed the potential to be good, but we just haven't seen enough to suggest that he belongs any higher on this list yet. The encouraging news is that Denver threw everything it had at the roster this offseason to surround Lock with the best possible supporting cast, so he will have a dramatically improved group of players to help him thrive in Year 2.