Los Angeles Rams running back Cam Akers is reportedly the first major injury casualty of the 2021 offseason. According to NFL Network's Tom Pelissero, Akers tore his Achilles and is out for the season.
Subscribe to
For the Rams, it represents a setback in what is supposed to be a season that places them among the NFL's elite teams. The team acquired Matthew Stafford at quarterback in the hopes of reinvigorating an offense that stagnated under Jared Goff and once again showing the full breadth of head coach Sean McVay's offense. 
Akers, a second-round pick a season ago, impressed over the second half of his rookie campaign and was talked about as a likely breakout candidate for the 2021 NFL season. From Week 12 until the team's playoff exit, Akers was the team's primary back, carrying the ball 141 times compared to a total of 54 by other players in the Rams' backfield. He averaged almost 2.8 yards after contact on those carries and broke 15 tackles.
I'm told that Darrell Henderson is "the guy" in LA after Rams running back Cam Akers suffered a season-ending torn Achilles while training yesterday.

— Doug Kyed (@DougKyed) July 20, 2021
Attention now likely turns to Darrell Henderson, a 2019 third-rounder entering Year 3. Henderson has flashed ability at the NFL level and was PFF's highest-graded running back through the first eight weeks of 2020, though he was supplanted by Akers. Henderson might not have the kind of true blazing speed to rack up big gains when he hits a hole, but he has consistently maximized yardage, which is a major asset with quality blocking in front of him.
There is still a good chance Henderson can make an impact for a Rams offense that expects to be a better overall unit this year. For his career, he has averaged 2.9 yards after contact and broken 32 tackles on 177 attempts.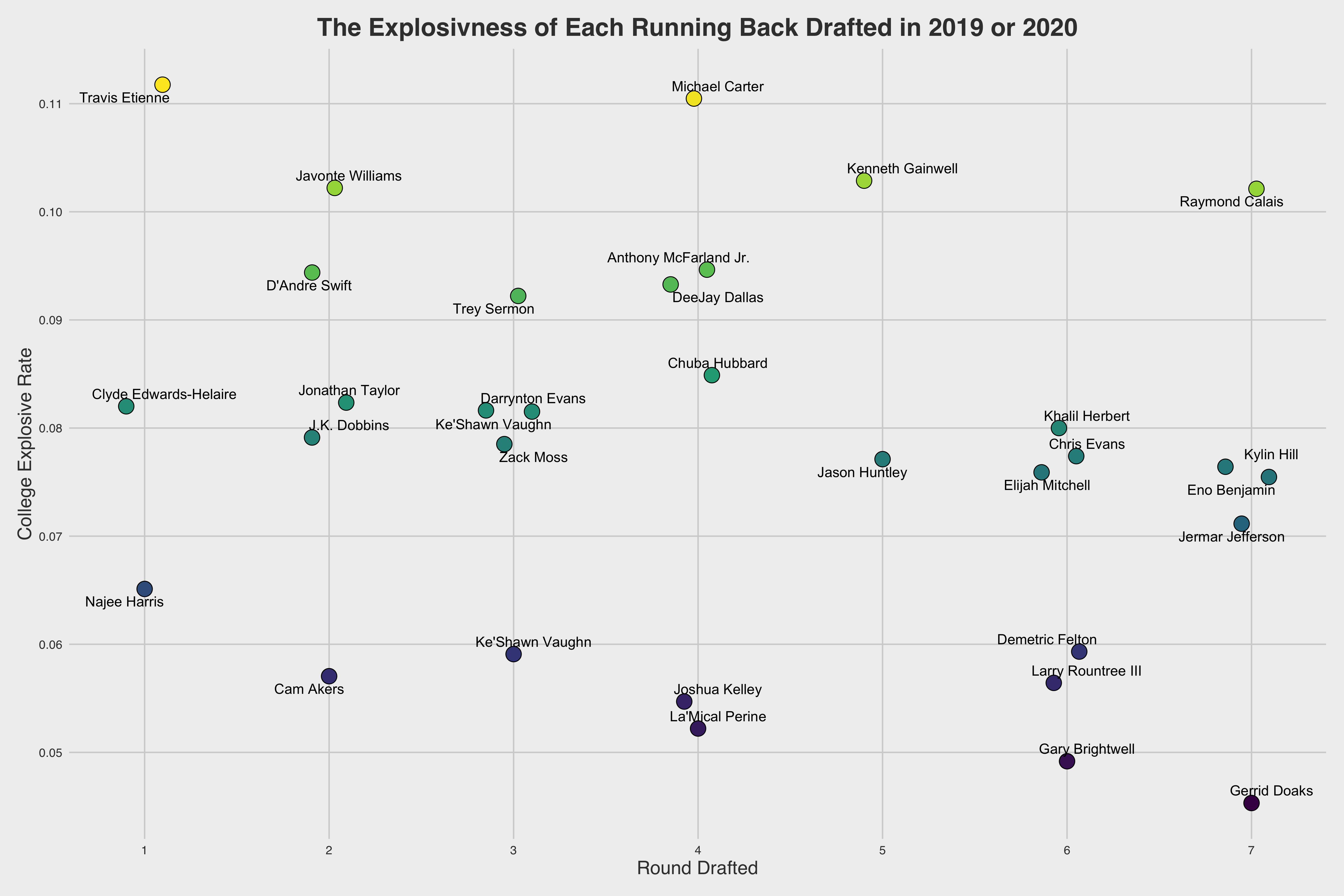 Another player to keep an eye on in this backfield is Raymond Calais, a seventh-round pick of the Tampa Bay Buccaneers in 2020 whose only snaps last season came on special teams for the Rams. Calais is an intriguing dark horse because of his explosiveness at the college level, something that has is known to translate well to the NFL.
Calais ranks among the most explosive college backs drafted over the past two seasons and racked up 56% of his rushing yardage in college on breakaway runs of 15-plus yards. At 5-foot-9 and 180 pounds, he is the type of undersized back who often needs the break of an injury ahead of him on the depth chart to showcase his skill set, and there is plenty of data suggesting he could be an impressive player if he gets that shot.
The rest of Los Angeles' preseason running back depth chart is rounded out by Xavier Jones and rookies Jake Funk and Otis Anderson.
If the Rams need to dip into the free agent marketplace to add depth, Adrian Peterson has been touting his desire to play for a 15th season to any team that will listen. Peterson recorded a mere 60.8 PFF rushing grade last season for the Lions, but he notched solid marks in two years prior to that for Washington. Peterson is a very one-dimensional player but could take some early-down carries if Henderson or Calais becomes more of a specialist in the passing game.
The Rams could also look to reunite with Todd Gurley II, but his season in Atlanta last year did little to suggest he would bring much to the table at this stage of his career. Gurley posted a 59.1 PFF rushing grade last season (61st out of 63 qualifying RBs), and just five of his 195 carries went for 15 or more yards.
---
Dive into PFF's guides to get the most out of the 2021 season, from the 2022 NFL Draft to college football to fantasy football!