Everyone likes to think they know how good each NFL team will be entering a new season, including Vegas.
Projected win totals provide one of the cleanest ways of comparing and contrasting all 32 NFL teams. For example, the Kansas City Chiefs' win total sits at a league-high 12.5, while the Houston Texans bring up the rear at just 4.5 projected wins. But the truth is that there will likely be some (very small) overlap between those two teams' range of outcomes.
With the help of a large number of simulations of the 2021 season, PFF can attempt to capture some of that variance by highlighting best- and worst-case scenarios for all 16 NFC teams. Those scenarios are accompanied by theoretical avenues to those records based on some of the questions surrounding each team this offseason.
The potential win-loss records highlighted in this piece aren't truly the extremes. Rather, they're the 10th- and 90th-percentile outcomes, meaning that 80% of that team's simulation results fall somewhere between those two records. Inevitably, there will be teams that fall outside these parameters in 2021.
The first team on our list hit their 10th-percentile outcome last season, thanks in large part to several key injuries early in the season.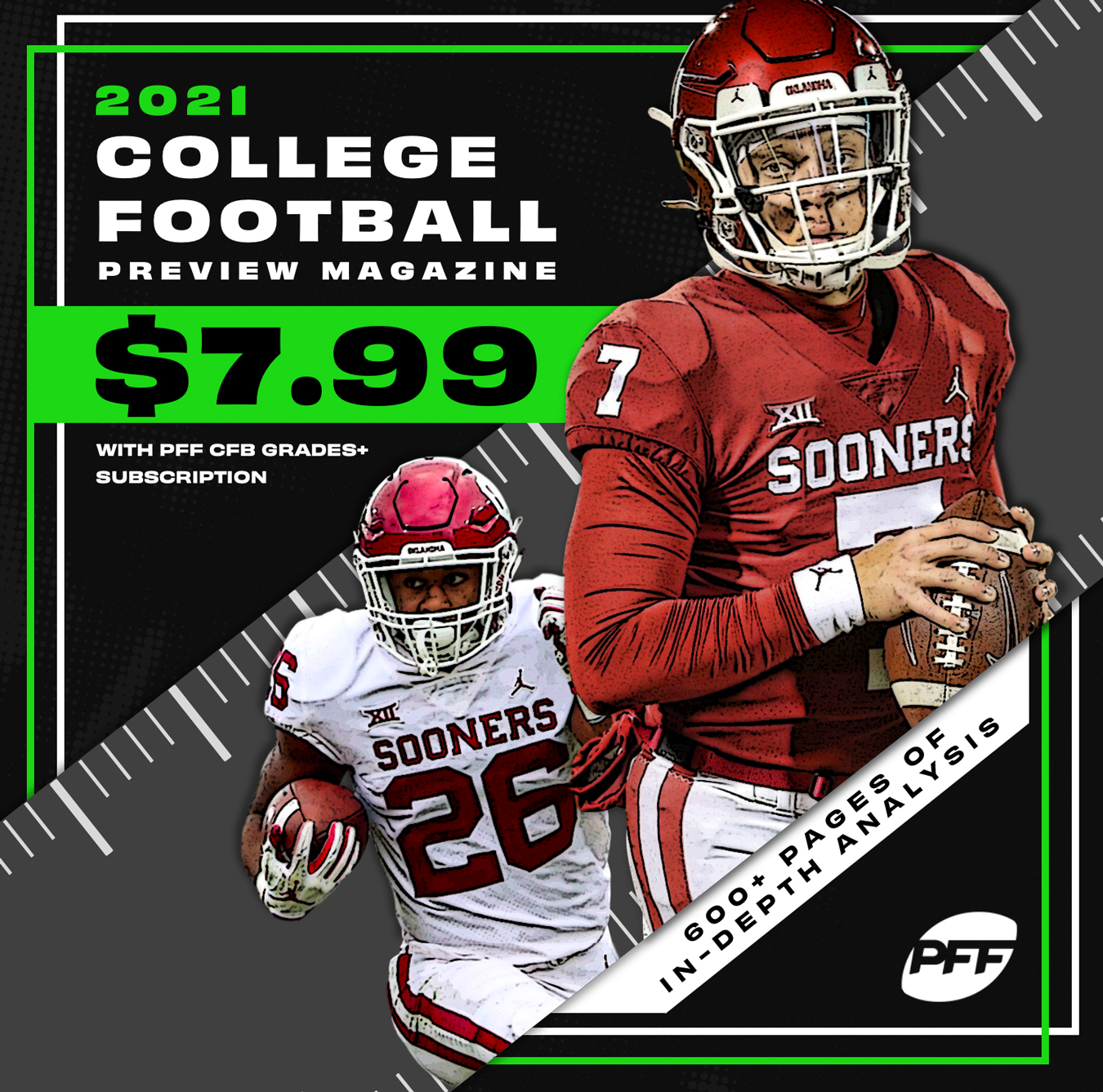 For the best- and worst-case scenarios for every AFC team, click here.
ARZ | ATL | CAR | CHI | DAL | DET | GB | LAR | MIN | NO | NYG | PHI | SF | SEA  TB |WFT
NFC East
10th percentile outcome: 6-11 
How they get there: Dallas' defense isn't able to keep them in enough games. The Cowboys can't keep opposing offenses from running all over them, much like 2020 when their 2.3 yards allowed before contact per run was a half-yard worse than any other defense in the league. Randy Gregory's strong close to last season (80.5 PFF grade) doesn't carry over in a full-time starting role in 2021, leaving Demarcus Lawrence with little help along the defensive line. And the secondary plays up to its 31st-place preseason ranking. 
90th percentile outcome: 11-6
How they get there: The offense lives up to the expectations many had for it heading into the 2020 season with a healthy Dak Prescott, Tyron Smith and La'el Collins. Dallas ranked second in expected points added (EPA) per play in 2019 behind only the Baltimore Ravens, and there's potential for the unit to be even better with an improved Prescott and CeeDee Lamb's addition at wide receiver. 
Trevon Diggs looks more comfortable in his second NFL season, and the Cowboys get enough out of rookies Kelvin Joseph and Nahshon Wright at cornerback that the defense isn't a major liability. Dallas boasts one of the best linebacking corps in the league, as well.      
10th percentile outcome: 5-12
How they get there: It becomes apparent that Daniel Jones isn't the long-term solution at quarterback. The third-year quarterback doesn't take enough downfield risks in the passing game, and his turnover-worthy play rate creeps back from 3.1% (2020) to 5.5% (2019). An offensive line that struggles to provide clean pockets doesn't help matters for Jones. Only the New York Jets allowed pressure at a higher rate than the Giants did last season. 
Pressure off the edge is New York's biggest problem defensively. A collection of Azeez Ojulari, Ifeadi Odenigbo, Lorenzo Carter and Oshane Ximines puts too much pressure on Leonard Williams and Dexter Lawrence to provide push from the interior. 
90th percentile outcome: 10-7 
How they get there: New York's young offensive line is much improved in 2021. That improvement, along with the additions of Kenny Golladay, Kadarius Toney and Kyle Rudolph, puts Jones in a much better position than he has been in across his first two years. Remember, Jones graded better in 2020 (78.4) than his passing statistics would suggest. 
Patrick Graham's defense is the real star of the show. Adoree' Jackson and a healthy Xavier McKinney give the Giants one of the deepest secondaries in the NFL with the returning pieces from last season. Dexter Lawrence continues to improve, as well. His pass-rushing grade rose from 64.5 as a rookie to 73.2 in 2020.   
10th percentile outcome: 4-13
How they get there: Philadelphia's weaknesses on the perimeter remain an issue, and age starts to affect the play of perceived strengths in the trenches.
Second-year quarterback Jalen Hurts cannot lead an effective passing attack one season after 29.4% of his passes were charted as uncatchable, the highest rate among quarterbacks who attempted at least 100 passes last season. And whoever starts at cornerback alongside Darius Slay is targeted frequently when the Eagles are on defense. Avonte Maddox earned just a 37.1 coverage grade in that role last year.    
90th percentile outcome: 9-8
How they get there: An offensive line no longer playing musical chairs due to injury makes a big difference. Lane Johnson (88.8 PFF grade in 2019) and Brandon Brooks (92.8 PFF grade in 2019) return at full strength, and Andre Dillard wins the left tackle job, looking like the player Philadelphia was hoping for when they spent a first-round pick on him two years ago. DeVonta Smith shows that any pre-draft concerns over his weight were overblown, too. That all gives Hurts a chance to show that he can be the franchise's future at the quarterback position. 
10th percentile outcome: 5-12
How they get there: Washington finds itself on the wrong end of the Ryan Fitzpatrick experience. Fitzpatrick has earned the three highest PFF grades of his career in the past three seasons, but he only earned an overall grade higher than 70.0 once in his career before 2018. There's always the potential that Fitzpatrick "giving his wide receivers a chance" becomes more of a negative than a positive again. The career-high grades the Football Team received from Cornelius Lucas, Wes Schweitzer, Chase Roullier and Brandon Scherff in 2020 don't repeat themselves, either. 
90th percentile outcome: 11-6
How they get there: Fitzpatrick's late-career renaissance continues in Washington. His willingness to push the ball downfield to receivers such as Terry McLaurin, Curtis Samuel and Dyami Brown adds a different element to the Football Team's offense. A season ago, 67% of Alex Smith's pass attempts were short of the first down marker, the highest in the NFL. 
Washington's defensive line only improves as Chase Young and Montez Sweat continue to develop. And William Jackson III serves as an upgrade at one of the outside cornerback spots, giving defensive coordinator Jack Del Rio more flexibility in the secondary.  
NFC South
10th percentile outcome: 6-11
How they get there: One of the worst defenses in the league on paper has no tricks up its sleeve. Dante Fowler Jr. and Marlon Davidson don't add much of a spark along the defensive front, leaving Grady Jarrett as a one-man army once again. Jarrett's 57 pressures in 2020 were more than double any other defender on the team.
The disappointing play from Atlanta's recent investments in the cornerback position — Isaiah Oliver, Kendall Sheffield and A.J. Terrell — only makes the lack of pass rush more apparent. Arthur Smith's new offense, sans Julio Jones, isn't enough to overcome those defensive woes.     
90th percentile outcome: 12-5
How they get there: The offense is one of the best in the NFL, even after the Jones trade. Arthur Smith's scheme, which helped lead the Tennessee Titans to a fourth-place finish in EPA per play over the last two seasons, draws the best out of Matt Ryan. Kyle Pitts quickly finds himself in the upper tier of tight ends as a rookie, capable of winning as a receiver in-line, from the slot and out wide. And Calvin Ridley steps forward as a true No. 1 option, as he did when Julio missed time in 2020. Ridley's 2.44 receiving yards per route run last year was over a half-yard more than his previous career high. 
10th percentile outcome: 5-12
How they get there: Panthers fans are left wondering why the front office traded for Sam Darnold instead of pursuing a quarterback in the 2021 NFL Draft. Darnold's play resembles the first three seasons of his career in New York, in which he never graded higher than 65.0 in a single season. A big part of that lack of progression is that Darnold's blindside isn't sufficiently protected by whoever wins the left tackle and left guard jobs in the coming weeks. 
All of Carolina's youth on defense is still one year away from putting it all together, as well. Players such as Yetur Gross-Matos (54.7 PFF grade as a rookie) don't take the step forward Carolina is hoping for.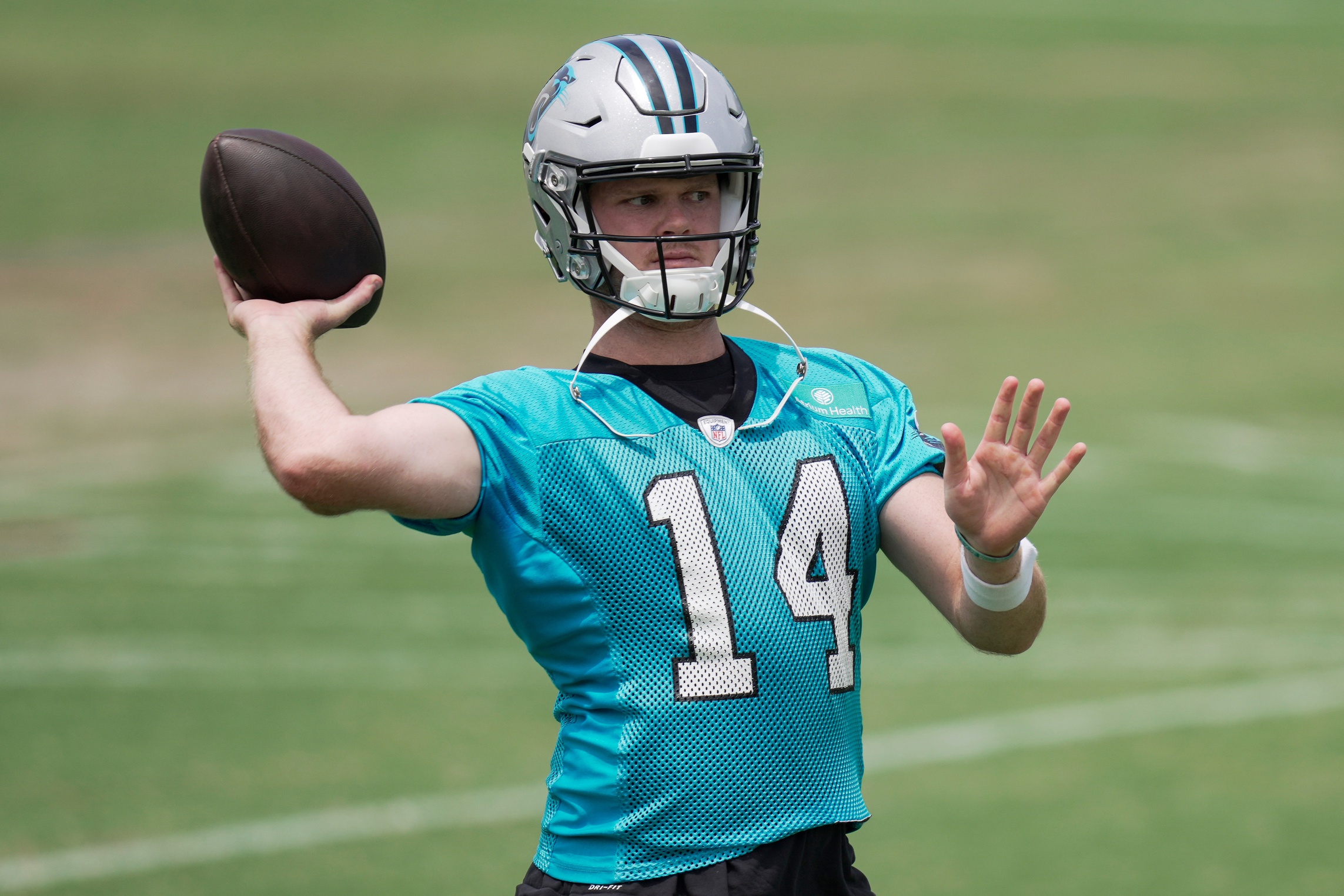 90th percentile outcome: 10-7
How they get there: Last season, Carolina ranked 17th in average yards per play (5.5) despite Teddy Bridgewater finishing the season with a 66.0 PFF grade and Christian McCaffrey missing most of the year with injury. A significant chunk of that gap can be attributed to offensive coordinator Joe Brady. A new scheme and the best receiving corps of Darnold's career lead to a breakthrough for the 24-year-old in this outcome.  
Brian Burns delivers an elite pass-rushing performance on the other side of the ball. Burns already graded in the 92nd percentile of all edge rushers in pass-rushing grade in 2020.    
10th percentile outcome: 6-11 
How they get there: The salary cap isn't fake. The losses of Trey Hendrickson, Emmanuel Sanders, Janoris Jenkins, Sheldon Rankins, Jared Cook and Kwon Alexander challenge New Orleans' depth at several key positions. And the combination of Jameis Winston and Taysom Hill at quarterback represents a significant downgrade over what the Saints have come to expect from the position with Drew Brees. Winston's risk tolerance, specifically, is a tough challenge to overcome. His 149 turnover-worthy plays from 2015 to 2019 were the most in the NFL by 22.  
90th percentile outcome: 11-6
How they get there: A dominant offensive line, several high-end receiving options in Michael Thomas and Alvin Kamara and the addition of a new downfield passing element with Winston at quarterback leads to the Saints offense being better than anticipated in 2021. 
Marshon Lattimore has a bounce-back year on defense, looking more like the cornerback who burst onto the scene with an 87.9 PFF coverage grade as a rookie in 2017. Marcus Davenport remains healthy and provides quality play against the run and pass opposite Cameron Jordan on the defensive line. Davenport ranks in the 87th percentile among all qualifying edge defenders in run-defense grade since 2018. 
10th percentile outcome: 9-8
How they get there: Tom Brady starts to look somewhat like what you would expect a 44-year-old to look like on a football field. He certainly showed no signs of that inevitable decline during a 2020 season in which he finished the year with a 93.3 PFF grade. Jason Pierre-Paul (32 years old) and Ndamukong Suh (34 years old) aren't quite able to match the 98 pressures they combined for during the regular season last year, either. Those steps back and slightly worse injury luck lead to a disappointing campaign for the reigning Super Bowl champions.   
90th percentile outcome: 14-3
How they get there: A healthy Vita Vea only improves a defensive front that finished last season ranked fifth in team pressure rate (37.1%) and first in rushing yards allowed before contact per attempt (1.0). 
There's also no longer an adjustment period between Brady and Bruce Arians' and Byron Leftwich's offense. Tampa Bay's offense ranked first in the NFL in EPA per play from Week 14 through the Super Bowl following their Week 13 bye. It's difficult to see them losing too many games if that level of play carries over into Week 1 against Dallas. 
NFC West
10th percentile outcome: 6-11
How they get there: Defensive coordinator Vance Joseph's defense, which ran Cover 1 at the highest rate in the NFL during the 2020 season, doesn't have the personnel at cornerback to succeed in a man-heavy system. Malcolm Butler, Byron Murphy, Robert Alford, Tay Gowan and Marco Wilson at cornerback are beaten regularly in coverage next season. 
Meanwhile, Arizona's offense is limited by a combination of Kliff Kingsbury's scheme and Kyler Murray's limitations as a passer. The Cardinals ranked just 22nd in yards per pass play last season when looking at only dropbacks that resulted in a pass attempt.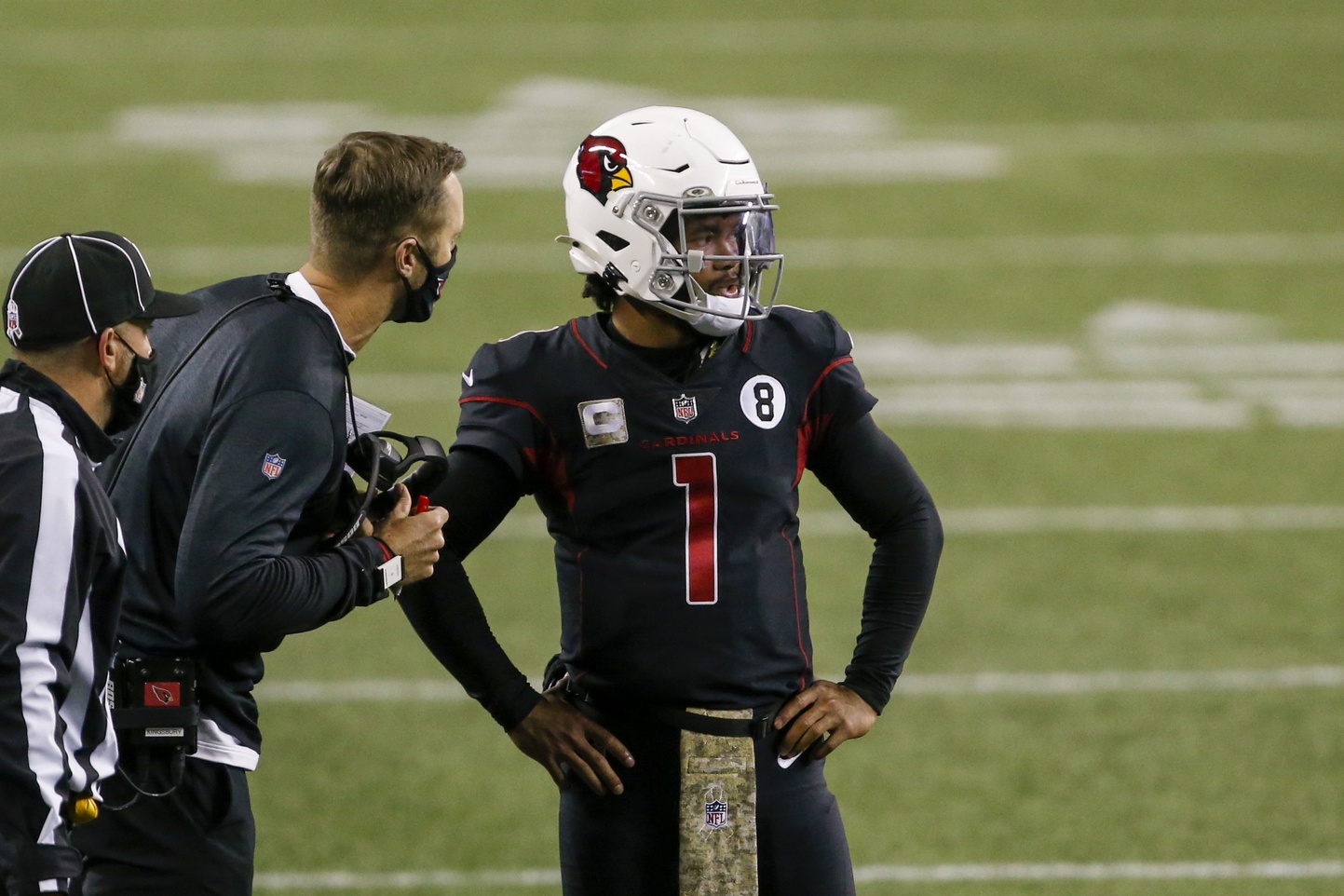 90th percentile outcome: 11-6
How they get there: Murray takes another leap in his third NFL season after seeing his PFF grade improve from 64.2 as a rookie to 82.8 in 2020. And in all, 39.1% of Murray's rush attempts went for a first down or touchdown last season, second to only Cam Newton among all players with at least 100 carries.
J.J. Watt and Chandler Jones remain healthy and provide one of the league's best pass-rushing duos on the other side of the ball. Watt earned a 76.6 pass-rushing grade last season in Houston, and Jones finished his last full season in 2019 with a grade of 90.0.       
10th percentile outcome: 7-10
How they get there: Defensive regression comes for Los Angeles. With Brandon Staley no longer leading the unit, the losses of players such as Troy Hill (73.1 coverage grade in 2020) and John Johnson III (86.6 coverage grade in 2020) in the secondary are tough to overcome. 
On offense, Matthew Stafford proves not to be the major upgrade at quarterback that the Rams were expecting when they traded for him. Los Angeles ends the year not faring much better as a passing offense than they did last season (24th in EPA per pass play). The result is a record below .500 without the same elite defense to lean on.  
90th percentile outcome: 12-5
How they get there: The change at quarterback from someone who can operate Sean McVay's offense when things are going well to someone who can make things happen on his own is massive. Stafford graded in the 73rd percentile of qualifying quarterbacks when under pressure last season, while Jared Goff finished in just the 14th percentile. A combination of DeSean Jackson and TuTu Atwell add the field-stretching component that Los Angeles was missing last season, as well. That offensive improvement is enough to battle off potential defensive regression, pushing the Rams toward the top of a competitive NFC West.   
10th percentile outcome: 6-11
How they get there: The path is similar to San Francisco's disappointing 2020 season. Quarterback is the position that holds this team back. Jimmy Garoppolo doesn't elevate Kyle Shanahan's offense in the way he would like him to, leading the 49ers to push Trey Lance into the starting job. And it becomes apparent that Lance still has work to do when it comes to pre-draft concerns surrounding his accuracy and experience.
The departure of defensive coordinator Robert Saleh and lack of depth at the cornerback position also keep San Francisco from posting their third straight season inside the top five in EPA allowed per play.
90th percentile outcome: 11-6
How they get there: The 49ers stay healthier for a start. Nick Bosa and Dee Ford can get through a full season and contribute to one of the league's best pass-rush units. Both Bosa and Ford earned pressure rates of at least 15.0% when healthy in 2019. 
Most importantly, Garoppolo and Lance remain healthy, and San Francisco gets quality play from the quarterback position. That certainly wasn't the case in 2020. The 49ers ranked 28th in team passing grade last season, ahead of only the Jacksonville Jaguars, Philadelphia Eagles, Denver Broncos and New York Jets.  
10th percentile outcome: 7-10
How they get there: D.K. Metcalf said of Seattle's second-half offensive struggles on the I am Athlete Podcast, "Teams just started to figure us out … Teams just said, 'We're just not going to let y'all go deep.' " The Seahawks ranked just 25th in EPA per play from Week 10 through the postseason. This record would indicate that their offense didn't change in a meaningful way to counter that shift in how they were defended.
A middling offense likely isn't enough, given some of the concerns surrounding Seattle's defensive line and secondary.    
90th percentile outcome: 12-5
How they get there: Russell Wilson and Seattle's offense doesn't see the same decline that it did over the second half of the 2020 season. Instead, they get back to how they performed over the first half of the year. Wilson's 93.3 PFF grade through Week 8 led all quarterbacks. The Seahawks' 6.3 yards per play over that same stretch fell behind only Kansas City. 
Perceived weaknesses on the defensive side outperform expectations. That includes players such as Ahkello Witherspoon at cornerback, who played extremely well in limited action to close last season (80.9 coverage grade). 
NFC North
10th percentile outcome: 5-12
How they get there: Whoever is behind center, whether that be Andy Dalton or Justin Fields, doesn't bring an offense that ranked 27th in average yards per play last season (5.0) back from the dead in their first season with the team. The quarterback isn't helped by Chicago replacing both of the tackles that started last season, either. 
The decision to release Kyle Fuller stands out as a questionable one on the other side of the ball. Desmond Trufant (38.4 PFF grade in 2020) isn't able to stay healthy for the third straight year, and the Bears' lack of quality depth at the position comes back to hurt them.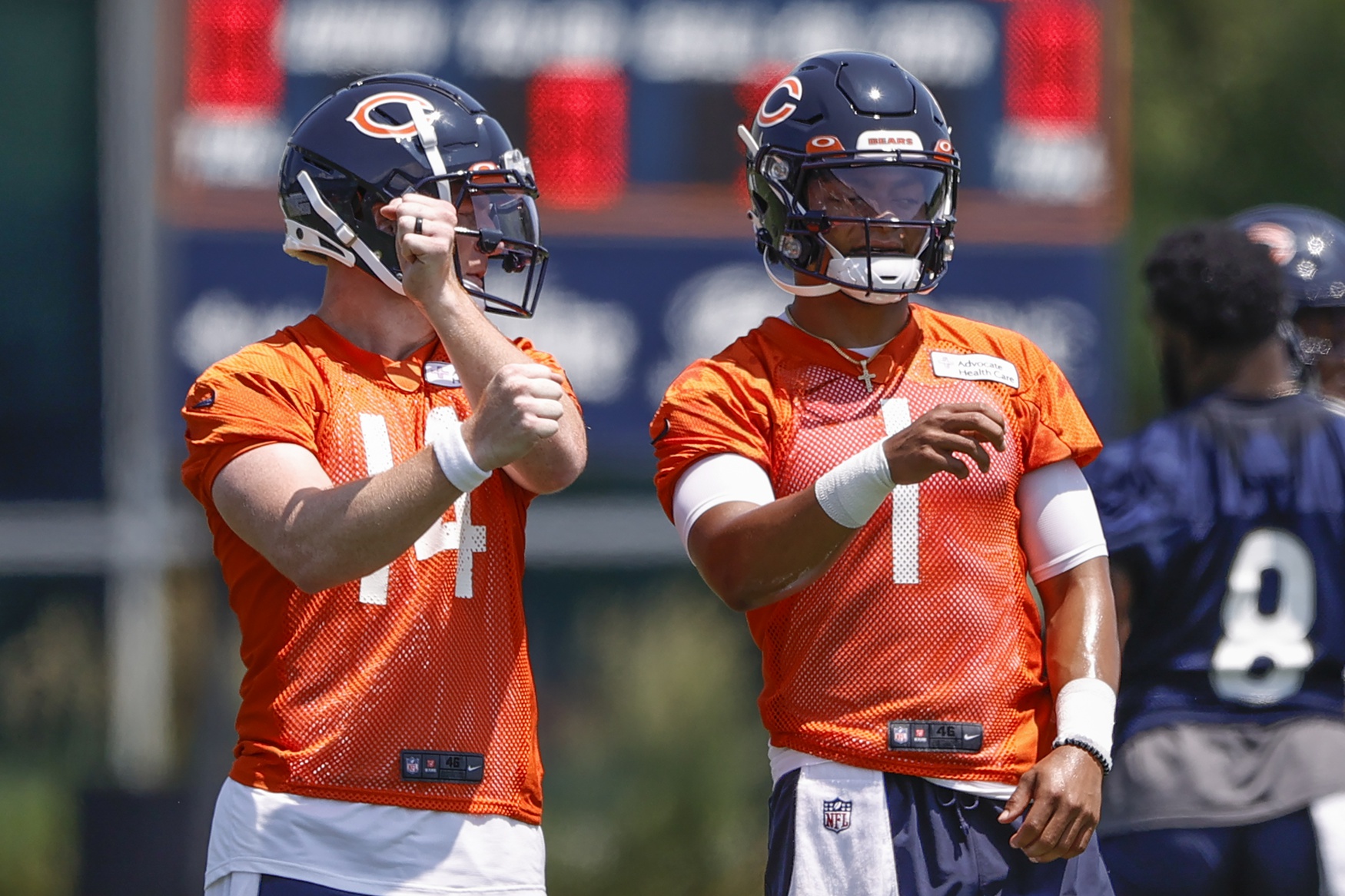 90th percentile outcome: 11-6
How they get there: Dalton and Fields represent an upgrade over the Mitchell Trubisky–Nick Foles pairing of 2020, bringing the offense at least back toward the middle of the pack next season. Darnell Mooney and Allen Robinson have a quarterback who can hit them downfield, unlike last season, and Teven Jenkins is ready to play at the NFL level from the jump after earning a 92.0 PFF grade in his final year at Oklahoma State. 
The defense is a bit easier to rely on after finishing among the top-12 defenses in EPA allowed per play each of the past four seasons. 
10th percentile outcome: 3-14
How they get there: An offense whose top wide receiver options consist of Tyrell Williams, Breshad Perriman, Kalif Raymond, Amon-Ra St. Brown and Quintez Cephus doesn't have enough firepower to keep up with most of the teams on their schedule. That holds especially true, given some of the concerns surrounding Detroit's ability to stop teams on the other side of the ball. 
Jeff Okudah projects as the team's top cornerback, but he failed to live up to lofty expectations as the No. 3 overall pick out of Ohio State last season. His 2.3 yards allowed per coverage snap was the worst mark at the position in the NFL.   
90th percentile outcome: 8-9
How they get there: Detroit's decision to build through the trenches gives them a nice floor on both offense and defense. An offensive line led by Taylor Decker, Frank Ragnow and Penei Sewell is a top-10 group across the NFL, providing the kinds of clean pockets that Jared Goff has shown he can have success from in Los Angeles.
A healthy Trey Flowers, Michael Brockers, Alim McNeill, Levi Onwuzurike and Romeo Okwara put up a better effort against both the run and pass than what the Lions' defensive front showed in 2020. Detroit's defensive front collectively ranked 30th in PFF grade last season.    
10th percentile outcome: 8-9
How they get there: These simulations assume Aaron Rodgers is at quarterback, but let's assume Rodgers' standoff doesn't end up with him returning to the Packers and putting up another MVP-caliber performance. 
Instead, Jordan Love takes over for Rodgers, who either sits out the season or forces the Packers to acquiesce to a trade request. Love has the tools to deliver an impressive 2021 performance, but he also showcased questionable decision-making throughout his time at Utah State. He ranked among the top-five quarterbacks in the FBS in both big-time throws and turnover-worthy plays during his final collegiate season in 2019. Love's tendency to put the ball in harm's way could contribute to this eight-win season for Green Bay.  
90th percentile outcome: 14-3
How they get there: The offseason drama with Rodgers amounts to nothing, and the reigning MVP returns to lead another extremely efficient offense in 2021. No team generated more EPA per play than Green Bay did over the course of last season. The Packers are able to replace Corey Linsley (PFF's highest-graded center in 2020) and Rick Wagner (PFF's 12th-highest-graded right tackle) on the offensive line without much of a drop-off, and Amari Rodgers adds a different skill set to the offense. 
Kevin King and Eric Stokes combine to provide more reliable play at the cornerback spot opposite Jaire Alexander, as well. King earned just a 45.6 coverage grade in that role last season.   
10th percentile outcome: 5-12
How they get there: The Vikings' offseason additions on the defensive side of the ball don't make the kind of impact they're expected to. No one outside of Danielle Hunter is able to generate consistent pressure along the defensive line. Patrick Peterson and Bashaud Breeland, both of whom have earned coverage grades below 60.0 since 2019, bring more name-value with them than they do support to Minnesota's secondary. And the offensive line remains a roadblock to the Vikings' offense taking off, despite impressive talent at the skill positions. Christian Darrisaw and Wyatt Davis aren't able to give a significant boost to the unit as rookies. 
90th percentile outcome: 11-6
How they get there: Minnesota's offseason moves strengthen the various areas that held them back in 2020. Hunter, Michael Pierce, Dalvin Tomlinson and Sheldon Richardson turn around a defensive line that ranked 31st in overall grade last year. Peterson's career has a renaissance in a scheme that better suits his talents at this stage of his career, much like Xavier Rhodes' career has in Indianapolis. Breeland and Mackensie Alexander add more veteran depth to a young cornerback group. 
On offense, Ezra Cleveland and Garrett Bradbury take a step forward with another offseason under their belt, and the rookies show they can make an impact right away. Darrisaw, in particular, was dominant last season at Virginia Tech (95.6 overall grade).