Free agency and the 2022 NFL Draft have come and gone. Now, it's time to fully embrace the 2022 offseason by breaking down each team's fantasy football aspirations before fantasy draft season truly gets underway in August.
What follows is a Tampa Bay Buccaneers fantasy-focused breakdown, keying in on important questions such as:
Will Father Time finally catch up to quarterback

Tom Brady

?

Does

Leonard Fournette

have the running back position's most fantasy-friendly role?

Will wide receivers

Mike Evans

and

Russell Gage

pick up the slack in a major way with the statuses of both

Chris Godwin

(ACL) and

Rob Gronkowski

(possible retirement) uncertain?
Every fantasy-relevant Buccaneers player will be covered in the following paragraphs. Make sure to check out the PFF Team Preview Landing Page through early July for more all-encompassing fantasy football coverage.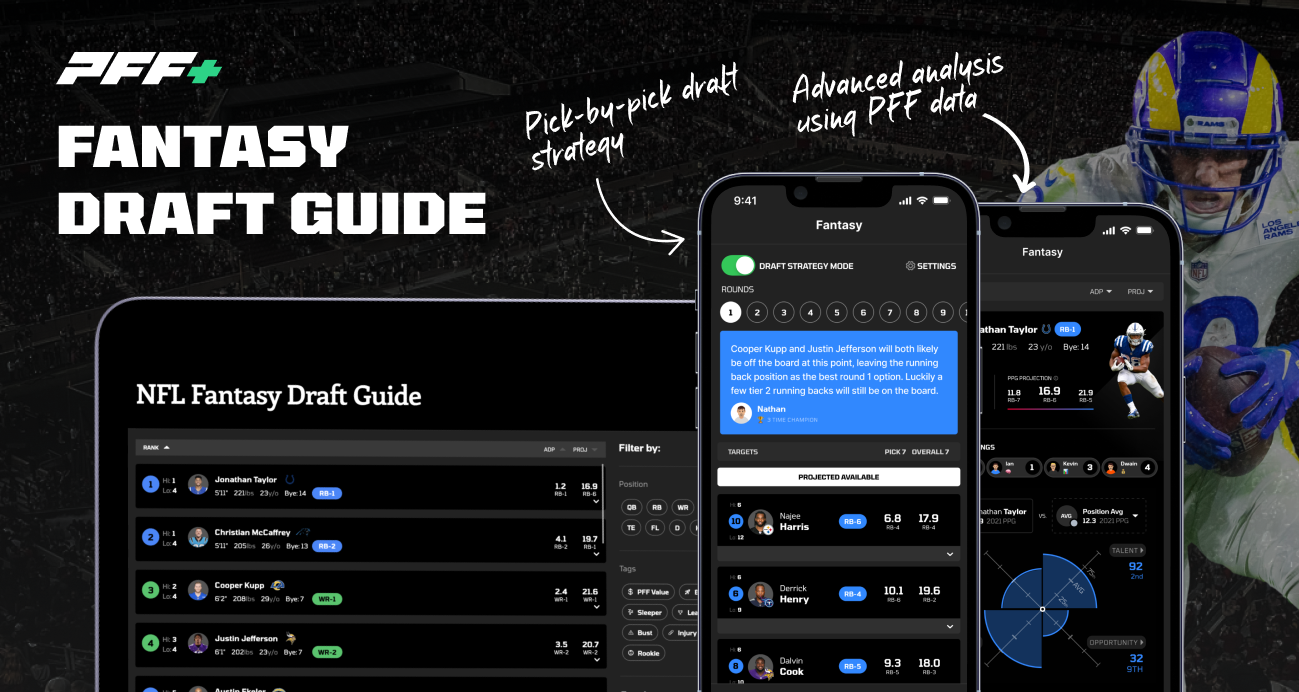 Notable offseason moves
Head coach Bruce Arians might be retired, but promoting from within in the form of defensive coordinator Todd Bowles makes it more likely than not that we see the Buccaneers take a similar team-wide approach in 2022.
This is also true on offense, as offensive coordinator Byron Leftwich is back to lead the squad. Tampa Bay ranked fifth in non-garbage time pass-play rate in 2020 before taking the top spot in 2021. While the team's status as the No. 31 offense in play-action rate isn't ideal, that's likely more a TB12 preference than an indictment on the scheme.
The Bucs have been a top-five offense in situation-neutral pace (Football Outsiders) in each of the past two seasons. This is arguably the league's single-most pass-happy offense, and their speedy pace helps create even more opportunities. Good luck finding a more fantasy-friendly offense to target for quarterbacks, running backs, wide receivers and tight ends.
Additionally, the Bucs have made plenty of changes to their roster. The following quarterbacks, running backs, wide receivers and tight ends have either joined or left the team in some way, shape or form this offseason:
The Bucs used their third-round pick on Arizona State running back Rachaad White. PFF's No. 3-ranked running back in receiving grade among all FBS backs in 2021, White brings the sort of pass-game upside to feasibly work across all three downs should Leonard Fournette be forced to miss any time.
Tampa Bay also added a pair of late-round tight ends in Cade Otton (pick 106) and Ko Kieft (218). While both could feasibly work in the rotation if Gronk unexpectedly retires or takes his talents elsewhere, the fantasy track record of players not selected inside of the draft's first three rounds isn't pretty.
Brady turns 45 years old in August. Perhaps Father Time finally takes control of his toughest rival to date, but otherwise, it's tough to expect TB12 to work as anything other than the top-tier quarterback he's functioned as ever since taking his talents to Tampa Bay:
PFF pass grade: 93.0 (No. 2 among 44 quarterbacks with 300-plus dropbacks 2020-21)
QB rating: 102.1 (No. 8)
Big-time throw rate: 6.2% (No. 5)
Turnover-worthy play rate: 1.8% (No. 1)
Yards per attempt: 7.5 (No. 14)
Adjusted completion rate: 75.8% (No. 22)
This isn't a 2014 Peyton Manning or 2019 Drew Brees situation where a late-season dropoff in arm talent was apparent. Somehow, Brady's arm looked more alive than ever last season: 
Tom Brady pic.twitter.com/bqYe148FGV

— Ian Hartitz (@Ihartitz) June 5, 2022
Brady worked as just the QB11 in fantasy points per game in 2020 but improved to the QB2 on both an overall and per-game basis in 2021. Obviously, he has remained one of the league's most efficient signal-callers, but the volume has really helped him rekindle some fantasy upside. Consider that only eight quarterbacks surpassed 600 pass attempts in 2021, with Brady's 719 attempts being a full 47 more than the next-closest passer.
Overall, Brady ranked third in expected fantasy points per game in 2021, behind only Josh Allen and Lamar Jackson. Dual-threat quarterbacks are a bit of a cheat code in fantasy land, but Brady's literal first-place passing volume is enough to make up for his lack of a rushing floor.
Yes, Brady didn't exactly end the season on a heater, tossing two or fewer touchdown passes in eight of his final 11 games (including playoffs). Also yes, by the first round of the playoffs, his top wide receivers behind Mike Evans were Tyler Johnson, Breshad Perriman, Scotty Miller and Jaelon Darden.
Ultimately, I rank Brady ahead of every non-dual-threat quarterback in fantasy. This means I'd still draft the likes of Josh Allen, Kyler Murray, Justin Herbert, Patrick Mahomes, Lamar Jackson and Jalen Hurts ahead of him, but after that give me Brady over guys such as Joe Burrow, Dak Prescott and Russell Wilson, who might not have the same sort of elite pass-game volume to keep pace with the GOAT.
Fournette ranked behind only Derrick Henry, Jonathan Taylor and Austin Ekeler in PPR points per game last season. It wasn't a fluke: Only Henry, Najee Harris and Alvin Kamara had more expected fantasy points per game.
While a late-season hamstring injury prevented Fournette from achieving a top-five overall fantasy finish, his fantasy-friendly workload can't be understated. Scholars won't confuse Fournette with one of the league's most polished pass-catching backs anytime soon, but style points don't matter in fantasy land, and the artist known as Lombardi Lenny was catching as many passes as any player at the position in 2021:
Christian McCaffrey

(5.3 receptions per game)

Fournette (4.9)

D'Andre Swift

(4.8)

Austin Ekeler

(4.4)

Najee Harris

(4.4)
This isn't to suggest Fournette is necessarily a top-10 running back in real life. He ranked 15th in PFF rushing grade (79.2) among all backs with 100-plus carries last season, while his 63.0 PFF receiving grade ranked 33rd among 56 qualified backs. He's 27 years old, so there's a chance his best years are behind him.
And yet, the Buccaneers' decision to pay Fournette like one of the league's top backs reflects the reality that he should once again be expected to lead this backfield in a major way. Just 12 running backs have a contract worth at least $20 million:
Fournette's 2021 role was fantastic for fantasy purposes. The Buccaneers doubled down by signing him to a three-year deal that at a minimum cements him as the starting running back for this season. Throw in the willingness to let Ronald Jones walk in free agency, and it's fair to wonder if Fournette will be leaving the field for anything other than a breather.
Don't believe me? Listen to Fournette's play-caller Byron Leftwich:
"Why it's tough to get Lenny off the field, he's a three-down back. … He's a smart guy, and he and Tom [Brady] can play ball. They can play ball together when it starts moving on them and things are changing and things have to happen, Lenny and him can play ball. They've been in these situations. That's why it's hard to really get him off the field because of what he brings and the connection him and Tom have. I think it's unique. It's not that we're forcing him on that field. It's because he's the best in what we're asking him to do."
Fournette comes in as my overall RB6 — behind only Taylor, McCaffrey, Henry, Harris and Ekeler. This is well above consensus for the moment, and for the life of me I can't figure out why. Fournette has one of the league's last-remaining workhorse roles inside of the reigning No. 2-ranked scoring offense with an immobile quarterback who has enabled high-volume pass-catching backs throughout his NFL career. Don't overthink this one; draft Fournette with reckless abandon anytime he falls to the middle-late stages of Round 2.
Bernard's presence isn't of much concern. Just twice in 2021 did he see more than three targets in a game, as Fournette was working as the offense's featured back well before Gio was injured in Week 14.
The bigger question is what to make of White's role. PFF said the following about the Buccaneers' third-round pick in our 2022 NFL Draft Guide:
"Where he wins: Space Play. White wins with the ball in space. The good news is it's very easy to get it to him there because he has some of the best receiving ability in the draft class.
What's his role: 3rd down RB/WR convert. White is a change-of-pace or receiving back early on in his career. He may even be a sneaky candidate to switch to wide receiver full-time, but you don't see a lot of that.
Where he can improve: Disciplined Running. White needs more reps with some discipline instilled into his running style. He's going to miss a lot of holes between the tackles in the league without it."
While White's receiving ability could potentially be a concern for Fournette, the aforementioned quote from Leftwich makes it unlikely that Brady pushes for a rookie to take away too many snaps from a veteran so soon. However, White sure looks like the next man up to take on Fournette's early-down role should the Bucs' starter be forced to miss any time, and his theoretical three-down ability could result in a fantasy-friendly bell-cow role in a hurry.
White is fully deserving of RB4 treatment in fantasy leagues of all shapes and sizes. He'll instantly be at the top of every waiver wire article should Fournette miss any time; don't be afraid to stash a legit three-down handcuff inside of anyone's idea of a top-five real life and fantasy offense.
Death, taxes and Evans putting up elite fantasy numbers:
2014: WR13 in PPR points per game
2015: WR25
2016: WR3
2017: WR19
2018: WR10
2019: WR4
2020: WR16
2021: WR10
The only thing that has really stopped even bigger performances for Evans with Brady under center is volume. Overall, Evans averaged 9.3 targets per game with Jameis Winston as his primary quarterback from 2014 to 2019 but just seven targets per game with Brady. Things could get special in a hurry should Brady decide to elevate that workload: Evans' 126.2 passer rating when targeted ranks third among 78 wide receivers with at least 100 targets over the past two seasons.
Note that Evans has missed just seven games due to injury during his eight-year career. His floor with good health is as an upside WR2, while the ceiling is a legit top-five finish. This latter scenario is more possible than ever with Godwin's (ACL) early-season status uncertain.
To say Evans has balled out without Godwin in the lineup would be a massive understatement. Here are his per-game finishes in eight games as Brady's featured No. 1 receiver over the past two seasons:
7 receptions-104 yards-1 TD

7-122-1

5-41-1

5-55-1

4-47-1

6-89-2

9-117-1

8-119-1
Evans comes in as my overall WR7, behind only Cooper Kupp, Justin Jefferson, Ja'Marr Chase, Stefon Diggs, CeeDee Lamb and Davante Adams. I'd take him ahead of guys with more competition and/or larger quarterback questions, including Tyreek Hill, Keenan Allen, Deebo Samuel, Tee Higgins and A.J. Brown. While there are a number of receivers in the latter group who might boast a slight talent advantage over Evans thanks to their youth, I'll take the heightened certainty of Evans playing in an elite offense with TB12 under center.
Godwin is where things get a bit tricky. The WR6 in PPR points per game and WR8 in expected last season, Godwin would be my highest-ranked Bucs receiver with no injury concerns. Alas, his 2021 Week 15 ACL tear makes it more than possible that he misses a chunk of early-season action in 2022. Head coach Todd Bowles himself had this to say about Godwin's timetable:
"Better than where he was but not where he needs to be, we don't put a timetable on it."
That's not exactly the most ringing endorsement in the world, but why would the Bucs rush Godwin along? They're clearly playing for January and February inside the suddenly depleted NFC South, and Godwin himself has little reason to hurry about after signing a three-year, $60 million extension that includes $40 million guaranteed.
Godwin's timeline isn't terrible; medical professionals in the industry believe that a Week 1 return is firmly within his range of possibilities. Still, this implies everything going great in the recovery along with the Buccaneers taking a bit of a risk in bringing back one of the centerpieces of their present and future offense so soon. For this reason, it's tough to be overly high on Godwin, but he comes in as my WR23 (ADP WR26 at Underdog Fantasy) due to the fact that he'll be ranked far higher once healthy, and any good news during the next few months will inevitably lead to his ADP booming. I'd like to be ahead of that push in best-ball drafts for the time being and will continue to lean into the cushy ADP for one of Brady's top-two pass-game options.
And then there's Gage, who is truly good at football.
Russell Gage pic.twitter.com/spFLrurqes

— Ian Hartitz (@Ihartitz) June 5, 2022
While the history of players changing teams in free agency isn't littered with high-end fantasy performers, the fact that the Bucs gave Gage a hefty three-year, $30 million deal makes it likely he'll be leaned on as a full-time player in this offense. Nobody is expecting Gage to operate at an Antonio Brown-like level of efficiency, but there should be enough targets to go around for all three main parties to eat. Buccaneers wide receivers rank fifth in total targets and third in routes over the past two seasons, making Tampa Bay one of very few offenses capable of enabling more than two fantasy-relevant receivers.
Gage will be ranked behind Evans and Godwin in weeks when everyone is healthy, but that's not a given at the moment. This makes his WR44 ADP a bit of a bargain, considering it's a fair measure for his production with a fully healthy supporting cast but far below where Gage will be ranked should Godwin miss time. Gage comes in as my WR39, and I continue to happily scoop him up in the eighth or ninth round of best-ball drafts.
Gronk is technically still a free agent, but The Athletic's Greg Auman reports that he's expected to return to the team. This makes sense: Why else would the Buccaneers have only devoted Day 3 picks to the position while allowing O.J. Howard to walk to Buffalo for just $3 million?
Assuming Gronkowski is in fact suiting up for Tampa Bay this season, you don't need two hands to count the number of tight ends to draft before him. Gronk forced more missed tackles in 2021 (16) than he did in 2017-2020 combined (15). His average of 2.02 yards per route run was his highest mark since 2017. The man tied with George Kittle as the TE3 in PPR points per game last season, finishing behind only Travis Kelce and Mark Andrews.
Consider that Gronk finished 2020 as the overall TE8 even while looking like a shell of his former self in his first season out of retirement. A full year of good health in 2022 could produce a familiar top-five finish out of Gronkowski, and he's currently available as a borderline TE1 due to the "uncertainty" surrounding his retirement. Buy the dip on arguably the best tight end of all time, one who still proved plenty capable of putting up elite fantasy numbers the last time we saw him suit up.