Free agency and the 2022 NFL Draft have come and gone. Now, it's time to fully embrace the 2022 offseason by breaking down each team's fantasy football aspirations before fantasy draft season truly gets underway in August.
What follows is a fantasy-focused breakdown of the Seattle Seahawks, focusing on key questions like:
Is either

Geno Smith

or

Drew Lock

worth a late-round dart in fantasy land?

Who will receive the most touches between

Rashaad Penny

and

Kenneth Walker III

?

Can

D.K. Metcalf

and

Tyler Lockett

keep on keeping on without

Russell Wilson

?
Every fantasy-relevant player from the Seahawks will be covered in the following paragraphs. Make sure to check out the PFF Team Preview Landing Page through early July for more all-encompassing fantasy football coverage.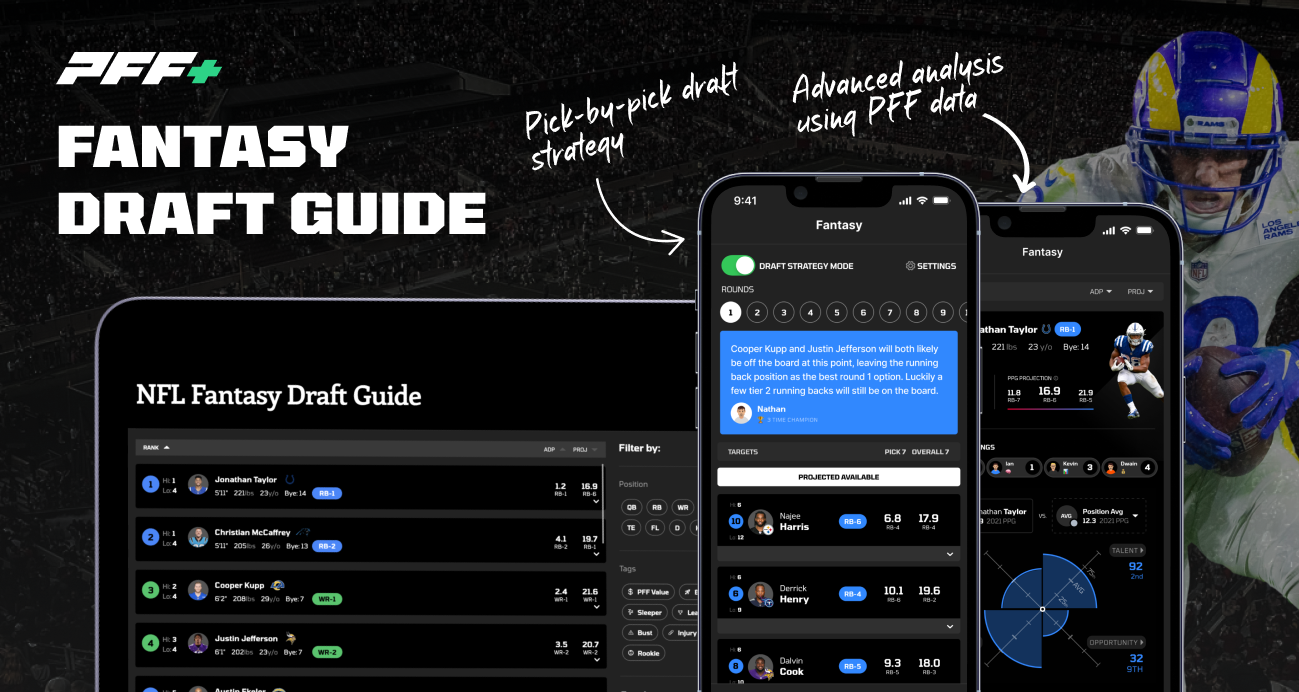 Notable offseason moves
From the front office to the coaching staff to the roster, every 2022 NFL team will be different than its 2021 version.
Head coach Pete Carroll is back for his 13th year leading the Seahawks. He's once again joined by offensive coordinator Shane Waldron, who worked as the Rams' passing-game coordinator from 2018 to 2020 before taking over the Seahawks offense in 2021.
While it's not fair to judge Waldron on a one-year sample that included Russell Wilson dealing with a broken middle finger, 2021 was not a good look. The Seahawks ranked 21st in pass-play rate (59.7%) in non-garbage time situations and came in at eighth in situation-neutral pace (30.18 seconds per play). Still, nobody ran fewer plays on the year than Seattle (954), and it's tough to score points when you don't have the football.
The Seahawks' ongoing fight against letting Russ cook doesn't figure to reverse course with either Geno Smith or Drew Lock under center, so don't expect this offense to enable more than one or two highly relevant fantasy factors across all positions.
Additionally, the Seahawks have made plenty of changes to their roster. The following quarterbacks, running backs, wide receivers and tight ends have either joined or left Seattle in some way, shape or form this offseason:
The Seahawks made a splash of sorts by adding Michigan State RB Kenneth Walker with the 41st overall pick. Nobody is debating Walker's ability with the ball in his hands. In fact, he was arguably the best pure rusher in this class. Last season, Walker joined new teammate Rashaad Penny as the only two FBS running backs to average over 4.0 rushing yards after contact per attempt and 0.3 missed tackles forced per carry on 250-plus carries since 2017. Of course, the continued presence of Penny throws a wrench into Walker handling a workhorse role from Day 1.
Seattle added a pair of seventh-round skill-position talents in Rutgers WR Bo Melton and Lenoir-Rhyne TE Dareke Young. Neither is a lock to make the final roster, although Melton did flash with a 75.0 receiving grade and 74.8 mark against man coverage. Note that the fantasy track record of players selected outside of the draft's top three rounds isn't pretty.
Head coach Pete Carroll said that Smith is "still ahead" of Lock in the quarterback competition, but added:
"It's not going to be too much for Drew to be caught up. … By the time we get through camp, he'll be there. … He's really bright. It makes sense to him. He's really sharp in the huddle and at the line of scrimmage and all of that. So it's just time that he needs, and there's nothing we can do but gain some more of that."
Three-a-half games is hardly a reasonable sample size. With that said, Smith was pretty damn good in limited 2021 action:
PFF passing grade:

71.4 (No. 18 among 44 quarterbacks with 100-plus dropbacks)

QB rating:

103 (No. 6)

Big-time throw rate:

6.9% (No. 3)

Turnover-worthy play rate:

2.5% (No. 8)

Yards per attempt:

7.4 (No. 13)

Adjusted completion rate:

80.5% (No. 2)
Smith's three starts in 2021 were more than he had in 2015 to 2020 combined. Throw in a rather brutal schedule against the Rams, Steelers, Saints and Jaguars (lol), and Smith largely exceeded all expectations in our most recent viewing of him.
The problem: Smith worked as just the fantasy QB26, QB23, QB20 and QB8. His 9-42-1 rushing line demonstrates the reality that it's going to be tough for him to maintain much of a fantasy-friendly floor. The Seahawks also embraced the run more than ever without Russ in action, dipping all the way to a 56.1% pass-play rate in non-garbage time situations (No. 28 during this stretch).
And then there's Lock, who has been objectively bad throughout his three-year career and most recently lost a quarterback battle with Teddy Bridgewater. Lock's advanced metrics demonstrate the reality that he's an inaccurate gunslinger:
PFF passing grade:

61.6 (No. 37 among 51 quarterbacks with 300-plus dropbacks 2019-2021)

QB rating:

79.3 (No. 44)

Big-time throw rate:

5.3% (No. 10)

Turnover-worthy play rate:

4.2% (No. 43)

Yards per attempt:

6.7 (No. 37)

Adjusted completion rate:

69.8% (No. 48)
With that said, I appreciate Lock's constant penchant for attempting difficult throws. Is this in the best interest of his career or his team's success? Probably not, but it's still fun to watch sometimes.
Drew Lock propaganda pic.twitter.com/zaiyg8XbVo

— Ian Hartitz (@Ihartitz) June 20, 2022
The problem for Lock is similar to Smith's: Even the good games usually haven't yielded all that much high-end fantasy production. Overall, Lock posted QB29, QB16 and QB9 finishes in his only three starts of 2021 after working as the QB29 and QB28 in fantasy points per game in 2019 and 2020, respectively.
Neither Smith nor Lock possesses a particularly fantasy-friendly skill set. There isn't a track record of sustained real-life or fantasy success from either. There are reasonably high-end weapons across the offense, but there's little reason to believe this offense will prioritize throwing the football. PFF ranked the Seahawks' offensive line dead last entering the 2022 season. Seattle also seems to be in the running for either Baker Mayfield or Jimmy Garoppolo.
Don't draft Smith or Lock in non-Superflex/two-QB fantasy football leagues — even if there's a fire.
Penny truly worked as one of the NFL's best running backs during his 10 games in 2021:
PFF rush grade:

83.7 (No. 8 among 50 running backs with 100-plus carries)

Yards per carry:

6.3 (No. 1)

Yards after contact per carry:

4.5 (No. 1)

Missed tackled forced per carry:

0.23 (Tied for No. 7)
Penny got the chance to start the Seahawks' final six games and ripped off PPR RB33, RB3, RB42, RB9, RB1 and RB4 finishes. His snaps slowly trended toward three-down territory, scaling from 41%, 57%, 42%, 54%, 64% and 74% between Week 13 AND Week 18.
Overall, 2021 Penny joins 2010 Jamaal Charles, 2012 Adrian Peterson, 2012 C.J. Spiller, 2017 Alvin Kamara and 2020 J.K. Dobbins as the only running backs to average at least 6.0 yards per carry in a single season since 2010 (minimum 100 carries).
Rashaad Penny pic.twitter.com/nzgk8U2ye8

— Ian Hartitz (@Ihartitz) March 2, 2022
One issue that caps Penny's ceiling in fantasy land is that he saw just eight total targets during his end-of-season stretch. This wasn't necessarily his fault, as the Seahawks' 14% target share to running backs beat out only the Rams, 49ers and Ravens last season. Still, Penny needs to be a superhero on the ground in order to make up for the lack of pass-game usage available in this offense.
The problem with expecting Penny to keep on keeping on into 2022 is because the Seahawks felt the need to add a high-profile early-down complement. PFF had the following to say about Michigan State RB Kenneth Walker in our 2022 NFL Draft Guide:
Where he wins: Everywhere
In a word…everywhere. It's what makes him so dangerous. He can lower a shoulder one play, outrun a defender on another and shake one on the next. All-around dynamic player.

What's his role: Bell cow
 Walker can quite clearly handle a bell-cow role. He's scheme and usage diverse. He can fill whatever role a team needs.

Where he can improve: Pass protection
 Walker has to buy in as a pass-blocker to see a bell-cow role in the NFL. Coaches at the next level won't let him see the field on passing downs with what he put on tape as a pass-blocker in 2021.
Overall, nobody broke more tackles than Walker (89) in all of college football last season. He's excellent at executing just about any rushing concept.
Unfortunately, the story of this backfield could simply come down to who is available. Walker missed OTAs with a hamstring injury, while Penny (hamstring) wasn't cleared to practice until June 11. Additionally, Carson wasn't cleared to take part in minicamp, and his chances of playing football don't exactly sound great coming off neck surgery.
From Carroll: "Our guys love this game that they grow up playing, and when they sense that there may be an end to it, it's hard. It's difficult, and it's real. … "And we're going to love him through it and help him as much as possible, if that's the case, like we do with everybody when it comes to the end of it. It's inevitable. It's coming, but it's always too soon, so we're trying to fight that off."
Similar to Smith and Lock, there are already bunches of volume-related problems at hand, and the potential to field the league's single-worst offensive line certainly doesn't help matters.
This backfield has all the signs of a three-headed mess. Expect Penny to get the first crack at handling most of the early-down work with Walker also seeing plenty of carries, but Dallas and/or Homer have a real chance to continue soaking up the offense's few fantasy-friendly pass-game opportunities.
Walker's talent profile is enticing enough to give him the nod (he is my RB32) over Penny (RB40), but neither figures to boast an especially appealing ceiling as long as each is healthy. Even then, it's not like there's a lot of scoring upside available in what looks a lot like the NFL's worst offense entering 2022. 
I'm largely out on Walker (Underdog ADP RB29) and Penny (RB37) at their current valuations. The larger allure for the former back is the reality that he'll likely be going far higher in drafts next year if/when Penny is out of the picture. From 2010 to 2020 the average second- and third-round qualified running back saw their average draft position climb by +9.2 running back-specific spots:
There might not be a more physically imposing wide receiver in the NFL than Metcalf at the moment. Just about any metric paints him as a top-25 receiver since entering the league:
PFF receiving grade:

84.1 (No.  21 among 102 wide receivers with 100-plus targets 2019-2021)

Yards per route run:

1.91 (No. 23)

Yards per reception:

14.7 (No. 18)

Targets per route run:

20.7% (No. 40)
Of course, it'd sure be a lot cooler if Metcalf had averaged more than 119 targets over the past three seasons. It's not like he's been completely ignored from the offense, but he seems like the type of guy who should be getting double-digit targets on a weekly basis.
???? pic.twitter.com/TKNZaS62sQ

— Ian Hartitz (@Ihartitz) June 20, 2022
Part of the reason why Metcalf hasn't been featured more over the years is easy: Lockett is pretty good too.
The 29-year-old veteran has actually posted a better PFF receiving grade and averaged more yards per route run than Metcalf over the past three seasons:
PFF receiving grade:

85.1 (No. 18)

Yards per route run:

1.94 (No. 19)

Yards per reception:

12.9 (No. 55)

Targets per route run:

20.3% (No. 45)
Smith did indeed look Lockett's way (30 targets) more often than Metcalf (22) during his four extended appearances. Still, Metcalf (19-245-5) was far more productive than Lockett (21-246-0) with Geno under center.
It's not impossible for bad offenses to enable a good fantasy wide receiver, although history tells us not to necessarily chase these situations. On average, the top-scoring wide receiver from a bottom-10 scoring offense has finished as the WR32 in full-PPR scoring over the last five years. There have been 20 instances of these low-scoring offenses producing a top-24 wide receiver, but also 20 of them not enabling anybody ranked higher than 35th.
Keep an eye on Metcalf's ongoing contract situation, but the latest news seems positive:
Carroll in May

: "We want him to be here. He wants to be here. … We'll figure it out. It'll just take us some time but we'll get it done."

Metcalf in May

: "I think we are going to get something done. I think I'm going to be in Seattle for the next coming years."
Ultimately, Metcalf comes in as my WR18, and Lockett my WR40. It does feel gross to draft a wide receiver from this offense, but both are cheaper than ever due to the uncertain situation under center. These steep discounts make that pill a bit easier to swallow, and don't count out the potential for talent to win out from both parties involved.
Eskridge and Swain could feasibly rotate as the offense's No. 3 wide receiver. Either way, there's not expected to be enough volume to go around for a third fantasy-viable pass-catcher in an offense that figures to keep on using plenty of two-TE sets.
Dissly has never drawn even 30 targets in a season, but he did play 51% or more of snaps in nine of 15 games in 2021, and a minimum of 34% snaps in every game. However, Gerald Everett managed to still have a 17-game target pace of 71.4, thanks to the Seahawks utilizing two tight ends on a whopping 45% of their snaps — the fourth-highest mark in the league.
Yes, Fant is objectively a better pass-catcher than Dissly. The former first-round pick has worked as a top-15 tight end in PFF receiving grade (73.1), yards per route run (1.56), yards per reception (11.2) and targets per route run (19.3%) since entering the league. Only George Kittle and Jonnu Smith have averaged more yards after the catch per reception.
Also yes, Dissly's three-year, $24 million contract includes $10.3 million guaranteed. The only tight ends with a higher overall contract valuation are George Kittle, Travis Kelce, Dallas Goedert, Mark Andrews, David Njoku, Jonnu Smith, Taysom Hill (lol), Hunter Henry, Kyle Pitts, Zach Ertz, Darren Waller, Tyler Higbee and Logan Thomas.
Fant has dealt with multiple ankle injuries along with rib, foot, shoulder, and most recently knee issues during his short career. This, less-than-ideal usage while splitting time with Albert Okwuegbunam and ever-porous performance under center has stifled any hope of Fant breaking out over the past three seasons, and unfortunately none of these factors are guaranteed to improve in 2022.
Fant (my TE23) is fine enough as a late-round dart to help fill out a best-ball roster, but don't get carried away — there's a decent chance that no pass-catcher in this entire offense has enough fantasy-friendly target volume to really make a major difference in the 2022 fantasy season. There are better late-round tight ends to target than a No. 3 pass-game option (at best) who is stuck in a committee inside of arguably the NFL's lowest-upside passing game. I'd much rather take the likes of Gerald Everett, Hayden Hurst and Albert Okwuegbunam ahead of Fant and hope that their superior offensive environments make up for a lack of personal talent.