Free agency and the 2022 NFL Draft have come and gone. Now, it's time to fully embrace the 2022 offseason by breaking down each team's fantasy football aspirations before fantasy draft season truly gets underway in August.
What follows is a fantasy-focused breakdown of the Denver Broncos, focusing on key questions like:
Will

Russell Wilson

cook with extra spice in this loaded offense?

Could

Javonte Williams

work as an upside RB1 after a rather great rookie season?

Which wide receiver(s) are worth targeting inside of this muddled pecking order?
Every fantasy-relevant player from the Broncos will be covered in the following paragraphs. Make sure to check out the PFF Team Preview Landing Page through early July for more all-encompassing fantasy football coverage.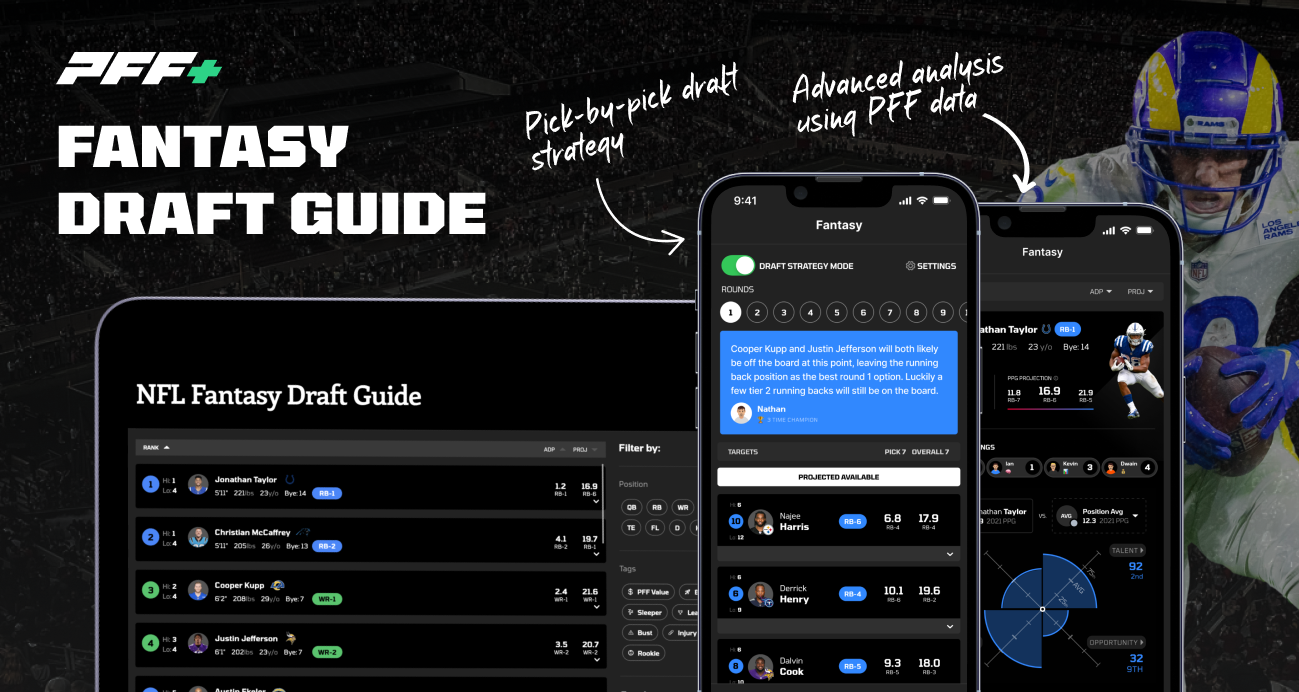 Notable offseason moves
From the front office, to the coaching staff, to the roster: Every 2022 NFL team will be different than its 2021 version.
The entire 2021 regime of head coach Vic Fangio, offensive coordinator Pat Shurmur and defensive coordinator Ed Donatell are gone. Their replacements are as follows:
Head coach: Nathaniel Hackett – Spent the last three seasons in Green Bay as Matt LaFleur's OC to help elevate Aaron Rodgers back to MVP heights. Previously Hackett got the most out of Blake Bortles in Jacksonville. He's led three top-10 scoring offenses since 2017.
Offensive coordinator: Justin Outten –

 Worked as the Packers tight ends coach from 2019 to 2021. Before that he was an offensive assistant with the Falcons from 2016 to 2018.

Defensive coordinator: Ejiro Evero – Has spent time with the Buccaneers, 49ers, Packers and Rams since 2007, most recently working as the defensive pass-game coordinator for the latter Super Bowl-winning squad.
A quick look at Hackett's offenses with both the Jaguars (2016-2018) and Packers (2019-2021) reveals that he's not attached to one single ideology in terms of non-garbage-time pass-play rate and situation-neutral pace (Football Outsiders):
2016:

65.6% pass-play rate (No. 7), 30.08 seconds per play (No. 9)

2017:

54.8% (No. 31), 30.12 (No. 13)

2018:

64% (No. 10), 32.27 (No. 25)

2019: 63.5% (No. 11), 31.06 (No. 18)
2020: 59.5% (No. 23), 32.83 (No. 32)
2021: 61.2% (No. 16), 30.78 (No. 12)
It's safe to say the Broncos won't shy away from leaning on Russell Wilson and their quartette of talented receivers, but Hackett's history leaves the overall play volume in question, and we shouldn't rule out the possibility of a Javonte Williams and Melvin Gordon-led offense if this defense proves capable of helping out in a major way. While I'd never suggest Hackett's two most successful seasons in 2017 and 2020 occurred because the offense embraced the run, it's possible the coaching staff sees otherwise, and the personnel at hand might just be good enough to make it work regardless.
In an offense filled with pass-catchers carrying lofty expectations: It'd be surprising if more than two matter in a meaningful way in fantasy land.
Additionally, the Broncos have made plenty of changes to their roster. The following quarterbacks, running backs, wide receivers and tight ends have either joined or left Denver in some way, shape or form this offseason:
QB Teddy Bridgewater: signed a one-year deal worth up to $10 million with the Dolphins. Bridgewater went 7-7 as a starter in 2021, putting forward middling to above average marks in PFF passing grade (70.7, No. 20 among 44 qualified quarterbacks), yards per attempt (7.2, No. 22) and adjusted completion rate (76.8%, No. 14).
QB Drew Lock: Traded to the Seahawks as part of the Russ deal. The 42nd overall pick of the 2019 NFL Draft didn't quite live up to expectations in Denver, throwing 25 touchdowns against 20 interceptions in 21 starts from 2019 to 2021. While Lock mixed in the occasional big-time throw

, his inconsistent nature lost him the quarterback competition against Bridgewater last season.
QB Russell Wilson:

The Broncos sent Lock, TE

Noah Fant

, DE

Shelby Harris

, 2022 and 2023 first-round picks, 2022 and 2023 second-round picks and a 2022 fifth-round pick in exchange for Wilson and a fourth-round pick. The Super Bowl Champion has functioned as anyone's idea of a top-10 quarterback since entering the league in 2012, compiling a 104-53-1 regular-season record with a 292 to 87 touchdown to interception ratio along the way.
QB Josh Johnson:

Signed a one-year, $1.2 million contract with just $100,000 guaranteed to presumably compete with

Brett Rypien

for the backup job. The 36-year-old veteran impressively threw for 300-plus yards for both the Jets and Ravens in his only two extended appearances of 2021 after not playing in the NFL since 2018. What an absolute baller.
WR Diontae Spencer:

Remains a restricted free agent. Spencer worked as the Broncos' primary punt and kick returner from 2019 to 2021. He totaled 79 yards on just 16 total offensive touches.
WR DaeSean Hamilton:

Remains a free agent. Hamilton posted 30-243-2, 28-297-1 and 23-293-2 receiving lines in 46 games as a backup receiver with the Broncos from 2018 to 2020. He missed all of 2021 while recovering from a torn ACL.
TE Noah Fant:

Traded to the Seahawks as part of the Wilson trade. Fant never quite reached the expectations that go alongside a 20th overall pick, posting 40-562-3, 62-673-3 and 68-670-4 receiving lines from 2019 to 2021. Unfortunately, he doesn't figure to see a major improvement under center anytime soon.
TE Eric Tomlinson:

Tomlinson signed a one-year, $1.4 million contract with the Broncos with $1,000,000 in guaranteed money. The 30-year-old journeyman has just 18 receptions in 68 career games; don't expect him to work as more than a block-first backup.
The Broncos added UCLA TE Greg Dulcich in the third round of the 2022 NFL Draft.  PFF's 2022 Big Board bottom-line on the third-round pick: "Dulcich has arguably the best feel for getting open at the tight end position in the class but just needs to get a little bigger." The 6-foot-4 and 243-pound 22-year-old talent profiles as a very real threat to Albert Okwuegbunam's target share.
The only other skill-position talent the Broncos added to the squad was fifth-round WR Montrell Washington, who very likely only factors in as a return option inside of this loaded wide receiver room. There's not much reason to expect anything here ahead of 2022; the fantasy track record of players not selected inside of the draft's top-three rounds isn't pretty.
Wilson turns 34 in late November. Last season marked the first time that he failed to throw for at least 30 touchdowns since 2016, although his stint on the injured reserve with a fractured middle finger didn't help matters.
The good news: Wilson rehabbed the injury for "19 or 20 hours a day" and only missed three games. The bad news: 2021 was largely the worst version of Wilson that the world has seen for quite some time:
PFF passing grade:

70.7 (career-low mark)

QB rating:

98.6 (lowest since 2017)

Big-time throw rate:

6.1% (lowest since 2017)

Adjusted completion rate:

71% (lowest since 2017)
More concerning for our purposes was the falloff in fantasy production. Wilson simply wasn't the same world-beating producer that graced the NFL for most of the last decade.
2021:

17.3 fantasy points per game (QB13)

2020:

22.5 (QB6)

2019:

20.5 (QB5)

2018:

18.7 (QB11) 

2017:

21.7 (QB1)

2016:

16.8 (QB15)

2015:

21 (QB3)

2014:

20.6 (QB3)

2013:

16.7 (QB11)

2012:

17.4 (QB9)
Wilson averaged a career-low 13.1 rush yards per game and has served as Exhibit A over the years in terms of quarterbacks running less as they get older. He threw for at least three touchdowns in only Week 1, Week 17 and Week 18 last season.
Of course, it'd make sense if Wilson's dropoff in performance was directly due to his aforementioned broken finger. This could even somewhat explain his overall hesitancy to run throughout the season. While his patented moonball highlights weren't quite as easy to come by in 2021 compared to previous years, there were still plenty of examples of him throwing an awfully pretty deep ball.
Russell Wilson pic.twitter.com/vyMVefyG2t

— Ian Hartitz (@Ihartitz) June 14, 2022
Russ enters a Denver offense that has four intriguing wide receivers to go alongside a pair of solid running backs and two more receiving-friendly tight ends. While PFF only ranks the Broncos offensive line as the league's 16th-best unit entering 2022, that's sure a nice step up from the Seahawks' 32nd-ranked unit.
Ultimately, Wilson comes in as my QB9 in the same tier as pass-first quarterbacks Tom Brady, Joe Burrow and Dak Prescott. I would put Wilson behind Brady and Burrow due to him having to adjust to a new offense and surrounding cast, but it's a bit early to drop him any further considering the history of elderly quarterbacks performing just fine. I'll take Wilson over Prescott thanks to the slightly better rushing floor and higher potential of weekly shootouts inside of the loaded AFC West. Give me Wilson over guys like Aaron Rodgers and Matthew Stafford thanks to his still superior rushing floor and similar passing upside in a best-case scenario.
Williams was spectacular as a rookie in terms of the metrics that attempt to best isolate a running back's performance from their offensive line. Specifically, his average of 0.31 missed tackles forced per carry ranked first among 50 running backs with at least 100 rush attempts, and his average of 3.4 yards after contact per rush ranked seventh.
This combination put Williams in some lofty company as a rookie. The following graph denotes a player's missed tackles forced and yards after contact per carry:
Running back yards after contact per carry and missed tackles forced per carry (min. 100 carries, PFF) pic.twitter.com/RoPO5zcEOM

— Ian Hartitz (@Ihartitz) January 10, 2022
Of course, these underlying metrics aren't reason enough alone to sign up for Williams in fantasy land. Nobody is chasing D'Ernest Johnson or Michael Carter this season despite their absurd efficiency numbers from 2021, due to a little thing called volume. While Williams regularly made the most out of his opportunities as a rookie, the overall number of touches wasn't ideal from a fantasy perspective. Overall, Williams' average of 12.7 expected fantasy points per game was tied with Carter for the 24th-highest mark among all running backs last season. Gordon (11.8) was tied for 28th.
Williams is obviously really good at football. Just watch the film.
Javonte Williams

Vibe: Wanna go for a ride? pic.twitter.com/ILDB2Ar6qh

— Dwain McFarland (@dwainmcfarland) June 14, 2022
Of course, there are plenty of running backs capable of putting up big-time fantasy numbers despite not being on Williams' level in terms of overall talent. We'll need more than just that fact in order to rationalize spending a top-three-round pick on the man.
The good news is that the Broncos' reigning 23rd-ranked scoring offense appears destined to improve with Russ under center, and there's a chance that Williams takes over a larger share of the backfield from Gordon.
Gordon himself had this to say about the competition:
"The goal is to make [the team] want to play me. … I know we're going to do our thing—me and 'Vonte' are going to do it. I don't really know how we're going to do the reps and things like that. The goal right now is to really master the playbook and let things play out. I'm definitely going to be ready to battle. That's what it is. It's going to make us better—it did last year. I'm going to continue to do that."
Of course, Gordon's relatively modest one-year, $2.5 million contract wasn't signed until April 26. There's a chance that Hackett views Williams more as a Leonard Fournette workhorse as opposed to someone who needs to be in a committee system. Reports out of Broncos OTAs indicate that a possible three-down role is on the table.
Last season both Williams and Gordon had exactly 203 carries. Williams slightly led the way in targets (53 vs. 38) and snap rate (51% vs. 48%). Expecting the rising second-year talent to fully take over this backfield is wishful thinking, but something closer to a 60/40 split appears to be firmly on the table.
Ultimately, there's enough upside on the table for Williams to warrant top-12 treatment. I'd still take guys like Leonard Fournette, Saquon Barkley, Aaron Jones, D'Andre Swift and Joe Mixon among others ahead of him due to their more locked-in roles, but Williams gets the nod over Nick Chubb (more questions about offense), Alvin Kamara (possible suspension) as well as Travis Etienne and Breece Hall (neither has proven it at the NFL level). My 22nd-ranked player overall, I'm comfortable being ahead of consensus on Williams thanks to his rock-solid RB2 floor combined with a (wait for it) league-winning ceiling. Consider: Williams already ranked 13th in total touches in 2021; even a small increase in usage will supply a true top-10 touch count for anybody's idea of one of the league's most-talented young backs.
And then there's Gordon, who was far from bad in 2021. In fact, the man was pretty good based on just about any metric you want to look at.
PFF rushing grade:

83.4 (No. 9 among 50 backs with 100-plus carries)

Yards per carry:

4.5 (No. 16)

Yards after contact per carry:

3.1 (tied for No. 16)

Missed tackles forced per carry:

0.22 (No. 10)
It's fine to be excited about Williams, but MGIII slander will not be tolerated. The 29-year-old veteran has gained at least 1,100 yards with double-digit touchdowns in five of his last six seasons, with the only exception occurring during his holdout-induced 2019 campaign.
Gordon has surpassed the 1,500 professional carry mark, meaning there's a solid chance that his days of producing rushing yards above expectation are likely over. Still, he's likely once again set up for 200-plus combined carries and targets; don't be afraid to target Gordon in the ninth or 10th round of fantasy drafts. He's my RB34 (ADP RB35) behind higher-upside No. 2 running backs like Kareem Hunt, A.J. Dillon and Tony Pollard, but ahead of the Bills running backs and handcuffs with less standalone value like Alexander Mattison and Khalil Herbert.
A quick look at exactly what that Broncos have invested in their top-four wide receivers:
Sutton:

Signed a four-year, $60.8 million contract extension that includes $34.9 million in guaranteed money.

Patrick:

Signed a three-year, $34 million contract extension that includes $18.5 million in guaranteed money.

Jeudy:

The 15th overall pick of the 2022 NFL Draft.

Hamler:

The 46th overall pick of the 2020 NFL Draft.
Here's the catch: GM George Paton was a member of the Vikings organization when the Broncos went ahead and took both Jeudy and Hamler inside of the draft's first 50 picks. However, Paton was the man who inked Sutton and Patrick's respective extensions.
Murmurs out of Broncos camp indicate that Patrick might already be well ahead of Jeudy in the pecking order. This would make sense when zooming in on each player's respective 2021 usage:
Sutton:

88% snaps from out wide, 12% from the slot

Patrick:

72% snaps from out wide, 23% from the slot

Jeudy:

26% snaps from out wide, 74% from the slot

Hamler:

51% snaps from out wide, 47% from the slot
All four receivers have flashed throughout their respective short careers despite dealing with middling quarterback play. Sutton had to deal with some brutal performances from Bridgewater throughout the season and averaged just 4.1 targets from Weeks 7-18. Jeudy was one of the league's single-most unlucky receivers in 2020 and went on to underwhelm during the second half of 2021 after returning from a high-ankle sprain. Patrick has been the Broncos' best wide receiver in terms of PFF receiving grade (78.1) and has as many receiving touchdowns (11) over the past two seasons as every other Broncos wide receiver combined. Hamler has managed to show off some tantalizing field-stretching ability during his limited action and has more speed (4.27-second 40-yard dash) than anyone on the roster.
Ultimately, Sutton profiles as the No. 1 receiver based on both his money and history of putting up that level of production; the man ranks fifth in yards per route run on vertical routes (go/post/corner) during his career behind only Rob Gronkowski, Julio Jones, Justin Jefferson, DeSean Jackson and Courtland Sutton. Wilson and Sutton look like a match made in heaven; he's my WR17 ahead of guys like D.K. Metcalf, Diontae Johnson and Jaylen Waddle thanks to his far better situation under center and potential for a similar, if not greater, target workload.
I have a tough time getting behind Jeudy at his current Underdog ADP as the WR20. Borderline erotic rookie-year route-running ability aside, he sure looks like the No. 3 WR (at best) in an option that could pigeon-hole him into the slot. This would be bad news if Hackett's history of ignoring three-WR sets with Rodgers persists: Green Bay ranked 21st (70%) in dropbacks featuring at least three wide receivers from 2019 to 2021. Additionally, more reps on the outside might not be great considering Jeudy had the largest difference in yards per route run vs. cornerbacks (1.76) compared to any other primary coverage defender (2.59) among all wide receivers with at least 50 targets in 2021.
Both Patrick (ADP WR58) and Hamler (WR76) are buys at their present valuation: particularly Patrick, who is one of my top-three highest-owned wide receivers after completing roughly 20 best-ball drafts since the NFL Draft. Don't be afraid to draft the cheapest options available in ambiguous situations like this, particularly when they're a proven talent like Patrick or possess potentially high-end untapped upside like Hamler.
The artist known as Albert O has largely made the most out of his opportunities throughout his short career:
PFF receiving grade:

77.5 (No. 9 among 51 tight ends with 25-plus targets 2020-21

Yards per route run: 2.02 (tied for No. 5)
Yards per reception:

10.3 (No. 25)

Targets per route run: 24.7% (No. 3)
The problem was usually that the presence of both Okwuegbunam and Noah Fant produced a committee of sorts that rendered each as low-ceiling fantasy assets. While Fant is out of the picture, third-round TE Greg Dulchich profiles as the sort of receiving-friendly tight end who could cause a similar rotation.
PFF wrote the following about Dulchich in our 2022 NFL Draft Guide:
"Where he wins: Natural receiving ability. Dulcich is the kind of athlete that could still produce if he lost 20 pounds and just played wide receiver. He's got that kind of feel and body control to separate.
What's his role: Receiving TE. Dulcich will never be a plus blocker in the NFL, but he's at least respectable in that regard. Dulcich will be coveted for his all-around receiving ability that can work from any alignment.
Where he can improve: Musculature. Dulcich has already come a long way from the 210-pounder that showed up at UCLA, but he shouldn't be done yet. Dulcich has 5-10 pounds more to go before he's ready to be a high-level contributor in the NFL."
Hackett made a habit of rotating tight ends during his time in Green Bay. Consider: Robert Tonyan played at least 75% of the offense's snaps just once in his career despite easily establishing himself as the team's most receiving-friendly player at the position.
There's also the possibility that Wilson simply refrains from overly targeting the position. Jimmy Graham (96, 95, 74) owns the top three seasons in terms of targets among all Seahawks tight ends since 2012, while Gerald Everett is the only other guy to clear even 60 pass-game opportunities in a single season. The lack of targets to an inline player makes sense when considering Wilson's career-long concerns surrounding his unwillingness to throw the ball over the middle of the field.
Albert O is currently going off the board as the TE17 over at Underdog Fantasy. This is fine and affordable enough, but I lean toward guys like Irv Smith, Tyler Higbee, David Njoku and Gerald Everett as preferred late-round tight ends thanks to each also flashing some serious talent while offering loftier target ceilings.
A committee system at tight end in Denver seems likely. Don't go out of your way to add Albert O in fantasy ahead of 2022.