Free agency and the 2022 NFL Draft have come and gone. Now, it's time to fully embrace the 2022 offseason by breaking down the fantasy football aspirations of each and every team before draft season truly gets underway in August.
What follows is a fantasy-focused breakdown of the Buffalo Bills, keying in on important questions such as:
Will

Josh Allen

capture his third-consecutive overall QB1 crown?

Is

James Cook

a sneaky good bet to lead all rookie running backs in fantasy points?

Should you buy into a Year 3

Gabriel Davis

breakout?
Every fantasy-relevant Bills player will be covered in the following paragraphs. Make sure to check out the PFF Team Preview Landing Page through early July for more all-encompassing fantasy football coverage.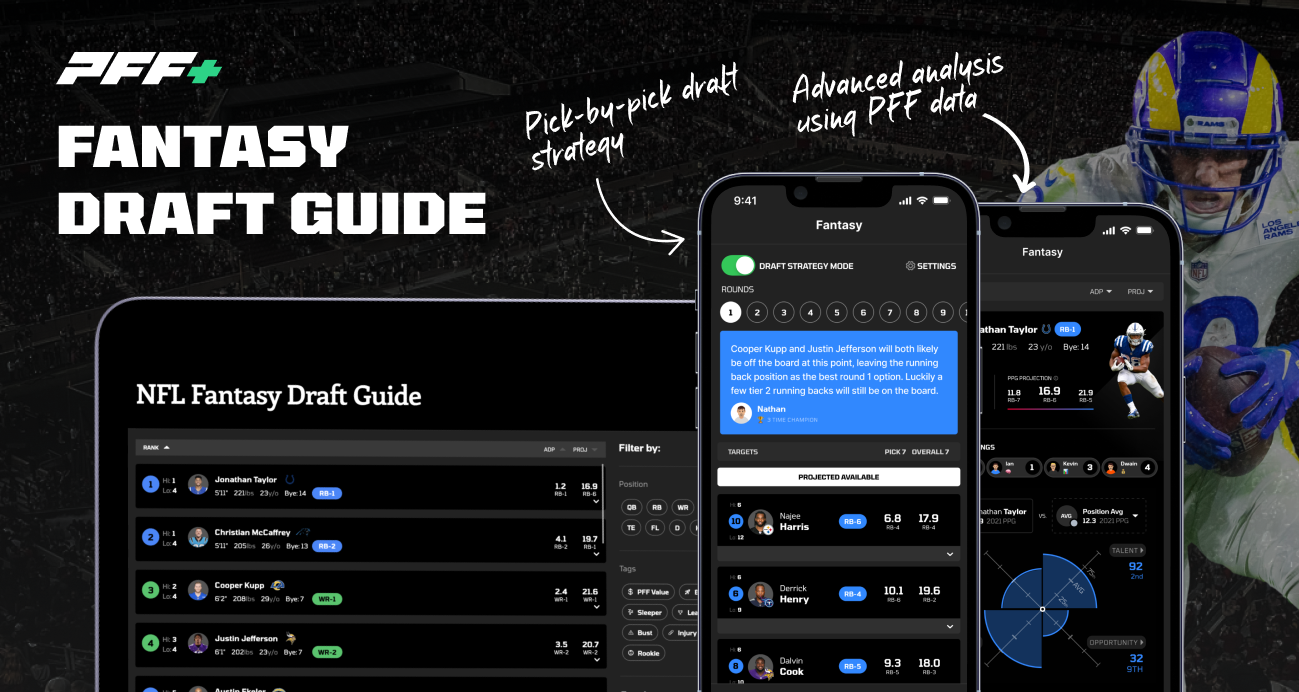 Notable offseason moves
From the front office to the coaching staff to the roster: Every 2022 NFL team will be different than its 2021 version.
Head coach Sean McDermott is back for his sixth season in Buffalo, as is his trusty defensive coordinator Leslie Frazier. However, the Bills' coaching trinity was finally split after offensive coordinator Brian Daboll left for the Giants. Don't expect too much change, though. His replacement, Ken Dorsey, has spent the past three years as Josh Allen's direct quarterback coach.
The Bills have moved up from 24th to 11th to, most recently, third in pass-play rate in non-garbage time situations over the past three years. Last season, they ranked ninth in neutral-situation pace (Football Outsiders). This offense figures to keep throwing the hell out of the ball while attempting to run as many plays as possible in 60 minutes of action. Fantasy football investors love to see it.
Additionally, the Bills have made plenty of changes to their roster. The following veteran quarterbacks, running backs, wide receivers and tight ends have either joined or left the team in some way, shape or form this offseason:
The Bills also made a handful of fantasy-relevant moves in the draft. Most notable was selecting explosive pass-catching running back James Cook at the end of the second round. There's also reason to be optimistic about fifth-round wide receiver Khalil Shakir, although the fantasy track record of players not selected inside of the draft's first three rounds isn't pretty.
Allen was a great fantasy quarterback before he was even a good real-life signal-caller, working as the overall fantasy QB1 after returning from injury late in 2018, and then posting an overall QB6 finish in 2019.
Underrated early-career success aside, the man has become a borderline cheat code over the past two seasons. Allen became the first signal-caller since 2003-04 Daunte Culpepper to post back-to-back overall QB1 finishes. Another season atop the leaderboard would land Allen in an exclusive club alongside 1992-1994 Steve Young and 1995-1997 Brett Favre as the only signal-callers to post overall QB1 fantasy production in three consecutive seasons over the past 50 years.
Here's the scary part: There's a chance we haven't seen Allen's final form just yet. His 2021 regular season was a step back in terms of PFF passing grade (81.9 vs. 87.9), yards per attempt (6.9 vs. 7.5) and completion rate (63.1% vs. 66.3%) compared to 2020. Allen still displays a lack of care for the football from time to time, as only Ben Roethlisberger and Taylor Heinicke made more turnover-worthy plays in 2021.
But that small dropoff shouldn't concern anyone because Allen still fully resembled an absolute world-beating talent when at his best in 2021.
Josh Allen pic.twitter.com/mTdOcmXCM2

— Ian Hartitz (@Ihartitz) May 10, 2022
Remember, Allen was a great fantasy quarterback before he landed in conversations for top-five real-life status at the position. This is thanks to some of the more absurd rushing production the position has ever seen. Somehow regardless of position, Allen is one of just 10 players with 30-plus rushing touchdowns since 2018. He (31 career rushing touchdowns) has a real chance to pass Michael Vick (36) by the end of 2022.
It'd be nice if the Bills' 17th-ranked offensive line from a season ago takes a step forward in 2022, but either way, Allen is cemented as fantasy football's overall QB1. Most years it'd be reasonable to suggest Patrick Mahomes, Kyler Murray or Lamar Jackson could pop off and challenge for the title, but the reality that each suffered some major hits in their wide receiver weaponry departments won't help their causes.
The only "problem" of the Josh Allen experience has been the absence of a fantasy-friendly running back. A lot of this has to do with Allen's tendency to scramble instead of check down and call his own number near the goal line. Overall, Bills running backs rank 27th in targets and tie for 25th in carries inside the five-yard line over the past two seasons.
For now, Singletary again profiles as the starter. He functioned as one of the league's better backs last season in terms of yards after contact and missed tackles forced per carry. Singletary showed some serious fantasy upside down the stretch after the Bills scrapped their committee backfield following a weather-induced 14-10 loss to the Patriots. This resulted in Singletary playing a true three-down role during the team's final seven games:
Week 14: 4-52-0 rushing, 6-37-0 receiving, 82% snaps, PPR RB14

Week 15: 22-86-1 rushing, 1-10-0 receiving, 93% snaps, RB7

Week 16: 12-39-1 rushing, 5-39-0 receiving, 68% snaps RB10

Week 17: 23-110-2 rushing, 0-0-0 receiving, 80% snaps, RB5

Week 18: 19-88-1 rushing, 2-24-1 receiving, 76% snaps, RB3

Wild Card: 16-81-2 rushing, 3-13-0 receiving, 86% snaps

Divisional Round: 10-26-1 rushing, 4-25-0 receiving, 100% snaps
It'd make sense if Singletary continues to work well ahead of Moss on early downs, but the front office's flirtation with J.D. McKissic and ensuing decision to use a second-round pick on Cook reflects their probable desire to utilize a committee of sorts. General manager Brandon Beane said himself, "We see his (Cook) best skill set as a sub back. But, I think he can handle carries too if we give him some more carries"
The Bills failed to produce a fantasy-friendly running back in 2018 (best back finished as RB44 in PPR per game), 2019 (RB28) and 2020 (RB43). Even 2021 (RB31) was largely a grind for Singletary before his productive stretch run. Cook is a bigger threat to this offense's (already small) running back target share than anything Singletary has ever had to deal with. Throw in the potential for Moss or Johnson to carve out a small role in their own right, and it simply doesn't look likely that any single Buffalo running back will command a true three-down role in 2022.
I give Cook the slight edge over Singletary thanks to his higher pass-game ceiling, although Singletary will likely be the more fantasy-relevant player early in the season. Still, a common rule of thumb in fantasy land is to never hate the player; just hate the ADP. Both Cook and Singletary present fine-enough options at a cost near the bottom of the RB3 totem pole. They're worth prioritizing in lineups that fail to come away with more than one running back in the first five or six rounds. Still, keep in mind that the muddled nature of this committee, combined with Allen's dual-threat nature, leaves an underwhelming ceiling relative to what you'd expect from anyone involved with one of the league's consensus top-five offenses.
Diggs was nothing short of unstoppable in 2020 on his way to leading the league in receptions (127) and receiving yards (1,535). His 2021 campaign (103-1,225-10) wasn't quite as dominant, but it was more than enough to secure him another top-10 fantasy finish. The WR4 in PPR points per game since joining the Bills in 2020, Diggs is again cemented as the offense's undisputed No. 1 pass-game option.
Diggs comes in as my overall WR4 because he has less competition and more continuity than the likes of Davante Adams, Tyreek Hill and A.J. Brown. He checks every single box from a volume (No. 1 in total targets 2020-2021), talent (90.9 PFF receiving grade 2020-2021) and quarterback perspective (Josh Allen). The only three wide receivers I'd take ahead of him in fantasy drafts of all shapes and sizes are Cooper Kupp, Justin Jefferson and Ja'Marr Chase.
And now, for the main event. All Davis has done in his first two seasons is rack up 18 total touchdowns, popping off the screen on plenty of occasions along the way.
This was so nasty lmaopic.twitter.com/1ownQcicw7

— Ian Hartitz (@Ihartitz) May 3, 2022
Yes, Davis failed to command even 65 targets in a single season during the first two years of his career. Also yes, the man just turned 23 in April, and the Bills' decision to not re-sign Sanders while adding only slot-first receivers to the offense means that Davis should be starting in two-receiver sets for the first time in his career.
The Bills ranked first in total targets to wide receivers in 2021 and second in 2020. There's enough overall volume here for Davis to flirt with WR2 production despite not having the world's most gaudy target share.
Ultimately, Davis projects as the No. 2 pass-game option inside of arguably the league's most prolific passing attack. This is enough for me to prioritize him over No. 1 wide receivers in less-proven passing games like Brandin Cooks and Darnell Mooney. An average of 4.3 teams enabled multiple top-24 PPR wide receivers in the same season from 2010-2020. Allen has enabled a top-20 wide receiver alongside a top-40 option in each of the past three seasons. So, don't be surprised if his No. 2 pass-game option manages to leap into the upper echelon in his first real opportunity with a featured role.
Crowder could very well be undervalued at his present ADP; the concern is that McKenzie will split reps and render each a non-viable fantasy asset. This was the case down the stretch of 2021, as neither Beasley nor McKenzie played more than 51% of the offense's snaps in a single game from Week 17 through the divisional round. Still, the potential for Crowder to seize the sort of starting role that Beasley had for most of 2019-2021 is an awfully tantalizing prospect for someone essentially free in fantasy drafts at the moment. Crowder deserves to be prioritized in the later rounds of full-PPR drafts — the reward is a legit high-floor WR3.
2021 hype for Shakir seems misguided considering the lack of available snaps. He's multiple injuries away from being on the weekly fantasy radar. Using a mid-to-late-round rookie draft dynasty pick on him is fair, but realize the fantasy track record of players not selected inside of the draft's top-three rounds isn't pretty. 
The good news is that Knox proved capable of playing an every-down role in 2022, working as the TE9 in PPR points per game thanks in large part to converting nine of his 71 targets into touchdowns.
The bad news is that history tells us his chances of replicating this feat on a similar target volume are poor. Ten of 12 tight ends to score eight-plus touchdowns on fewer than 80 targets went on to work as the TE14 or worse the following season. Perhaps Knox joins Rob Gronkowski (TE1) and Antonio Gates (TE7) as exceptions to the rule, although it's awfully tough to expect anybody to be so efficient on limited volume two seasons in a row.
Howard's presence adds further potential for Knox to be a fade at his top-10 ADP. Howard's one-year, $3.5 million contract hardly signals Knox is out of the picture, but there were real questions being asked this time last year about Jacob Hollister's potential to take snaps from Knox. Ultimately, Knox played at least 75% of the offense's snaps just three total times during his first two seasons with the Bills before surpassing that threshold in 16 of 17 games last season. A return to 2019-2020 usage would make it tough to expect enough volume for him to post another top-10 finish.
Knox comes in as my TE13 behind more-certain full-time players in still-good passing offenses, including Zach Ertz, Irv Smith and Tyler Higbee. It's not that Knox is a bad fantasy prospect, but reaching on him as a true top-10 player when these other talents are available several rounds later doesn't seem to be a smart decision. Howard isn't on the fantasy radar without an injury to Knox, and even then, it's feasible the likes of Tommy Sweeney and Quintin Morris would help form a committee of sorts.