• D'Onta Foreman: 21 carries, 165 yards, 1 touchdown
• D.J. Moore: 5 receptions, 83 yards, 1 touchdown
---

Jump to another recap:
[email protected] | [email protected] | [email protected] | [email protected]
[email protected] | [email protected] | [email protected] | [email protected]
[email protected] | [email protected] | [email protected]
---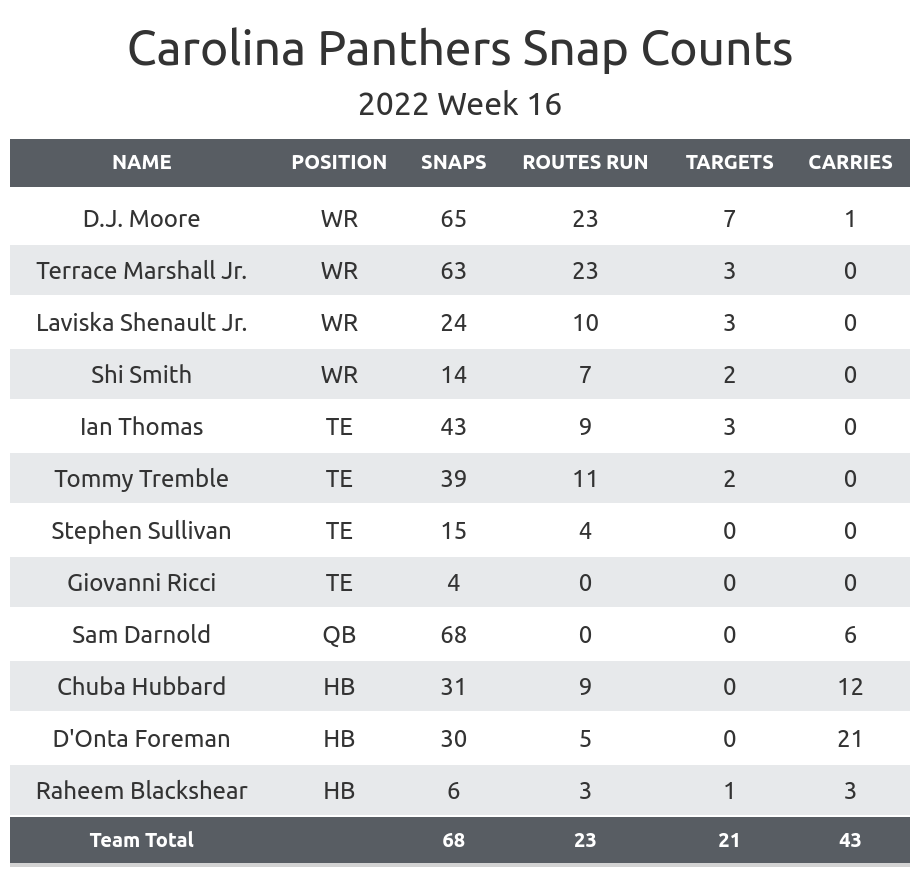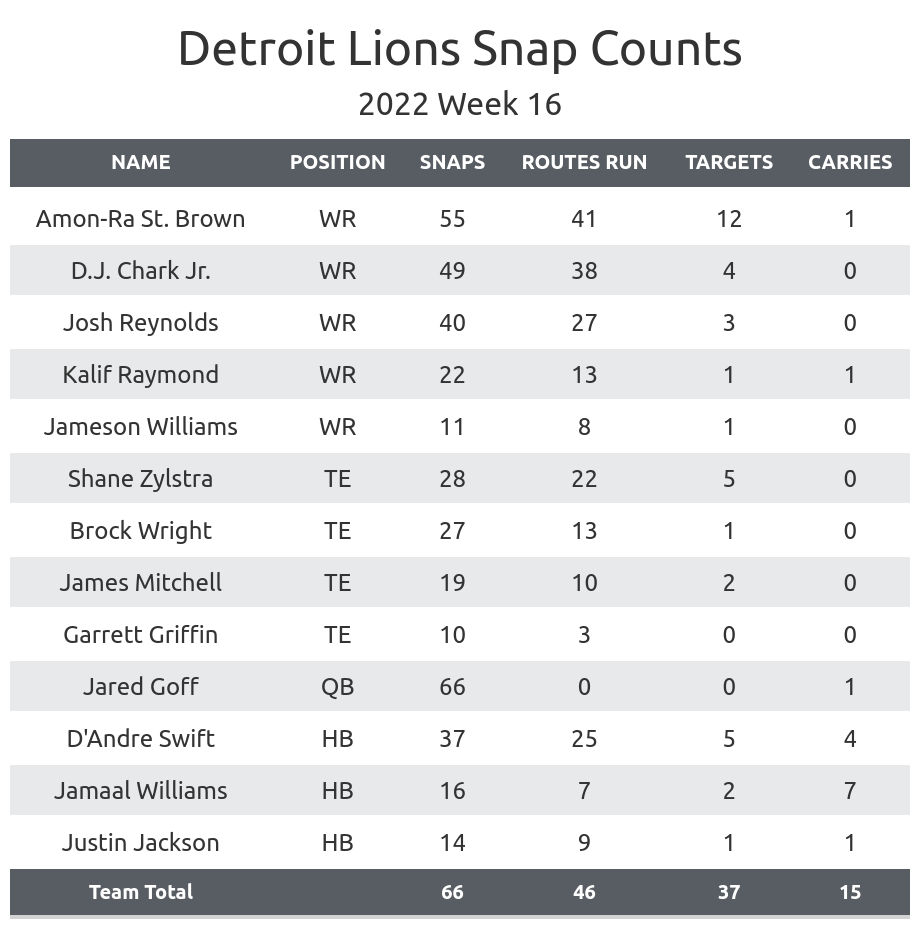 Shane Zylstra with the hat trick: Zylstra had eight career catches coming into today's game and out of nowhere scored three touchdowns.
The Lions have used a committee approach at tight end since trading away

T.J. Hockenson

.

They have typically used

Brock Wright

and

Garrett Griffin

in two-tight end sets — Wright in one-tight end sets on early downs and Zylstra as the tight end on third downs and two-minute drills.

This usage remained true in Week 16. The Lions even ran eight plays in three-tight end sets, and half the time Zylstra wasn't one of those three tight ends.

Two of Zylstra's three touchdowns came from three-tight end sets despite him not always playing in that personnel grouping.

Zylstra will likely be the Lions' top receiving tight end over the rest of the season, but he doesn't see enough playing time to seriously consider him next week.

The Lions play the Chicago Bears

in Week 17, who have allowed the fifth-fewest fantasy points to tight ends this season.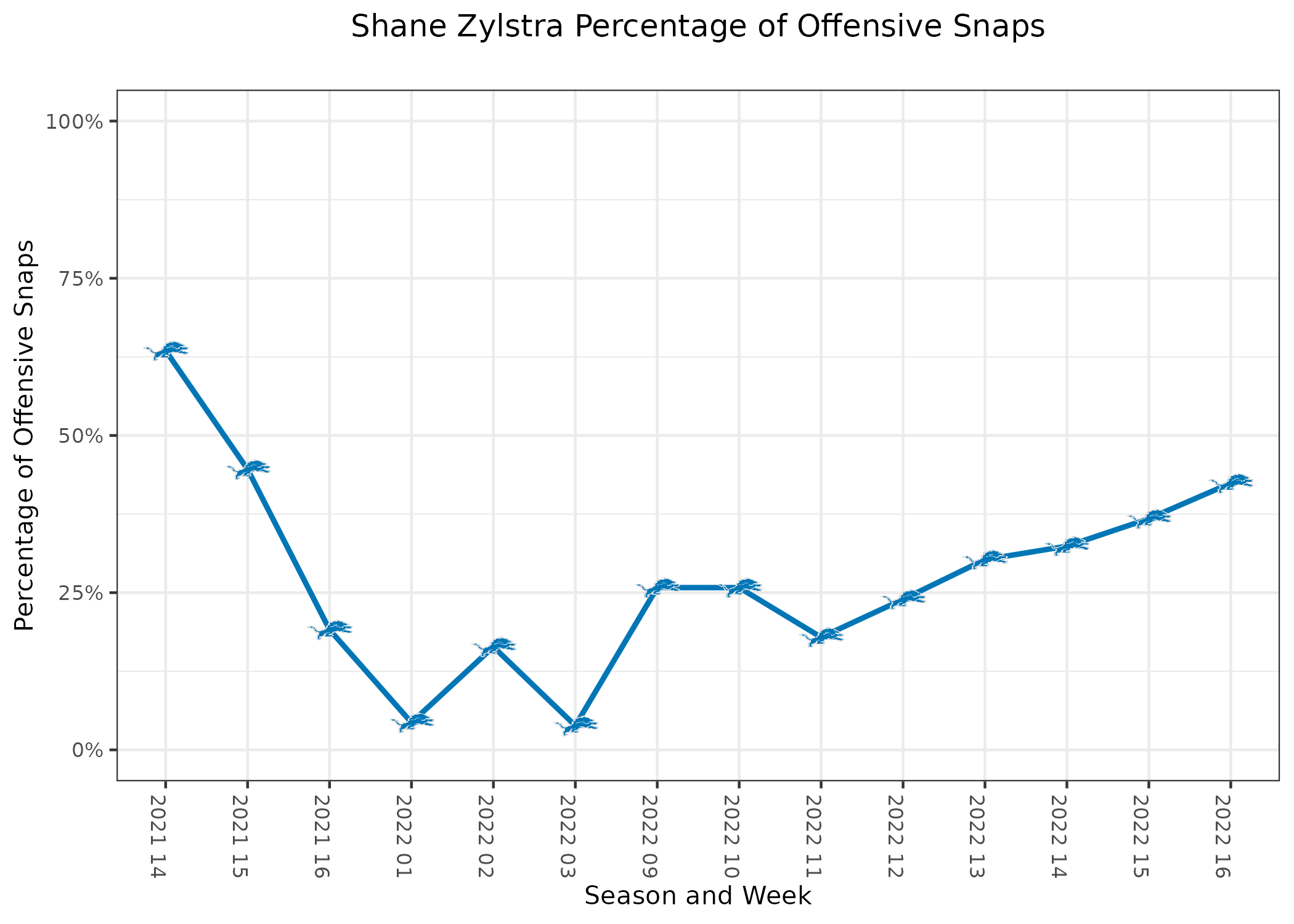 D'Andre Swift sees more playing time: Swift received his most playing time in months, but that didn't translate to more fantasy production.
Swift was the clear leader in snaps on both early downs and third downs, which has rarely happened this season.

He's consistently been the team's running back during two-minute drills, and the fact that Detroit ran so many plays in two-minute drills pushed him over 50% of offensive snaps for the game.

Detroit's continued use of a three-back committee is still hurting Swift's fantasy production, as well as his lack of goal-line snaps.

None of the Lions' running backs were effective today. Swift led the team with 3.0 yards per carry but ran the ball just four times.

He saw plenty of targets, but they were largely on uncatchable passes.

It will still be hard to trust Swift next week with how touchdown-dependent he's been. 

Detroit has five 2023 draft picks in the first three rounds, and it's certainly possible they use one on a running back.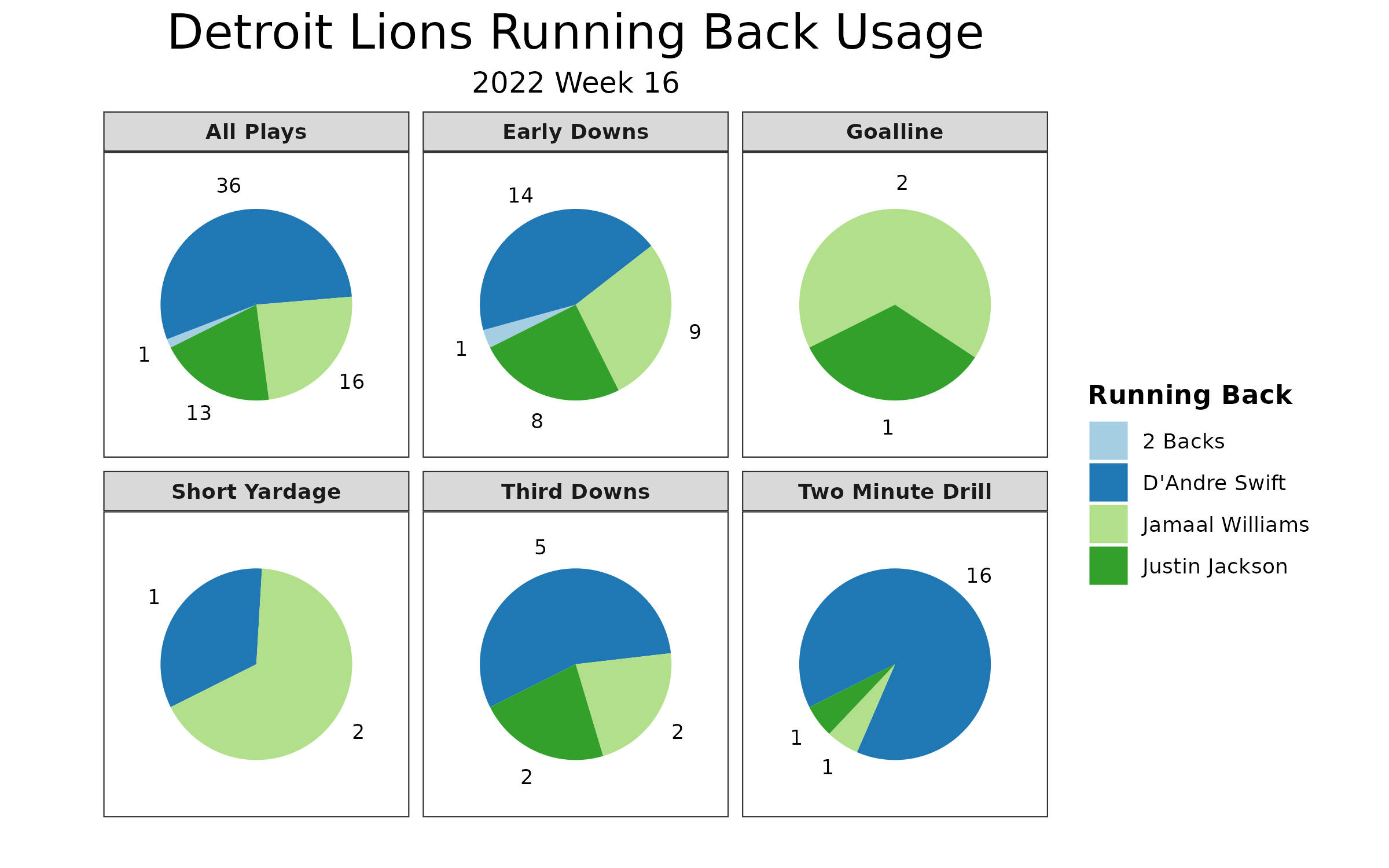 Panthers continue a two-man rotation at running back: Chuba Hubbard seemed to be gaining momentum as the Panthers' lead back, but it became clear this was the same backfield rotation we've seen the past two months.
Hubbard led the team in early-down snaps last week and maintained all of his passing-down work. That was in a game where

D'Onta Foreman

had nine yards on 10 carries.

Hubbard started the game for Carolina, something he hadn't done since Week 7.

His first two runs went for 30 yards and 35 yards.

He ran the ball 10 more times for 60 yards throughout the game, but Foreman also looked great as a rusher and ended up leading the team in carries by a significant number.

The fact that both running backs had an excellent game is great, but the split in snaps will make it much harder to trust Hubbard next week compared to him having an every-down role.

The Panthers play the

Tampa Bay Buccaneers

next week. They have allowed the fifth-fewest fantasy points to running backs this season.

Both backs posted double-digit fantasy points against Tampa Bay in Week 7, so it's at least possible both can be fantasy starters again.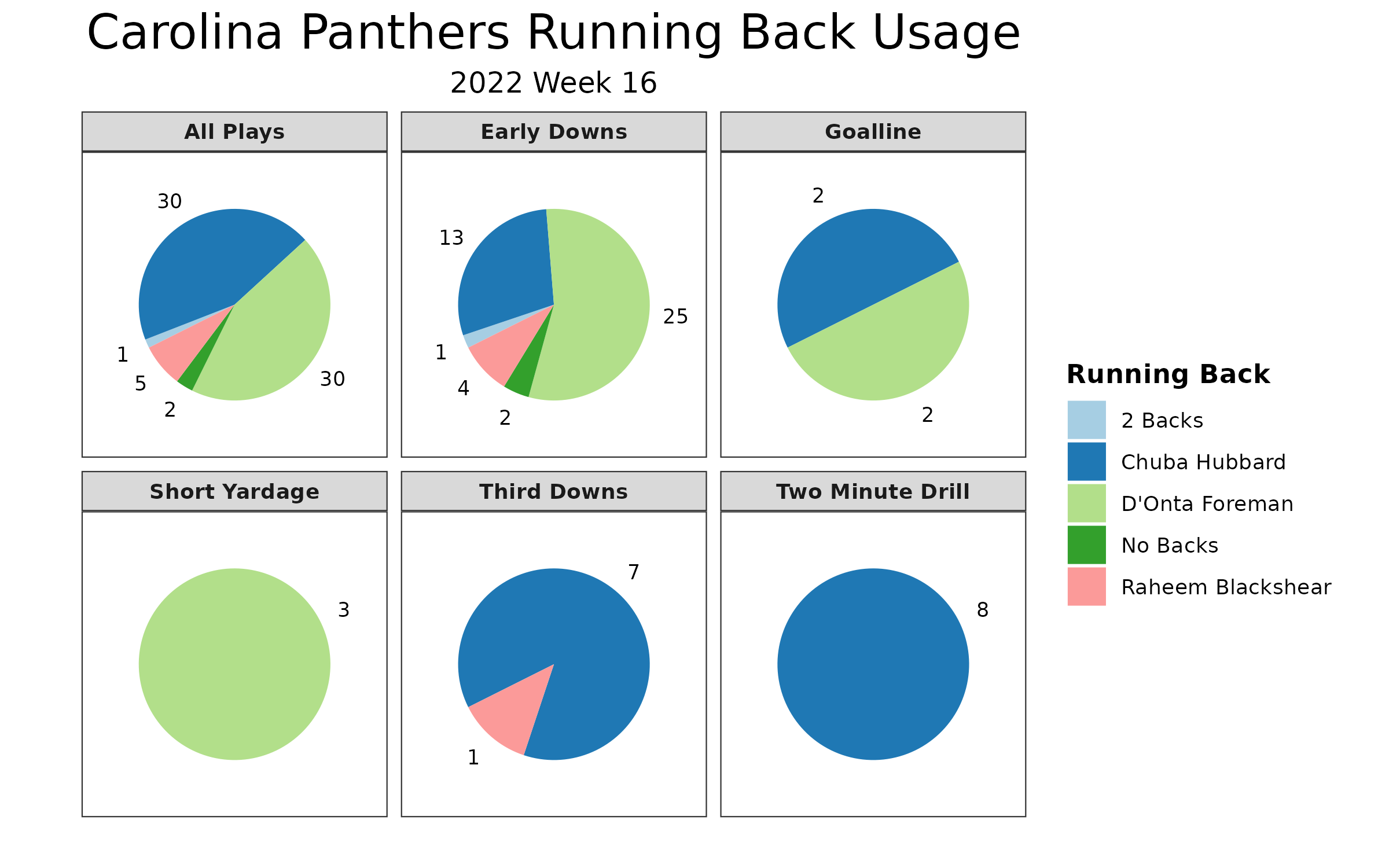 ---
Table Notes
• Snaps include plays called back due to penalties, including offensive holding or defensive pass interference. The other three stats have these plays removed.
• Targets may differ from official NFL sources. The most likely discrepancy would be from a clear thrown-away pass, where the NFL may give the target to the nearest receiver, while this data will not.
• Carries are only on designed plays. Quarterback scrambles won't count for the total number of carries in the game.