Mock drafts are the best way to prepare for a fantasy football draft — they allow you to try out different strategies and give you an idea of what a team will look like based on the decisions you make early in the draft. 
Since we are in the midst of peak fantasy football draft #szn, I decided to participate in what I consider a modified mock draft through Underdog Fantasy to provide a glimpse into what real people are currently doing in real drafts. I'll go through each of my picks and explain the thinking and any internal player debates through all 18 rounds.
This draft was a 12-team Best Ball format, which I chose because I wanted to draft with actual drafters (with some cheddar on the line) to give the most accurate depiction of what you can expect to happen during legitimate 2020 fantasy football drafts. My draft slot was the 10th overall pick (you can view the draft board here, but you have to sign up for a free account and log in). 
The only other player I debated in this situation was running back Joe Mixon. Because Josh Jacobs can often fall into the second round, I figured I could take Mixon and still get Jacobs, but I didn't want to take the risk. And Jacobs probably wouldn't have fallen back to me — after I selected him, four-straight running backs went off the board: Miles Sanders, Mixon, Nick Chubb and Kenyan Drake.
With question marks looming around Mixon — even though he plans to play Week 1 — I'll take Jacobs over him straight up and hope Mixon or Chubb falls to me in the second round. My ideal double running back strategy picking at the back of the first round is any combination of Jacobs/Mixon/Chubb. 
Since Mixon didn't fall, I was left with only Austin Ekeler or Aaron Jones as running back targets. In this case, Julio Jones was the highest overall player on my board regardless of position, so he was the selection.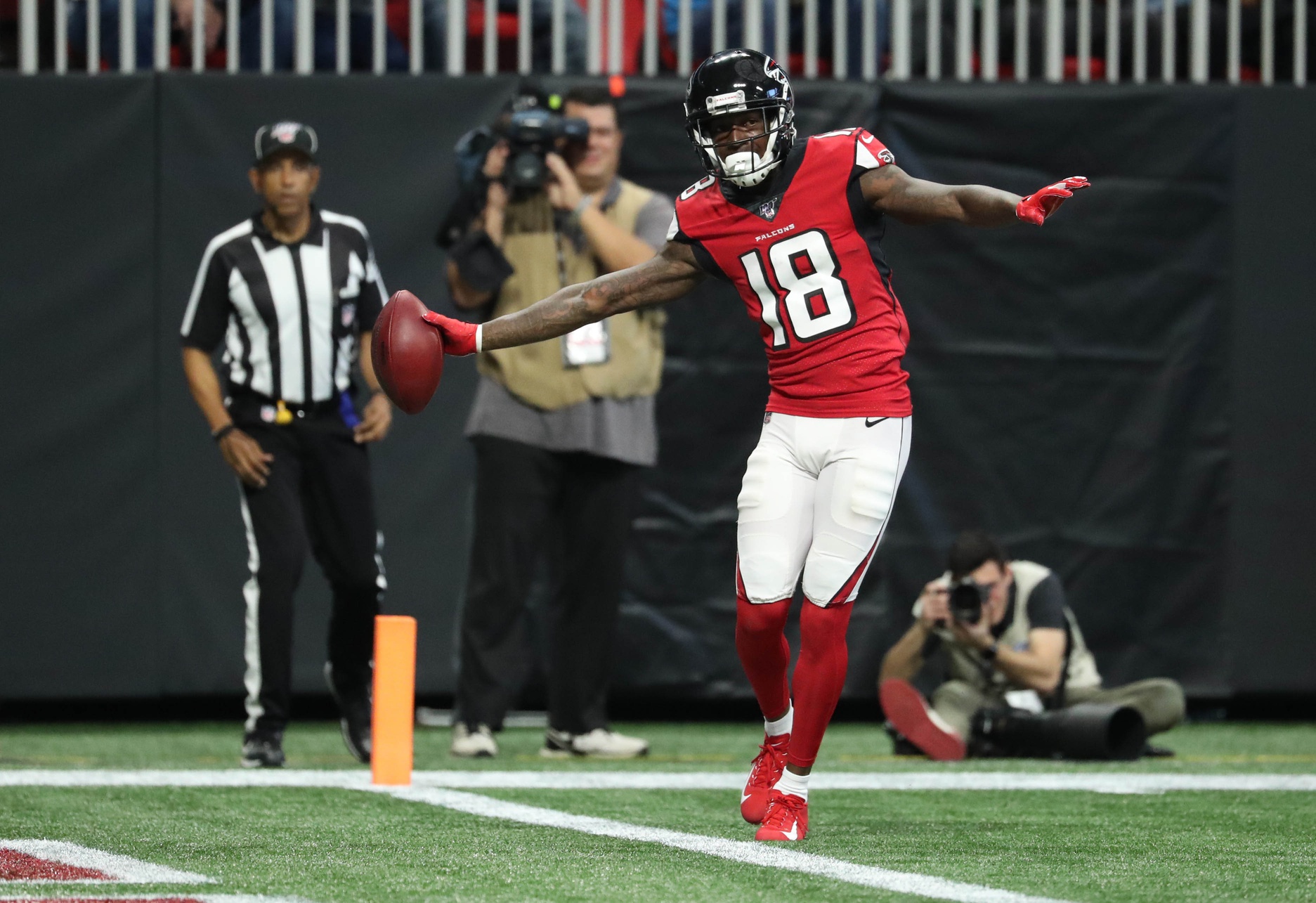 Picking at the back-end of Round 3, I was eyeing Adam Thielen or Jonathan Taylor as my top two options, but both went within five selections of my pick. With them off the board, I went back to the wide receiver position, taking Calvin Ridley to acquire both Falcons top wide receivers. 
Stacking is always recommended in Best Ball but can also be extremely beneficial in standard formats. 
Considering I was building my team around the Atlanta Falcons' offense, I was all-in on selecting Todd Gurley in the fourth round. But I was sniped right before my pick. I settled for Melvin Gordon, who I don't necessarily love. But as a fourth-round pick, I think it's solid value based on my team's need for an RB2. 
After selecting Gordon, I wanted to address the running back position again, but everybody I was targeting — Cam Akers, Mark Ingram II and Ronald Jones — came off the board. I also missed out on one of my favorite picks, Courtland Sutton, who I routinely get in Round 5. 
I didn't want to reach at running back, so I went with Marquise Brown, who has so much upside and room to grow in his Year-2 season. Last year, he generated an NFL-high passer rating of 134.4 on his 65 targets despite playing through injury. 
There were only two running backs left atop the draft board followed by a large gap, so I knew it was either going to be J.K. Dobbins or Raheem Mostert as my next selection. And I think I made a mistake. I love Dobbins' upside, and by all reports he has been tearing it up at training camp. But Mostert is likely to be the 49ers' starting running back in Week 1, and even if he loses the job at some point, the sixth round is not even close to an overpay. 
During Mostert's stretch as a starter last season, he ranked seventh in yards after contact per attempt (3.5) and ninth in missed tackles forced per attempt (0.21) among running backs with at least 100 attempts. As a starter in Weeks 13-17, his fantasy points per snap was third-best in the league.
Mostert has been a player I've faded throughout the summer — I have him ranked the lowest among the PFF fantasy rankings. But at pick 75 overall, that's a value considering his ADP is 60. 
This blunder of mine is a perfect reminder that we don't hate players — we only hate their ADPs. 
The other reason why the Dobbins pick wasn't ideal is that I was able to grab another high-upside rookie running back just a round later in Antonio Gibson. Rounds 7 and 8 are the sweet spot to take Gibson. The latest report suggests that Gibson is seeing more work than he anticipated, which is music to the ears of fantasy football managers.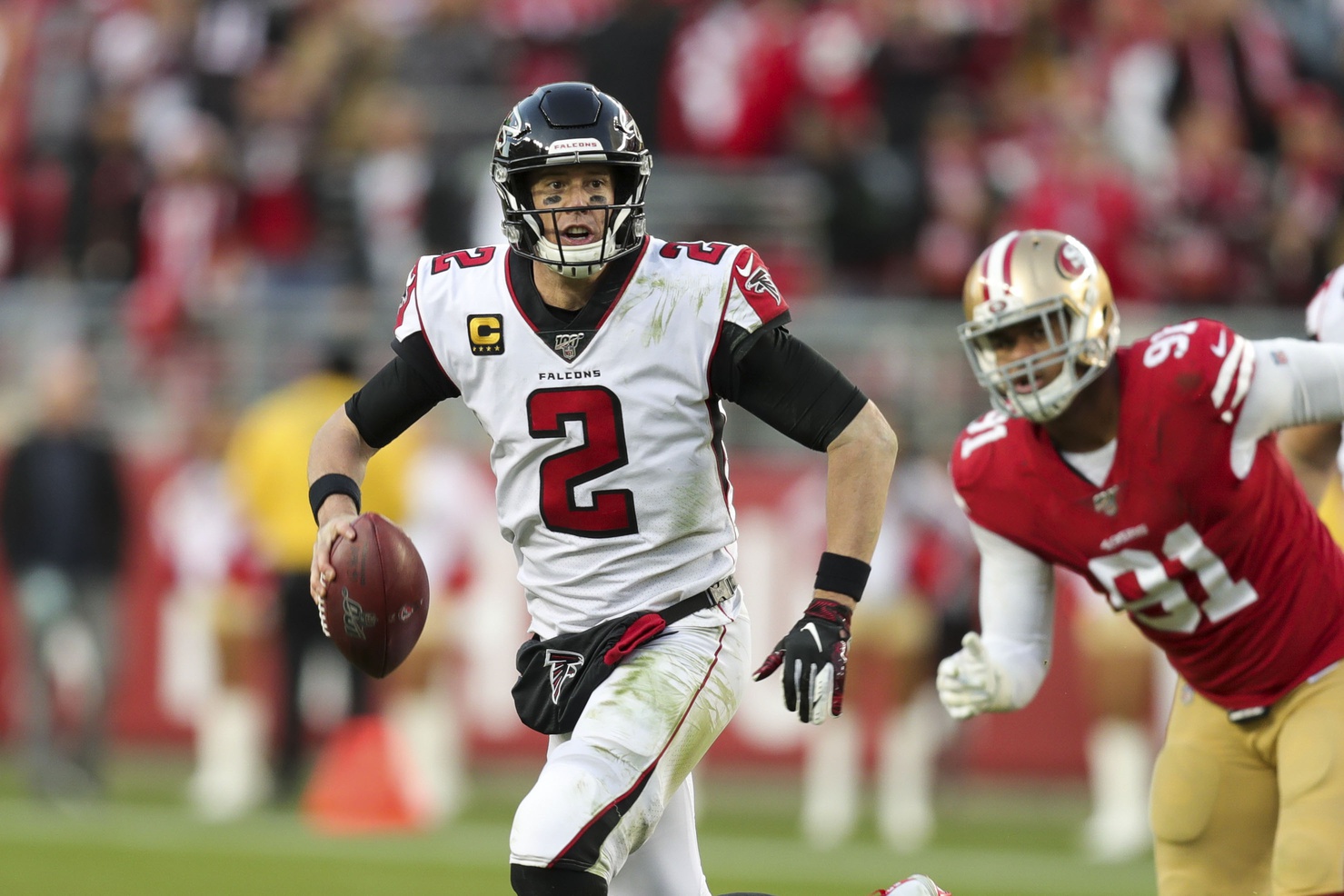 Josh Allen and Matt Ryan are almost always available in Round 8, and both are solid values at that price. Each could easily finish as a top-five fantasy quarterback, and the draft capital spent here is not going to be a detriment to your roster from an opportunity cost standpoint. 
I have Allen ranked one spot above Ryan, but considering I already drafted Jones and Ridley I wanted to make sure I got Ryan with this pick. I will say, though, that looking at how the rest of the next two rounds transpired, I should have taken tight end Hayden Hurst instead to fully complete the Falcons' stack.
After I took Ryan, Allen was the only other quarterback taken before my next pick, so there was a strong chance that Ryan would have made it back to me at 9.10. 
As mentioned, I wanted Hurst with this pick, but he was gone so I went with a wide receiver who is flying under the radar in John Brown. My main target here was Kerryon Johnson, but he went at 9.09 so I had to pivot quickly.
Brown's fantasy outlook is being overshadowed by the addition of Stefon Diggs, but by all accounts that I have researched, Brown is still Allen's go-to receiver. Not to mention, Diggs has missed time this offseason with several injuries. 
It can be tough to know where to draft backup running backs, but Round 10 is the perfect time to pull the trigger. I outlined this approach in my 2020 fantasy football draft strategy and followed it perfectly here, selecting Alexander Mattison, who has a ton of upside should Dalvin Cook go down due to an injury or miss time because of a holdout. 
The second-year running back would thrive in a featured role, considering his efficiency marks were right on par with Cook last season. They both ranked in the top 20 in yards after contact per attempt and in forced missed tackles per attempt among running backs with at least 100 attempts.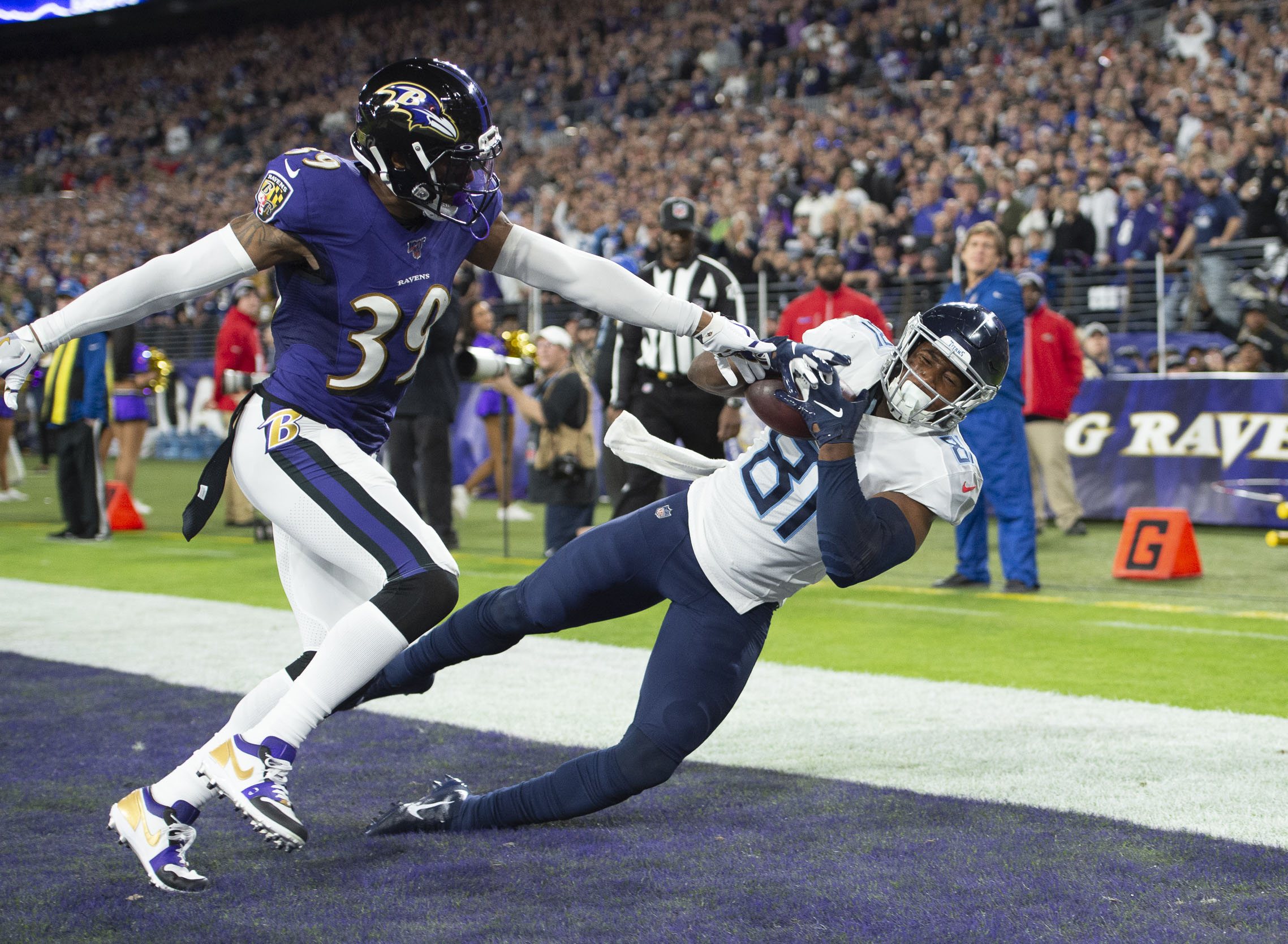 If you're following the late-round tight end approach, then Round 11 is the exact spot you want to start adding tight ends to your team. This is where you'll see the most potential breakout tight ends, and I was grateful that those drafting in front of me selected Hunter Henry, Jared Cook, Mike Gesicki and T.J. Hockenson so that my favorite tight end, Jonnu Smith, could fall to me. 
Guys, I swear I wanted to draft Chris Herndon here at 12.3, but my draft app crashed and I ended up auto drafting Austin Hooper. It's not the worst pick — at this price, Hooper is a value and I love going back-to-back tight ends in Rounds 11 and 12, but Herndon is just on another level. 
He ended up being drafted at 12.10. So the PSA here: Herndon, Round 12, no matter what. Lock it in, so you won't suffer from FOMO. 
Parris Campbell was the exact wide receiver I was looking for as one of my favorite sleepers for the 2020 season, so I was ecstatic to get him here in the 13th round. I only had four wide receivers up to this point, so I added Campbell as my WR5. This round is perfect for breaking the mold and going after your guy.
Rounds 12-14 are the perfect hit location for late-round quarterbacks. With Ryan as my only quarterback so far, I added Gardner Minshew. I think his potential is being undersold in fantasy — the guy can throw deep and make plays with his legs, the recipe for fantasy success.
It's like everyone forgot that Minshew was the QB8 through the first five weeks of the 2019 season. And now that Leonard Fournette has been released, Minshew should have a clear path to positive touchdown regression.
Minshew's 50 scrambles led the NFL last season. Every other quarterback who had at least 30 scrambles averaged five rushing touchdowns. Get ready for some mustache touchdown celebrations. 
The Fournette release news broke during this pick, but with just a 30-second timer, I was unable to change my pick to Jaguars' running back Chris Thompson. So I was just a tad disappointed with Nyheim Hines, but not to the point where the pick feels 100% regrettable. 
I fully expect Hines to be the primary pass-catching back for the Colts in 2020. With Philip Rivers under center, he's going to see more scoring opportunities. Since 2018, Rivers has the most touchdown passes to the running back position. Per PFF's Kevin Cole, in 2019 Hines accounted for 59.7% of the Colts' running back targets.
There are so many injuries at the wide receiver position for the San Francisco 49ers that Kendrick Bourne becomes a no-brainer selection as a late-round wide receiver. Bourne doesn't offer much big-play ability (4.1 average yards after the catch), but he is a red-zone machine. He ranks second in receiving touchdowns inside the 10-yard line (nine) since 2018.
Tyler Eifert has a clear path to the starting tight end job in Jacksonville and is coming off his first NFL season that was not cut short due to injuries. 
He also finished last season strong. During the final four weeks, he ranked sixth in fantasy points per touch (2.88), fifth in fantasy points per snap (0.24) and 11th in total fantasy points among tight ends with at least 50% of snaps played.
Because I had Minshew at quarterback, I wanted to pair him with one of his Jacksonville pass-catchers.
With my final pick, I strongly considered adding Brian Hill to even out my Falcons stack, but I realized he was selected a few picks before me. I also considered Jaguars' running back Devine Ozigbo but ultimately pushed the button on Devonta Freeman. His value will immediately go up once he signs. Considering all the injuries we've seen so far among running backs, I'm sure he'll find a home.
He's also an easy cut in traditional redraft leagues after Week 1 when it's time for the first waiver wire run of the season.
Important Draft Notes:
Twelve of the first 14 draft picks were running backs.

James Conner

was drafted in the second round, which is higher than he usually goes.

Quarterbacks

Lamar Jackson

and

Patrick Mahomes

were drafted at the Round 2-3 turn, and I think that's what you are going to see across most fantasy drafts this year.

After Mahomes was taken at 3.02, 14 of the next 22 picks were wide receivers. 

Jonathan Taylor

is consistently going in the third round of drafts.

After being available in Round 6 or 7 for most of the summer, both

Cam Akers

and

Ronald Jones

went in Round 5. The running back thirst is real, people.

Will Fuller

was drafted in Round 5, and that's too rich for even my blood.

Deshaun Watson

,

Dak Prescott

,

Kyler Murray

and

Russell Wilson

seem to always be drafted in Rounds 6-7, but never in the same order. My best advice is to just select whichever one is left in Round 7.

Late-round quarterbacks start coming off the board from Rounds 12-14. 

Damien Harris

(10.10) was drafted three rounds ahead of

Sony Michel

(13.6).

The last four or five rounds of the draft are essentially dart-throws, so don't be a victim to ADP. Rather, get the sleepers you want on your roster.