The 2021 NFL Draft boasts yet another special wide receiver class. But before you think the past two years are the start of a consistent trend, just know that 2022 isn't shaping up nearly the same. If you need a wide receiver, this is the year to grab one somewhere in the first two rounds.
More of PFF's 2021 NFL Draft tools here: 
2021 NFL Draft Big Board | 2021 NFL Draft Guide | 2021 NFL Draft Stats Export | NFL Mock Drafts | NFL Mock Draft Simulator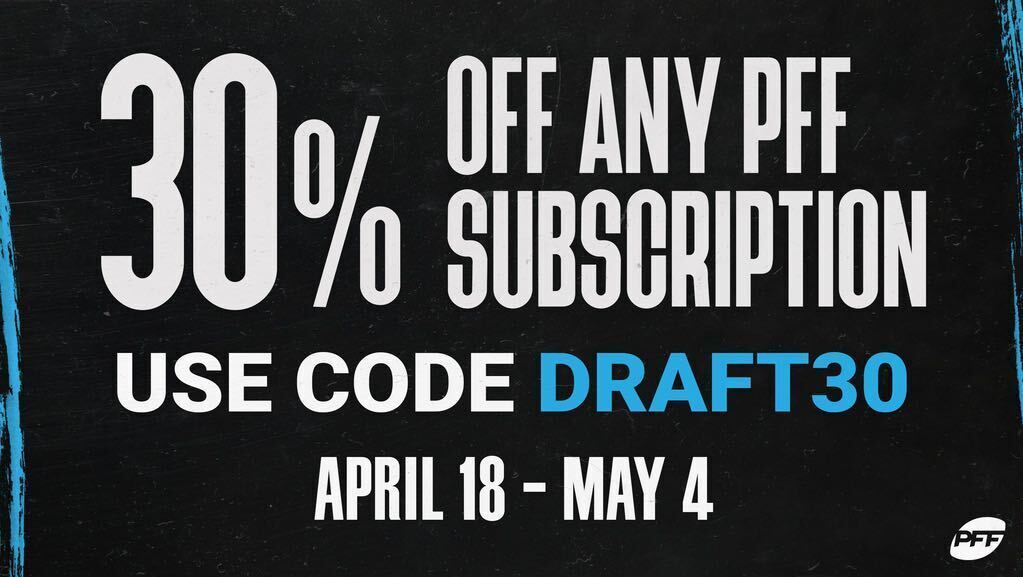 If Chase had his 2019 season in 2020 instead, there wouldn't even be a debate for WR1. His 24 deep catches that year were 10 more than any other player in this class. Chase is a rocked-up physical freak, and he even has room to grow as a route-runner.
As if you needed any more stats to "wow" you after watching Smith's Heisman campaign, here's one that relates to what may be his biggest perceived weakness: He ranked in the top five in yards per route run against press coverage in both 2019 and 2020. Put that on a weighing scale.
No player in this draft class produced more when given the opportunity. Over his career, Waddle generated more yards per route run than any player in this class. Sadly, we didn't get to see his pro-day numbers because of his ankle injury, but there is no doubt in my mind that they would have been all-timers, given the way he moves on the field.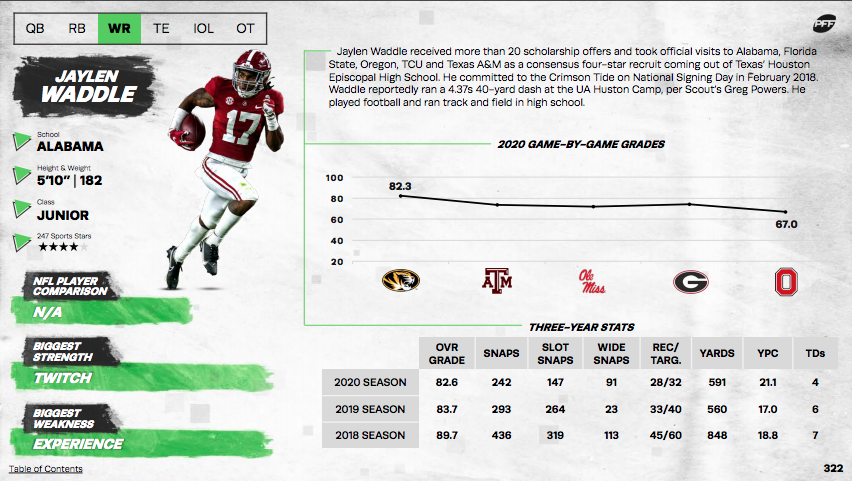 There genuinely aren't many holes that can be poked in Bateman's game. While his junior-year production didn't quite stack up to his sophomore-year production, much of the latter came after contracting COVID-19 and losing 10 pounds right before the season. He was one of the highest-graded receivers in the country as a sophomore and led the nation in yards per route run from an outside alignment.
You won't find a slot receiver with more tough catches on tape than Moore. He hauled in 73% of his contested catch opportunities this past season during his 1,193-yard campaign. That physicality makes me think he can hack it on the outside in the NFL.
Marshall took over the Justin Jefferson role in the slot this year, and his production exploded as "the guy" for LSU. He's racked up 23 touchdowns on 94 catches over the past two seasons. He's not even 21 years old, but very few receivers in this class can match him in terms of catch radius.
Moore is a different breed of athlete for the position. He led all of college football in broken tackles (33) as a true freshman in 2018. Injuries have since hampered him, but he'll be a weapon with the ball in his hands in the NFL. The issue is what exactly his role will be, as he measured in at only 5-foot-7 and 180 pounds on his pro day.
Toney is electric with the ball in his hands and has truly rare movement skills. While he's still raw as a route-runner, Toney is getting drafted highly because of his 43 broken tackles across 120 catches.
Brown just wins downfield. He's not particularly physically imposing, but he knows how to get open. He's averaged over 20.0 yards per catch in each of the past two seasons. His ability to play physically despite being only 189 pounds is a plus at the next level.
Palmer ran mostly the vertical tree in Tennessee's offense and rarely got targeted because of it. That's why his 475 yards this past season really don't do him justice. His 81% win rate was the highest of any outside receiver at the 2021 Reese's Senior Bowl one-on-ones.