There is a clear delineation between the haves and the have nots at the tight end position in the NFL nowadays, so much so that the difference between Darren Waller, who finished with the second-most receiving yards at the position, and T.J. Hockenson, who finished with the third most, was 473 yards (1,196 vs. 723).
If you don't have a tight end who can beat defensive backs one-on-one, there's no sense featuring them in your passing attack because they bring less to the table than a slot receiver would. This year, there is one of those difference-makers, and the chances are that he won't last long.
More of PFF's 2021 NFL Draft tools here: 
2021 NFL Draft Big Board | 2021 NFL Draft Guide | 2021 NFL Draft Stats Export | NFL Mock Drafts | NFL Mock Draft Simulator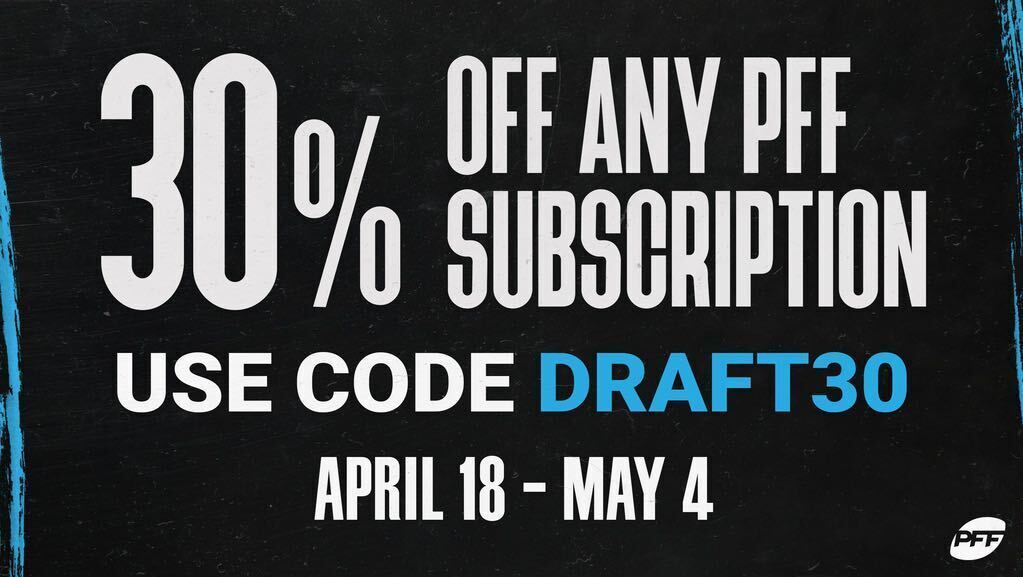 As rare as Sewell is for an offensive tackle prospect, Pitts might be even rarer for the tight end position. You just don't see 245-pounders move the way he can. Pitts earned a 96.2 PFF grade last year, shattering the single-season grade record for a college tight end.
Freiermuth was the focal point of the Nittany Lions offense this past season before going down with a shoulder injury. He racked up 310 yards in four games with 23 catches on 37 targets. At nearly 260 pounds, he is a jumbo-sized target at the position.
Tremble earned the highest run-blocking grade of any tight end in the country last season. He's at his best blocking on the move and could even be seen as a fullback in the NFL.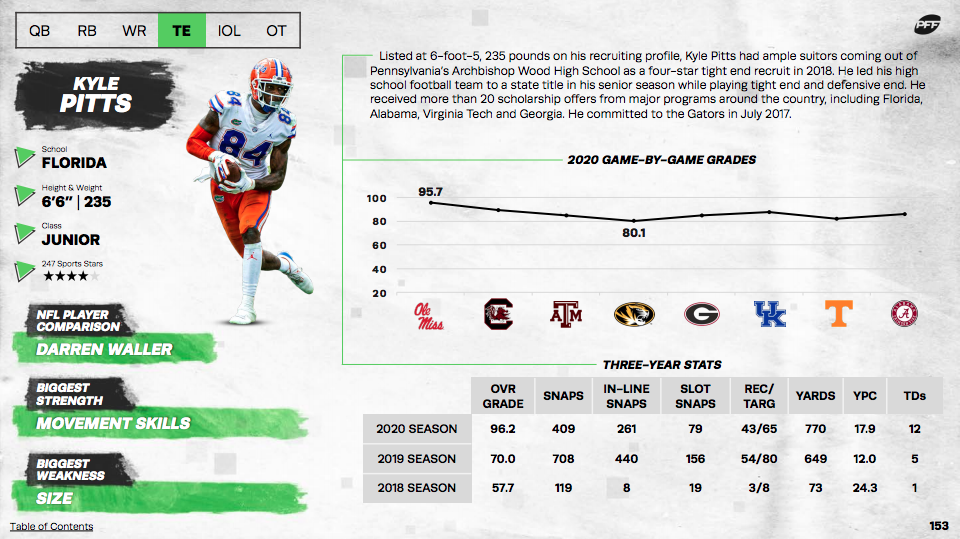 Long didn't really see meaningful playing time until his redshirt sophomore season, and in Year 1 he was already among the most productive tight ends in the country. He's faster than your average 250-pounder, and it showed the way he turned screens and flat routes into big gainers. He followed it up with a far more classic tight end route tree performance this season that saw him go for 682 yards, highlighted by 11 contested catches. While he's nothing special yet as a blocker, he has the physical tools to be a true inline guy in the NFL.
Jordan showed up at Miami looking like a running back but being called a tight end. His usage was closer to a RB with an average depth of catch only 3.4 yards downfield. After filling out his frame a bit more, Jordan still looks like a running back, only now that running back is Derrick Henry. Jordan has a very clear path to success in a Shanahan-Kubiak scheme that runs its tight ends on a lot of drags, flats and seams where speed and YAC are king. The problem is that he'll have to prove to defenses that he's a legit inline threat first.
After four years of middling production in obscurity at Northern Iowa, Moore made a name for himself this past season as a grad transfer for Kansas State. He set career-highs in receptions (22) as well as yards (338) and was one of the highest-graded run blockers in the country. Moore gets after it as a blocker and flashed a rare ability to take defensive ends off the line of scrimmage. He's a terrific athlete for the position but isn't much of a natural receiver. You can still see him thinking through his routes and not letting his natural gifts take over just yet.
Gray is the kind of tight end you love in a college offense but likely won't find the field in the pros. He's so reliable at finding space at the underneath/intermediate levels. That's great when the college defenses you're facing sit in spot drop zone all game. When he has to beat matchup coverage in the NFL, it will be a different story. He's a limited athlete and undersized. That's not a combination that evaluators want in the NFL
Bates has shown the type of upward trajectory over the course of his college career that NFL evaluators love to see. After being listed at 229 pounds his freshman season at Boise State, Bates arrived at the Senior Bowl this past January a different player altogether at 259 pounds. You see it in his grading profile, as well, where his receiving and run-blocking grades improved every year as a starter. Bates ticks almost every box you could want for a starting tight end. He may not be close to the George Kittle/Travis Kelce tier of tight ends physically, but he is solid as can be.
Granson is the type of guy who is easy to fall in love with because he moves differently than most college tight ends. That's because he's built like some receivers in the NFL. Listed at only 235 pounds this past season, Granson isn't nearly athletic enough to be a full-time wide receiver, and he's not physical enough to be an inline tight end. He put on some weight prior to the Senior Bowl, but it's difficult to see the 6-foot-2 tight end ever getting to adequate inline size. The only teams he would be a fit for are those that truly use a move run blocker in their scheme.
Bushman may regret his decision to opt out after the step forward Zach Wilson took in 2020. Bushman was one of his top targets prior to this season, hauling in 72 targets in 2019. He's obviously a gifted all-around athlete, and he also played on the Cougars' baseball team. As far as profiling to the NFL, though, Bushman has a couple of big knocks against him. The first is that he's 25 years old already, so it's difficult to expect much development. The second is that he's not particularly adept as a route runner. He racked up his yards on straight-line routes — not by separating on his own — at BYU.