So, you came to PFF for running back rankings. Very bold of you.
While we may not value the position anywhere near as highly as some NFL teams will, we still take pride in properly evaluating the skill sets of each and projecting how valuable those traits will be in the league. It's not a terribly deep class, but several quality receivers are in the mix at the top of the 2021 NFL Draft.
More of PFF's 2021 NFL Draft tools here: 
2021 NFL Draft Big Board | 2021 NFL Draft Guide | 2021 NFL Draft Stats Export | NFL Mock Drafts | NFL Mock Draft Simulator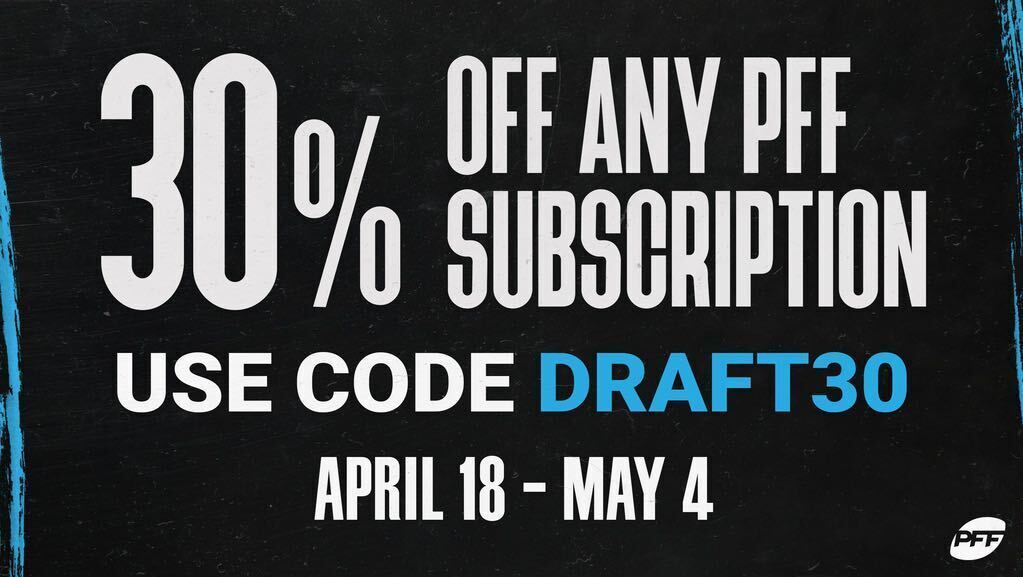 Williams has rare contact balance. His 76 broken tackles on 157 carries this past season produced easily the highest broken tackle rate we've recorded for a single season. Not even 21 years old, Williams is still an ascending player.
Harris had an incredibly productive Alabama career with rushing grades of 91.8, 89.8 and 90.1 the past three seasons. He also established himself as one of the best receiving backs in the country, with only three career drops on 83 catchable targets.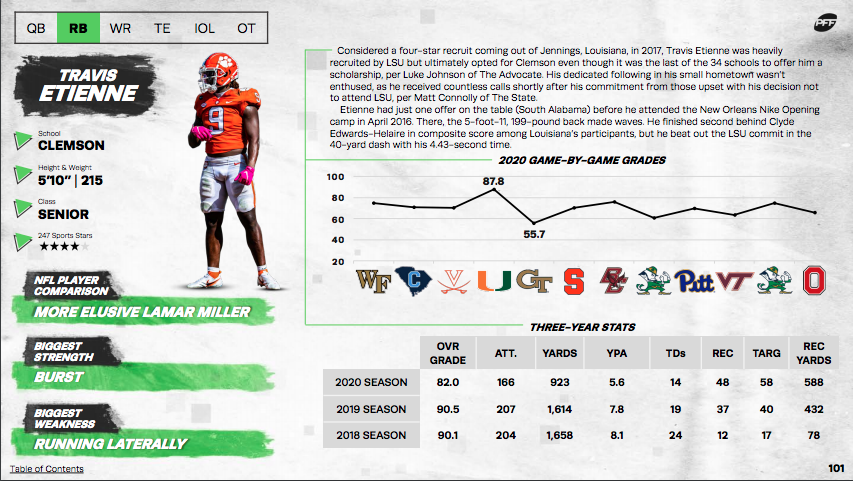 With 4.4 speed, Etienne is one of the best home run threats at the position in recent college football history. He racked up 85 runs of 15-plus yards in his Clemson career. He also reinvented himself in the passing game as his career went on and led all backs in the country with 588 receiving yards in 2020.
Carter ran for 7.9 yards per carry and earned a 91.1 rushing grade with UNC in 2020. He's also a weapon in the passing game and caught 25 balls for 267 yards this past season.
After transferring from Kansas, Herbert broke out in a big way this past fall. He earned a 91.3 rushing grade with 42 broken tackles on 155 attempts and averaged 7.6 yards per carry.
Sermon is a solid, if unspectacular, back who can start in the league. He's not transforming any running games, though.
Evans has three-down ability, but he'll have to answer why he fell out of favor in the Michigan backfield.
Gainwell is an exceptional receiver who could probably play the slot full-time if he wanted to. He had over 200 yards against Tulane in 2019 and opted out in 2020.
Williams' future may be as a slot or gadget player. He has some special elusiveness with the ball in his hands.
Mitchell wouldn't look out of place at all starting next week in the league. There's not too much in the way of special traits that he possesses, however, which means he likely ends up somewhere on Day 3.