After one of the best tackle classes in recent memory in terms of blue-chip talent, the 2021 tackle class brings unprecedented depth. As it stands, all 10 of the players below are among the top 55 on PFF's draft board and eight are in the top 40. It's a rare class where you won't necessarily have to snag one early to get a quality player.
More of PFF's 2021 NFL Draft tools here: 
2021 NFL Draft Big Board | 2021 NFL Draft Guide | 2021 NFL Draft Stats Export | NFL Mock Drafts | NFL Mock Draft Simulator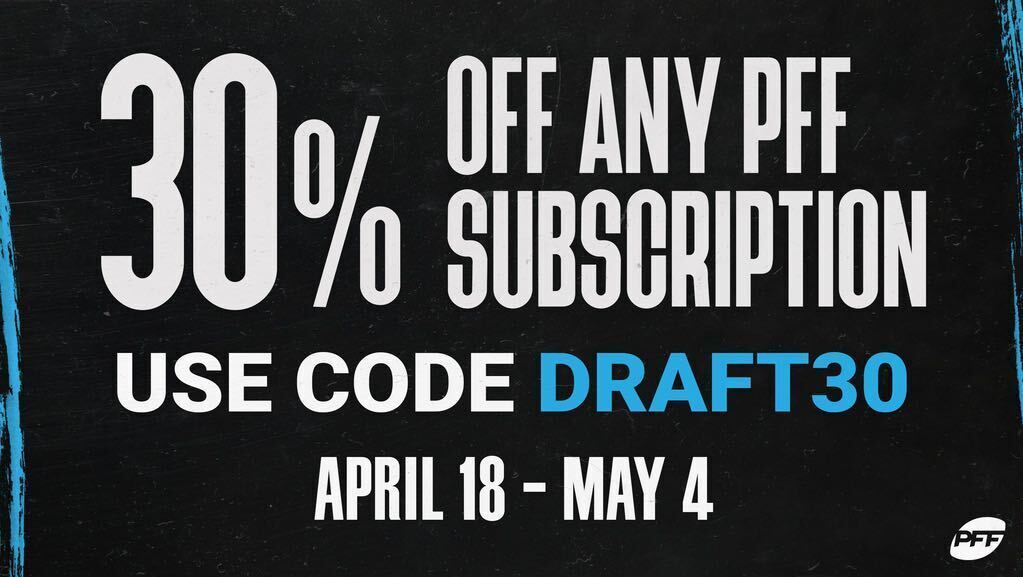 Sewell earned the highest single-season grade we have ever given to a college offensive tackle … as a true sophomore. We haven't seen him play a snap since his age-19 season, and he's still talked about as a top-five pick. That tells you everything you need to know about his dominance.
Slater was already extraordinarily good back in 2019 as a junior before he opted out in 2020. No projection is necessary. He allowed only five pressures and earned a 90.0 overall grade across 355 pass-blocking snaps.
Darrisaw earned the highest PFF grade of any offensive tackle in the Power 5 in 2020 — there wasn't a single blip on his radar from start to finish. He's such a powerful 315-pounder and allowed all of six pressures over the entire season. More importantly, he didn't allow a single sack or hit.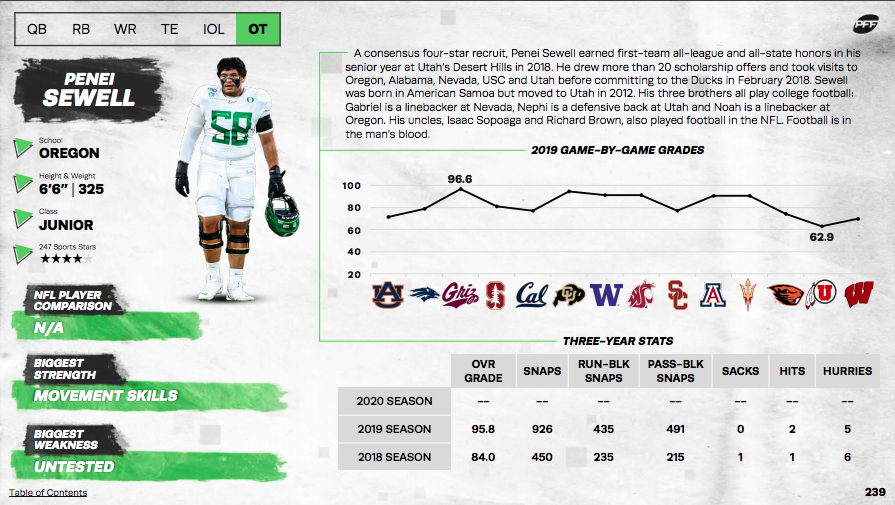 We haven't seen Little play since Week 1 of 2019. While some may look at that as a negative, that's an incredible amount of development we have yet to see. We already saw considerable development from him as a sophomore in 2018, as he only allowed one pressure over his final seven games.
Jenkins is an absolute mauler in the run game, and he earned a 93.6 run-blocking grade at right tackle last season. While relatively untested in the Big 12, Jenkins only allowed 11 pressures on 623 pass-blocking snaps over the past two seasons.
Radunz earned his spot here with a lights-out performance at the Senior Bowl, where he was the highest-graded tackle in the one-on-ones, throughout the week of practice and in the game itself. He's a bit slim at just over 300 pounds, but he is an explosive athlete who gets by with a strong anchor.
Cosmi is one of the most battle-tested tackles in this class when it comes to pass protection. He has played over 1,500 pass-blocking snaps between right and left tackle in his career and handled himself well this past season, earning a 90.7 pass-blocking grade.
Leatherwood is a brute in the run game, which is why he earned an 85.5 grade in that regard this past season. While he's got ideal length for tackle, Leatherwood tends to give the edge to quicker edge rushers and allowed 16 pressures this past season.
Carman has legit movement skills for a 320-pound tackle. He's still a bit of a work in progress in pass protection — he only earned a 77.1 pass-block grade last year — but he's only a true junior with two years of starting experience.
Eichenberg may be seen as a guard in the NFL, given the short 32 3/8-inch arms, but he has played left tackle for Notre Dame for the past three seasons. We saw his grades greatly improve every year over that span, culminating in an 89.9 overall grade this past season.