The world is less than two weeks away from the first of over 800 college football games for the 2021 season. Nebraska will be taking on Illinois in Week 0 to kick off the year before a loaded Week 1 featuring Clemson versus Georgia, Miami versus Alabama and much more.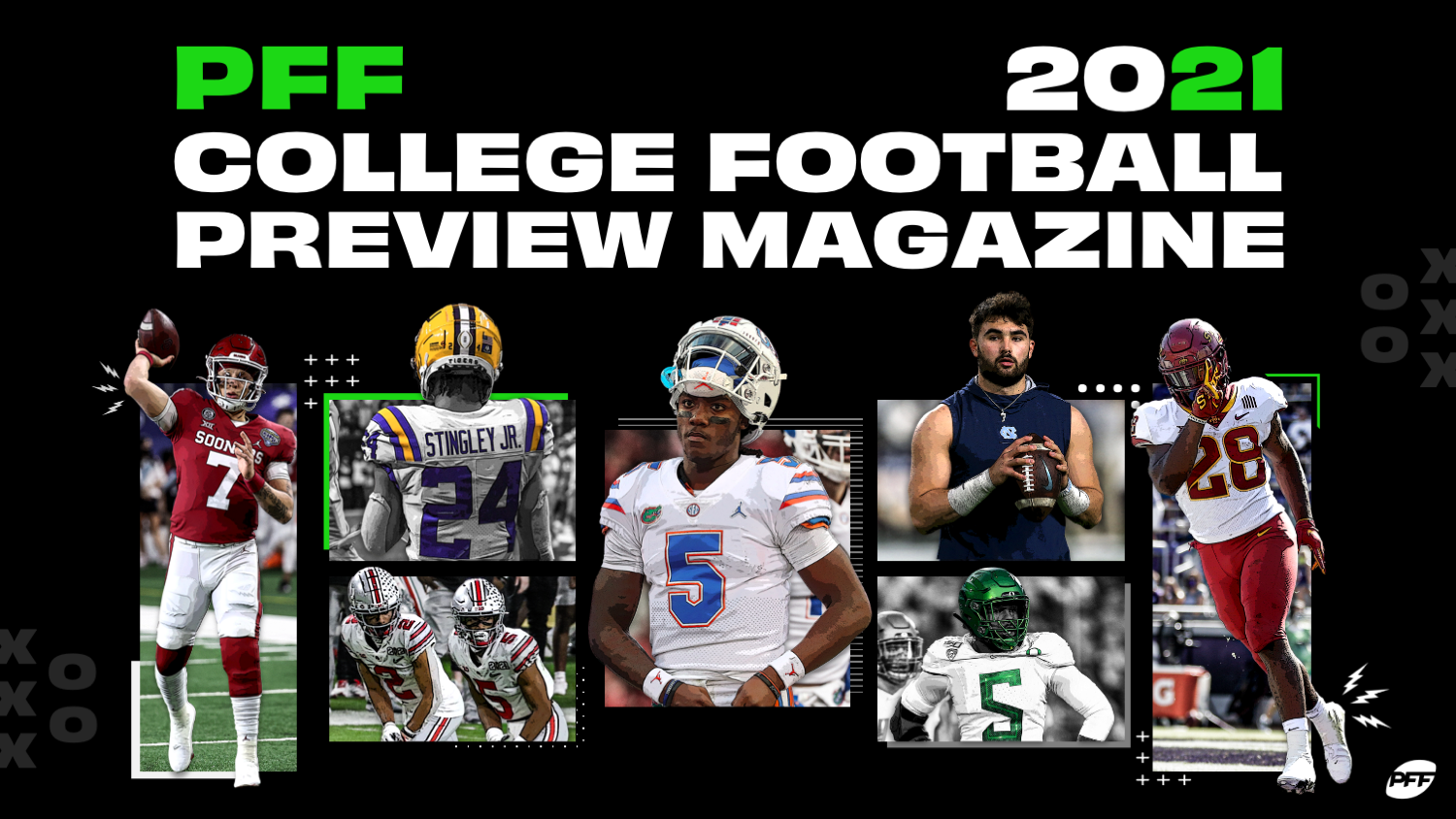 That means it is finally time to roll out my preseason top 25 college football rankings.
Below are the 25 programs that I feel are best equipped to enter the 2021 season. I fully expect there to be chaos that'll drastically change these rankings with all of the uncertainty at the quarterback position for the top teams, but here is where everything stands entering Week 0.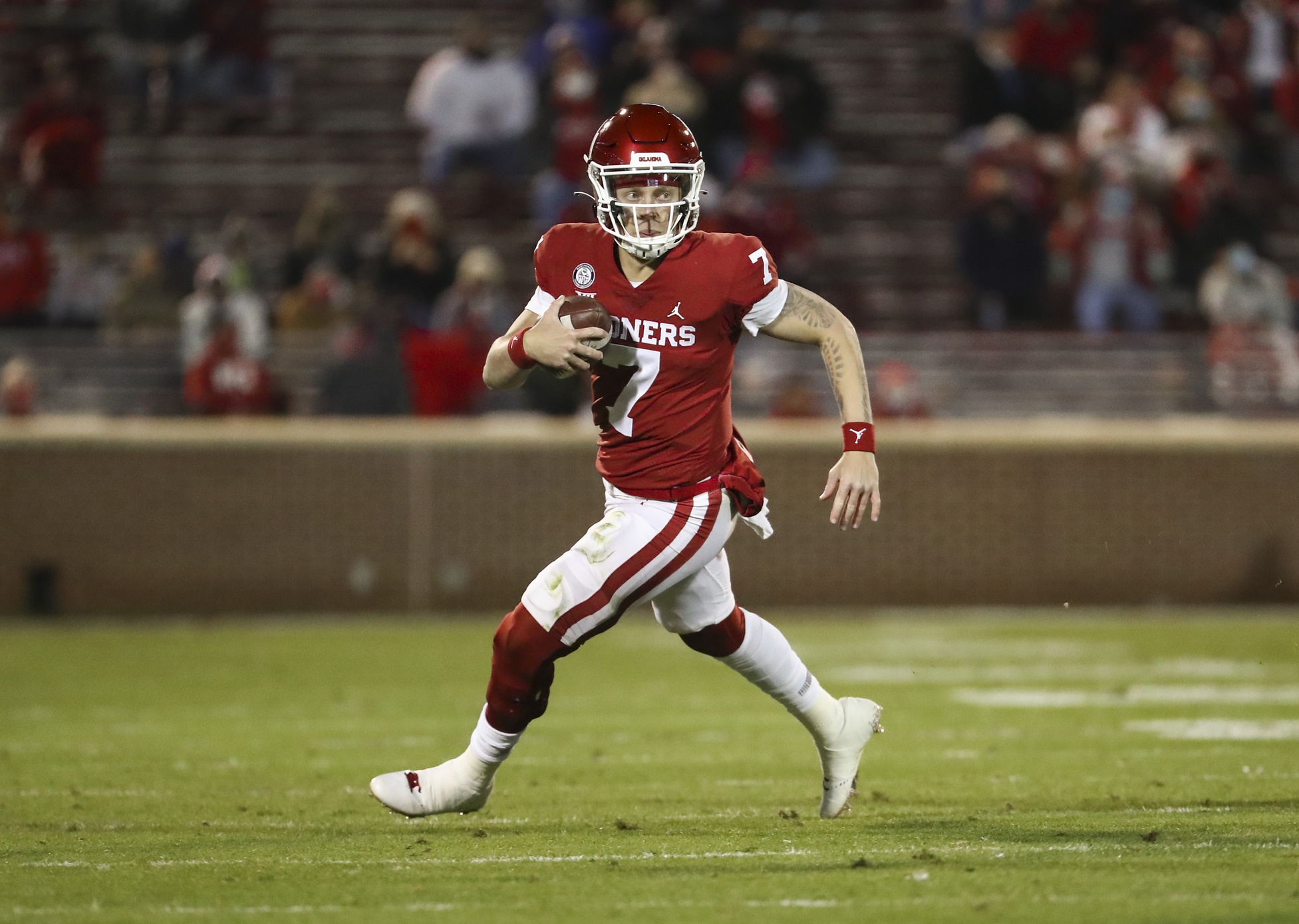 Oklahoma has cracked a spot in the College Football Playoff four times since its inception seven years ago but has yet to earn a spot in the National Championship Game. This year could be different with the Spencer Rattler's return being a key reason why. The quarterback returns after earning the best single-season passing grade by a first-time starter of the PFF College era in 2020 (92.5). Rattler has a little bit of former Texas Tech Patrick Mahomes in him, both stylistically and situationally. He has an ultra-quick, effortless release to pair with jaw-dropping arm talent and elite playmaking ability on the move. The Sooners' secondary is their biggest concern, but their pass-rush unit might just be enough to stabilize that side of the ball.
New starting quarterback Bryce Young has more pressure on him than anyone else in college football. The Bama offense has been on a tear these last couple of years, with the 2020 group producing the most successful college passing attack in the PFF College era. Alabama hasn't generated negative expected points added (EPA) per play in a single game since the 2018-19 national title game, and it's on Young to make sure that streak doesn't die. Losing a consistently high performer at the quarterback position (Mac Jones) along with a Heisman-winning wide receiver (DeVonta Smith) and arguably the best play-caller in the country (Steve Sarkisian) are damaging blows.
Young has a sky-high ceiling, but can he reach it sooner rather than later? Whether Young pulls through or falls flat, Alabama still will be a competitive team thanks to their stacked roster outside of quarterback. The Crimson Tide had nine players crack one of the top 10 spots in PFF's preseason positional rankings. For reference, the next closest team had three fewer than that.
There isn't much to be concerned about with the Tigers' defensive unit. Defensive coordinator
Brent Venables has a star-studded group that features 2020 No. 1 overall recruit Bryan Bresee and 2020 No. 7 overall recruit Myles Murphy, who were each standout performers along the defensive line as true freshmen. Clemson has ranked top three in EPA allowed in five of the seven years of the PFF College era. It'd be a surprise if they didn't make it six of eight in 2021.
There is a little bit of concern with the offense. Primarily with the ground game, as Clemson no longer has the home run-hitter, Travis Etienne, in the backfield. He led the Tigers to the Power Five's most efficient run game over the last three years. Dabo Swinney and Co. got a glimpse of life without Trevor Lawrence in 2020 when the No. 1 overall pick was out for a couple of games due to COVID-19. True freshman D.J. Uiagalelei took over and showed plenty to get excited about, including a cannon of a right arm. The former five-star posted an 83.6 passing grade, five big-time throws and zero turnover-worthy plays. There was an issue with his accuracy on sideline throws because of his mechanics. That'll be something to monitor this fall, but the overall early returns were promising. Uiagalelei will have a quality receiving unit at his disposal with comeback injury candidates Justyn Ross and Joe Ngata leading the way.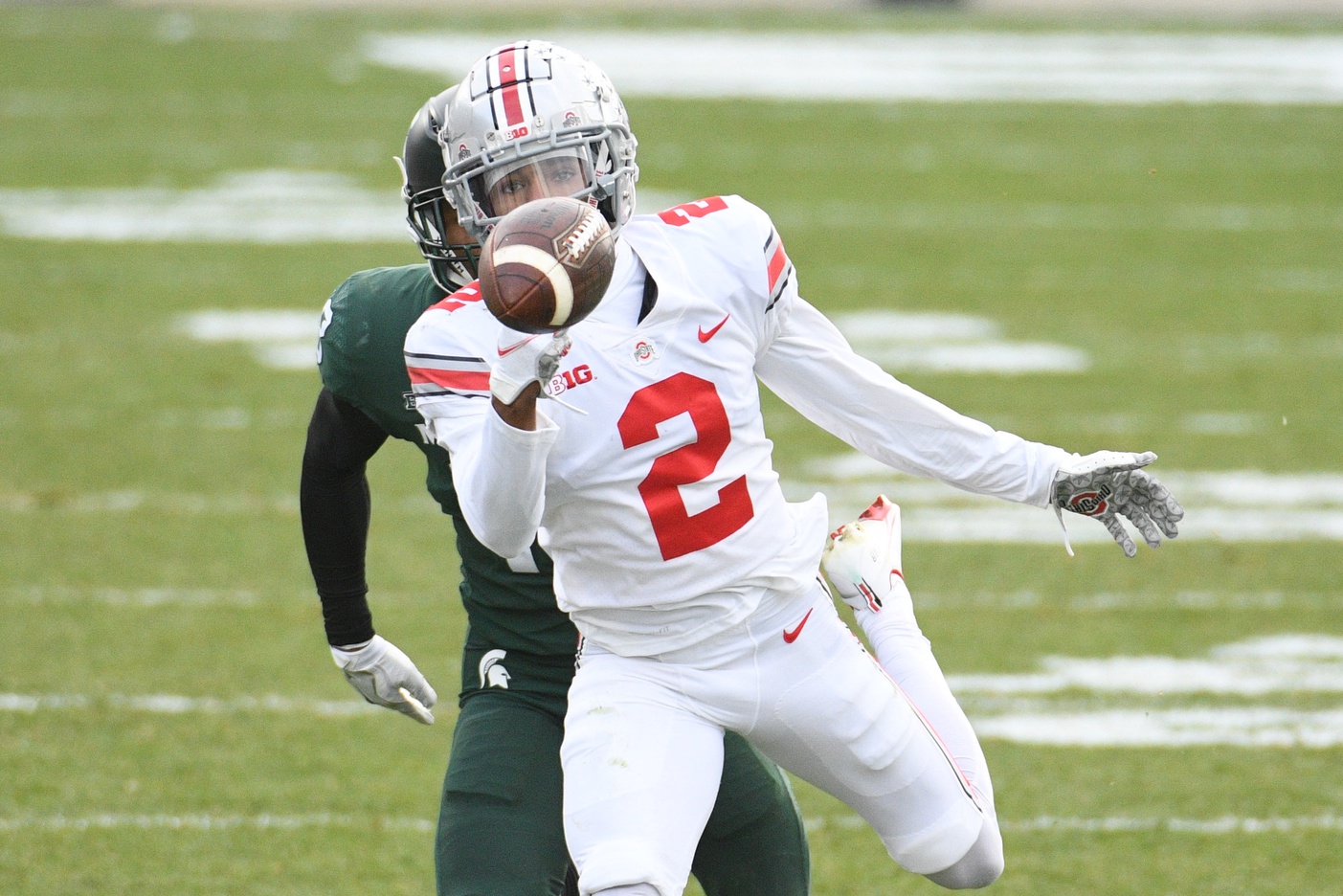 The OSU quarterback room might be oozing potential, but the position is still a big question mark until some reps are had in an actual game. C.J. Stroud is the one who will have the first crack at trying to effectively replace Justin Fields, who was one of the best quarterbacks of the PFF College era. If Stroud can sustain the level of play that Fields brought in 2019 and 2020, then he'd join a list of outliers to produce at such a level in their first year of starting as an underclassman.
The good news is that whoever is slinging the rock for the Buckeyes will have the benefit of tapping into the best wide receiver unit in college football. Chris Olave, Garrett Wilson and Jaxon Smith-Njigba have the chance to be a historic trio. Their secondary is shaky but similar to Oklahoma, the pass-rush unit is special enough that it may stabilize their pass defense.
Georgia might be the most physically gifted team in college football. Both sides of the ball are littered with gifted, but raw athletes. Taking quarterback out of the equation, this team could feasibly challenge Alabama for the best roster in the country. Taking quarterback into account is where the problem lies. Former five-star recruit JT Daniels is at the helm with a wealth of experience, but he's yet to produce at a quality level on a consistent basis.
Daniels began his career at USC in 2018, but he struggled mightily as a true freshman starter. His 59.9 passing grade ranked outside the top-100 among FBS quarterbacks. Daniels looked like the same player in the 2019 opener before tearing his ACL and transferring to Georgia. While he didn't see the field until Week 12 of 2020 due to both the rehab process and other players being ahead of him on the depth chart, he looked markedly better. Daniels earned a 95.0 PFF grade and made six big-time throws against Mississippi State that night, although he recorded just a 68.5 passing grade in his other three outings — the last of which was a four turnover, sub-50.0 graded performance against Cincinnati in the Peach Bowl, the only "great" defense he faced.
North Carolina's offense was among the most explosive in the country last season, ranking second to only Alabama in per-play offensive efficiency. The leader of that group, quarterback Sam Howell, returns for his true junior year after producing an astounding 92.3 PFF grade last year that ranked sixth in the FBS. He is, however, the lone key contributor returning from that elite offense, as their top two receivers and two-headed monster at running back were drafted this past offseason. Head coach Mack Brown came back swinging and landed a top-15 recruiting class nationally in both 2020 and 2021, giving the team some promising young talent at wide receiver, but Howell will need to be a passer that props up the players around him in 2021.
The defensive side of the ball is only going to get better for the Tar Heels. The defensive line is raw and unproven but has high-upside. The secondary is a little bit more established and returns one of the best outside corner duos in the country with Storm Duck and Tony Grimes.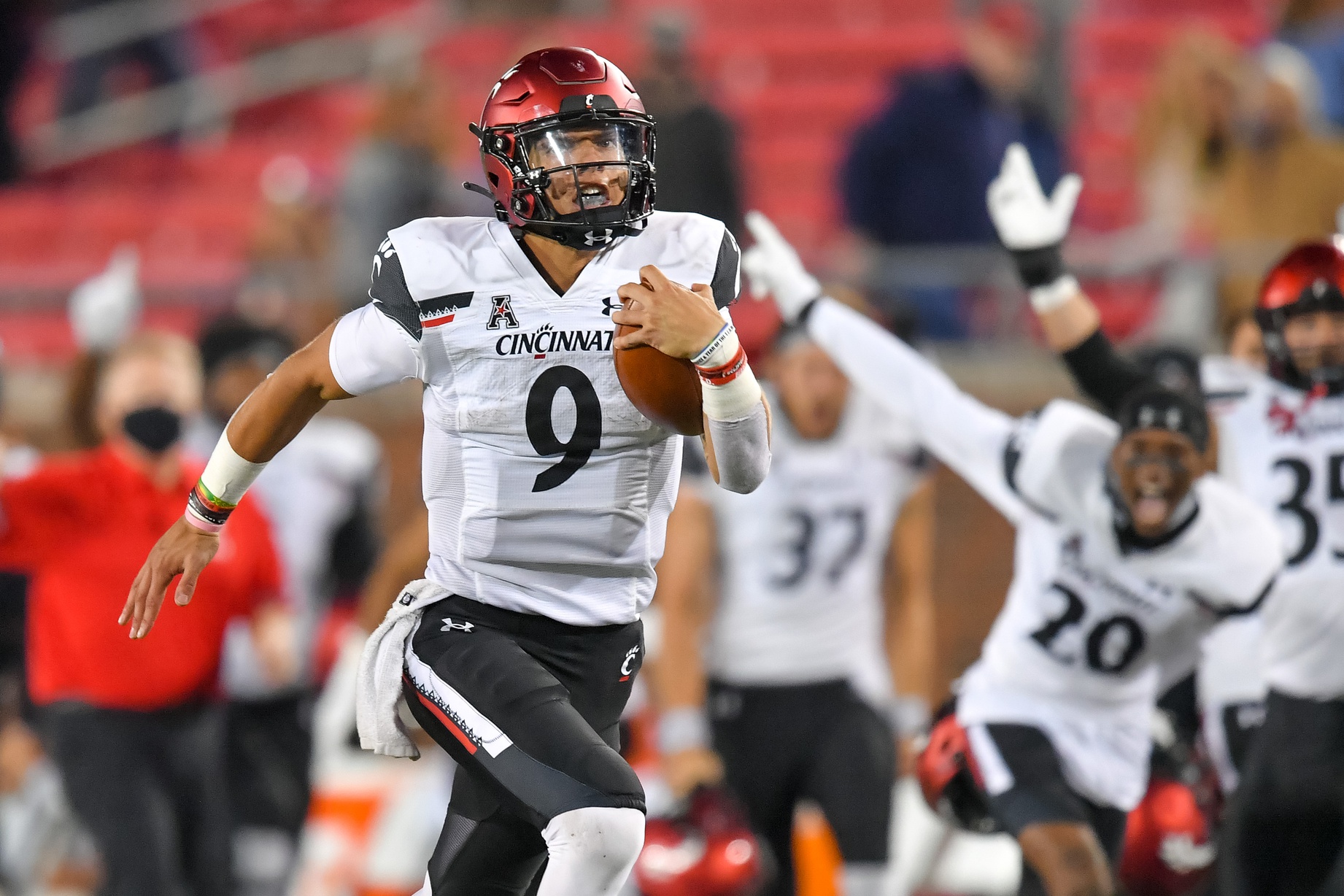 Cincinnati was barely on the outside looking in at the College Football Playoff in 2020, and the Bearcats have every chance to be in the conversation again this fall despite losing a handful of key players on defense as well as coordinator Marcus Freeman. The defensive line is led by edge defender Myjai Sanders and interior defensive linemen Curtis Brooks. They also welcome back Cincinnati native Jowon Briggs. The Virginia transfer and former top-100 recruit is full of power and has all the traits to be a consistent pocket pusher. Then, in the secondary, they have one of the top Thorpe Award candidates in college football in cornerback Ahmad "Sauce" Gardner.
Ultimately, the fate of this team is in the hands of quarterback Desmond Ridder, who is a toolsy but unproven passer. He can make plenty of plays with his legs, as evidenced by his 61 runs of 10-plus yards over the last couple of years — second-most among FBS quarterbacks — but his passing ability is still in question. Ridder's passing grade since 2019 sits at 67.7, and he has notoriously struggled to hit downfield shots. His 33.3% adjusted completion rate on 20-plus yard throws in 2020 tied for 11th-worst in the FBS. He connected on only 14 deep passes on the year, and Cincinnati came in sixth in the AAC and 60th in the FBS in explosive (15-plus yard) pass play rate (14.9%). That has to get better in 2021 when the time comes for their showdowns against Indiana and Notre Dame.
Texas A&M fell just short of the College Football Playoff in 2020 but still cracked a top-five spot in the AP poll for the first time since the Johnny Manziel era. Taking quarterback out of the conversation, the Aggies have the roster to get back to the CFP conversation in 2021. They return tight end Jalen Wydermyer and wide receiver Ainias Smith, who ranked second and 10th at their respective positions in the SEC in 2020. Their defense last season ranked third in the conference in EPA per play allowed, behind only Alabama and Georgia, and they return their seven most valuable players from that unit in terms of PFF Wins Above Average (WAA).
Still, quarterback is the most important and valuable position on the field, and Texas A&M has a lot of uncertainty at the position right now. They'll be riding with either Haynes King (a 2020 four-star recruit) or Zach Calzada (a 2019 three-star recruit) as their starter this fall in Jimbo Fisher's difficult-to-master offense. Together, the two signal-callers have attempted a grand total of 28 pass attempts at the college level.
The Hurricanes are poised to have one of the most explosive offenses in college football thanks to quarterback D'Eriq King. He's fresh off an elite-graded season in his first year with Miami and is set to replicate that during 2021. On 111 runs — 85 designed and 26 scrambles — King totaled 26 rushes of 10 or more yards. He produced more than 10 yards after contact on 13 of those attempts, the most at the position. The 5-foot-11, 202-pound quarterback also rarely put the ball in harm's way, ranking No. 3 in the FBS in turnover-worthy play rate (1.7%). King did tear his ACL in The U's final game, but he has made a speedy recovery and will be ready to roll come Week 1.
Another key area to monitor is the performance of wide receiver tandem Charleston Rambo and Mike Harley. Rambo was a big-play threat for Oklahoma in 2019 before a drop in play during 2020. Back in 2019 with Jalen Hurts at quarterback, Rambo ranked third in the Big 12 in percentage of targets to result in a 15-plus-yard gain (28.6%). As for Harley, something clicked in the middle of his senior year. From 2017 through Week 7 of last year, Harley had produced a 56.5 receiving grade, 1.14 yards per route and 19 catches of 15-plus yards. From Week 8 on in 2020, he produced an 83.6 receiving grade, 3.08 yards per route and 16 catches of 15-plus yards. There's a lot of potential with the quartet of offensive coordinator Rhett Lashlee, King, Rambo and Harley.
LSU is one of the most interesting teams in college football. The offense is now true sophomore Max Johnson's to lead after Myles Brennan broke his non-throwing arm in a fishing accident. Brennan could make a return and take over the job during the season, but it'll be Johnson's job to start the year. This isn't necessarily ideal given what he displayed as a freshman last season. Johnson struggled to throw the ball vertically and just didn't look comfortable. The good news is that he will have one of the SEC's top pass-catching weapons at his disposal with wide receiver Kayshon Boutte.
As for the defensive side of the ball, there's too much talent for them to be as average as they were in 2020. The unit begins with what is the best outside corner duo in the country, Derek Stingley Jr. and Eli Ricks. They have the man coverage skills to lock up any wide receiver in the country. Stingley was the highest-graded corner when playing man on the outside in 2019, and Ricks claimed that honor in 2020. Joining them this year at off-ball linebacker is transfer Mike Jones Jr., who established himself as the top coverage linebacker in the nation at Clemson.
Fortunately for LSU, the pass defenses their offense is set to face aren't world-beaters. If Brennan can return quickly and is allowed to start again, this team will be in even better shape.
Notre Dame's strengths and weaknesses are pretty well-defined and similar to last season, but they are just a little bit more severe in both directions for 2021. The Irish defense was the fifth-highest-graded group in the Power Five last season, and they have every opportunity of cracking a top-10 spot nationally in 2021. Safety Kyle Hamilton, who has some of the best coverage ability of any player at the position, leads that group.
The big issue with this team is once again the passing offense, but it's a little bit more concerning this time around. Firstly, their current crop of wide receivers leaves a lot to be desired. While they do have a rising star at tight end with Michael Mayer, they don't return a single wide receiver who has a single-season receiving grade above 65.0 under their belt. Among all FBS programs, Notre Dame returns the third-least productive wide receiver unit from last season. That issue paired with a vertical passing challenged quarterback in Jack Coan raises major concerns for this offense's ability to consistently create explosive pass plays.
Indiana can climb back to top-10 status once again in 2021 if quarterback Michael Penix Jr. stays healthy. Penix has battled a slew of injuries throughout his college career, most recently a torn ACL that prematurely ended his 2020 campaign. When healthy, he's one of the top quarterbacks in the country. He is second to only Fields in PFF grade among Big Ten quarterbacks over the last five years. Last year, in particular, Penix posted the highest big-time throw rate in the Power Five despite suffering through some of the worst pass-protection among that group.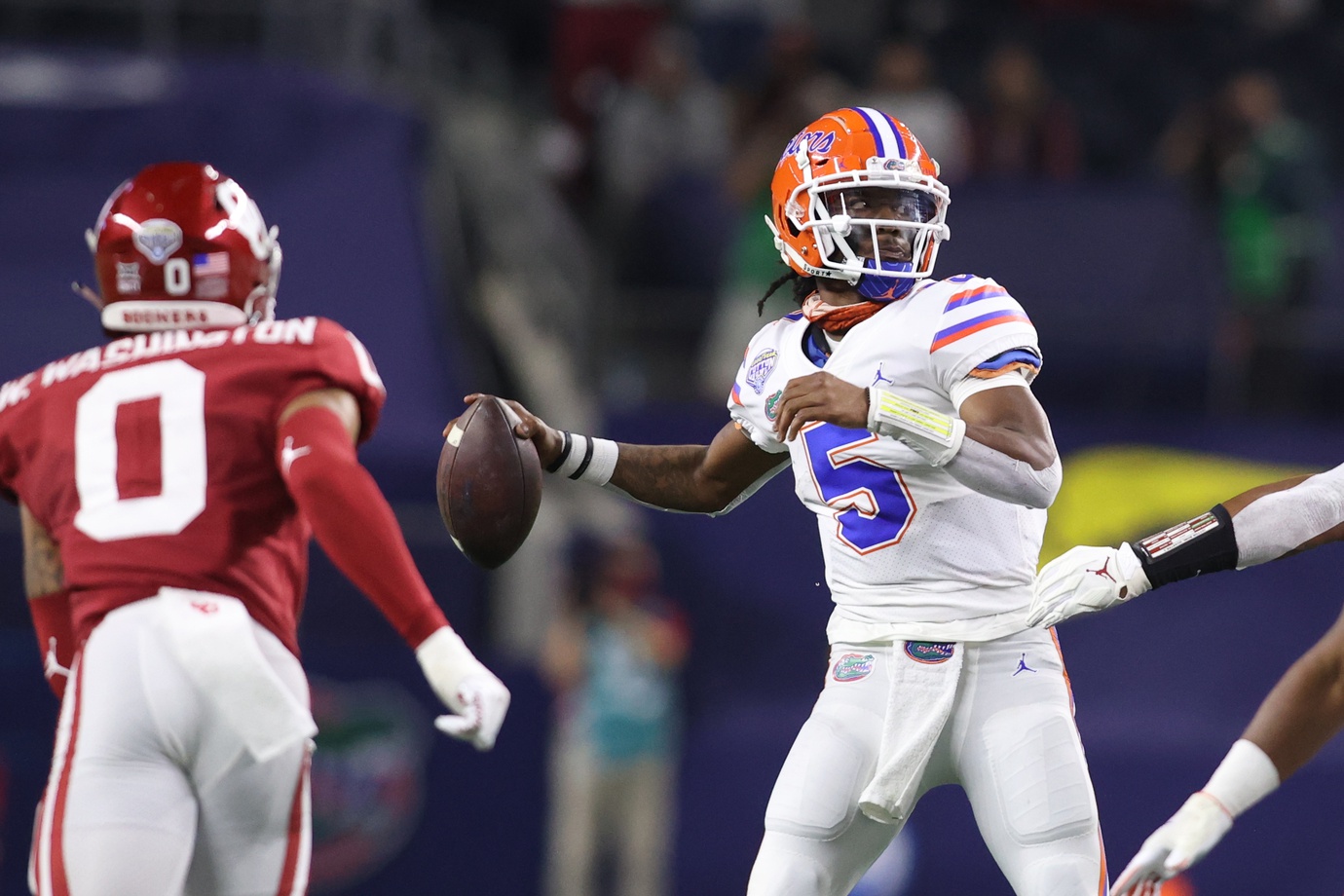 Much like they did a season ago, the Gators will enter the college football season as one of the biggest boom-or-bust programs in the country. The Gators' season will begin and end with quarterback Emory Jones, a player PFF has pegged as a breakout candidate ahead of the 2021 season. The 2018 four-star dual-threat quarterback has flashed in both facets during his limited time on the field, notably recording an 80.6 passing grade on 87 career pass attempts to pair with an 81.7 rushing grade across 76 rushing attempts.
Head coach Dan Mullen is one of the better offensive play-callers in the country, and he has a penchant for dual-threats, However, the big question is the receiving arsenal Jones can tap into. The Gators' three most valuable non-quarterbacks on offense last season — tight end Kyle Pitts, wide receivers Kadarius Toney and Trevon Grimes — left for the NFL this spring.
USC's offense has sky-high potential. Starting quarterback Kedon Slovis and his wide receiver room are only scratching the surface of what they can become. Slovis shattered expectations as a true freshman in 2019, earning an 80.8 passing grade and displaying precise, Joe Burrow-like accuracy, ultimately finishing second to the now-Cincinnati Bengal in accurate-pass rate on the year. At the same time, his play wasn't devoid of the usual mistakes that plague a freshman's game, such as forcing one or two head-scratching throws per outing. In his shortened 2020 campaign, nothing changed. Slovis remained accurate, he forced some throws and ended up within a grading point of his 2019 passing grade.
Drake London leads a receiving room with several impact transfers and inexperienced former highly-ranked recruits. London — a former USC basketball player — is coming off a season in which he tied for third in receiving grade among Pac-12 wide receivers.
Graham Mertz, the No. 3 pro-style quarterback prospect in the 2019 class, had one of the best starting debuts we have seen in the PFF College era. Against Illinois to begin the 2020 season, he didn't throw a single uncatchable ball while tossing three big-time throws en route to a 93.9 passing grade. He then reportedly suffered a shoulder injury in Wisconsin's next game against Michigan but played through it. That partly explains why he earned a poor 53.4 passing grade over his last five games, far from the passer we saw to open the year. If Mertz is fully healthy and returns to a high level of play, then this Badgers team is poised to climb up the ranks.
Texas will creep back closer to their old ways with Sarkisian leading the charge. Regardless if it's Casey Thompson or Hudson Card, it could happen sooner rather than later. Both are unproven but have a lot of potential. Thompson at least has some quality reps under his belt. The 6-foot-1, 194-pound signal-caller earned a 90.0 grade on 17 attempts in 2020, a mark anchored by three big-time throws. He showed fantastic ball placement and timing while staying calm under pressure. While they might not be able to hang with Oklahoma this season, they have every opportunity to be the second-best team in the conference and exceed their projected eight-win total for the regular season.
Iowa State may have made it to the Big 12 championship game before capping off the year with a Fiesta Bowl win and a top-10 ranking in the AP poll in 2020, but it's no secret that Brock Purdy was underwhelming under center. He did lead an efficient passing attack over the year, but he took a step back instead of making the leap into the elite at the position. The Iowa State QB posted a 74.2 passing grade on the year, a career-low by eight points. Meanwhile, the Cyclones defense was one of the top defenses in college football, finishing eighth in PFF grade and 13th in successful play rate allowed among Power Five units. The team returns its seven most valuable players on the defensive side of the ball since 2019, according to PFF WAA.
There are no two ways about it: Purdy will decide the fate of the Cyclones in 2021. He has proven to be a great passer when in rhythm and can make some of the best anticipatory throws you'll ever see, but he has to stop trying to do too much when the play breaks down. Iowa State can play their way into the top-10, but Purdy has to be the player he was early on in his college career.
Offensively, Year 1 of the Lane Kiffin era at Ole Miss could not have gone much better than it did, and it's that side of the ball that's powering this ranking. Kiffin's passing offense was masterful and ended up being the second-most-efficient unit in the Power Five, behind only the Crimson Tide.
Along with that, Ole Miss saw the eighth-largest year-over-year improvement in passing efficiency among all Power Five programs in the PFF College era. Quarterback Matt Corral had a couple of hiccups against Arkansas and LSU but still finished with an elite PFF grade on the year and is a top-10 graded player at the position. The notable concern on offense as they enter 2021 has to do with replacing star slot receiver Elijah Moore, the third-highest-graded receiver in the FBS last year. Western Kentucky transfer Jahcour Pearson is a suitable enough replacement, but he still has massive shoes to fill.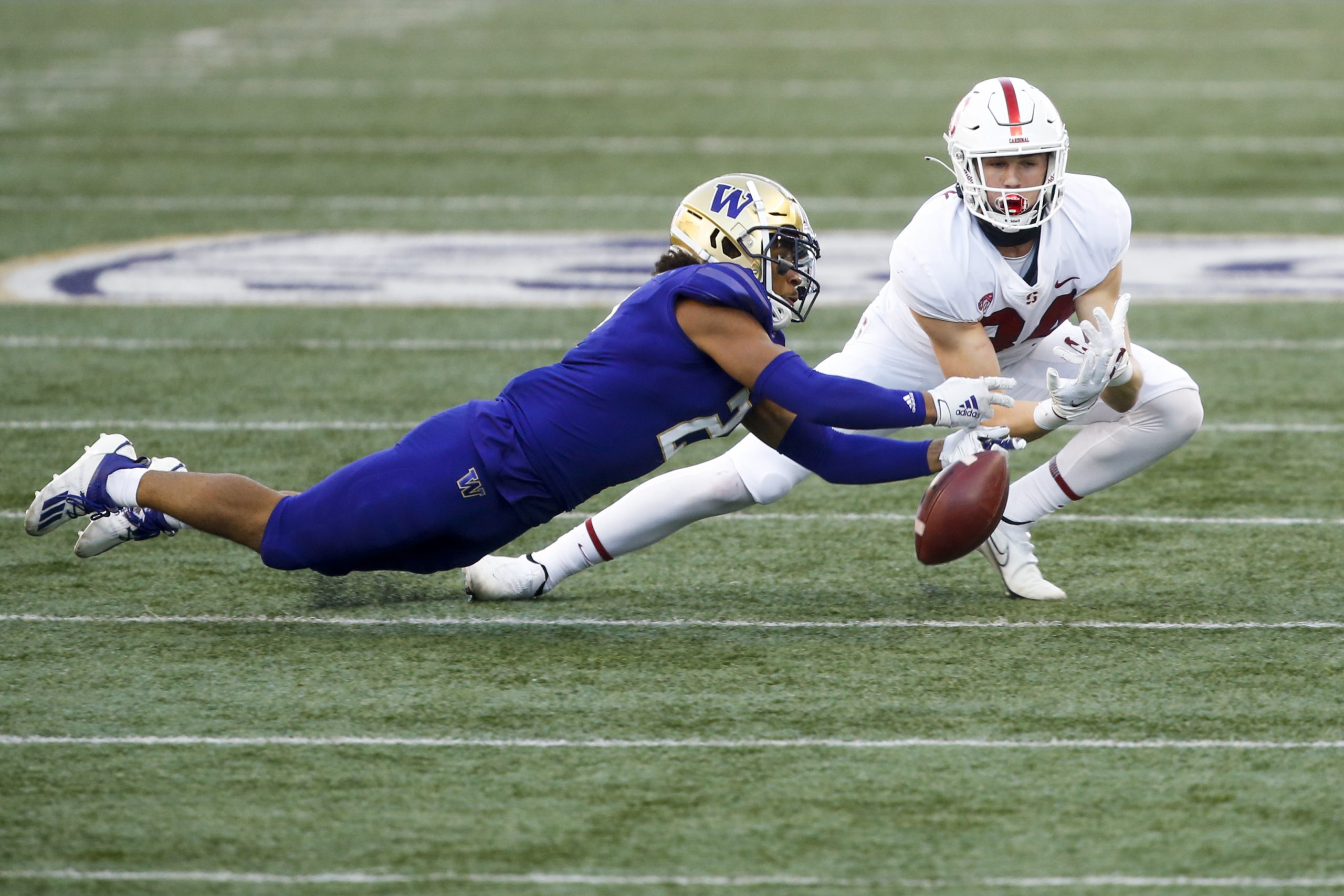 It wasn't so far-fetched to believe that Washington was in the running for having one of the nation's top defenses, but the chances of that happening took a major hit in the offseason when edge defender Zion Tupuola-Fetui tore his Achilles. Don't write this unit off just yet, though. Cornerbacks Trent McDuffie and Kyler Gordon rank first and third, respectively, among all returning Pac-12 corners in PFF WAA generated over the last couple of years, and Gordon did that with just a handful of starts in that span.
Meanwhile, linebacker Edefuan Ulofoshio claims the top spot at his respective position over that same period, while edge defender Ryan Bowman is second at his to only Kayvon Thibodeaux despite playing in only two games in 2020. The Huskies also replace Elijah Molden with Brendan Radley-Hiles, a transfer from Oklahoma and one of the best slot corners in college football. The defensive system remains in place at Washington despite the departure of defensive coordinator Pete Kwiatkowski, and the talent is there to execute it at a high level.
The Chanticleers' 2020 campaign was a Cinderella story, and they have every opportunity to make the sequel in 2021. According to PFF's Wins Above Average (WAA), they return 13 of their 14 most valuable players from last year's team, including the Sun Belt's highest-graded returning quarterback (Grayson McCall), wide receiver (Jaivon Heiligh), tight end (Isaiah Likely) and cornerback (D'Jordan Strong). Coastal Carolina fielded the fifth-most-efficient passing attack in the FBS last year, generating 0.42 EPA per pass play. Strong, meanwhile, anchored a secondary that helped Coastal rank ninth in the FBS in EPA per pass allowed. They will have a shot at a perfect slate in 2021, considering they have the easiest strength of schedule among all 130 FBS programs.
The talent is there for Oregon to field an elite defense this fall. Thibodeaux returns as the headliner, as he's the highest-graded edge defender in the Pac-12 since his 2019 true freshman campaign. Behind him, the Ducks appear to have a star on the rise with off-ball linebacker Noah Sewell, who finished as the conference's second-most-valuable player at the position as a true freshman in 2020. At the back end, the talented secondary is anchored by Mykael Wright, one of the three most valuable corners in the Pac-12 since 2019 as an underclassman.
The question is: Can the offense do its part?
Last year's remade offensive line held up just fine, as did the rushing attack, but the week-to-week performance at quarterback was cause for concern. However, former starter Tyler Shough transferred this offseason, leaving former Boston College quarterback Anthony Brown as the likely leader of the offense. Brown earned a 57.5 passing grade as the Eagles' starter in 2019 before suffering a season-ending injury in Week 6.
Iowa excelled in pass coverage last season, and the team appears poised to do so again in 2021. The Hawkeyes finished second among Power Five teams in expected points added allowed per pass play last season and return their most important contributors from that unit — outside corners Riley Moss and Matt Hankins and free safety Jack Koerner. The team's offense is a different story, though.
The offensive line will be in good shape with Tyler Linderbaum — the highest-graded center in college football last season — leading the way, and tight end Sam LaPorta returns as a formidable receiving weapon, but quarterback and wide receiver aren't as solid. The Hawkeyes' wide receiver room in 2020 was the third-lowest-graded unit in the Big Ten, and it will be without its top two wideouts from last year, Brandon Smith and Ihmir Smith-Marsette. Meanwhile, quarterback Spencer Petras struggled to get much going downfield in his first year as a starter in 2020 and displayed suspect accuracy en route to a poor 56.9 passing grade for the year.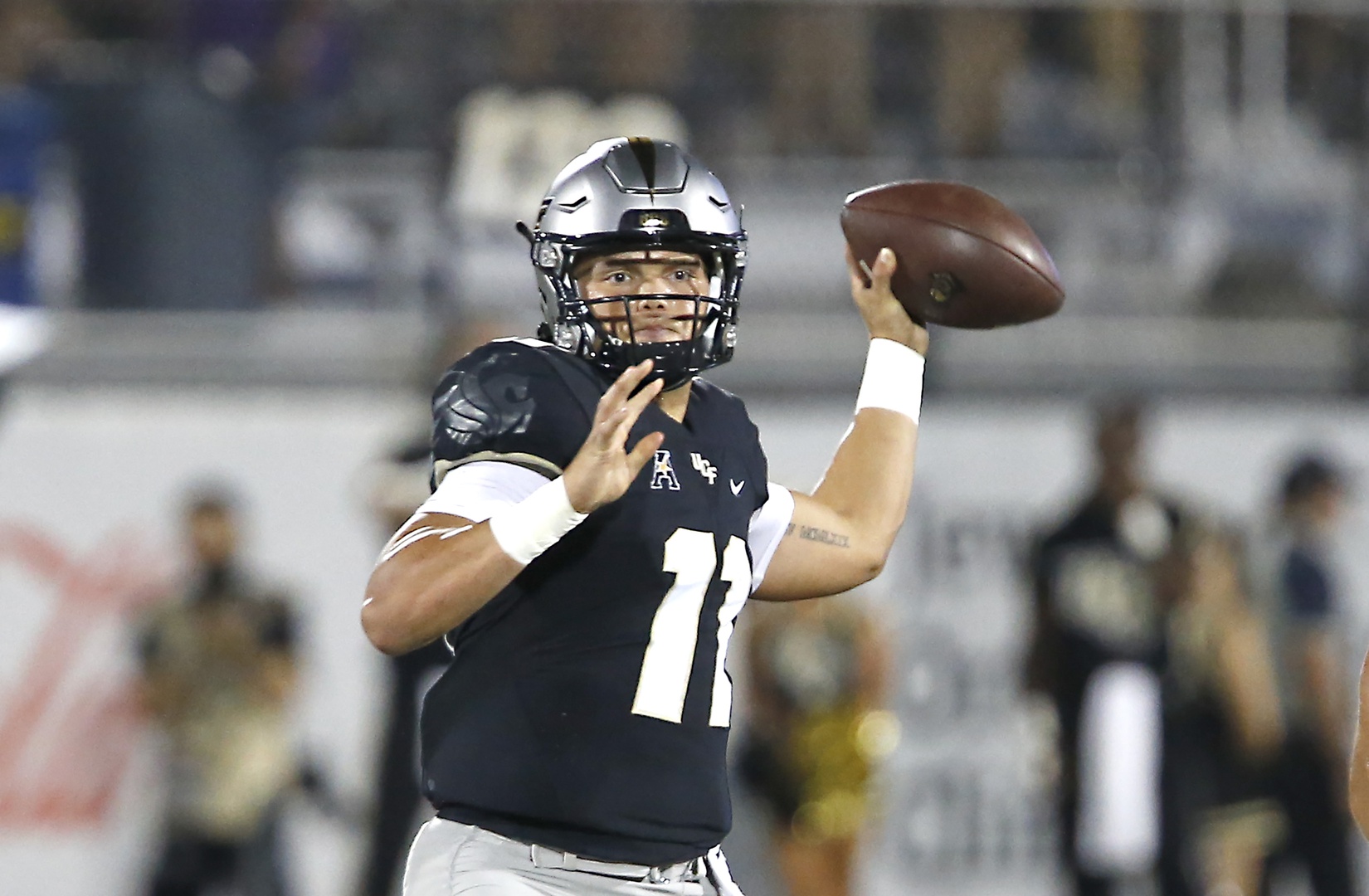 UCF will be one of the more interesting teams to monitor this fall with Gus Malzahn taking over for Josh Heupel. Quarterback Dillon Gabriel thrived in a Heupel system that isn't necessarily the most difficult to master. As a true freshman and sophomore the last two seasons, he earned 81.4 and 90.9 PFF grades. Gabriel posted a 6.5% big-time throw rate and minimal 1.9% turnover- worthy play rate over that span, both of which are top 10 marks among all FBS passers. It will be a different world for him in 2021 with the new system and the receiving unit at his disposal.
The Knights have had one of the top wide receivers in the conference in each of the last two seasons in Gabriel Davis and then Marlon Williams, but they don't have any promising players on the rise. No returning UCF receiver ranked in the top half of the AAC in receiving grade. The team does welcome in a few different transfers at wide receiver who have ample experience at the Power Five level, but none have proven production to bank on. The traits are there for Gabriel to remain an elite passer and lead UCF to success once again in 2021, but it's going to be tougher this time around.
There are very few coverage units on Nevada's schedule that can effectively shut down the three-headed monster of Carson Strong, Romeo Doubs and Elijah Cooks. Strong fits like a glove in this Air Raid attack. Last year, the big-armed quarterback sported an 85.8 passing grade, a 1.7% turnover-worthy play rate (fifth in the FBS) and a 12.9% uncatchable pass rate (tied for second). The Wolf Pack are in prime position to take home the top spot in the Mountain West Conference West division and secure a double-digit win total for the second time in the program's history.
The NC State offense is underrated heading into 2021. Firstly, the program has one of the most well-rounded centers in college football in Grant Gibson and one of the best run-blockers overall in Ikem Ekwonu. And they'll be opening up lanes for running back Zonovan Knight, who is the most valuable returning running back in the ACC, per PFF WAA. Starting quarterback Devin Leary looked like a new man in the four games we got to see from him in 2020, too, as he tallied at least four big-time throws in all three games he started.
FIRST FIVE OUT (alphabetical order)
Auburn Tigers
Louisiana Ragin' Cajuns
Oklahoma State Cowboys
TCU Horned Frogs
Utah Utes