The 2020 college football regular season has officially come to a close, so now it's time to recognize the nation's top players at every position by naming PFF's All-Conference teams.
With the help of PFF grades and advanced statistics — which are now available to PFF's CFB Premium Stats+ Subscribers — we present to you the PFF 2020 All-Pac-12 team.
QUARTERBACK
In a shocking turn of events, this first-team quarterback spot does not belong to USC's Kedon Slovis. Rather, Stanford's Davis Mills wins out after extremely rare improvement in accuracy this season compared to last.
In fact, his accurate pass rate on throws beyond the line of scrimmage has jumped from 44% in 2019 to 65% in 2020 — the third-best rate in the FBS. That, among many other things, has helped Mills lead all Pac-12 quarterbacks in PFF grade (84.3).
Second-Team: Dylan Morris, Washington
Third-Team: Kedon Slovis, USC
Honorable Mention: Tristan Gebbia, Oregon State
RUNNING BACK
With the lack of experience and lowly offensive line, expectations were low for any Colorado running back. Broussard, who entered 2020 with zero career carries to his name, defied the odds. He was an absolute monster after contact and led the conference in total runs of 15-plus yards (14).
Second-Team: Brittain Brown, UCLA
Third-Team: Jermar Jefferson, Oregon State
Honorable Mention: Chip Trayanum, Arizona
No Pac-12 running back shed more tackles on the ground and after the catch than Felton (42). Overall, the dual-threat back was responsible for 29 gains of 10-plus yards, which also led all running backs in the conference.
Second-Team: Ty Jordan, Utah
Third-Team: Travis Dye, Oregon
Honorable Mention: Rachaad White, Arizona State
WIDE RECEIVER
Fehoko was a prime candidate for a breakout this season, and he did just that. His 75.3 PFF grade led the conference. The 6-foot-4, 227-pound receiver is an explosive weapon and is extremely difficult to beat in tight coverage. Fehoko hauled in seven of his 13 contested targets while leading the Pac-12 in explosive receptions of 15-plus yards (14).
Second-Team: Britain Covey, Utah
Third-Team: Stanley Berryhill III, Arizona
Honorable Mention: Michael Wilson, Stanford
One area of emphasis for St. Brown this year was to get stronger at the catch point, and he took a big step forward in that regard.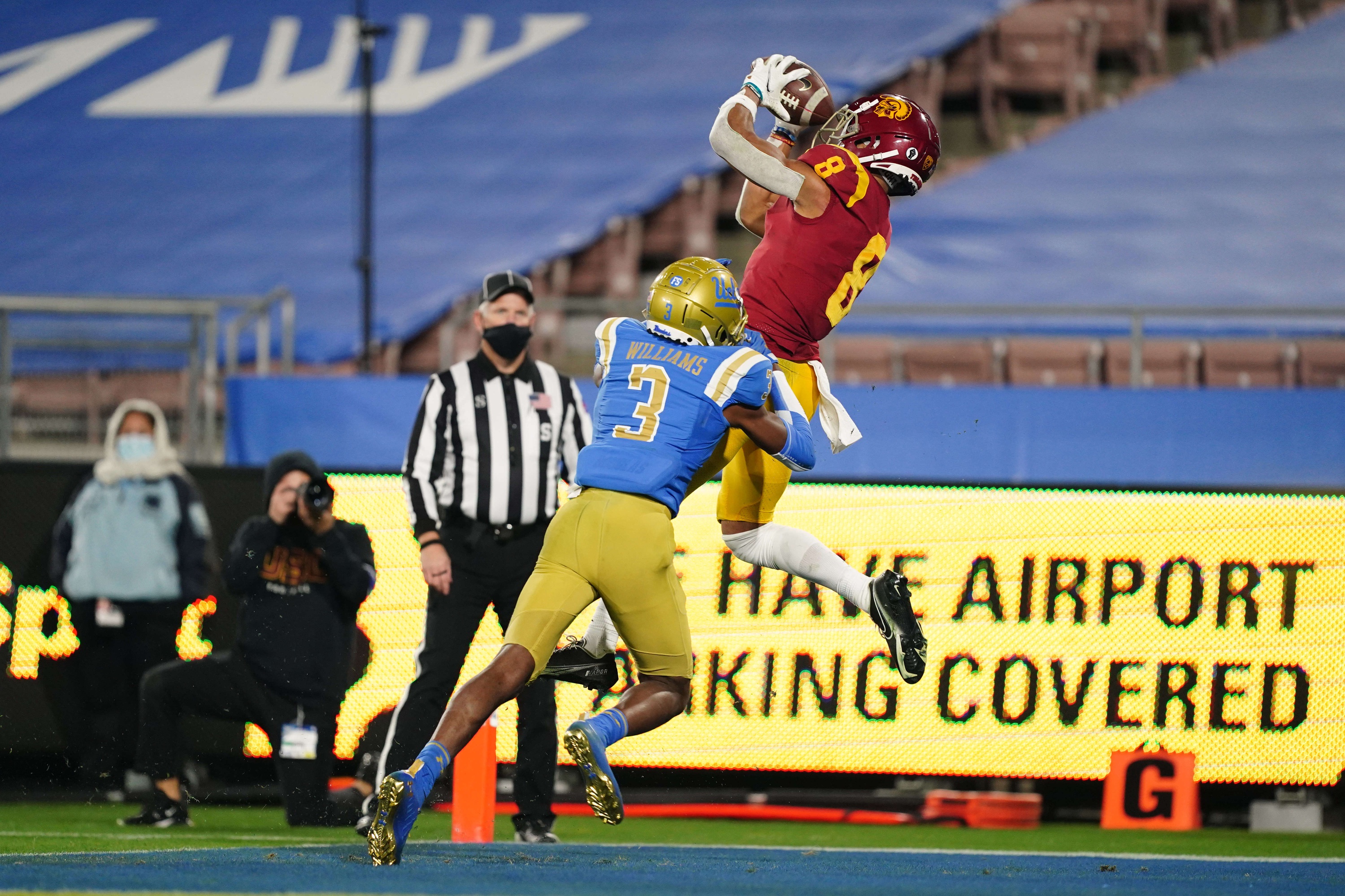 His eight contested catches led the Pac-12 — three fewer than he had in 2018 and 2019 combined.
Second-Team: Kyle Philips, UCLA
Third-Team: Tyler Vaughns, USC
Honorable Mention: Kolby Taylor, Oregon State
London, who also plays on the USC basketball team, isn't an easy man to bring down. The 6-foot-5, 210-pound wide receiver broke 13 tackles on 33 catches this season. He paired that with top-notch ball skills and surefire hands that helped him lead all Pac-12 wide receivers in catchable targets without a drop (36).
Second-Team: Renard Bell, Washington State
Third-Team: Travell Harris, Washington State
Honorable Mention: Trevon Bradford, Oregon State
TIGHT END
Dulcich — a 2018 walk-on — has been the biggest surprise this season at the tight end position. He entered 2020 with virtually no receiving production to speak before posting the ninth-best receiving grade in the FBS (83.7).
Only Florida's Kyle Pitts has turned a higher rate of targets into a gain of 15 or more yards this season than Dulcich (36.6%), and his sneaky impressive speed is one reason why.
Second-Team: Brant Kuithe, Utah
Third-Team: Cade Otton, Washington
Honorable Mention: Hunter Kampmoyer, Oregon
LEFT TACKLE
Vera-Tucker has made a seamless transition from guard to tackle this season. The Trojan was one of the best pass-protectors among guards in 2019, generating an 87.9 pass-blocking grade. That has remained the case at left tackle, where he has earned an 85.8 pass-blocking grade this season.
Second-Team: Kellen Diesch, Arizona State
Third-Team: Steven Jones, Oregon
Honorable Mention: Sean Rhyan, UCLA
LEFT GUARD
West may have played only four games, but there were virtually no negatives to speak of with his pass protection. He allowed two total pressures in four games. West also was consistently doing positive things for the run game, posting a 74.7 run-blocking grade as a result (second among Pac-12 guards).
Second-Team: Andrew Vorhees, USC
Third-Team: Matthew Cindric, California
Honorable Mention: Jake Levengood, Oregon State
CENTER
Dalman's has made up for subpar pass blocking with strong run blocking in 2020. Dalman's 88.7 run-block grade in six games is more than 13 grading points higher than anyone in the conference, ranking fourth-best in the FBS.
Second-Team: Michael Saffell, California
Third-Team: Alex Forsyth, Oregon
Honorable Mention: Nathan Eldridge, Oregon State
RIGHT GUARD
Bainivalu played 261 snaps last year for Washington over the course of seven games, and he showed a lot of promise with a 73.4 PFF grade.
This year, he grabbed a starting job and has been nearly the same kind of player, posting a 74.1 PFF grade on 264 snaps. He and West are the only guards in the conference with grades above 70.0 in both facets.
Second-Team: Ryan Walk, Oregon
Third-Team: Nous Keobounnam, Oregon State
Honorable Mention: McKade Mettauer, California
RIGHT TACKLE
Lucas faltered some in his most recent start against Utah with three pressures allowed, but he still has been able to sustain the highest PFF grade among Pac-12 tackles (79.9).
Nick Rolovich's offense is still pass-heavy, forcing Lucas to increase his true pass set rate to nearly 50%. The fact that he has been able to maintain a 79.6 pass-block grade is pretty impressive. 
Second-Team: Victor Curne, Washington
Third-Team: Alec Anderson, UCLA
Honorable Mention: Frank Fillip, Colorado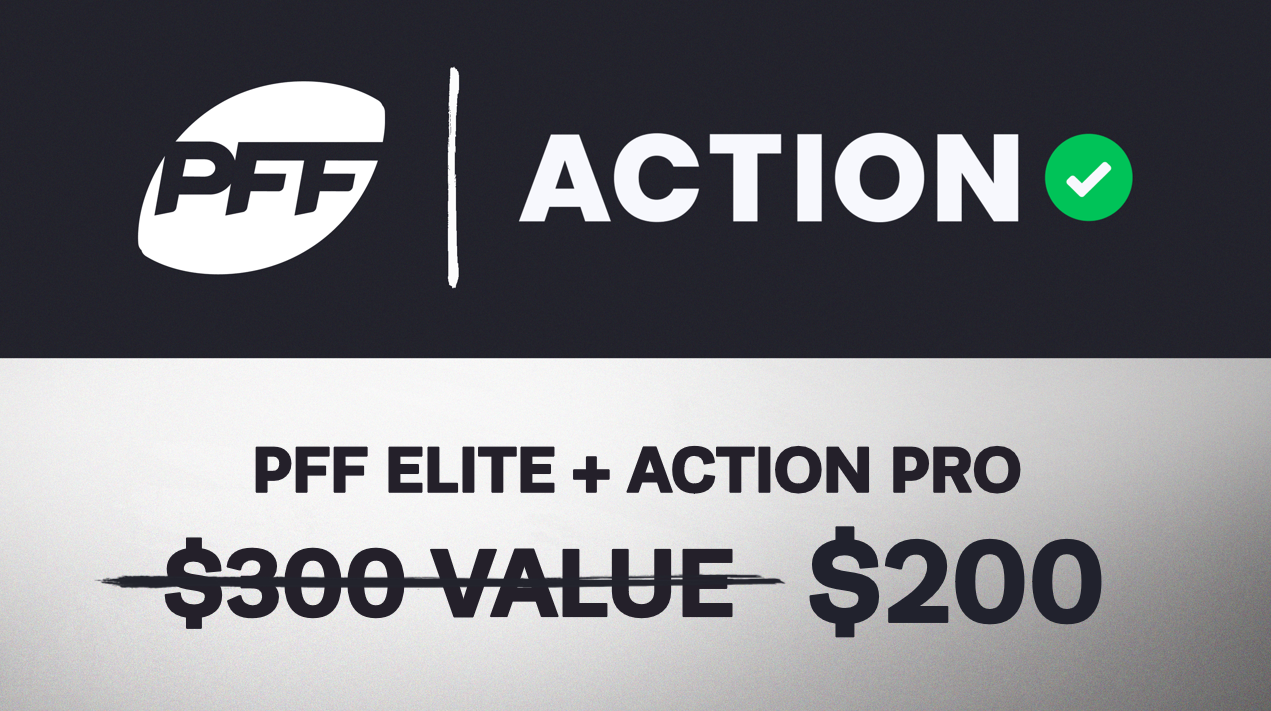 INTERIOR DEFENSIVE LINE
After a tweak in scheme, Lole shifted to playing exclusively 3-technique for the 2020 season as opposed to predominantly on the edge in 2019. He still saw a good chunk of snaps at defensive tackle, which is where Lole looked his best.
We were excited to see him there full-time as a result, and he has been as good as we all hoped through four games. Lole produced 17 pressures, 17 defensive stops, a forced fumble, two batted balls, zero missed tackles on 21 attempts and an 85.5 PFF grade in those outings.
Second-Team: Mustafa Johnson, Colorado
Third-Team: Marlon Tuipulotu, USC
Honorable Mention: Brett Johnson, California
Lopez came to Arizona this offseason after four years at New Mexico State, and he ended up having his best stretch of play with the Wildcats. In his five games this year, Lopez recorded an 82.2 PFF grade. Considering the fact that he played almost 100% of his snaps at heads-up nose tackle, that's extremely impressive.
Second-Team: Osa Odighizuwa, UCLA
Third-Team: Thomas Booker, Stanford
Honorable Mention: Tuli Tuipulotu, USC
EDGE DEFENDER
It's a shame we got to see Washington play only four games this year because Tupuola-Fetui was having a monstrous breakout season. The edge rusher put up an elite 91.8 pass-rush grade in those four games with 20 pressures (three of which were strip-sacks) and a 27.4% win rate on 95 pass-rush snaps.
Second-Team: Mitchell Agude, UCLA
Third-Team: Mike Tafua, Utah
Honorable Mention: Nick Figueroa, USC
We were expecting a Tupuola-Fetui type of breakout from Thibodeaux this season, but he didn't quite take that big of a leap. Still, Thibodeaux has been a productive pass-rusher with a 75.4 pass-rush grade and conference-best 29 pressures.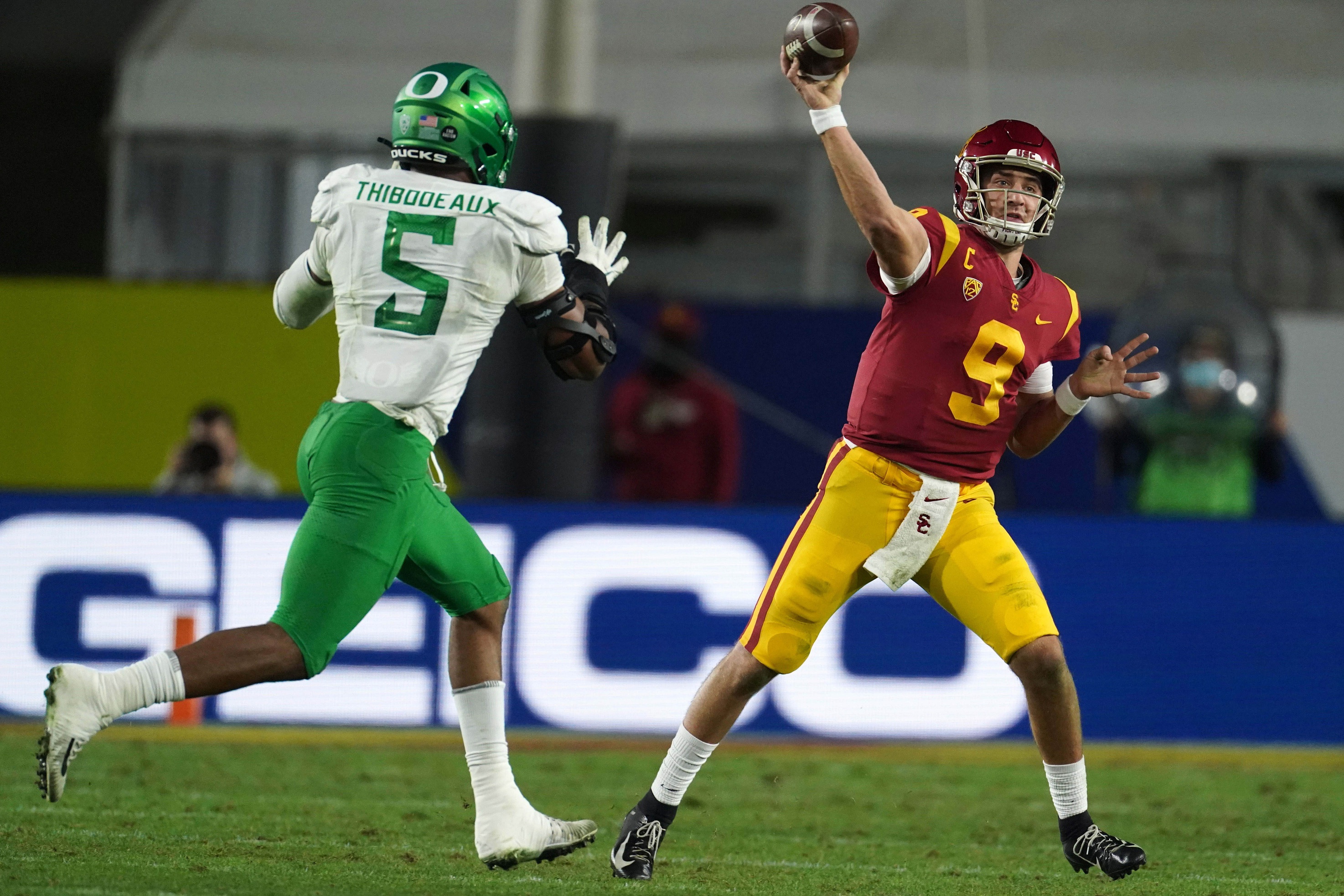 It's only a matter of time before his ridiculous get-off and bend push him to elite status. 
Second-Team: Carson Wells, Colorado
Third-Team: Terrance Lang, Colorado
Honorable Mention: Tyler Johnson, Arizona State
LINEBACKER
Ulofoshio shined in every area on a limited sample in 2019, posting grades above 74.0 in all four facets (run defense, tackling, pass rushing and coverage) on 217 snaps.
On 235 snaps in four games this year, Ulofoshio once again looked great in each of the four facets, generating a grade above 74.0 in all of them. The future is bright for him.
Second-Team: Avery Roberts, Oregon State
Third-Team: Kana'i Mauga, USC
Honorable Mention: Nate Landman, Colorado
Lloyd has a clear nose for the ball and isn't going to let a ball-carrier get past him. He posted a 90.3 run-defense grade through five games, generating the conference's second-highest run stop rate and most tackles for loss or no gain (10) along the way.
Second-Team: Isaac Slade-Matautia, Oregon
Third-Team: Noah Sewell, Oregon
Honorable Mention: Levani Damuni, Stanford
CORNERBACK
This was Lucas' fourth year starting in the Sun Devils' secondary, and it was by far the best he looked in his college career. Lucas earned coverage grades of 66.2, 65.0 and 60.3 in the three years prior to 2020; this season, his coverage grade sat at 84.8. He forced six incompletions, recorded four passing stops and allowed just five first downs/touchdowns.
Second-Team: Olaijah Griffin, USC
Third-Team: Kyler Gordon, Washington
Honorable Mention: Camryn Bynum, California
McDuffie was one of the many standout true freshman cornerbacks in the 2019 class. He did not let regression hit him in 2020, shining once again as a top-tier tackler. McDuffie didn't miss a single tackle on 18 attempts, and he allowed only 52 yards in coverage in those four games.
Second-Team: Mekhi Blackmon, Colorado
Third-Team: Jaylen Watson, Washington State
Honorable Mention: Mykael Wright, Oregon
SAFETY
Hufanga has been a boom-or-bust player at times this season, but the number of high-end plays we have seen the safety make in six games is incredible. The USC Trojan intercepted four passes, broke up two more, forced two fumbles and produced an 85.7 coverage grade (sixth-best in the FBS).
Second-Team: Quentin Lake, UCLA
Third-Team: Isaiah Pola-Mao, USC
Honorable Mention: DeAndre Pierce, Arizona State
It was only four games, but Fields looked a lot better in 2020 than he did in 2019. He posted a poor coverage grade of 55.9 last season before raising it to 73.7 this year. Fields has also made several impact plays in those four games, forcing three fumbles.
Second-Team: Isaiah Lewis, Colorado
Third-Team: Malik Antoine, Stanford
Honorable Mention: Jaydon Grant, Oregon State
FLEX D
Molden is the best pure slot corner in college football this season and, quite frankly, one of the best PFF has ever seen. In just four games this year, Molden has recorded an 86.2 coverage grade, seven passing stops, an interception and two forced incompletions while allowing only 65 yards in coverage. 
Second-Team: Jamal Hill, Oregon
Third-Team: Christian Roland-Wallace, Arizona
Honorable Mention: Nashon Wright, Oregon State
KICKER
First-Team: Jadon Redding, Utah
Second-Team: Evan Price, Colorado
Third-Team: Jet Toner, Stanford
Honorable Mention: Parker Lewis, USC
PUNTER
First-Team: Ben Griffiths, USC
Second-Team: Tyler Loop, Arizona
Third-Team: Ryan Sanborn, Stanford
Honorable Mention: Jamieson Sheahan, California
KR/PR
First-Team: Britain Covey, Utah
Second-Team: Nathaniel Peat, Stanford
Third-Team: Champ Flemings, Oregon State
Honorable Mention: Mykael Wright, Oregon