The following teams have the luxury of possessing one of the top interior defender tandems in the NFL, with each player complementing the other in different ways. As we inch closer to the start of the 2019 season, let's examine the league's most dynamic duos along the interior defensive line.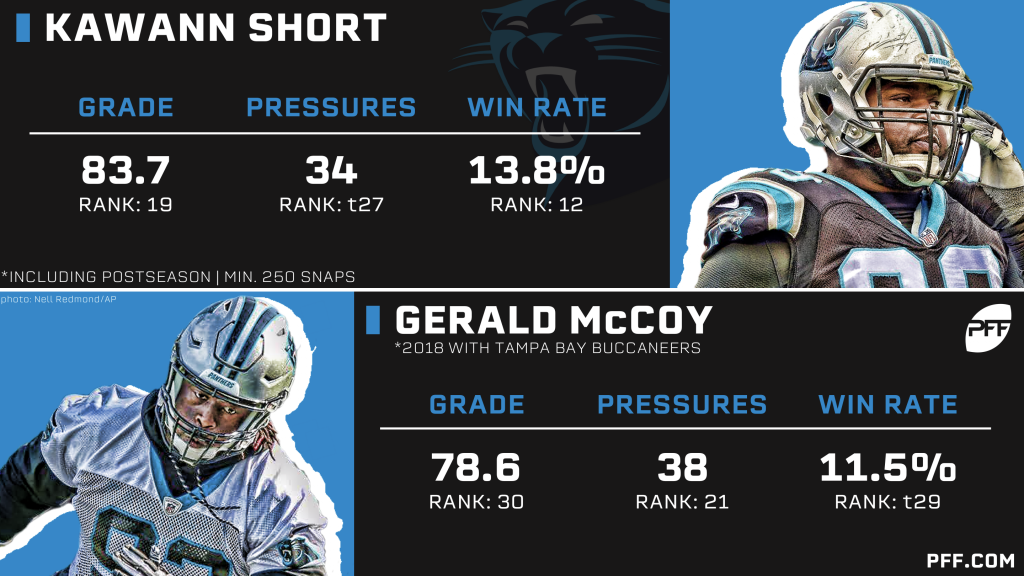 The Carolina Panthers have formed one of the NFL's most talented defensive front sevens on paper this offseason, especially along the interior with former Tampa star Gerald McCoy pairing up with Kawann Short.
Short belongs in the conversation among the league's elite interior defenders with his high-level disruptive ability up the middle. Over the past three seasons, only Aaron Donald, Damon Harrison Sr., and Fletcher Cox have earned higher overall grades than Short's mark of 92.1.
Though he's coming off a bit of a down year from a pass-rushing perspective, Short is still one of the league's feared interior pass-rushers. Since 2015, he's tallied 217 quarterback pressures, and his three-year pass-rush grade of 85.2 ranks seventh-best at the position. However, he's been even better and remarkably consistent defending the run over the past three seasons. Only Donald and Harrison have earned higher run-defense grades than Short (92.2) since 2016.
McCoy has been a consistent force since being taken with the No. 3 overall pick in the 2010 NFL draft. He's earned overall grades north of 70.0 in six-of-nine professional seasons, and he is one of only 11 interior defensive linemen who has notched at least 35 quarterback pressures in each of the last three years.
As a pass-rusher, there have been few as productive as McCoy has been over the course of his career. Since 2010, McCoy's 393 total pressures are the sixth-most among interior defensive linemen in that span, while his 143 knockdowns (sacks + hits) ring in at fifth.
After earning an 87.8 overall grade and an 89.1 run-defense grade in his sophomore season in the NFL, Kenny Clark took a significant Year 3 leap as a pass-rusher. He went from 67.9 and 69.6 pass-rush grades in 2016 and 2017, respectively, to an astounding 88.8 pass-rush grade in 2018, fourth-best at the position. He also finished the year ranked 11th in pass-rush win percentage (14.1%) and ninth in total pressure percentage (12.0%).
Clark was particularly great when lining up from the nose tackle position last season with a 91.5 pass-rush grade from 0- or 1-technique, tops of any player in the NFL. He was also stellar against the run with 28 total run stops, and his 90.8 run-defense grade ranked second-best among interior defensive linemen.
Daniels had somewhat of a down year last season by his standards, producing an overall grade of 71.3 and playing just 419 snaps after sustaining a season-ending foot injury in Week 11. However, the veteran defensive tackle has performed at a high level for multiple seasons, generating the eighth-best pass-rush grade either head up or shaded on the guards in the last four seasons at 86.3. Daniels' pass-rush win rate of 14.4% from that alignment ranks sixth among qualifiers, as well.
Subscribe to PFF Edge to continue reading
Already have a subscription? Sign In