The start of OTAs is always a really interesting time of year; it's the time when we start to see how teams will look to use players heading into the new season. Sometimes it's rookies finding their spot with their new team or veterans filling a new role in a new home. In Detroit, they are experimenting with a shuffle along the offensive line, with 2018 first-round pick Frank Ragnow kicking into center — a position he dominated from in college.
We loved Ragnow coming out of Arkansas, he was our 14th-ranked player overall on the PFF Big Board and he was second on the interior offensive line behind only Notre Dame's Quenton Nelson. He was dominant throughout his college career, and while his rookie season was a little bit of a disappointment — the former Arkansas Razorback produced a PFF grade of 61.9 at left guard — there were some real highlights in there too, with standout performances in pass protection against the New England Patriots in Week 3 and the Chicago Bears in Week 12.
The biggest struggles he faced as a rookie came against some of the top interior pass-rushers in the NFL, with 13 of the 36 total pressures he allowed on the season coming in the games against the San Francisco 49ers and Los Angeles Rams. If you take away those games, his PFF grade of 67.8 in the other games would have been good enough to rank 24th among all guards in 2018. Obviously, you can't take those games away, and the reality is that he has to improve his performance against some of the top interior defensive linemen in the NFL, but it does add a little more context as to where he struggled as a rookie.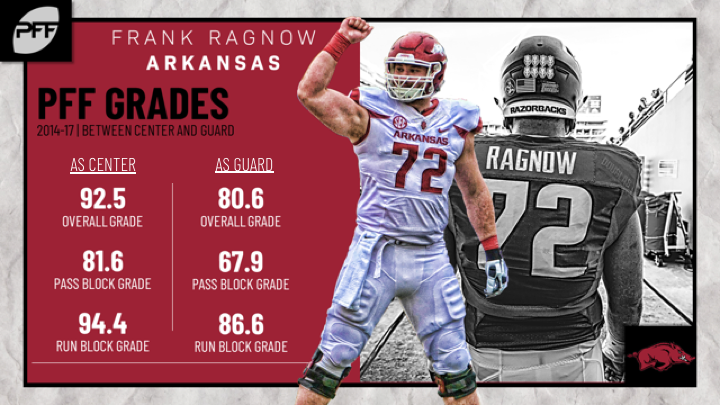 The switch to center, if it indeed continues, is something that makes a lot of sense, especially when you breakdown his grades by position in college. Ragnow was utterly dominant in college and didn't allow a single sack on 1,242 pass-blocking snaps in his collegiate career. He was particularly impressive at center though, producing a PFF grade of 92.5 on 1,530 snaps in the middle of the offensive line. He also saw 1,028 snaps at guard, with all but four of these coming on the right side, and here he still produced a modest PFF grade of 80.6. He also committed penalties as a lower rate at center, coming in at just once every 255 snaps compared with once every 146.9 snaps at guard.
There are two things about his college snap breakdown which should give Lions fans hope that they still have an elite interior offensive line prospect on their hands. Firstly, not only was he playing at guard as a rookie, but he was playing left guard after seeing just four snaps there in college. Some players have a side that they are more comfortable on than the other, so it's not a huge stretch to say that he was potentially playing in his weakest spot of the three as a rookie, and he still produced some impressive performances. The second point is just how good he was at center at Arkansas.
Everything we've seen from Ragnow suggests he has the skill set to be a decent offensive lineman at any spot in the interior, but kicking him inside to center gives him the opportunity to unlock the elite potential we saw at that position. The reality is that the position change could be the difference between the Lions having a starting-caliber guard, and an elite-level center who could go on to be the best in the NFL. Either way, the willingness to test the move out suggests that the Lions at least want to see if a move to center for their 2018 first round draft pick can improve their offensive line heading into the 2019 season.