Often the hardest part of creating a list like this, is defining what we mean by "Secret Superstar." Is it secret to a reasonably versed generalist? Maybe secret to a hardcore fan of that team? You get the picture.
Then we come to the term "superstar." In this context, what does that mean? Outside of it's alliterative properties, it means underrated or undervalued.
Regardless, let's see how many of these guys on our list of NFL secret superstars on offense (and defense) are better known at the end of the season than at the start – and known for all the right reasons.
Trading a player of the caliber of Cordy Glenn to the Cincinnati Bengals was a bit of a surprise, but the reason the Bills felt comfortable doing so has been the play of Dawkins. A second-round rookie out of Temple, last year he was thrust prematurely into the spotlight because of an ankle injury to Glenn just 56 snaps into the season. With one of the best left tackles in the game down, Dawkins was left as his fill in. He performed better than should be expected of any rookie, grading a solid 72.4 (26th overall) up to Week 8. However, from the halfway point, things only got better. From Week 10 of 2017 onwards, he was our fourth-ranked player with a 84.6 grade behind only Joe Staley, Nate Solder and Ryan Ramczyk.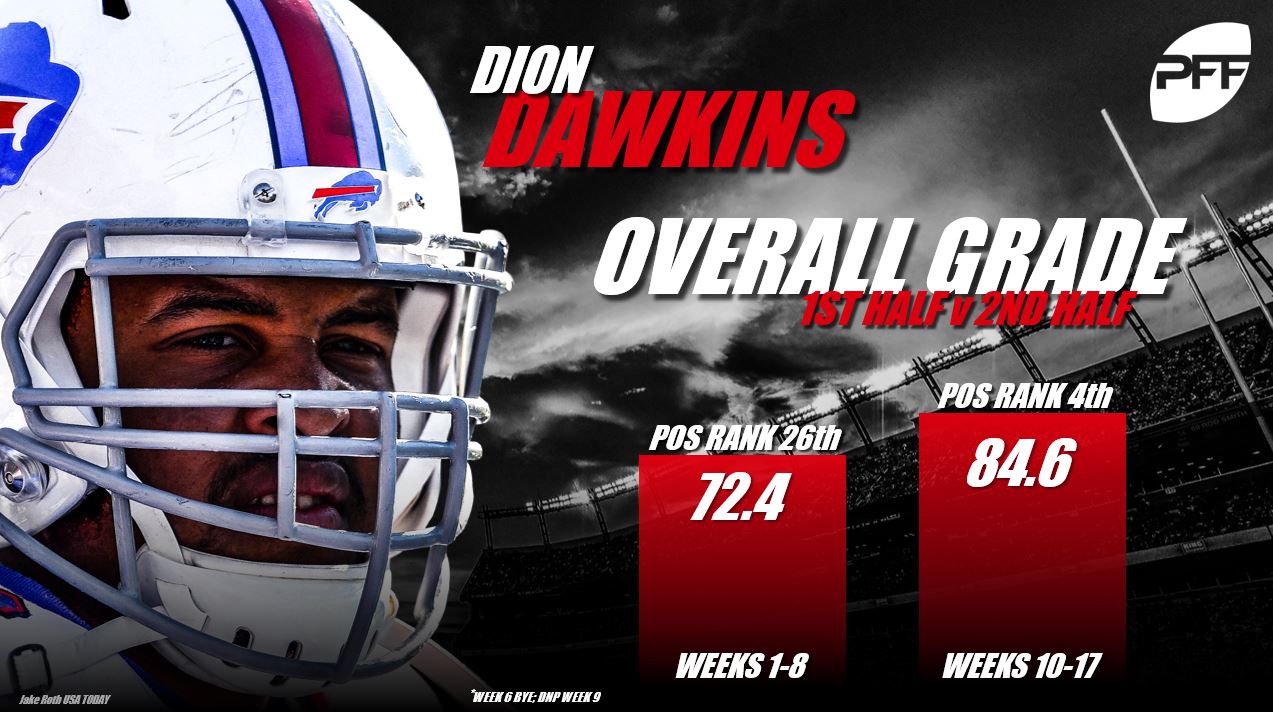 Pundits are saying a key weakness in San Francisco this year could be their receivers, but maybe they are neglecting Goodwin? Ranked 22nd overall in our grading with a mark of 77.1 in 2017, he could have been much higher had it not been for six drops. Perhaps a better measure of his effectiveness is looking at yards per route run (this is a great measure for wide receivers, tight ends and pass-catching running backs). He averaged 1.94 yards per route run, good enough for 14th among the league's receivers, ahead of players like Golden Tate, Stefon Diggs and Doug Baldwin.
It may not be as high profile as some of the other positions mentioned in this article but the role of the second tight end in "12 personnel" packages (1 RB, 2 TE, 2 WR offensive sets) is increasingly important as teams look more and more towards this as "the" base package. Morgan is the ideal fit, a guy who makes the most of his limited receiving opportunities behind Kyle Rudolph and blocks very well.
So ideal in fact he graded a superb 86.2 overall, a number only diminished by his 431 snaps and lowly 12 targets. He is reminiscent very much of Delaine Walker when he was the "blocker" complementing Vernon Davis with the 49ers in 2011 and 2012 and you can easily see an NFL team making him a starter when he becomes a free agent.
With the additions of Carlos Hyde in free agency and Nick Chubb in the second round of the draft, there appears to be many forgetting about the significant talents of Johnson. Although he ranks at an above-average 25th among running backs as a runner (70.7 rush grade) it's his play as a receiver that makes him so valuable. He ranked fourth by grade (89.4 receiving grade) and fourth in yards per route run (2.05) despite some of the worst quarterback play in the NFL so expect to see him become a key component of a Browns offense revitalized by their new signal-callers.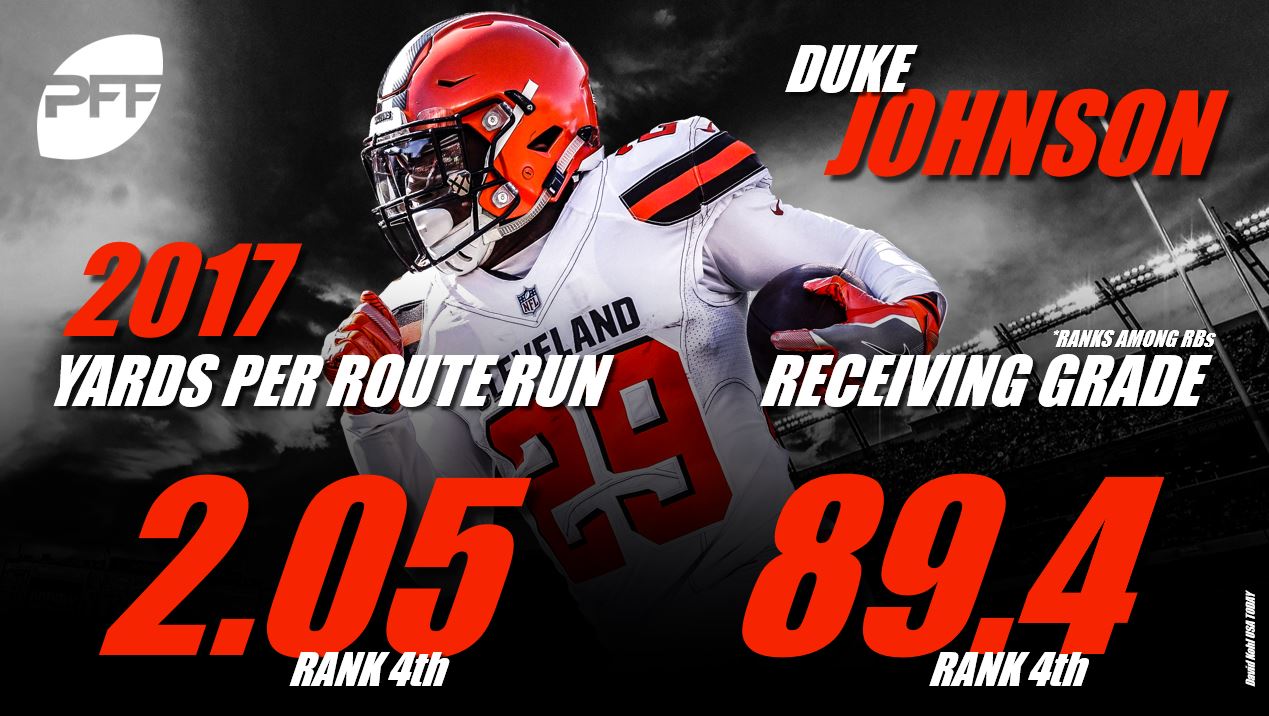 As the aforementioned Dawkins flourished when forced into a starting role, so too did Drake a season ago once the Dolphins traded Jay Ajayi to the Eagles. Playing a meager 46 snaps through the first half of the season, from Week 9 onward, only Alex Collins, Alvin Kamara and Todd Gurley had a higher rushing grade than Drake's 81.8. Playing behind a poor offensive line, he averaged a monstrous 4.5 yards after contact (best in the NFL by 0.6 yards) breaking 24 tackles in the process. He's still got work to do as a receiver, dropping 5-of-37 catchable balls, but if he can sort that out, he's been well above average as a pass-protector, making him a completely viable three-down back.
The archetypal slot receiver, Kupp burst on to the scene as rookie last year in a way that may belie the term "secret." So why include him here? Well, he's hardly a household name in the way Wes Welker was and frankly, whatever reception he did receive, it probably didn't do his performance justice. Our 17th-rated receiver last year (78.3 grade), he excelled in nearly every capacity except drops. His drop rate of just over 10 percent was more than double what we saw during his time at Eastern Washington so if we can put that down to rookie nerves, let's focus on the positives. 10 tackles broken or avoided was good for eighth-best among wide receivers and that led to a yards-after-catch per reception of 5.9 (good for 10th in the NFL). With Brandin Cooks joining the ranks in LA and another year of scheming under Sean McVay's belt, expect Kupp to perform even better in 2018.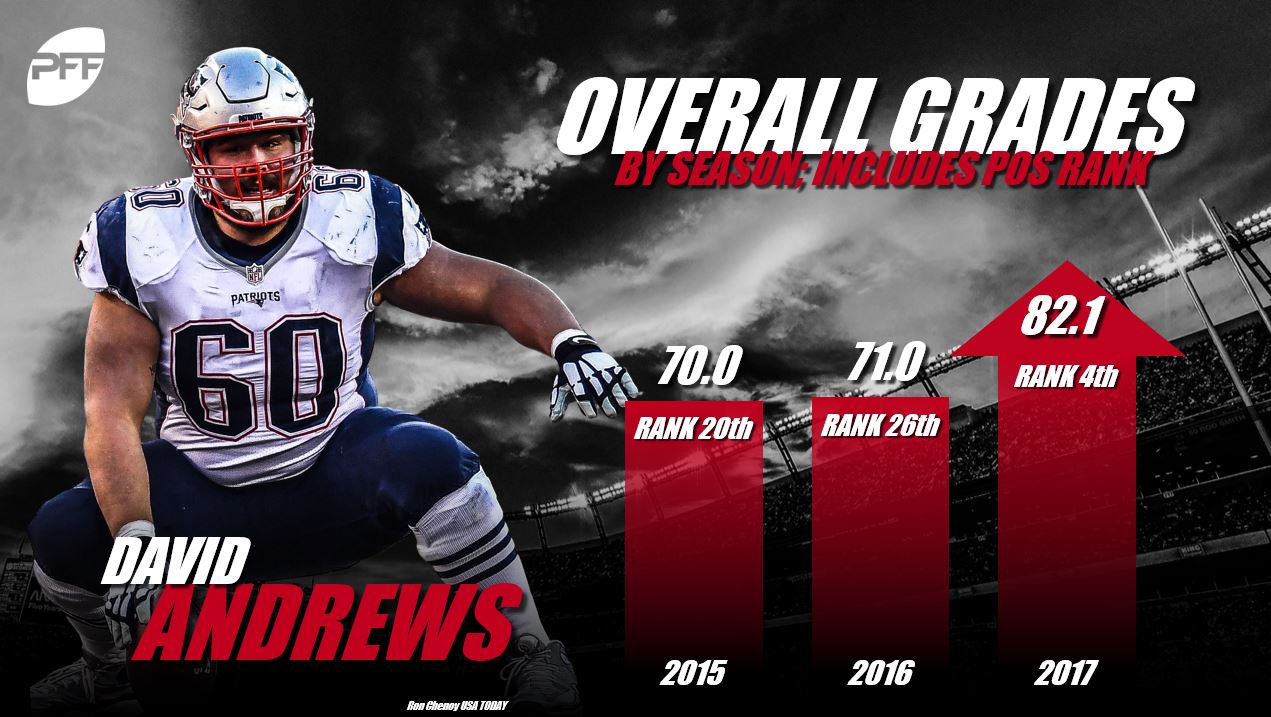 Sometimes "Secret Superstars" aren't just new guys with limited snaps to get their ability across. On occasion, good players just labor away in anonymity because of the nature of their position. Andrews is one such player, joining New England in 2015 as an undrafted free agent, he's been a study of solidity, playing 3,345 snaps and improving each year. Last year, his grade of 82.1 was good for fourth among centers behind perennial stars Alex Mack, Jason Kelce and Travis Frederick.
When we scouted Ali Marpet for the 2015 Draft, it was hard to get a handle on him because of the 'man-against-boys' schedule he faced at Hobart College. Most of his game film more resembled that man-against-boys mantra than anything approaching "gradable," so how good would he become? After a few issues in pass protection early in his rookie year, he settled down to a borderline Pro Bowl type season in 2016 with an 82.8 grade. Now, with much better than average chops as a pass-blocker, he looked set for a move to the next level but a forced move to center delayed that rise. He still did well, rating an incredibly credible 79.9 at the new position before getting injured. However, his move back to guard this year spells trouble for interior defenders everywhere and maybe his first end of season honors.