This week at Pro Football Focus, we're talking prototypes for several positions in the NFL as we head into the 2019 season. We kicked things off by looking at receivers yesterday, so for today, it only seems natural to pivot towards the men who will be tasked with stopping those receivers come September.
As our research and development team alluded to a few weeks ago, coverage — as opposed to pass-rush — is king when it comes to stopping an opposing passing attack. During the PFF era, teams with elite coverage (67th percentile or better) and a poor pass-rush (33rd percentile or worse) win, on average, about a game and a half more than teams with the reverse construction. And that highlights just how important it is to have a difference-maker (or two) roaming in the defensive secondary.
Much like last year, we've chosen seven different secondary roles to assign these prototypes to: press-man cornerback, deep zone cornerback, slot cornerback, big nickel/dime linebacker, single-high safety, split-field safety and versatile/do everything safety.
There is arguably no harder role for a defensive back than the press-man role, as a loss off the line can often result in a big gain — or worse, a touchdown —for the opposing offense. Add into the equation that this job will often command a player to follow number one receivers all over the field, and you get one of the most demanding roles in the game.
For a long time, Arizona Cardinals cornerback Patrick Peterson has been the standard-bearer for this role, and his ability to stack the opposing wideout off the line and mirror his route has been, up until recently, almost unmatched. Since 2016, Peterson has earned a 77.8 coverage grade from his work in press man; he's allowed only 30 completions from 59 targets and he's forced an incompletion on 20.3% of those targets. Among the casualties of Peterson's coverage over the last three years are Mike Evans (33.3 passer rating when targeted), Davante Adams (39.6), Tyler Lockett (43.8) and Sammy Watkins (47.9).
Snapping at Peterson's heals is New England Patriots standout cornerback Stephon Gilmore, the league's highest-graded cornerback from a season ago. In a league of his own in press-man coverage in 2018, Gilmore locked down one side of the field: He allowed just 20 receptions from 54 targets, forced 16 incompletions, allowed a passer rating of 56.9 and earned an 89.7 press-man coverage grade — the best mark among all corners with 25 or more press-coverage snaps.
Honorable mention: Denzel Ward, Byron Jones
It's not nearly as difficult as the above, but the role of the deep zone cornerback is still vitally important to an NFL that is ever-reliant on zone coverage. The role here is to read and react. Read the quarterback's eyes, diagnose the play and drive — whether that be towards the underneath routes or to vertical routes downfield — to make a play on the ball. In other words: see ball, get ball.
Hayward possesses an almost unique combination of instinct, athleticism and playmaking ability — all of which are vital components to his success in this role. Throughout his career, Hayward has earned an elite 90.6 coverage grade from his snaps in an off-man coverage shell — 15th among the 151 cornerbacks in the PFF era (2006 – present) with at least 1000 such snaps — and he's allowed 110 receptions from 187 career targets for 1,491 yards, just three touchdowns and seven interceptions in the process. His 15.5% forced incompletion percentage ranks second among all cornerbacks in the PFF era with at least 100 targets in off-man coverage, and his 74.1 passer rating allowed on such targets ranks tied for 16th among the same group.
Honorable mention: Richard Sherman, A.J. Bouye
Last offseason, our analytics department hammered home the importance of the slot cornerback position in the modern NFL, where offenses are ever-increasingly relying on their best pass-catchers to dominate from the inside. No longer is the slot cornerback looked at as a player who's physically incapable of manning the perimeter — in today's NFL the ability to cover the slot is a paramount, starting position.
During his time in the PFF era, nobody has laid claim to the title of the best slot corner in the NFL quite like Chris Harris Jr. Since 2011, Harris has earned a 93.6 coverage grade from his work in the slot – the best mark among cornerbacks with at least 500 slot snaps in that span, and among the 66 of those who have seen 75-plus targets, Harris' 0.89 yards allowed per coverage snap rank third, his 11.76 snaps played per reception allowed is tied for third, his 61.2% catch rate ranks fifth and his 74.5 passer rating ranks third.
Last season, 58% of Harris' snaps were spent covering the slot, and he was dominant for most of them, finishing with a league-high 12.7 coverage snaps per reception allowed, all while not allowing a single touchdown. Rounding out an excellent season, Harris finished in the top five among qualifying slot corners in snaps per slot target (8.1), yards allowed per slot coverage snap (0.75) and passer rating allowed (57.3) — which marked the sixth time in eight years that Harris had allowed a passer rating of less than 90.0 on his work from the inside.
Honorable mention: Desmond King, Bryce Callahan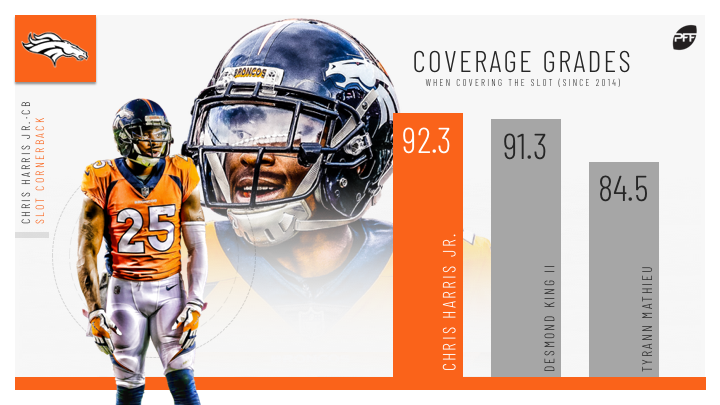 Much like the slot cornerback position, the role of the nickel/dime linebacker has risen to prevalence over recent years thanks to the ever-increasing presence of physically imposing pass-catchers in the slot. There aren't too many around, but the blueprint for this modern role is a player with the ball skills of a top corner with the size of a linebacker, a player who can match up well with the Travis Kelces and the George Kittles of the league.
While he's a safety on paper, Landon Collins' value shines through when he's asked to cover the tight ends and receivers in the box. Over the last three seasons, the former New York Giant has earned an 84.5 coverage grade on his coverage snaps when he lined up either inside the box or as a slot cornerback — third among all safeties with at least 25 targets in that span — and only Malcolm Jenkins (35) and Patrick Chung (37) have produced more box-coverage stops than Collins' 32.
Honorable mention: Eric Weddle, Derwin James
A position made great by the likes of Ed Reed, Ronnie Lott and Brian Dawkins, the single-high safety is an easy role to play in theory, yet few possess all the physical gifts it takes to play it well. A dominant single-high safety possesses the range, a high football IQ and next-level instincts, and he will have the ability to cover the field in an instant.
It has indeed been those next-level instincts and that ability in coverage that has separated Thomas from the pack over recent seasons. Since joining the Seahawks with the 14th overall pick of the 2010 NFL Draft, Earl Thomas' work in Seattle has put him among the very best to ever play the position.  His coverage grade of 92.7 is the fifth-best mark among qualifying safeties in that nine-year span, while his 64 combined pass breakups and interceptions and his 80 total coverage stops rank second and fourth among safeties among that same group, respectively.
Honorable mention: Kevin Byard, Eddie Jackson
All of the above. A safety who can line up in the slot, line up in the box as a big nickel/dime linebacker, line up at single-high and line up to make some noise as a blitzer. It's a role we've been seeing more and more in recent seasons, but there are two players who have truly earned the title of do-everything safety, and it's not just by volume, Derwin James and Jamal Adams don't just do everything, they do everything well.
In his 16 games, James has proved to be a jack-of-all-trades, and out of his 1027 defensive snaps, he logged 205 on the defensive line, 418 in the box, 166 as a slot cornerback, 22 as a perimeter cornerback and 216 as a free safety. His 19 total quarterback pressures and 40 defensive stops both ranked first among first-year players at the position in 2018, and he allowed a passer rating of just 71.8 on throws into his primary coverage which was good for third.
Adams, who really is one and the same with James, played 137 snaps at edge defender, 172 snaps as a slot cornerback, 40 snaps as a wide cornerback, 489 snaps in the box and 281 snaps as a deep safety a season ago. He earned grades north of 77.0 in all four facets of our defensive grading system and the scary thing is that he only seems to be getting better. He improved his pressure rate as a pass rusher from 13.7% in 2017 to 28.1% in 2018 and the passer rating he allowed into his coverage plummeted from 124.7 in Year 1 to 67.6 in Year 2.
Honorable mention: Budda Baker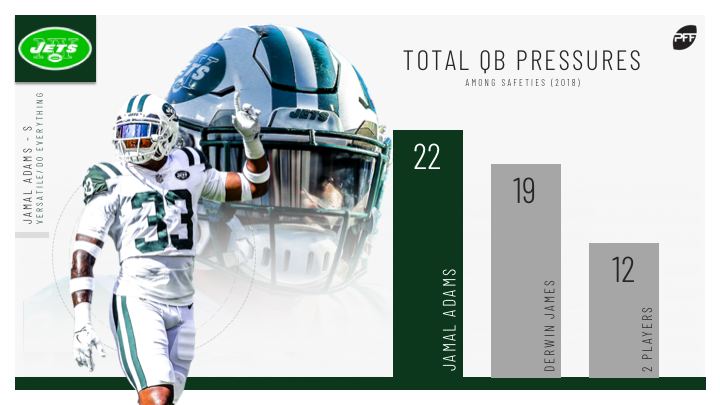 Similar to the single-high safety in that they need to have the range and instinct to cover the field in a hurry, but different in that the split-field safety only has to worry about his side of the field. The best split-field safeties are able to quickly diagnose plays and pounce on receivers who venture into their zone, and they have the added bonus that they can get away with a lot more than a single-high safety, who is responsible for the whole field on the backend.
Simply put, Jackson's body of work across his 589 coverage snaps last year was some of the best that we've ever seen from a safety. He earned a coverage grade of 94.7 which not only led all defensive players in the NFL last year, but it tied for the best mark ever recorded by a safety in the PFF era (2006-present), narrowly beating out Ravens legend Ed Reed (92.7, 2009) and fellow split-field prototype Harrison Smith (92.2, 2017). His decision-making and remarkable instincts were at the forefront of his stellar 2018 performance: he was targeted 44 times on the year — which was the 19th-most among players at the position — but he allowed just 24 receptions for 256 yards, three touchdowns and six interceptions. His 54.5% catch rate allowed was the third-best rate among 65 safeties with at least 20 targets, while his eight pass breakups led the league. His ability to diagnose and break on plays epitomized the role of a dominant, split-field safety.
Honorable mention: Harrison Smith