Players in the NFL can have their snaps limited for a myriad of reasons. After all, injuries, set rotations or competition can keep a player off the field for hundreds of plays in a given season.
Not the players on this list.
These are the NFL's iron men, the players who not only played at a high level but also barley missed a snap. To be on this list, the player must have earned a PFF overall grade over 80.0 and played at least 80% of the snaps from the 2018 regular season.
Previously we took a look at the NFL's defensive iron men. This time we'll take a look at the offensive skill positions and offensive linemen.
Overall Grade: 92.4
Offensive Snaps: 1,048
By now, you know that Hopkins is one of the best contested-catch receivers in the game. He's also always on the field and missed just 10 of the Texans' offensive snaps last season. He was third in the NFL among receivers with 115 receptions and dropped exactly zero balls on the way to a league-best 92.5 receiving grade. He's also the only receiver on this list to play 1,000 snaps essentially every year of his career (999 his rookie year).
Overall Grade: 89.5
Offensive Snaps: 1,011
Adam Thielen is one of the NFL's deadliest slot weapons and finished 2018 with the 10th-highest receiving grade, at 89.4. Not only has he been on the field — he's played 1,000-plus snaps in each of the last two seasons — but he's also been incredibly reliable, dropping only 10 passes on 301 targets. He is also a top-flight red-zone target, catching 79.0% of his targets in the red zone last season.
Overall Grade: 88.6
Offensive Snaps: 993
Take a look at just about any tight end ranking from the past three seasons, and you'll find Travis Kelce's name at the top. Last year, he led all tight ends in deep yards (243), yards per route run from the slot (2.87) and he was tied for first in receiving grade (90.4). He also tied a PFF record with Greg Olsen as the only tight ends to have three consecutive 1,000-yard seasons.
Overall Grade: 88.3
Offensive Snaps: 1,031
Bakhtiari had the third most pass-blocking snaps of any tackle in the NFL last season, yet he was top-10 in pass-blocking efficiency at 97.9 (8th). His pass-blocking grade hasn't dipped below 85.0 since his rookie year, and it hasn't been below 93.0 since 2015.  He's also the NFL's best offensive lineman in pure pass sets and the PFF Pass-Blocker of the Year. Add iron man to the list of his accolades.
Overall Grade: 87.9
Offensive Snaps: 1,041
Woods exploded in his second year back in his home town of Los Angeles this past season. The former USC Trojan blew away his career-high grade of 79.1 with an 87.9 overall grade last season and obliterated pretty much every career record he had established. His versatility made him hard to take off the field, with 55.4% of his snaps coming in the slot. As an added bonus, he's a great blocker; he earned a run-blocking grade of 80.8 last year.
Overall Grade: 87.8
Offensive Snaps: 953
Adams is another valuable slot weapon on this list, finishing fifth at 2.32 yards per route run from the slot. He's also one of the safest options to throw to in the NFL. Only one pass thrown his way has been intercepted in the past two seasons and he hasn't had a passer rating when targeted lower than 100.0 since 2015. It also helps that he's great after the catch — he finished fifth among receivers with 477 yards after the catch last season.
Overall Grade: 84.9
Offensive Snaps: 1,037
There are only so many different ways to say that he's arguably the best center in the league.  Kelce was recently named to our "most balanced" offensive linemen list, and he's the anchor of an Eagles' offensive line that we think is the best in the NFL. Kelce led all centers with an 83.6 overall grade in 2018.
Overall Grade: 84.3
Offensive Snaps: 1,100
Havenstein earned the highest run-blocking grade of any offensive lineman this past season at 84.5, and his success rate in the run game of 12.73% was the highest among tackles. His 97.6 pass-blocking efficiency was also good for 12th among players at the position.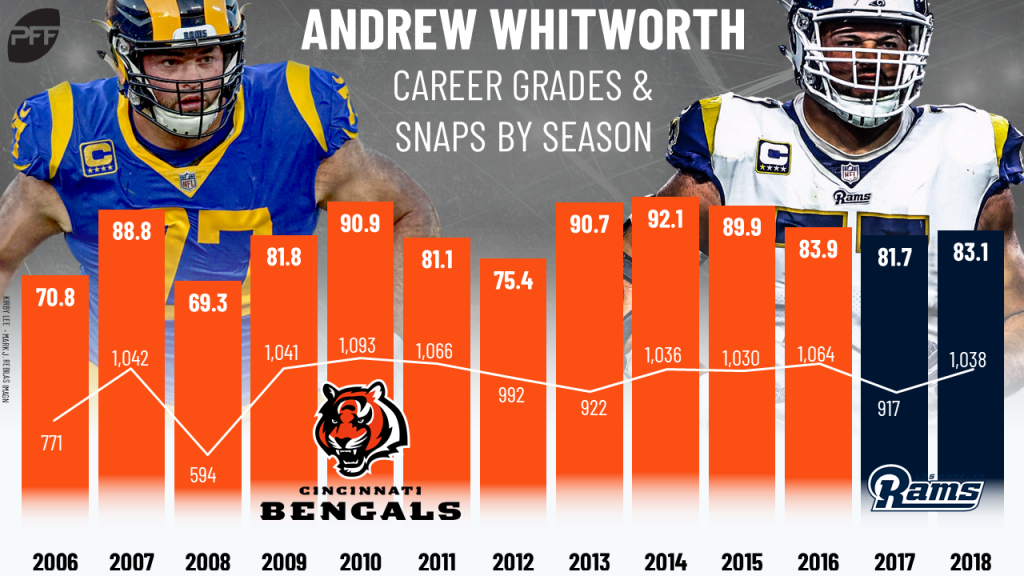 Overall Grade: 83.1
Offensive Snaps: 1,037
It's not a huge surprise that both C.J. Anderson and Todd Gurley had success on the ground this past season when you consider that they were running behind one of the best tackle tandems in the NFL. Whitworth's career is mind-blowing. He's a career iron man who has played 900-plus snaps in 12 of his 13 NFL seasons. On top of that, he only has three single-season grades below 80.0.
Overall Grade: 83.0
Offensive Snaps: 1,045
Last season, Schwartz allowed only three sacks, seven hits and 11 hurries on 687 pass-blocking snaps. He's also never played less than 1,000 snaps in any of his seven years.
Overall Grade: 82.9
Offensive Snaps: 966
McCaffrey had a good first season as a Carolina Panther, but he exploded this past season. His overall grade jumped from 74.6 to 82.9, and his rushing grade took a 12.5 point leap from 64.8 to 77.0 between 2017 and 2018. What is most impressive, however, is that McCaffrey was targeted 122 times in the passing game and rushed the ball 219 times. That means he was the focal point on 37.3% of the 966 plays he was on the field. He's in elite company as a featured back.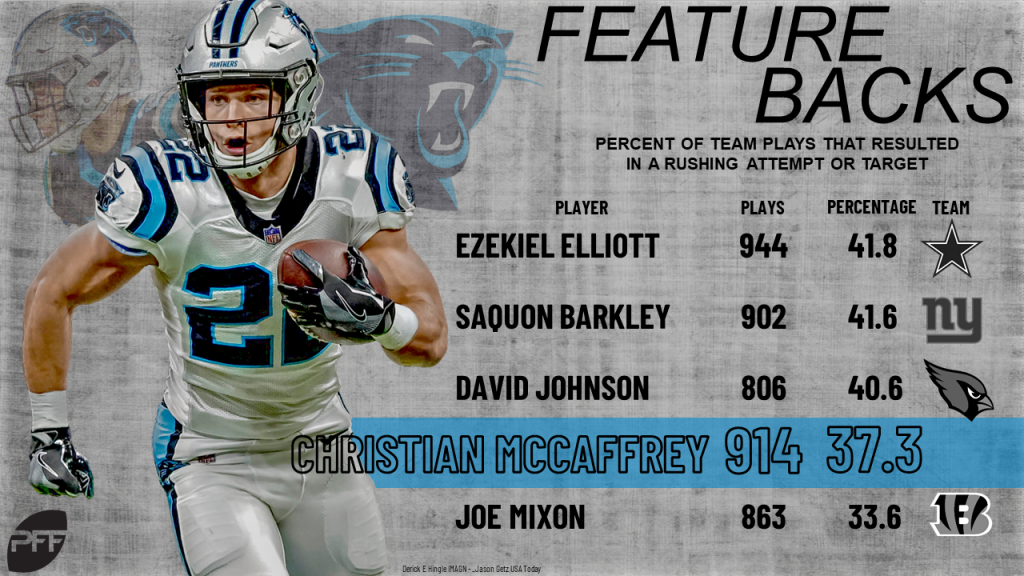 Overall Grade: 82.7
Offensive Snaps: 954
Mason took the crown from Baltimore Ravens guard Marshal Yanda as the best guard in the NFL this past season. His 98.3 pass-blocking efficiency was 10th in the NFL, and he paired that with an exceptional run-blocking grade of 78.4 that ranked first among guards.
Overall Grade: 82.2
Offensive Snaps: 996
So far the pass-blockers on this list have been grizzled veterans with thousands of snaps to their name. While Ryan Ramczyk has played exactly three full seasons of NFL and collegiate offensive tackle. His one year starting at Wisconsin earned a 92.3 overall grade which he followed up by becoming one of the best young tackles in the game. Ramczyk was the ninth-highest graded tackle his rookie year in 2017 and finished last year tied for sixth.
Overall Grade: 82.2
Offensive Snaps: 1,005
Staley is another stalwart tackle who hasn't graded below 80.0 overall since 2011. Staley continues to make his case as a future Hall of Famer and doesn't seem to be slowing down. This past season he was the 11th highest-graded pass-blocker (83.8) and came in sixth in run-blocking grade (75.4).
Overall Grade: 81.8
Offensive Snaps: 959
Smith-Schuster was a versatile weapon for the Steelers last season after proving that he was more than reliable in his rookie year. Smith-Schuster saw his targets double from 2017 to 2018 and ended the season ranked fourth in total targets with 161. He also led the NFL with 92 slot targets and was second in slot yards with 814. As a result, he was on the field for 259 more plays this year than in 2017.
Overall Grade: 81.5
Offensive Snaps: 1,067
The move to Seattle has done the former Houston Texan wonders. Like Schwartz, Brown put up the best pass-blocking grade of his career in 2018. He's allowed only five sacks and six hits since becoming a Seahawk.