Special teams are an important aspect of winning football games in the NFL. At Pro Football Focus, we are uniquely positioned to evaluate the kicking game, as we extend our grading of every player of every play of every game to this aspect of play in addition to offense and defense. Last season, we created a rating algorithm to rank special teams units based upon these unique grades, and during the offseason we updated the method. We plan on providing these rankings every quarter of the season, with the picture painted by these rankings likely clearer with each passing quarter. Below is the first such installment of these rankings.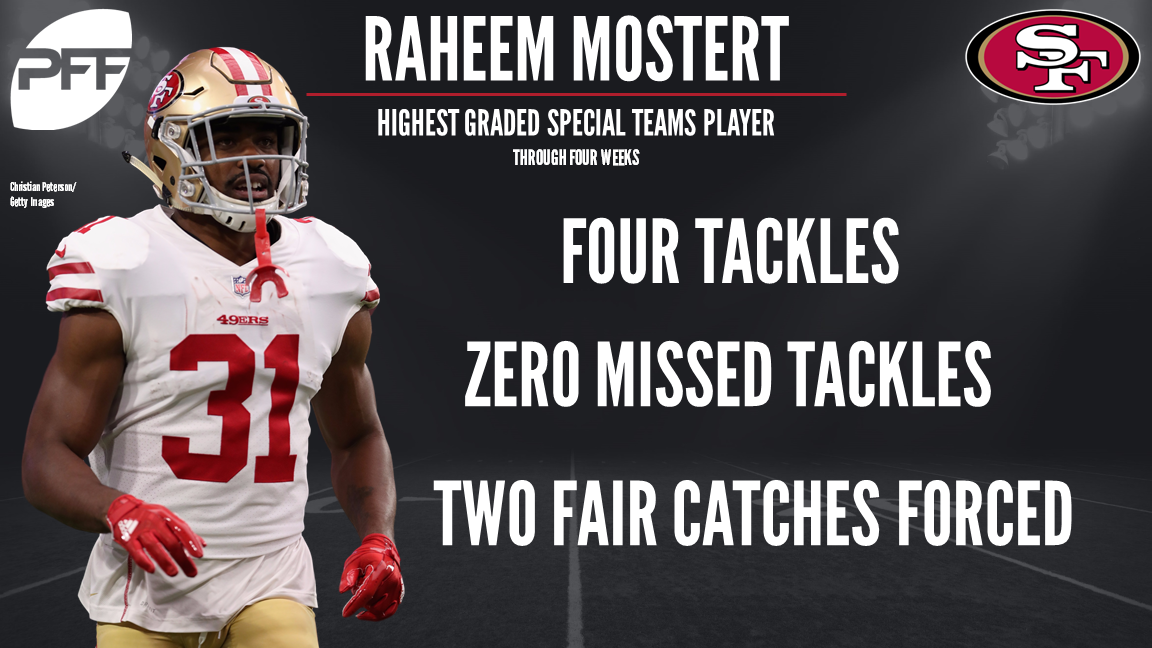 What a difference a year makes. One of the worst special teams units a season ago, the 49ers have turned it around with the solid play of Robbie Gould (11-of-11 on field goals), Bradley Pinion (second overall in our punting grades) and Raheem Mostert (averaging one tackle a game in coverage). Fifth-round rookie Trent Taylor has averaged a solid 11 yards per punt return through four games, and undrafted rookie Victor Bolden forced a key fumble on a kickoff return in their near comeback against Los Angeles in week 3.
After years of watching former fifth-round pick Jeff Locke struggle as their punter, veteran Ryan Quigley has quietly graded out as the league's fifth-best player at the position through four games. Only 18.8 percent of Quigley's punts have been returned (second-fewest in the league), and those that have been returned have gained a total of -1 yards. Fullback C.J. Ham (three tackles), safety Jayron Kearse (two tackles) and undrafted rookie linebackers Eric Wilson (three tackles) have been standouts among coverage units that have missed only one tackle through four games.
The Bills are off to a surprising start, and winning on the margins certainly helps in this regard. Newcomer Stephen Hauschka has made 15 of his 16 kicks this year, including all four from more than 50 yards. Veteran defensive standout Lorenzo Alexander has also contributed four tackles on coverage units, as has perennial special teams standout Colt Anderson (who was recently placed on IR). When he's played, veteran return man Brandon Tate has been solid on punt returns, averaging 9.2 yards per return, with a long of 19.
While our outlook on Adoree' Jackson was a bit tempered for him as a cornerback, as a return man, prospects don't get much better than him. Jackson has delivered 247 total yards on returns, including a long punt return of 46 yards and a long kickoff return of 48 yards. Against Power-5 conferences a season ago, Jackson was our highest-graded return man – a position he currently holds among professionals as a rookie. The unheralded Brynden Trawick, who graded very well a season ago for the Raiders, has come over and continued his strong play for the Titans, generating four tackles in coverage.
The Saints score a lot of points, and hence Wil Lutz has a lot of opportunities to kick off (21). On those kickoffs he's held opponents to a starting field position of the 21.7 yard line, which is sixth best in the league. Add in Thomas Morstead's fourth-best net punting average of 45.9 yards and it's clear that the coverage units comprised of rookie Trey Edmunds (four tackles) and veterans Craig Robertson (three tackles), Chris Banjo (three tackles) and Nathan Stupar (one tackle) are getting the job done for the resurgent Saints.
Both Dan Bailey (6-of-6 on field goals) and Chris Jones (12 punts inside of the 20) have top-five grades at their respective positions. Rookie Ryan Switzer has gained 200 total yards on returns, while Byron Jones, Jeff Heath, Rod Smith and Kavon Frazier have all generated three tackles apiece in coverage, all while missing just one tackle total.
7. Atlanta Falcons
8.New York Jets
9. Cincinnati Bengals
10. Tampa Bay Buccaneers
11. Denver Broncos
12. Carolina Panthers
13. Detroit Lions
14. Seattle Seahawks
15. Oakland Raiders
16. Philadelphia Eagles
17. Houston Texans
18. Green Bay Packers
19. Washington
20. Chicago Bears
21. Kansas City Chiefs
22. Los Angeles Rams
23. New England Patriots
24. Miami Dolphins
25. Baltimore Ravens
26. Cleveland Browns
27. Pittsburgh Steelers
28. New York Giants
29. Arizona Cardinals
30. Jacksonville Jaguars
31. Indianapolis Colts
32. Los Angeles Chargers