Mike Gillislee provided instant return on New England's investment, scoring 3 touchdowns. Tom Brady found another new Patriot in Brandin Cooks for a 54-yard gain as well and the Patriots led going into the fourth quarter.
However, Alex Smith found a deep passing game, throwing a deep touchdown pass to Tyreek Hill in the third and another to Kareem Hunt to put the Chiefs up early in the fourth. Another pair of rushing touchdowns for Hunt and Charcandrick West would seal the game for the Chiefs 42-27.

Top 5 Grades:
HB Kareem Hunt, 89.5 overall grade
S Eric Berry, 86.5 overall grade
EDGE Justin Houston, 85.2 overall grade
QB Alex Smith, 83.9 overall grade
LB Derrick Johnson, 82.9 overall grade
Performances of Note:
QB Alex Smith, 83.9 overall grade
It turns out Alex Smith can go deep. He targeted four passes 20+ yards downfield Thursday night and connected on three of them for 178 yards and two touchdowns. Smith only had 521 deep passing yards in all of 2016! The Chiefs quarterback was on the money from start to finish, ending his night with an adjusted completion percentage of 84.8.
HB Kareem Hunt, 89.5 overall grade
After fumbling on the very first possession of the game, Hunt made up for his mistake in a big way. He broke six tackles on 22 touches and averaged 4.0 yards after contact per attempt. Hunt's masterpiece though was a 78-yard wheel route in the fourth quarter, all but closing out the game for the Chiefs.
S Eric Berry, 86.5 overall grade
Before going down to injury toward the end of the game, Berry was a key cog in Kansas City's defense, drawing the difficult assignment of matching up with TE Rob Gronkowski, allowing two catches for 33 yards on four targets while staying in tight coverage on those two incompletions. Berry also got involved in the run game with two stops, including a big fourth-down stop in the first quarter.
While the Chiefs seemed content with playing conservatively with their pass-rush, Houston still managed two sacks, two hits, and a hurry on his 30 rushes. He beat RT Marcus Cannon handily for both sacks, and he also showed well in the run game, where he picked up a team-high four stops.

Top 5 Grades:
C David Andrews, 87.9 overall grade
G Shaq Mason, 87.2 overall grade
S Devin McCourty, 83.9 overall grade
CB Stephon Gilmore, 83.5 overall grade
G Joe Thuney, 83.3 overall grade
Performances of Note:
QB Tom Brady, 72.9 overall grade
Brady and the New England passing offense was out of sync for much of the game, perhaps feeling the loss of WR Julian Edelman. The game looked similar to the 2015 games that Edelman missed, as Brady eschewed his usual short and intermediate passing game for lower percentage, longer developing routes. The result was a ridiculously high 2.94 seconds in the pocket (Brady usually gets rid of the ball in the 2.3-2.4 second range) and his going 5-for-19 on passes lasting 2.6 seconds or longer. Brady was 2-for-10 for 81 on deep (20-plus yard) passes, good for a passer rating of only 60.8
G Shaq Mason, 87.2 overall grade
Despite the loss, the New England interior offensive line did a fine job, particularly in the running game. Mason showed his usual power at the point of attack while also cutting down linebackers at the second level like he was back in Georgia Tech's option offense. Mason also stayed clean in pass protection, other than a quick loss to Justin Houston that did not lead to an official pressure.
It's easy to point to the 75-yard Tyreek Hill touchdown and pin it on Gilmore, but it was most likely not his fault. It was the perfect offensive play call for the coverage with three vertical routes against two deep safeties leaving the defense caught in a bind. Gilmore was solid otherwise when locked up one-on-one. He was targeted three times, allowing only one catch for four yards with a pass breakup.
Marsh did not do much to endear himself to Pats fans after being traded from the Seahawks earlier this week. He rushed the passer nine times and failed to record a single pressure. He also allowed 89 yards and missed a tackle in his coverage after getting toasted by Kareem Hunt on a wheel route.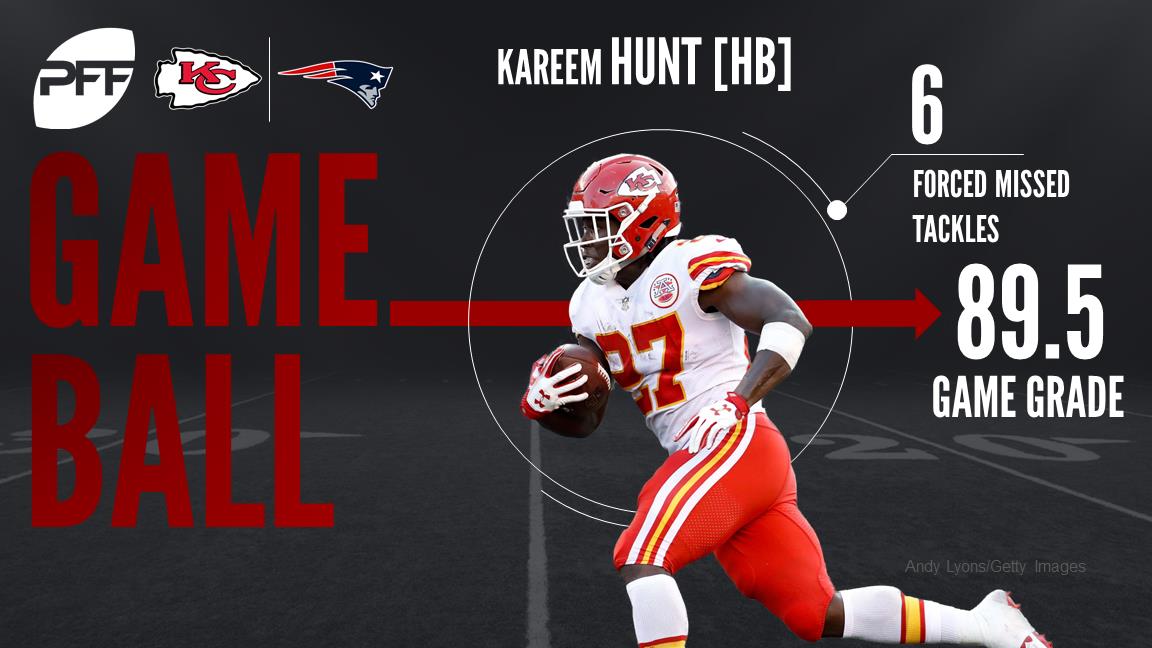 *Grades subject to change upon review