This game almost entirely belonged to the Panthers. An early WR Russell Shepard touchdown catch from QB Cam Newton and a couple of field goals gave them a healthy lead.
The second half featured more of the same, with a RB Jonathan Stewart receiving touchdown and another field goal, with the Panthers going on to win 23-3. With that, we give you our PFF exclusive takeaways from the contest for each team.

Top 5 Grades:
DI Kawann Short, 88.6 overall grade
G Trai Turner, 88.6 overall grade
LB Thomas Davis, 84.9 overall grade
RB Jonathan Stewart, 82.0 overall grade
LB Luke Kuechly, 82.0 overall grade
Performances of Note:
QB Cam Newton, 66.9 overall grade
The Panthers are building a team around Cam Newton to help him be successful, but if they are to truly compete they need him to play better than this. He missed multiple open receivers, including blowing at least one clear touchdown after a coverage bust in the 49ers secondary, and completed just 55.0 percent of his passes when kept clean in the pocket, for only 5.5 yards per attempt.
McCaffrey put the ball on the ground when trying to bounce a run outside after avoiding a tackle in the hole, but the mythical 'McCaffrey Playbook' was relatively conservative, if it in fact exists, based on this game. He did line up in the slot, out wide and even as a wildcat quarterback, but it accounted for just 10 of his 49 snaps, with the rest featuring around the backfield in various formations. He did see dramatically more playing time than Jonathan Stewart, but wasn't as successful with it.
Short setup shop in the 49ers' backfield and repeatedly got the better of 49ers' LG Zane Beadles. His four pressures were combined with stifling work in the ground game that featured two stops. Sterner tasks await Short in the weeks to come but he's off to a flying start and carried his strong form from last year into 2017.
Davis and Luke Kuechly battle it out weekly to lead the Panthers in stops and it was Davis who had the nose for the football this week. Davis' 6 stops were his most since 2015 and as ever he did his best work in the passing game, limiting the combination of George Kittle and Kyle Juszcyk to 27 yards on 5 targets into his coverage with a long gain of 7 yards.

Top 5 Grades:
T Trent Brown, 82.7 overall grade
WR Pierre Garcon, 81.8 overall grade
EDGE Tank Carradine, 80.0 overall grade
DI DeForest Buckner, 79.9 overall grade
CB Rashard Robinson, 79.3 overall grade
Performances of Note:
Bright spots for the 49ers' offense were few and far between but Garcon continued his fine form from last season in spite of his quarterback's inaccuracy. Garcon caught all 5 of his targets aimed within 10 yards of the line of scrimmage and highlighted his ability after the catch picking up 44 yards after the catch on those 5 short receptions.
QB Brian Hoyer, 64.2 overall grade
Hoyer didn't produce the kind of display that we have seen from him in the early stages of previous seasons but was robbed of a big play early on by a Marquise Goodwin dropped pass. 10 yards down the field was a key dividing line for Hoyer's performance. He completed 22/25 within 10 yards of the line of scrimmage but only 2/10 beyond 10 yards including his dire interception to Luke Kuechly.
Rookie LB Reuben Foster went down with an ankle injury and that means that Armstrong ended up playing 45 snaps over the game, giving him ample time to have some poor plays. He led the team with three missed tackles, but was also wayward in coverage a couple of times, and couldn't get a reliable grasp on the Panthers runners out of the backfield too many times.
The forgotten man on the 49ers defensive line, Carradine had the best performance of the group against Carolina, playing 31 snaps and consistently making a nuisance of himself on the edge against the run, beating Greg Olsen in particular inside on zone plays multiple times. He didn't notch any pressures on 12 pass-rushing snaps, but the team combined for just eight total pressures all day.

PFF Game Ball: Trai Turner, G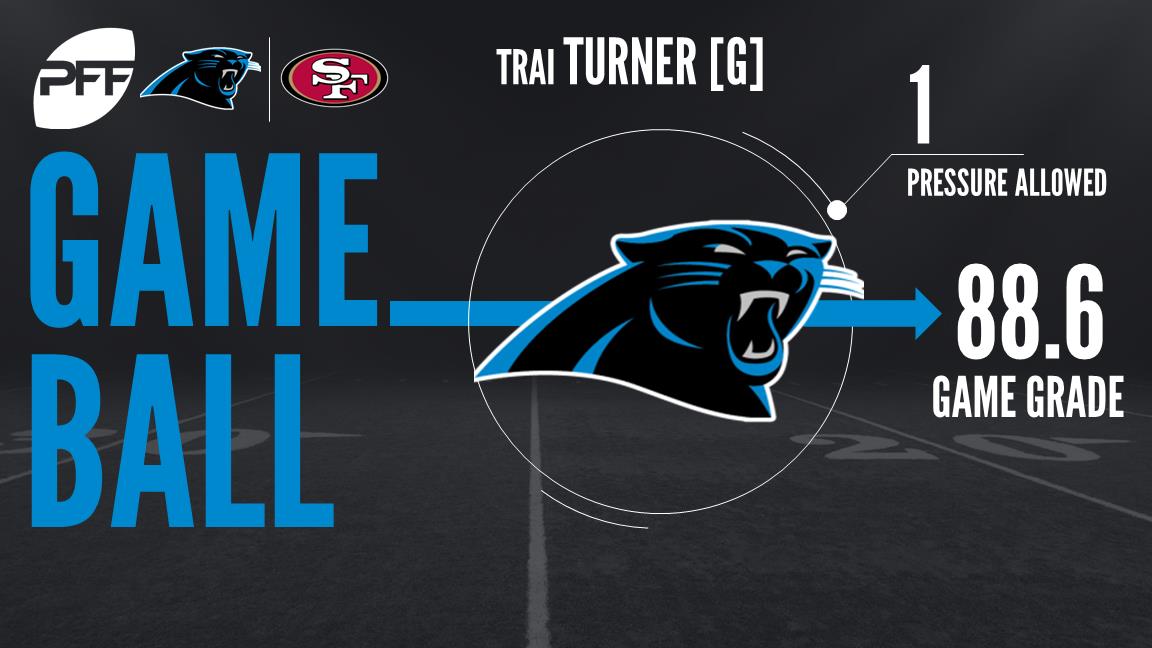 *Grades are subject to change upon review