NFL teams make their first-round selections every year in the hopes of finding an impact performer to add to their roster. Each week PFF will review the performance of each of the first-round draft picks from this year's NFL draft. Here's how the first round rookies played in Week 2 of the preseason:

Myles Garrett followed up his impressive debut with a second outing that continued to make him look like he can be something special. He notched a sack and a hurry across his 15 pass-rush snaps, and though his sack came with the quarterback trying to escape via his side of the pocket, he was again repeatedly dominating his side of the block throughout the game.
After an exciting debut last week, Trubisky was asked to play with the third team this week and struggled far more. He had an outstanding 124.7 passer rating when kept clean, completing 84.0 percent of his passes and tossing two touchdowns, but when pressured that passer rating dropped to 53.1 and he threw for just 38 yards on 11 dropbacks.
Twelve of the 16 snaps Solomon Thomas played this week against the Broncos were passing plays. He didn't generate any pressure, and lined up on the edge five times while lining up inside 11 times.
Fournette missed the Jaguars' second game of the preseason with a foot injury that is expected to keep him out of the remainder of the dress rehearsal games. Fournette expects to be ready to play in week one of the regular season.

The Tennessee Titans receiver has been sidelined thus far in preseason with a hamstring injury, but is focused on a return in time for the preseason finale against the Chiefs.
Jamal Adams played 37 snaps along with the rest of the Jets starters, and again showcased the variety of ways the Jets are going to use him. He lined up at linebacker (17 snaps), in the slot (3), as a box safety (3) and deep (13), but missed a couple of tackles and didn't make much of a positive impact over the game.
The top pick of the Chargers has been dealing with a back injury that is set to cause him to miss the entirety of the preseason and some of his rookie year. The team is targeting an October return for him.
The glimpses of what Christian McCaffrey can do are getting more tantalising. He carried the ball just three times this week, but broke off 33 yards, with another 39 coming as a receiver. This week he was lined up wither split wide or in the slot on three of his nine snaps.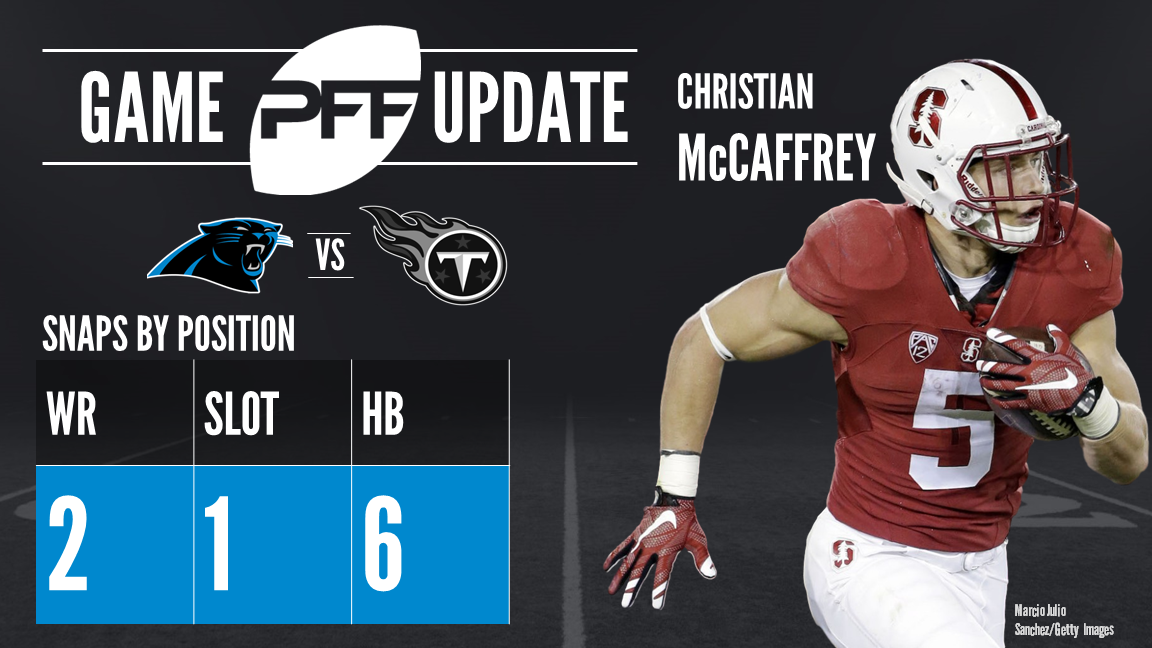 John Ross was healthy enough to practice in full pads during 11-on-11 drills before the game, but the Bengals exercised caution in holding him out of preseason action for one more week as he recovers from a shoulder injury.
Another strong outing from the Chiefs rookie saw him complete seven of nine pass attempts when kept clean in the pocket including a pair of touchdowns for a passer rating of 135.0. Mahomes also took off scrambling three times in the game, gaining 29 yards on those plays and looking like a danger to make a big play at any time.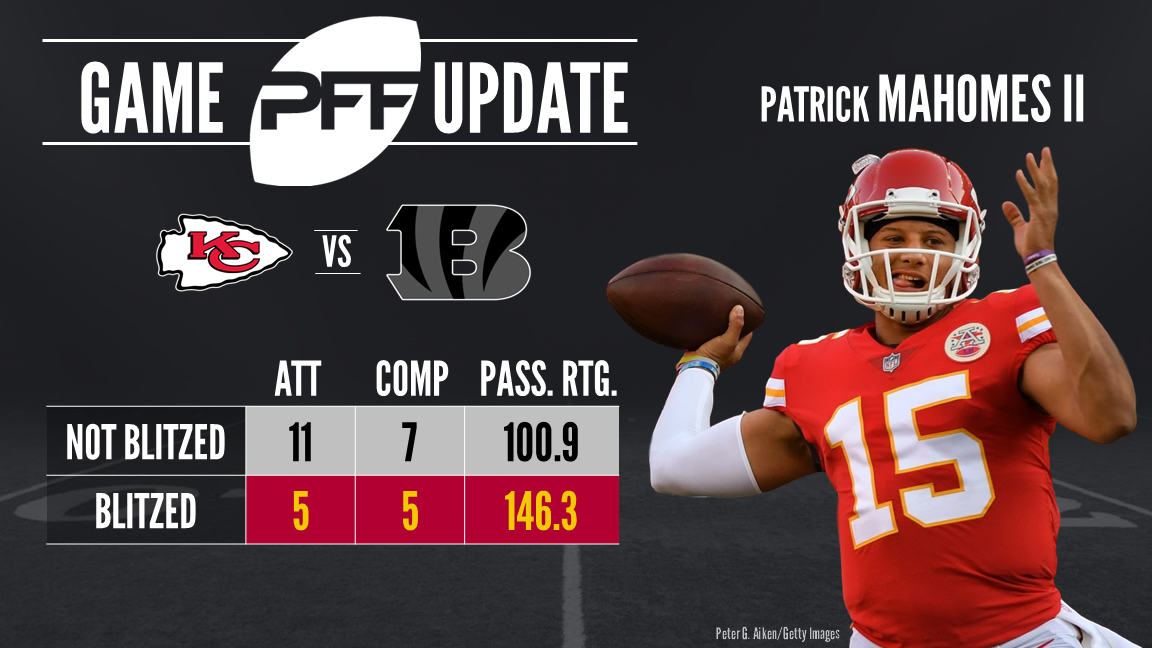 The Saints' top draft pick saw his first action of the preseason this week, but across 16 snaps was entirely absent from the stat sheet. 10 of Lattimore's 16 snaps were coverage plays, but he was not targeted and didn't find his way to any plays against the run on the other six plays.
Deshaun Watson's numbers look good from his game against the Patriots but his overall PFF grade was just 51.6, thanks to some work from his receivers making those numbers look prettier than his performance deserved. His biggest play was a 63-yard pass to RB D'Onta Foreman that should have picked up around eight yards, but Foreman broke multiple tackles to take it 63 yards. Watson showed some good athleticism with the ball in his hands on the move.
Three missed tackles were the most notable thing about Hasson Reddick's performance against the Chicago Bears this week, but he was also flagged for roughing the passer on Bears QB Mike Glennon.
Derek Barnett continued to dominate the preseason and demand a larger role within the Eagles defense. He rushed the passer 26 times against the Bills, racking up a sack, hit and three hurries and an overall PFF grade of 88.6.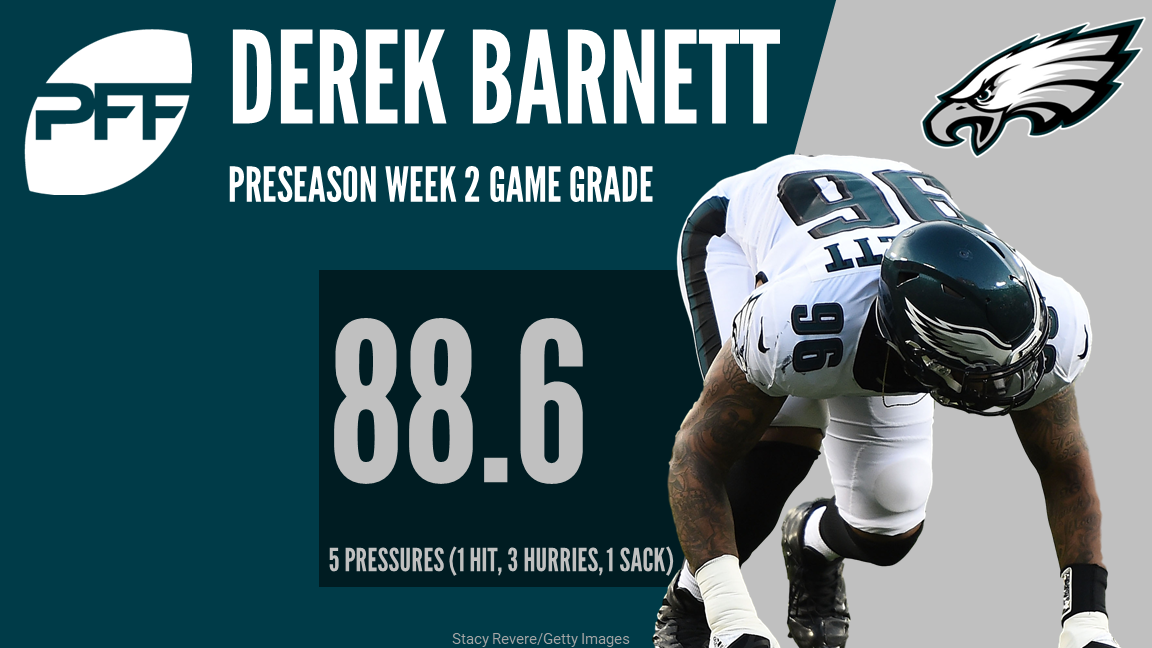 Hooker dinged his shoulder during practice and missed the game this week. Neither Hooker, nor the Colts, believe it's a long-term or serious issue and he hopes to return to practice next week, but it's a potentially worrying injury for a player who has battled shoulder problems in the past.
Marlon Humphrey's debut lasted just four snaps of action, during which he wasn't targeted. He has been dealing with a soft tissue injury and has missed time for the Ravens, but they expect to have him back soon.
Jonathan Allen's second game was less eventful than his first, with less than half the snaps of his debut as he was a victim of sub-packages being featured less than a week before. He made one defensive stop, and beat Lane Johnson once but the ball was gone before it could become pressure.
Adoree' Jackson played five of his 15 snaps in the slot against Carolina and was targeted twice in eight coverage snaps, both times covering Carolina's Russell Shepard. He allowed one catch for five yards on those targets.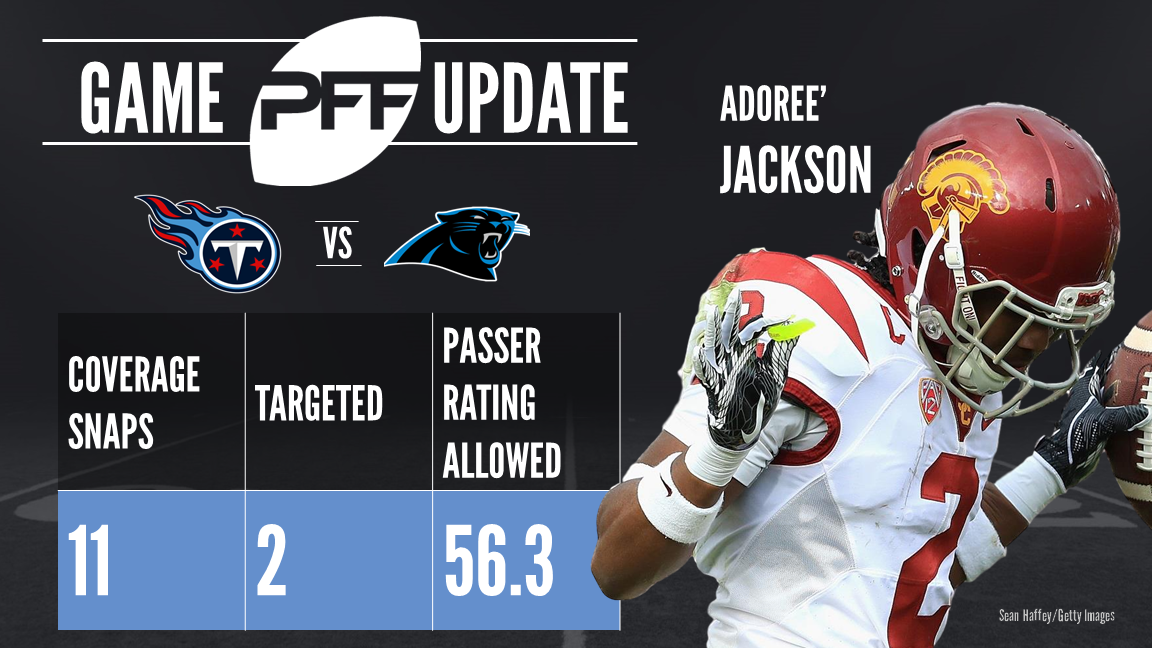 Between run and pass blocking, 14 of Howard's 24 snaps this week were blocking snaps, with just ten plays spent running routes. Those routes saw him earn three targets, catching two passes for 28 yards, but dropping the third.
Denver's first round pick – and presumed starter at left tackle – struggled badly against the 49ers this week. He was flagged four times (once for a false start and three times for holding), while surrendering a pair of pressures as a pass blocker.
Davis played seven snaps in coverage, eight in run defense and blitzed once against the Jets this week. He was targeted twice in coverage, once when covering TE Austin Seferian-Jenkins on an incompletion and once to RB Bilal Powell out of the backfield on a pass that went for 17 yards.
Charles Harris started at DRE for the Dolphins and played well into the game with the second-team, rushing exclusively from the right side of the defense. On 19 pass-rush attempts he notched just a single hurry and didn't feature on the stat sheet in the run game, but neither was he moved at the point of attack.
We saw a little bit more of Engram lined up as a receiving option against the Browns, with five of his 25 snaps split out in the slot or out wide. But his deployment remained very much that of an in-line, conventional tight end. He was thrown at four times, catching three for 32 yards, with the longest of those coming against Browns LB Christian Kirksey for 21 yards.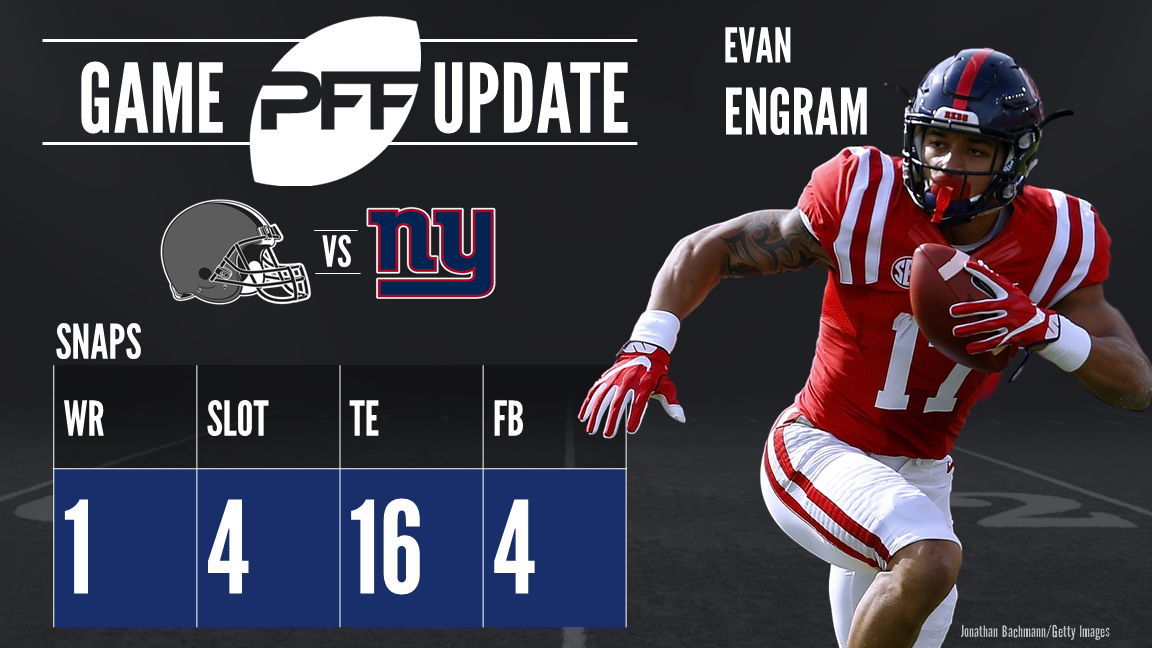 Conley suffered a shin injury in minicamp that cost him all of the team's training camp, and has sidelined him for half of the team's preseason games so far. The timetable for his return remains murky.
Another player who continues to defy preseason expectations for how he would be used, Peppers spent every one of his 28 snaps deployed as a deep-lying free safety either in the middle of the field or as part of a two-high look. He showed good range and instincts, at one point making his presence felt on a deep attempt to Brandon Marshall that fell incomplete, and he also made some noise as a punt returner, bringing one back 32 yards across the field.
In just eight pass-rushing snaps, Takkarist McKinley notched a hit and two hurries, including notching a hit against starting Steelers LT Alejandro Villanueva on an outside move.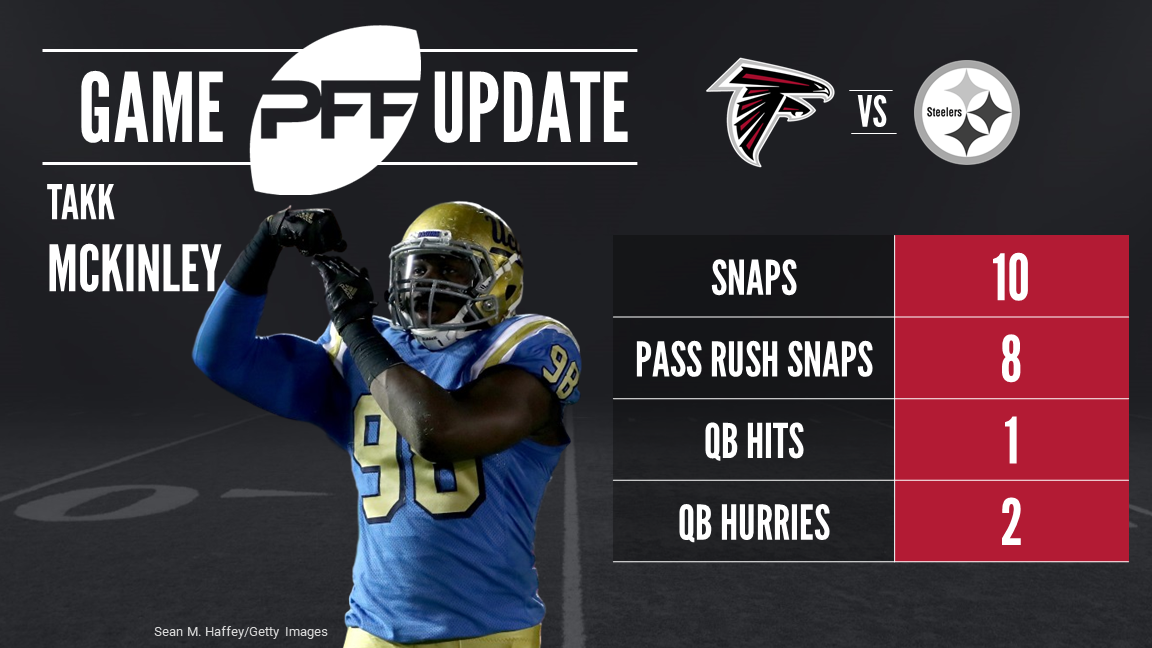 White played 28 snaps as the Bills starters played mid-way through the second quarter. White was thrown at four times, allowing a catch all four times for 40 yards as he played exclusively at left cornerback. Two of those catches came against Eagles No. 1 WR Alshon Jeffery, who has around four inches in height and 25 pounds in weight over White.
Taco Charlton lined up exclusively at defensive right end for the Cowboys, generating a pair of hurries from his pass-rushing, both of which came against starting Colts left tackle Anthony Castonzo. Charlton also jumped offside once during the game for a penalty.
David Njoku saw just three passes come his way, and brought in only one of them for a solitary yard of offense, but one of those passes sailed just over his extended reach as he streaked up the seam on what would have been a big play. He clearly has the athleticism to be a big weapon, but the Browns don't yet have the consistent quarterback play to highlight it.
T.J. Watt followed up his impressive debut with another solid outing. He didn't record any pressure this week, but he made a couple of defensive stops in the run game. At one point he badly lost control of his gap in the run game, but he also drew an illegal hands penalty from Falcons lineman Eric Saubert.
Reuben Foster started the game against the Broncos, notching a hit on the quarterback on a blitz and a defensive stop on the stat sheet. In coverage, he was targeted twice, allowing a reception both times, but those catches went for a total of six yards as he closed quickly to make tackles.
Ryan Ramczyk made his preseason debut for the Saints this week, playing 25 snaps and surrendering a sack to Chargers starting OLB Melvin Ingram. Ramczyk was also flagged twice for holding, but on both occasions the penalty was declined.