Finishing the last season with the third-highest overall grade among qualifying wide receivers, Julio Jones of the Atlanta Falcons is no stranger to high praise at both a seasonal and single-game level. That's why it shouldn't come as a surprise that he earned the highest game grade of any wideout in 2017.
Squaring up against the Tampa Bay Buccaneers in Week 12, Jones caught 12-of-15 targets for 253 yards and two touchdowns en route to a perfect passer rating when targeted (158.3) and a single-game grade of 99.9.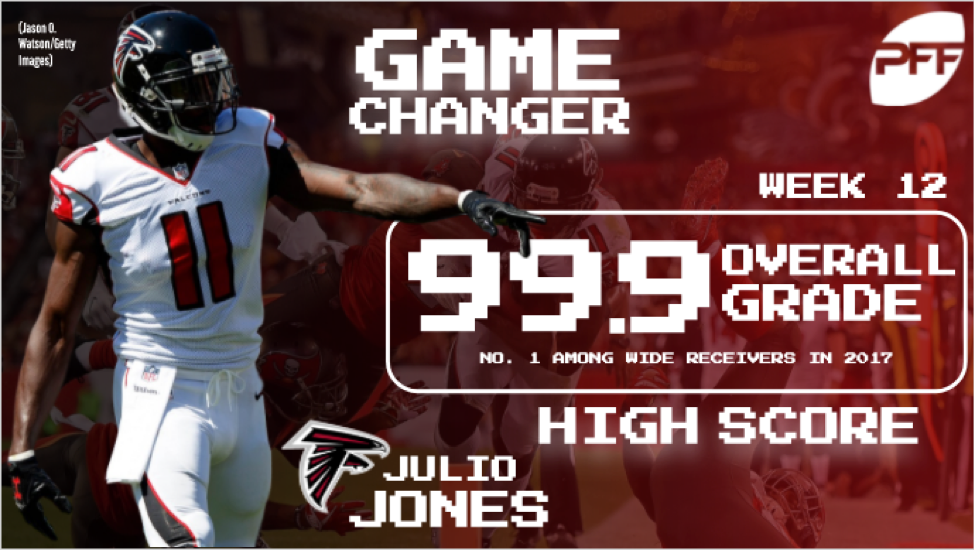 Adding to his feat, Jones finished the day having averaged 7.67 yards per route, which stands as the best single-game mark by a wide receiver (minimum 25 routes run) in 2017.  He didn't record a drop on the day, as all of quarterback Matt Ryan's three incompletions when targeting Jones were deemed uncatchable.
Jones did a lot of damage deep down the field, burning Tampa Bay's defensive backs for big gains on multiple occasions. He caught 4-of-6 deep targets (20-plus air yards) for 119 yards and one touchdown, eclipsing New York Jets wide receiver Robby Anderson's 115 deep receiving yards for the most in Week 12.
Buccaneers cornerback Ryan Smith, a former fourth-round pick with just 305 career defensive snap heading into that Sunday's tilt, took a majority of the lumps from Jones, as Smith allowed Jones to haul in 5-of-6 targets for 90 yards and one touchdown in his coverage. Smith earned a 44.6 overall grade on the day.
RUNNERS UP
No. 2 Keenan Allen vs. BUF (Week 11) – 95.9 overall grade
Lost in the Bills' turnover debacle that week was Allen's performance. He had a near-perfect 157.2 wide receiver rating and beat seven different defenders throughout the contest.
No. 3 Keenan Allen vs. DAL (Week 12) – 94.6 overall grade
Allen followed up his Week 11 performance with another great outing, and put one of the great highlights of 2017 on tape when he slalomed through five Cowboys defenders to score a touchdown on Thanksgiving.
No. 4 DeAndre Hopkins vs. SEA (Week 8) – 94.1 overall grade
In one of the best games of the year, Hopkins was a shining star. He had 224 receiving yards and a score, with the most impressive moment coming on a weaving path to the endzone on a screen.
No. 5 Keelan Cole vs. HST (Week 15) – 93.6 overall grade
The most anonymous name on a list of stars, Cole stepped up to the plate when he replaced injured players ahead of him and hit it out of the park. His wide receiver rating at the end of the game was 155.8.
2017 Best Games: QB | RB | WR | TE | OL | EDGE | DI | LB | CB | S