• Jason Peters now working at left guard: The Cowboys want to see how rookie Tyler Smith can grow at left tackle, so the plan is to play the veteran Peters at left guard moving forward.
• Giants in tough spot with potential Kenny Golladay trade: Golladay is in the second year of a four-year, $72 million contract signed with the team but is struggling to see snaps and targets.
• Where the Patriots stand if Mac Jones can't play: The expectation is that the injured second-year quarterback will give way to veteran Brian Hoyer, who has not won a start since 2016.
Estimated Reading Time: 7 mins
---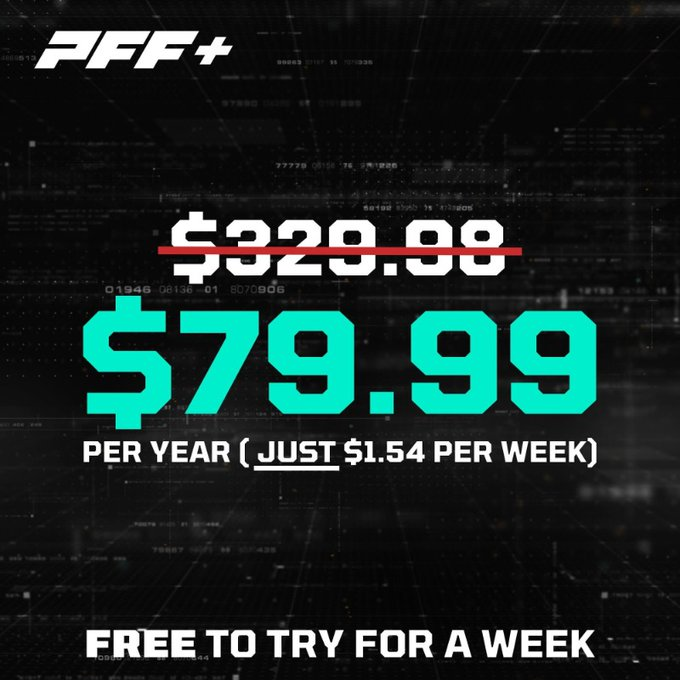 When the Dallas Cowboys initially signed All-Pro offensive lineman Jason Peters to their practice squad, they did so with the intention of using him as a swing tackle thinking that he might eventually push rookie first-round pick Tyler Smith from left tackle to left guard. The Cowboys want to continue to see how Smith can grow at left tackle, however, so they asked Peters to move to left guard. He signed to the Cowboys' active roster before Monday night's game against the Giants, played 14 snaps at left guard, earned a 78.5 pass-blocking grade and didn't allow a single pressure. He went into the game with one snap at left guard since PFF began charting in 2006.
Peters worked a reduced snap count only because he had just four practices under his belt at guard, according to a source. The plan moving forward is for him to play guard and allow Smith to stay at left tackle. There are moving pieces, however. Connor McGovern was out Monday night, and Tyron Smith could be back by the end of the season. If something changes or Smith starts struggling, Peters could always move back to his natural position at left tackle, but for now, Dallas wants to keep its rookie protecting the blindside.
---
There's an awkward situation unfolding in New York with high-priced wide receiver Kenny Golladay. The former Detroit Lions standout is in the second year of a four-year, $72 million contract that former Giants general manager Dave Gettleman gave him last offseason. Gettleman retired after the 2021 campaign, head coach Joe Judge was fired and Joe Schoen and Brian Daboll, respectively, took over in New York.
Despite the fact that rookie Wan'Dale Robinson played just nine snaps before injuring his knee in Week 1 and 2021 first-round pick Kadarius Toney has managed just 35 snaps while dealing with his own ailments, Golladay has been on the field for just 72 total snaps through three games and has caught two passes on five targets for 22 yards, all of which came in Week 1 when he was on the field for 46 snaps. He played just two snaps in Week 2 and was held catchless on three targets and 24 snaps in Monday night's loss to the Cowboys.
The Giants were preferring to play Sterling Shepard, David Sills and Richie James over Golladay until Shepard tore his ACL on New York's final play of Week 3. Darius Slayton, who showed promise as a rookie in 2019, has managed just 18 snaps in two games.
It's been reported by NFL Media and Sports Illustrated that the Giants could look to trade Golladay to a wide receiver-needy team. His contract makes things tricky, however. 
Golladay has a base salary of $13 million this season. If he was traded today, an acquiring team would be on the hook for over $10 million in salary. The Giants can convert most of his salary — down to $575,000 — into a signing bonus, making it easier to trade him to an interested team but forcing themselves to take on dead cap space. That acquiring team would still need to pay him $4.5 million guaranteed next year, however, based on the structure of his contract. A $4.5 million roster bonus became guaranteed when he was on the Giants' roster on the third day of the 2022 league year.
So, that acquiring team would need to pay him around $5 million (at least $575,000 in salary plus a $4.5 million roster bonus in 2023) for one season, $18 million (since he's due a $13.25 million salary in 2023) for two seasons or $36 million over three seasons.
We reached out to a personnel VP to see if he believed the Giants could actually trade Golladay. He gave credence to the possibility that Golladay could be traded but didn't believe a deal would happen soon.
---
RAVENS LOOKING FOR MORE OFFENSIVE LINE HELP
One of the most amazing things about Ravens quarterback Lamar Jackson's Week 3 performance was that he threw for 218 yards and four touchdowns, ran for 107 yards and another touchdown and earned an 85.6 overall grade with a rookie fourth-string left tackle protecting his blindside.
Ronnie Stanley is still recovering from an ankle injury, Ja'Wuan James tore his Achilles and Patrick Mekari suffered an ankle injury early in Sunday's win over the Patriots. That thrust 6-foot-8, 380-pound rookie Daniel Faalele in at left tackle. Faalele didn't play a single snap at left tackle in the preseason, manning the right side of the line instead. He played just one college snap at left tackle, as well.
The Ravens worked out free-agent offensive tackle Ty Nsekhe on Tuesday, according to a source. Nsekhe, 36, earned a 72.5 PFF grade in 144 snaps at left tackle last season with the Dallas Cowboys. Over the course of his career with the Cowboys, Bills, Washington, New Orleans and the Rams, Nsekhe has a 76.5 PFF grade at left tackle. Baltimore elected to sign Zack Johnson, who played left tackle for the Broncos this preseason, instead. A league source said Johnson brings the versatility to play both left and right tackle and left and right guard.
Mekari has a low left ankle sprain, which is typically a day-to-day injury. Since that's his back foot as a left tackle, it wouldn't be surprising if the Ravens chose to be extra cautious with the injury.
---
The current expectation, based on his standing on New England's depth chart over the first three weeks of the season, is that Brian Hoyer will start at quarterback for the Patriots assuming Mac Jones doesn't try to pull the impossible and play through a severe high-ankle sprain. Ultimately, the decision will be up to head coach Bill Belichick and top offensive assistants Matt Patricia and Joe Judge, but the assumption by people on and around the team is that Hoyer will take over. Jones is expected to miss time but kept saying on Monday in a news conference and radio appearance with WEEI that he's "day-to-day" with the injury and plans to get treatment for it.
Hoyer has been the Patriots' second-string quarterback through three games while rookie Bailey Zappe has been inactive.
Don't expect the offense to change significantly with Hoyer under center. A league source with knowledge of Hoyer's style said the quarterback tends to be a bit of a gunslinger.
"Should be a fun ride," he said.
Since 2009, 101 quarterbacks have taken at least 500 dropbacks. Hoyer ranks 20th with a 9.6-yard average depth of target (ADOT). Jones' ADOT is 10.4 yards this season. Among wide receivers with at least seven targets, Patriots wide receiver DeVante Parker is first with a 21.6-yard ADOT.
It is true, however, that Hoyer has not won a start since 2016 with the Chicago Bears. Despite the fact that Hoyer has been with the Patriots in seven separate seasons, he's started only one game for them in 2020, when Cam Newton tested positive for COVID-19. The Patriots lost that game to the Kansas City Chiefs, and Hoyer made two costly mistakes, taking a sack and letting time expire before the half when the Patriots were in field goal range and allowing himself to get strip-sacked in another trip to the red zone. Hoyer was summarily benched for Jarrett Stidham in the loss.
The Patriots were encouraged by Zappe's progress in training camp and felt he was hitting his stride toward the end of the summer, but once the season began, his practice reps were significantly reduced. Starters practice in New England — not rookie third-stringers, who work on the scout team. Zappe earned a 65.1 PFF grade in the preseason with two big-time throws and two turnover-worthy plays. His ADOT was 9.5 yards, and his adjusted completion rate was 75.8%.
As of Tuesday afternoon, the Patriots had not worked out any quarterbacks to serve as an extra arm in practice. Jones spoke to reporters and did his usual radio obligations Monday but is not currently on the media schedule for his normal Wednesday news conference.