The PFF unit ranking series moves to the defensive line as we look forward to the 2020 season. It's important to note that all interior defensive linemen and edge defenders have been grouped together for this exercise, so teams that run a base 3-4 will include their outside linebackers (edge defenders) in this writeup, and they will not be featured with the linebackers. The best defensive lines have both high-end players and depth, and that's what we leaned on when putting together this ranking. Here are the best defensive lines in the NFL heading into 2020.
[Editor's Note: PFF's advanced statistics and player grades are powered by AWS machine learning capabilities.]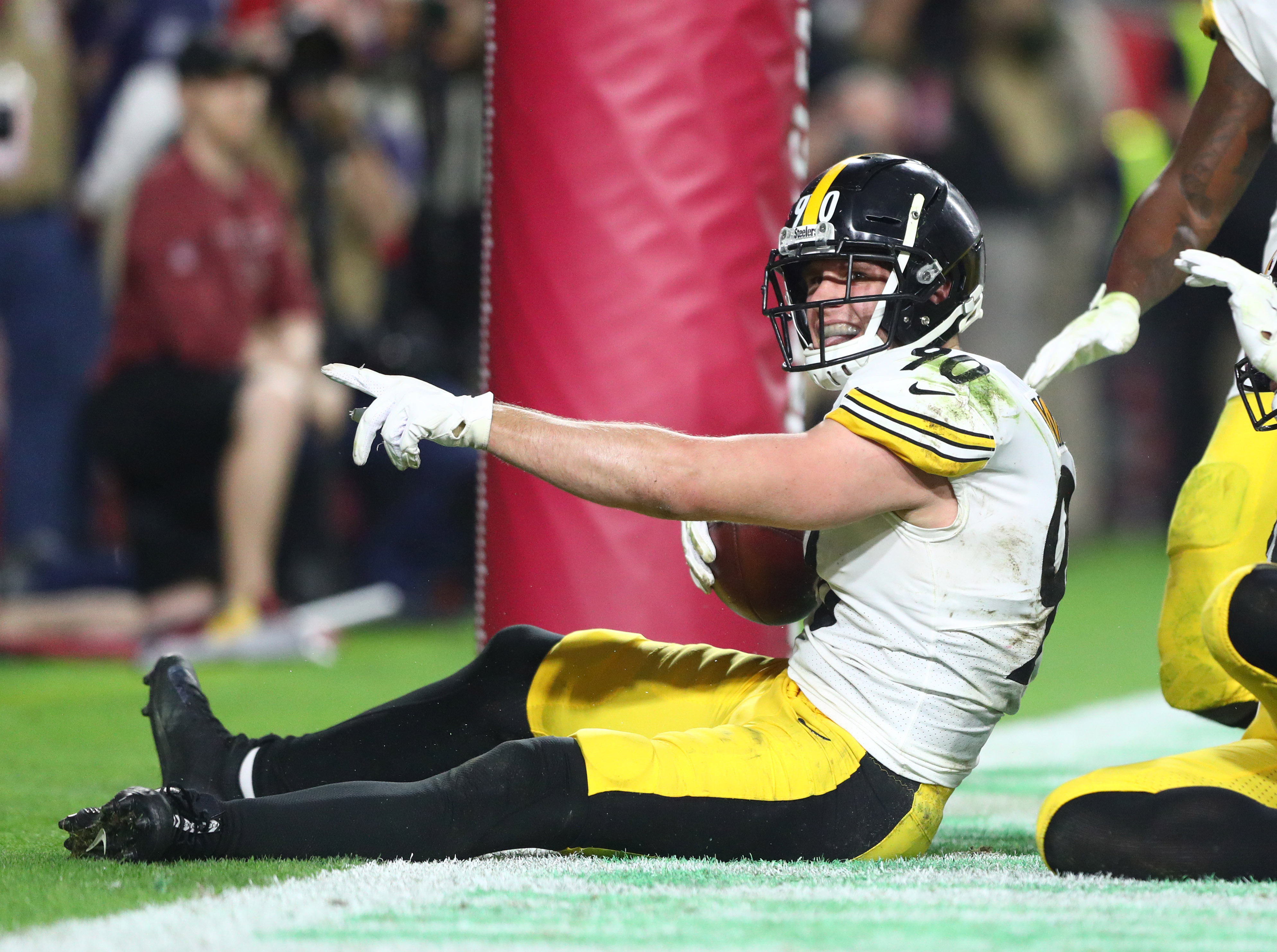 T.J. Watt took another step forward in 2019, playing at a legitimate Defensive Player of the Year level. Watt ended the season with the highest pass-rushing grade (91.7) of any edge rusher in the league in addition to racking up 81 total pressures. Both figures were new career highs for a player whose progression has been steady and inexorable in the NFL. He also forced eight fumbles and had two interceptions.
The Steelers' defensive front featured career years out of multiple players in 2019. Cameron Heyward was the best interior defender in the league outside of Aaron Donald; Javon Hargrave had a big season after taking over for the injured Stephon Tuitt; and Bud Dupree had career-highs in pressures, overall grade, run-defense grade and pass-rush grade. Hargrave departed in free agency, but the other main figures all return — including Tuitt, who will look to continue his impressive form before injury.
That group will earn the bulk of playing time, with Chris Wormley likely to see the majority of snaps at nose tackle in base defense, but replicating the level of play they all reached last season will be tough to do in 2020. Alex Highsmith was the only significant addition to the defensive front in the draft, and the third-round pick will look to carve out a role for himself as a situational pass-rusher in his first NFL season.
The Steelers have some of the most proven quality in the league up front, but almost all of those players are coming off the best seasons they have produced to date, so there's reason to expect some form of regression heading into 2020.
The Philadelphia Eagles have had one of the strongest defensive lines in football for years — not just blessed with top-end talent, but with incredible depth. That doesn't look likely to change any time soon, and they have added multiple pieces over this past offseason.
Fletcher Cox and Brandon Graham remain and are likely still the unit's best two players, though Graham's 2019 PFF grade and pressure total were each the lowest he's had in a season since 2015; he may be starting to show signs of slowing down at 32 years old. Graham still notched an impressive 67 total pressures and graded well against both the run and pass, so he will likely be a strong starter in 2020. Cox continues to be the best power-rusher in the NFL, generating more pressures over the past two seasons than any interior player not named Aaron Donald.
Derek Barnett's playing time increased last season, even with some time missed due to injuries, but he didn't take a corresponding step forward as a player. Alongside Cox inside, the team added former Steeler Javon Hargrave, giving them an incredibly powerful interior duo. Hargrave proved last season that he could step into an expanded role when Stephon Tuitt went down, generating career-bests in PFF grade (83.4), pass-rushing grade (76.9) and total pressures (49).
Malik Jackson barely featured last season but will hope to prove he can be a significant addition and a situational pass-rusher, while the door remains open for Josh Sweat to continue to earn himself a larger role, particularly if Barnett isn't able to make strides in his development. Sweat notched 27 total pressures last season on 274 pass-rush snaps.
Chase Young will be the most intriguing player to watch on Washington's front line. The No. 2 overall pick in the 2020 NFL Draft may be the best pass-rusher to come into the NFL in a decade, and we have seen some excellent ones arrive over that time. He was able to statistically separate himself from players like the Bosa brothers and Myles Garrett during their college careers and could be a transcendent player for a defensive front that has had a lot of good players recently but, perhaps, lacked true star power. Young gives the team five former first-round picks along the defensive line, each of whom has shown flashes.
Ryan Kerrigan has been consistently excellent for Washington, but he posted the lowest pressure total (37) and PFF grade (63.1) of his career in 2019, and at 32 years old by the time the season starts, he may have his best days behind him. Montez Sweat will have a chance to take a step forward and potentially supplant Kerrigan, along with Young, if he can improve on his rookie performance.
Inside, the former Alabama pairing of Daron Payne and Jonathan Allen should be a pair to be reckoned with, but they were actually outdone in terms of snaps by Matt Ioannidis, who had the best pass-rushing grade (76.6) of the unit. Ioannidis led the team in total pressures (55) and will look to maintain his role despite being surrounded by first-rounders. Ryan Anderson, another one of the few non-first-rounders on Washington's line, saw more snaps in 2019 than he saw in his previous two seasons combined, but he may be the first to lose playing time with Chase Young's arrival.
Nick Bosa enters Year 2 of his NFL career after setting the rookie record for most total pressures in a season (80). He broke a record that had stood since 2011 — by 16 pressures, no less — and that doesn't even count the fact that he still had his foot on the gas by the time the Super Bowl rolled around. The 49ers traded away DeForest Buckner, who had been the team's most consistent interior force over the past few seasons, but they used the pick they acquired on his direct replacement — South Carolina's Javon Kinlaw.
Kinlaw was the most effective pass-rushing interior lineman in this draft, slotting in as the No. 1 player at his position on PFF's Big Board because of it. Hitting the ground running as a rookie is tough, but Kinlaw has the talent to immediately contribute inside. Arik Armstead and Dee Ford give the 49ers depth and talent on the edge, and Armstead can kick inside and move around the line. Armstead posted an overall PFF grade just below 90.0 last season after a career year where he racked up 62 total pressures. Meanwhile, injuries limited Ford, but when he was on the field, he backed up his breakout 2018 season.
Buckner's departure potentially opens the opportunity of one last salvage mission for Solomon Thomas, who might finally get some playing time inside, while Ronald Blair III should still earn some rotational snaps after solid showings in past years.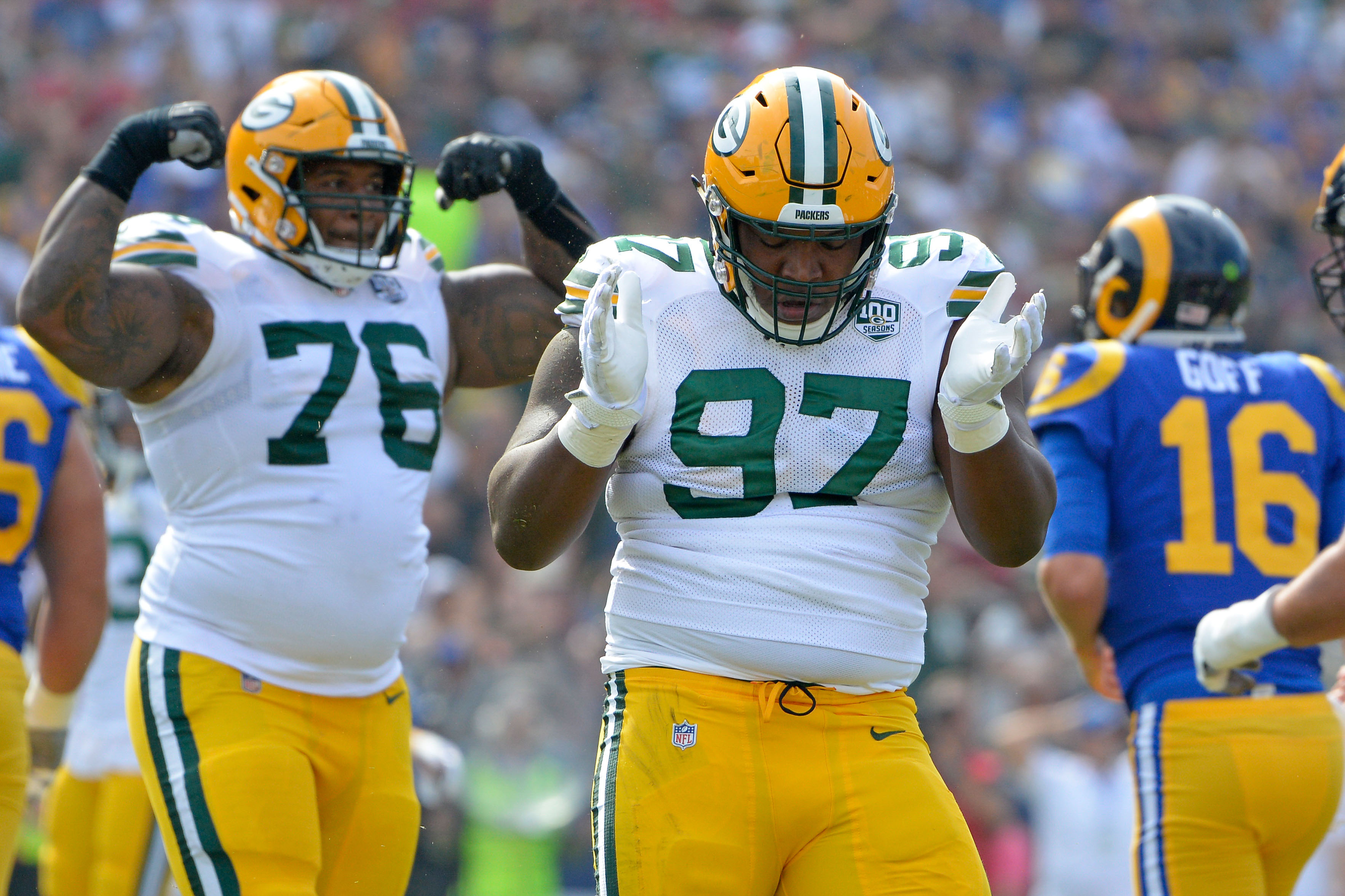 Kenny Clark has developed into the modern-day prototype for NFL nose tackles. The days of gargantuan run-stuffers who offered little, if any, impact in the passing game are long gone. Today's nose tackles need to be able to rush the passer because nickel defense is played 75% of the time and obvious rushing downs are few and far between.
Clark came into the NFL as a fairly one-dimensional player, but he has developed into a true every-down force. In 2019, he had 62 total pressures and an 87.0 PFF pass-rushing grade, ranking first among nose tackles. Clark isn't alone, though, and the Packers' 2019 acquisitions of Za'Darius Smith and Preston Smith give the team some real depth when it comes to rushing the passer.
Za'Darius led the league last season in total pressures (93), while even a relatively quiet season from Preston saw him pressure the quarterback 55 times. The questions for this group reside in the depth beyond that trio. Dean Lowry is a former fourth-round pick who has dramatically outperformed his draft slot but may never be anything beyond solid. Last season was the worst PFF grade of his career (59.0), despite seeing his highest workload yet (726 snaps including the playoffs). Lowry can still be a solid contributor, particularly against the run, but he has yet to exceed 30 total pressures over a season.
Tyler Lancaster is a run-first presence who has registered just 13 total pressures across two years and 323 pass-rushing snaps. The Packers will also look for a major step forward from Rashan Gary, last year's first-round pick. The former Michigan star played just 244 snaps as a rookie and made little impact, earning a PFF grade in the 50.0s. His college career suggested he was a reach in the first round, despite his athleticism, so his development is a salient factor for this defensive front.
Chicago's defensive front is still led by Khalil Mack, but he was something of a one-man band in 2019 — Akiem Hicks was limited to just 191 snaps of action, and nobody else was able to consistently dominate. Mack, for his part, had something of a down year, but that still meant posting an 86.2 overall PFF grade and ranking inside the top 15 of all edge rushers. His 70 total pressures ranked 10th and his PFF pass-rushing grade (81.3) ranked 13th.
At his best, Mack is a game-changing force along the defensive front, but it's now three seasons since he last posted a pass-rushing grade above 90.0, and 2019 was the lowest overall grade of his career. The Bears need the best version of Mack possible given what they gave up to acquire him, and the key to finding that player might be surrounding him with a better supporting cast.
Hicks' return should help with that. He had the best year of his career in 2018 and was on pace for his second-best season before injury shut him down. A healthy Hicks is a dominant run defender and power pass-rusher who can create space for Mack and pull attention away from him. The other side of the line is more of a question mark. The Bears said goodbye to former first-round pick Leonard Floyd and have effectively replaced him with veteran Robert Quinn.
While Quinn has the talent to more than replace the pressure that Floyd generated (just 39 total pressures last year), he is less versatile in terms of alignment and stance than Floyd is and needs to be deployed with his hand in the dirt to effectively get after the quarterback. Chicago's defense is capable of accomodating that, but if it doesn't, Quinn won't be at his best. Eddie Goldman was a solid nose tackle last season, but nothing more. Depth is a real concern for this defensive front, which has few consistent threats and nobody outside of the players already mentioned who posted a pass-rushing grade north of 65.0 in 2019.
The biggest question mark for Denver heading into the season is whether Von Miller's down year in 2019 was just a blip in a near-flawless career thus far, or whether it was the start of a decline that, at some point, is inevitable. Miller is now 31 years old and posted career-lows in sack total, overall grade and pass-rushing grade for a full-season of play.
His 79.3 grade marked the first time in his career he has graded below 90.0, and though he still notched 77 total pressures, his number of decisive pass-rush wins steeply declined, while his percentage of unblocked, cleanup and pursuit pressure spiked. Miller has been arguably the best pure edge rusher of his generation, and if he can't return to that form, it's a tough thing for Denver to replace.
Bradley Chubb's second season was derailed by injury, but he would need to significantly build on his rookie season to be able to pick up Miller's slack, as 13 sacks flattered his performance a little. Inside, Shelby Harris and Mike Purcell both graded well last season, and now Jurrell Casey, who has been one of the most consistently disruptive interior players over the past decade, joins them.
Casey isn't coming off his best year, but he still notched 40-plus pressures for the seventh consecutive season and had a 78.2 run-defense grade. He should be an extremely useful rotation player inside, contributing to an extremely solid starting group for Denver that has the potential to be much better if Chubb takes a step forward in Year 3 and Miller gets back on track after a down season.
The team's defensive line depth is less spectacular, but rookie third-round pick McTelvin Agim has intriguing potential to steal some playing time. His college tape is very inconsistent, but he was dominant during the showcase bowls.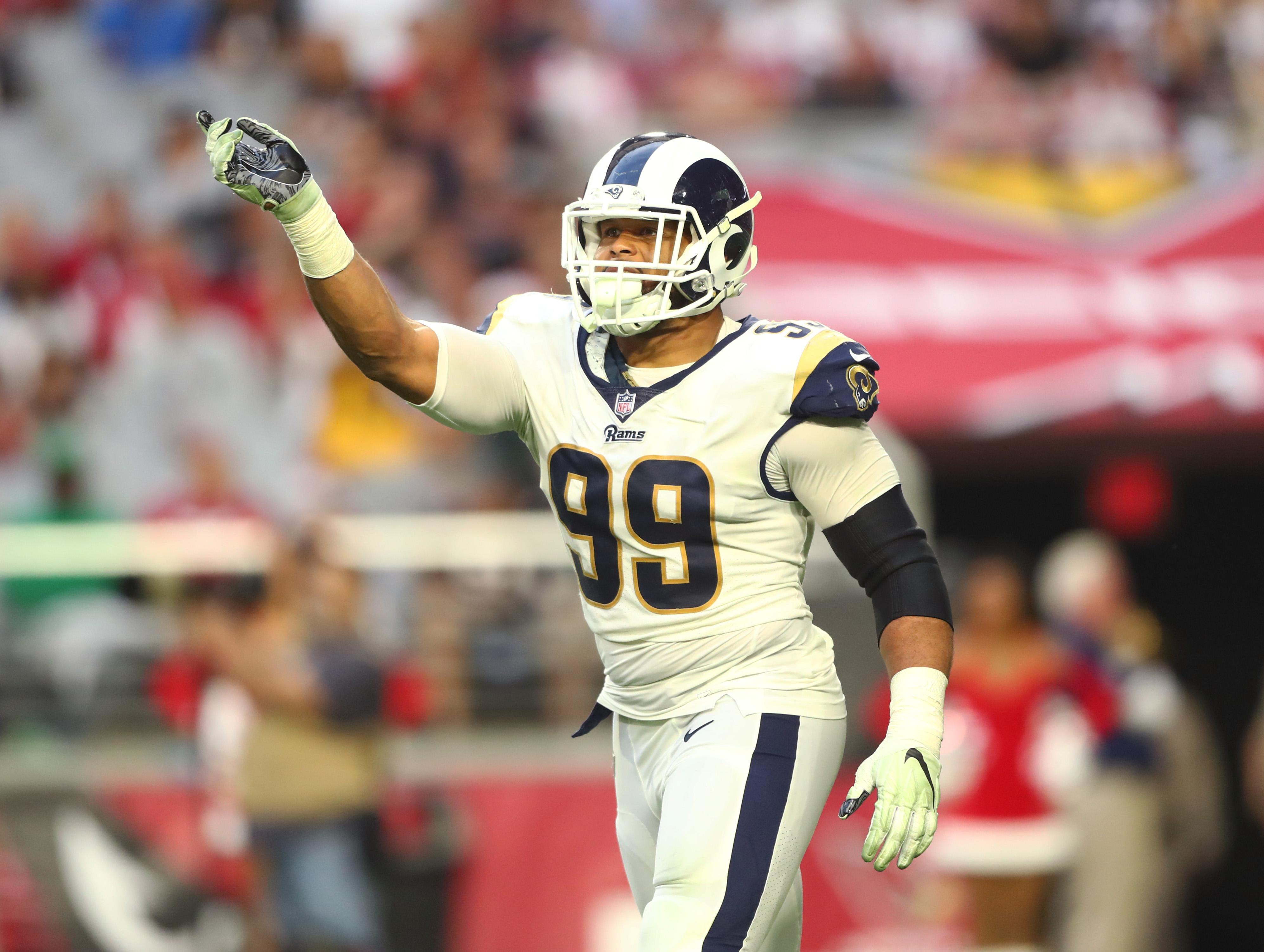 The Rams don't just have the best defensive lineman in the NFL in Aaron Donald, but they have arguably the best player in the NFL, period. By any measure, Donald is by far the best pass-rusher in football, owning the best pressure rate, pass-rush win rate and PFF grade of any player at any position over more or less any period of time since he entered the league. He had 80 total pressures in 2019 after posting a league-leading 106 in 2018. The team's problem has been assembling a supporting cast capable of helping Donald maximize his impact.
Last season, Dante Fowler Jr. was at least capable of cleaning up the havoc Donald caused inside, but with Fowler now in Atlanta, somebody else needs to step up. Samson Ebukam has been a solid run defender and an average pass-rusher, and he could be pushed for playing time by Ogbonnia Okoronkwo, who is entering Year 3 after barely playing but flashing rush ability when he has.
Inside, the Rams retained Michael Brockers after it looked like he was headed elsewhere in free agency — but only after they signed A'Shawn Robinson from the Lions, which feels a little redundant. Both players are run-focused nose tackles without the pass-rushing versatility to play alongside each other.
Greg Gaines adds to the run-stuffing expertise along the Rams' line, while Sebastian Joseph-Day saw almost 500 snaps last season and graded solidly across the board. Third-round rookie Terrell Lewis should have a good chance to start on the edge, but his PFF grade never matched the enticing physical tools he flashed in his lone season starting at Alabama.
The Los Angeles Chargers still have one of the NFL's best pass-rushing duos in Joey Bosa and Melvin Ingram. They combined for 119 total pressures last season in what was a relatively down year for Ingram. The interior of the Chargers' line has been the issue in recent seasons, and they will be hoping that Linval Joseph helps shore up that group.
Joseph has been one of the best nose tackles in the NFL during his career with the Giants and Vikings but is coming off his lowest PFF grade (69.5) since 2011. Joseph's impact as a pass-rusher has slipped over the past couple of years, but of more concern is that his run defense — which was virtually peerless at his best — also slipped to merely above-average in 2019.
The Chargers will look for Jerry Tillery to show signs of life and avoid being labeled as a total bust. As a rookie, he earned just a 35.5 overall PFF grade and managed only 10 total pressures from 186 rushes. Tillery was incredibly productive in college and a first-round draft pick, but there have been no signs he can be that player at the next level yet.
Justin Jones and Damon Square both saw significant playing time last season and return to the team, but neither graded better than average. Uchenna Nwosu will be hoping to continue his development and steal playing time on the edge after impressing on limited snaps over his first two seasons in the league. Last year, he notched 21 total pressures and even made a couple of plays in coverage. He could give the Chargers a useful rotation if he improves further in Year 3.
The Bengals' defensive line remains anchored by the best players it has featured over the past decade — Geno Atkins and Carlos Dunlap — but the team does have some more interesting pieces in 2020. Atkins had his least effective season in 2019 since tearing his ACL back in 2014 and may be on the downswing in his great career. His 53 total pressures in 2019 were the fewest he has totaled in a season since 2014.
Dunlap quietly put together a career year in 2019, leading the team's defensive linemen in PFF grade (89.7) and grading well in all facets of play. He had his most defensive stops in a season since 2014 and ended the year on fire with 30 pressures in his final five games. That pairing is joined by free agent acquisition D.J. Reader, who showed in Houston last season he can be more than just a run-stuffing nose tackle.
Reader was asked to play more snaps and rush the passer more than in any previous year of his career (due to injuries), and he responded with a career-best PFF grade and a dozen more total pressures than he had in any previous season. Reader should provide the team with the impact alongside Atkins that Andrew Billings never quite could. On the edge, Carl Lawson's play regressed last season, and he earned a career-low PFF grade (55.5) while notching just 35 total pressures on 268 pass-rushing snaps.
Sam Hubbard was more effective but had a massive 412 opportunities to rush the passer en route to 49 pressures. The depth on the defensive line has been an issue, and the Bengals would dearly love for one of their young players to take a big step forward and provide a consistent impact alongside the proven commodities they expect to be difference makers in 2020. Lawson and Hubbard have the clearest path to doing that, but players such as Renell Wren or rookie Khalid Kareem could force their way into contributing roles.
The Buccaneers defense as a whole is in ascendency, and the same should be true for the defensive line.
Vita Vea took a step forward in his second year, improving his PFF grade while playing significantly more snaps and more than doubling his pressure total from his rookie year. With another step, Vea could become one of the most disruptive interior linemen in the game. He'll have Ndamukong Suh playing alongside him this year again, and while Suh is coming off his worst PFF grade (69.6) since 2011, he still posted 39 pressures and graded well against the run. Suh's days as a dominant force may be gone, but he is still a very solid contributor.
Shaquil Barrett and Jason Pierre-Paul both return as the team's primary pass-rushers, with Barrett agreeing to sign his franchise tag recently. Barrett isn't as good as the 20-sack season would suggest, but he has constantly been very good pass rusher for his entire career and more importantly did post 82 total pressures. JPP — like Suh — may be in decline but will still bring a valuable presence against the run and chip in with pressure. He has topped 40 pressures for six-straight seasons. William Gholston was solid last season but unspectacular, earning grades in the 60s across the board, while the departure of Carl Nassib opens some snaps up to be claimed. Second-year player Anthony Nelson graded extremely well against the run in limited snaps as a rookie and could be in line for an expanded role as the only option to have any significant snaps last season.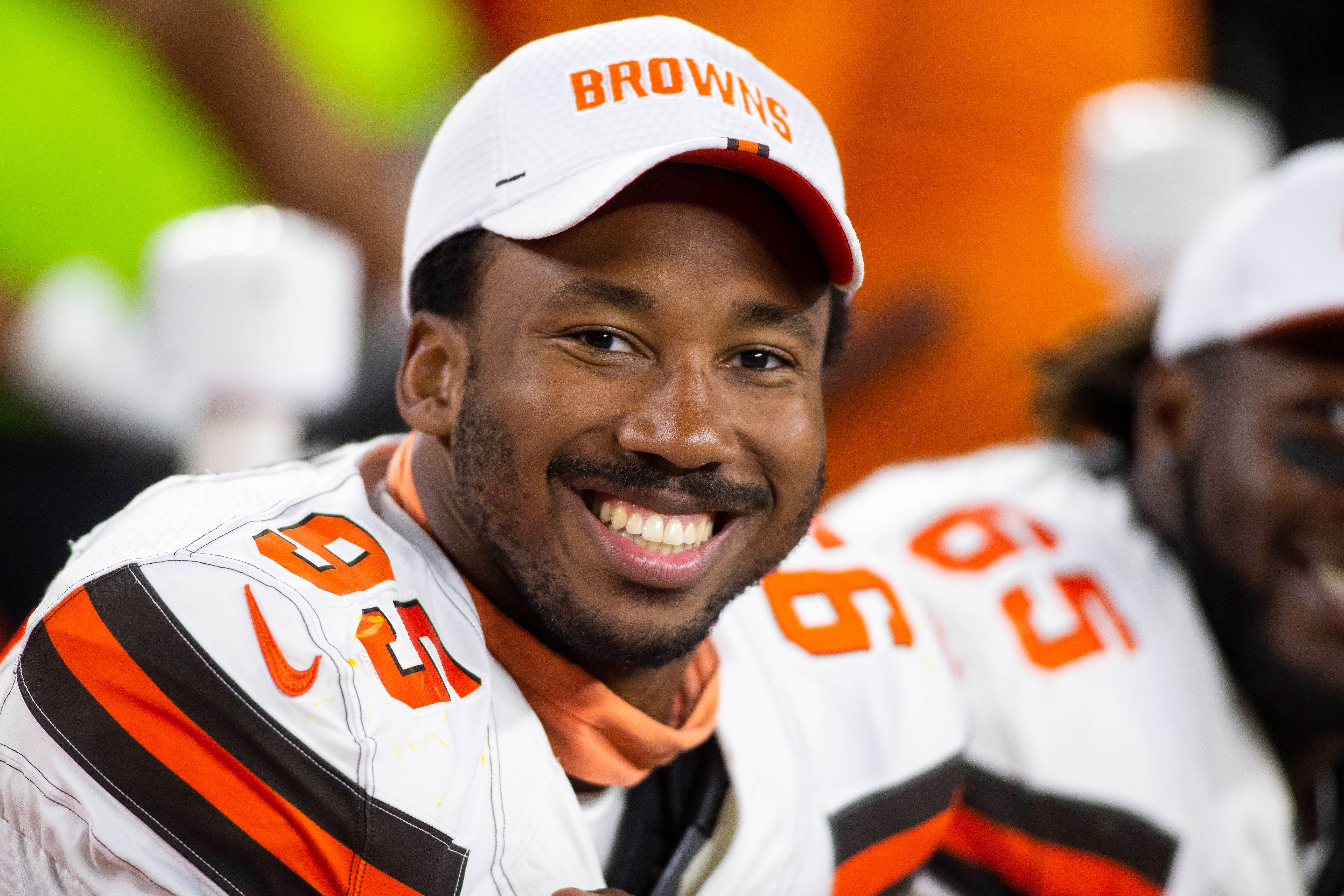 Before his season was brought to a self-inflicted premature close last season, Myles Garrett was on track to be the most dominant edge rusher in the league. His PFF pass-rush grade through 10 games was 91.6, tied for the best mark in the league and by far the best of his career to date. He had 49 pressures and was on track to set a new career best by at least 11 by the end of the year. If Garrett can hit 2020 with the same form he had in 2019, he will be one of the game's best defenders and a force to be reckoned with for the Browns.
Olivier Vernon and Sheldon Richardson return as starters. While neither played badly last season, both players are capable of more and the team will be hoping to get some better play out of them in 2020. Larry Ogunjobi likely makes up the other starting member of the defensive line, but he will be pushed for playing time by Andrew Billings on base downs, while rookie Jordan Elliott hopes to earn playing time rushing the passer. Elliott had the highest PFF pass-rushing grade of any interior defender in the SEC last season, ahead of first-round talents such as Javon Kinlaw and Derrick Brown. He was a first-round talent according to PFF's Big Board and could be an impact player for Cleveland if he can maintain that level of play.
Adrian Clayborn provides a really useful rotational body who has averaged over 50 total pressures for the past three seasons. Clayborn is particularly adept at beating up on sub-standard tackles and can dominate games against the right opponent.
Cameron Jordan is the star of this group and one of the most underrated players in the league despite near-universal agreement that he is an excellent lineman.
Jordan posted 83 total pressures last season, the fifth-straight year he has topped 70 and the fourth-straight season his PFF pass-rushing grade has been 80 or higher. Over the last five years, only Khalil Mack and Von Miller have a higher overall PFF grade among edge rushers than Jordan — he is one of the most complete edge defenders in the game.
On the other side of the line, Marcus Davenport continuing his development will be critical to the success of this unit overall. Davenport has seen his pressure total, pressure rate, pass-rushing and overall PFF grade improve from his first to his second season in the league, and while he was good in 2019, he could become great in 2020. If he does, the Saints will have one of the best edge rusher tandems in football.
The return of a fully-healthy Sheldon Rankins would be a huge boost to the Saints. Rankins got back on the field after Week 4 last season but didn't show his best play until Weeks 13 and 14 before being shut down again. He had just emerged as a really impressive force in 2018 before injuries started to derail his development, but if they can get that player back the team will be in good shape inside.
David Onyemata is the other critical piece of the puzzle, and like Rankins his best season was in 2018. Unlike Rankins, he doesn't have the excuse of injuries to explain the significant decline last season. Onyemata saw his PFF grade drop more than 25 points and his pass-rushing grade sink from 75.8 to 61.7. The Saints need him to find his best form again or his playing time may be under threat from veteran additions like Malcom Brown or Margus Hunt.
Demarcus Lawrence has been the star on this defensive line since he broke out for the Cowboys, but the unit that takes shape around him has one of the widest range of outcomes of any group in the league.
Gerald McCoy and Dontari Poe both come over from Carolina, but neither player is the force he once was. McCoy was solid in his first season outside of Tampa Bay, but he hasn't had a PFF pass-rush grade above 70 in two seasons now and his overall mark of 72.0 was the lowest he has posted since 2015. Given what Dallas had inside in 2019, he should still be a significant upgrade, but his days as a dominant player may be over. Poe never had the consistency of McCoy, but he has settled into a solid run defender who brings little as a pass-rush force. His past two seasons combined have generated just 30 total pressures from over 500 rushes.
Rookie Neville Gallimore was the fifth-ranked interior defender on PFF's Big Board this draft and represented a steal in the third round. He has a real chance to contribute immediately even if he never quite put it all together in college. He improved each season of his career at Oklahoma and will push for snaps. Last year's second-round pick Trysten Hill was a project at the time and saw just 121 snaps as a rookie, but he could also earn more playing time if he can demonstrate development.
The real X-factor in this group is Aldon Smith, who has been out of the league since 2017. Smith was once one of the best edge rushers in the league and battled Von Miller as the preeminent edge-rushing force of the 2011 draft before personal problems sent his career into a spiral. He is still just 30 years old. If he has gotten his act together, he brings an upside that is rare to find off the street for a minimal cost. Smith held the rookie record for total pressures (64) until this past season when Nick Bosa blew past that mark, and he could transform this defensive front if he can return anything like the talent he showed in the past.
The newly signed Chris Jones has been arguably the best interior player in the league outside of Aaron Donald over the past couple of seasons, and his 132 total pressures over the past two seasons is third among interior rushers. His pass-rush grade of 91.4 trails only Donald.
Frank Clark also got the big-money deal when the team acquired him from Seattle, but his first season was a letdown, seeing him register just 47 total pressures in the regular season before an uptick in the playoffs. His overall PFF grade for the season was just 63.0, and even those playoff performances were more flash than substance — he had five sacks across three games but did not earn a grade above 70.0 in any of them.
Outside of that duo, the situation is a little less encouraging. The team has a series of useful role players that grade solidly but nobody consistently making a difference and scaring opposing offenses. Outside of Jones, Terrell Suggs was the team's best-graded pass-rusher up front, and his grade was just 66.9. With his departure, the team needs to find an additional source of pressure from somewhere.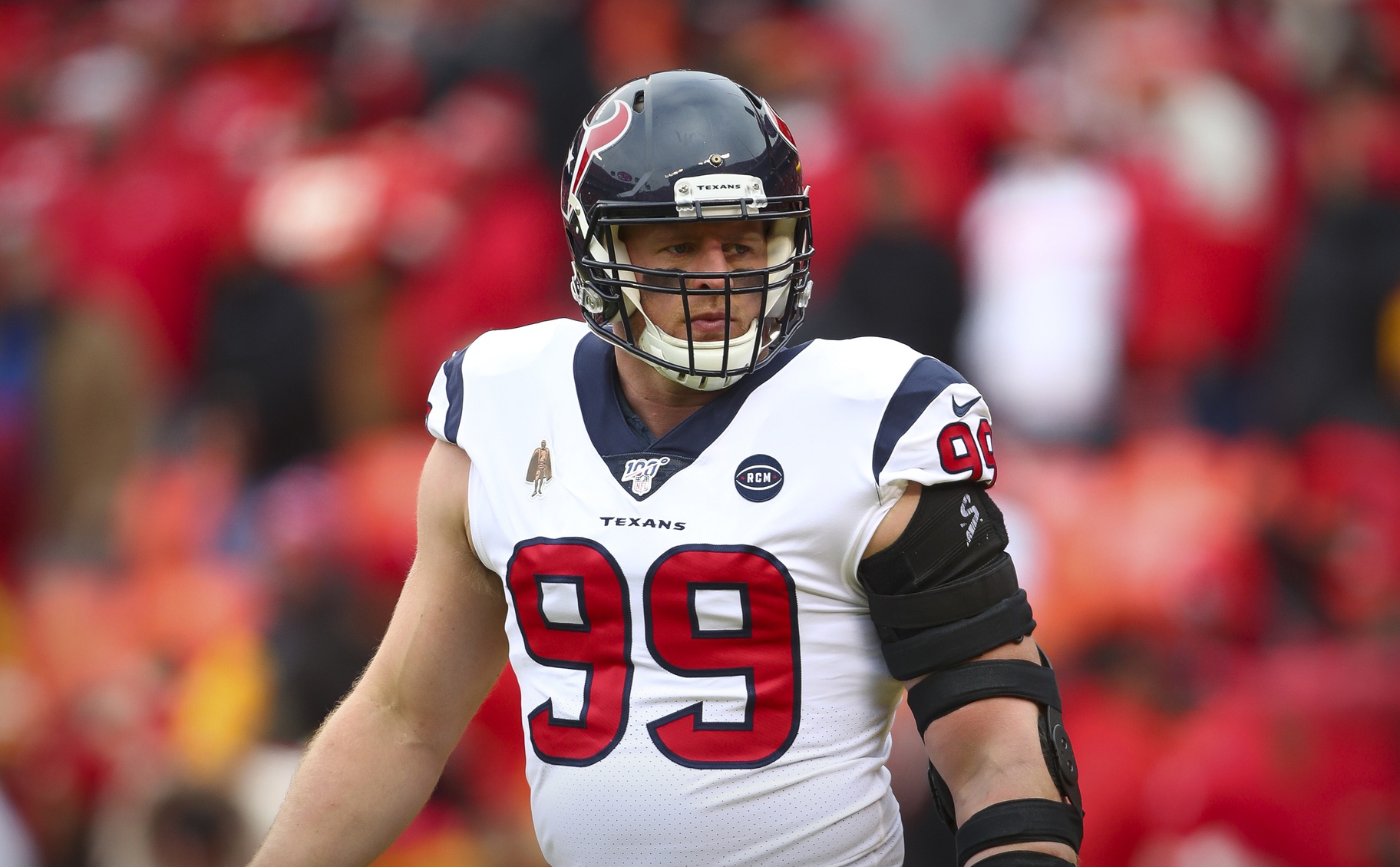 Once again, the weight falls on the shoulders of J.J. Watt for the Houston Texans' defensive front.
Last season, D.J. Reader was an impact player inside, but he has departed for Cincinnati in free agency, leaving a hole that the Texans will likely hope gets filled by second-round rookie Ross Blacklock. Blacklock had a dominant run defense grade last season at TCU, and while his pass rush took a step forward, it was still the weaker area of his game. He has high-end athleticism and physical tools but is low on technique and polish at the position; he may take some time to transition to an effective force at the next level.
Watt getting back to his best play would be a huge boost for this team, and in 2019 he threatened to do exactly that before a pectoral injury sidelined him for half of the regular season. Watt's PFF grade over the past two seasons is almost back to where it was before injuries first started to derail a Hall of Fame career. He notched 52 total pressures last season in just eight games and was on pace to lead the NFL with his best pass-rushing grade since the 2015 season. If he picks up in 2020 the way he was playing before that pectoral injury, the Texans will have one of the most dominant defensive linemen in the game.
Whitney Mercilus rediscovering his best play would also go a long way to helping this unit. He has earned PFF grades in the 60s over the past two seasons, 20 full grading points lower than his best seasons of 2015-2016. He had 47 total pressures last season, but it took him 591 pass-rushing snaps to get them, and 33 of those pressures were just hurries. Mercilus has top-tier potential, but he hasn't played to that ability for a while now.
Outside of the players already mentioned, the Texans don't have much in the way of impact players, with the likes of Charles Omenihu, Brennan Scarlett and Angelo Blackson likely to earn playing time but without much quality play on their resumes. Rookie third-round pick Jonathan Greenard was very productive at Florida last season but struggled against the best competition he faced. He will at least see opportunity to prove he can step up at the next level.
The Baltimore Ravens continue to make smart personnel decisions that should make a significant impact on their team. They said goodbye to Michael Pearce this offseason but replaced him with Calais Campbell — arguably the best run defender in football — for just a low-round draft pick.
Campbell has had four-straight seasons with a PFF grade above 90.0 and done so at multiple different positions along the defensive line for Arizona and Jacksonville. He will move back inside for the Ravens, where he should prove to be an upgrade over Pearce. Derek Wolfe brings plenty of experience and solid play to the table. He has notched at least 20 total pressures in all but one of his NFL seasons and has had good PFF grades against the run every season since 2013.
Brandon Williams remains and needs to return to his best play after seeing his run defense grade drop 10 grading points in 2019. His defensive stops dropped by a third, and he didn't make the same impact as in years past. Baltimore's edge rushers are still a question mark, but this team schemes up pressure better than any in the league, and they're the most blitz-heavy team in football.
Matthew Judon led the team in sacks, total pressures and pass-rush grade but was still just 18th in the league in that last category. Last year's third-round pick, Jaylon Ferguson, will have a chance to improve on the 30 total pressures he had as a rookie, and first-year player Justin Madubuike will have a chance to add some pressure from an interior alignment. But this is a defensive front that will likely rely on the scheme and blitz to maximize its pressure rate again in 2020.
Chandler Jones is the star player on the Cardinals' defensive front. Jones is always just outside of the very best edge rushers in the league in terms of total pressures or PFF grade, but he has managed to consistently generate more sacks than his pressure total should generate — something that is typically not a skill. Last season, Jones posted a pass-rush grade of 90.0, good enough to rank in the top five among edge rushers, and he pressured the quarterback 75 times.
He is by far the team's best pass-rusher and should be among the league leaders in pressures again in 2020. The lack of help for Jones could be a significant problem, as nobody currently on the roster had more than 26 total pressures a season ago. Jordan Phillips had 10 sacks and might be confused for a legitimate pass-rush presence, but those sacks represented 10 of the 26 total pressures he managed all season long. The tape shows a series of unimpressive plays on those sacks. Phillips hasn't topped 30 total pressures in a season and will likely be a run defender only this season.
Corey Peters offers the same type of impact, albeit a more proven version, and fourth-round pick Leki Fotu makes a trio of run-focused interior defenders. Second-year player Zach Allen may be the player most likely to take a step forward and make an impact, but his rookie season lasted an underwhelming four games before injury landed him on injured reserve. Allen needs to show major improvement for the Cardinals to be anything more than reliant on the skills of Jones again in 2020.
The Colts' defensive front will be anchored by their big offseason acquisition, DeForest Buckner, brought over from San Francisco in a trade that cost the team its first-round pick. Buckner signed a big-money extension and will be expected to alter the entire dynamic on the defensive line. Buckner has four-straight solid to good seasons in the NFL and has racked up 208 total pressures across those four years. He is a rare athlete in terms of size (6-foot-7, 300-pounds) and length and is good against both the run and pass. His best season came back in 2017, but he has been a consistently positive force for the 49ers and should be again for the Colts this season.
Veteran edge rusher Justin Houston was quietly back to something like his best last season for the Colts, aided by a reduced role that helped keep him healthy and let him focus on getting after the passer. Houston had a top-10 pass-rushing grade (81.9) and generated 60 total pressures on the year despite playing nearly 150 fewer snaps than the year before and 300 fewer than the season before that. Houston is still likely to be the team's primary source of edge rush pressure, though Kemoko Turay had absurd numbers in a tiny sample size last season before getting hurt, notching 14 pressures in just 69 pass-rushing snaps and registering a PFF pass-rushing grade of 91.3. Turay might have just caught lightning in a bottle for a few weeks, but he could be a surprise force for the Colts if he can come back the way he left off.
Depth is a concern for this defensive front, as outside of those star players of whom much is expected, there is a lot in the way of journeymen and average starters. Denico Autry, Al-Quadin Muhammad and Grover Stewart all return, but the highest PFF grade amongst the group in 2019 was Autry's 71.0.
Jabaal Sheard was let go after suffering a steep decline last season, but even that decline leaves 42 pressures walking away. Ben Banogu was the team's second-round pick a season ago, but his rookie year was ugly, resulting in a grade of just 49.0 and seeing him register only 17 total pressures on 181 pass rushes. The team needs him to take a major step forward in 2020 if this unit is to be better than average.
For the seventh-straight year since joining the team in 2013, Jerry Hughes led the Bills in pressures, finishing with 54. He produced a 73.7 pass-rush grade that ranked 28th in the league, and he'll be counted on to lead the pass rush once again in 2020.
However, the Bills have added plenty of pieces around Hughes, including veteran Mario Addison and second-rounder A.J. Epenesa. Addison has had at least 45 pressures in each of the last five seasons, while Epenesa is a powerful hands-winner who ranked in the top 32 on the PFF draft board. Trent Murphy also returns after his 74.9 grade against the run led all front-7 players for Buffalo last season.
On the interior, the Bills are hoping for a Year 2 breakout from 2019 first-rounder Ed Oliver, who graded at 65.1 overall as a rookie — tied for 72nd at the position. He has the quickness and college production to make a bigger impact, but development is still needed. Harrison Phillips' strong run defense is back in the equation after being limited to just 77 snaps last season, and Vernon Butler has been added to the mix after the former Panthers first-rounder peaked with a 68.7 overall grade in 2017.
Another former Panther, Star Lotulelei, also returns, but he's graded above 60.0 just one time since 2014. The one name who could surprise is Vincent Taylor, who has performed well when given an opportunity but has only seen the field for 437 snaps in his three-year career. The Bills are throwing many options at the wall along the defensive front, but this unit's success will be determined by Hughes staying on top of his game and Oliver raising his to the next level.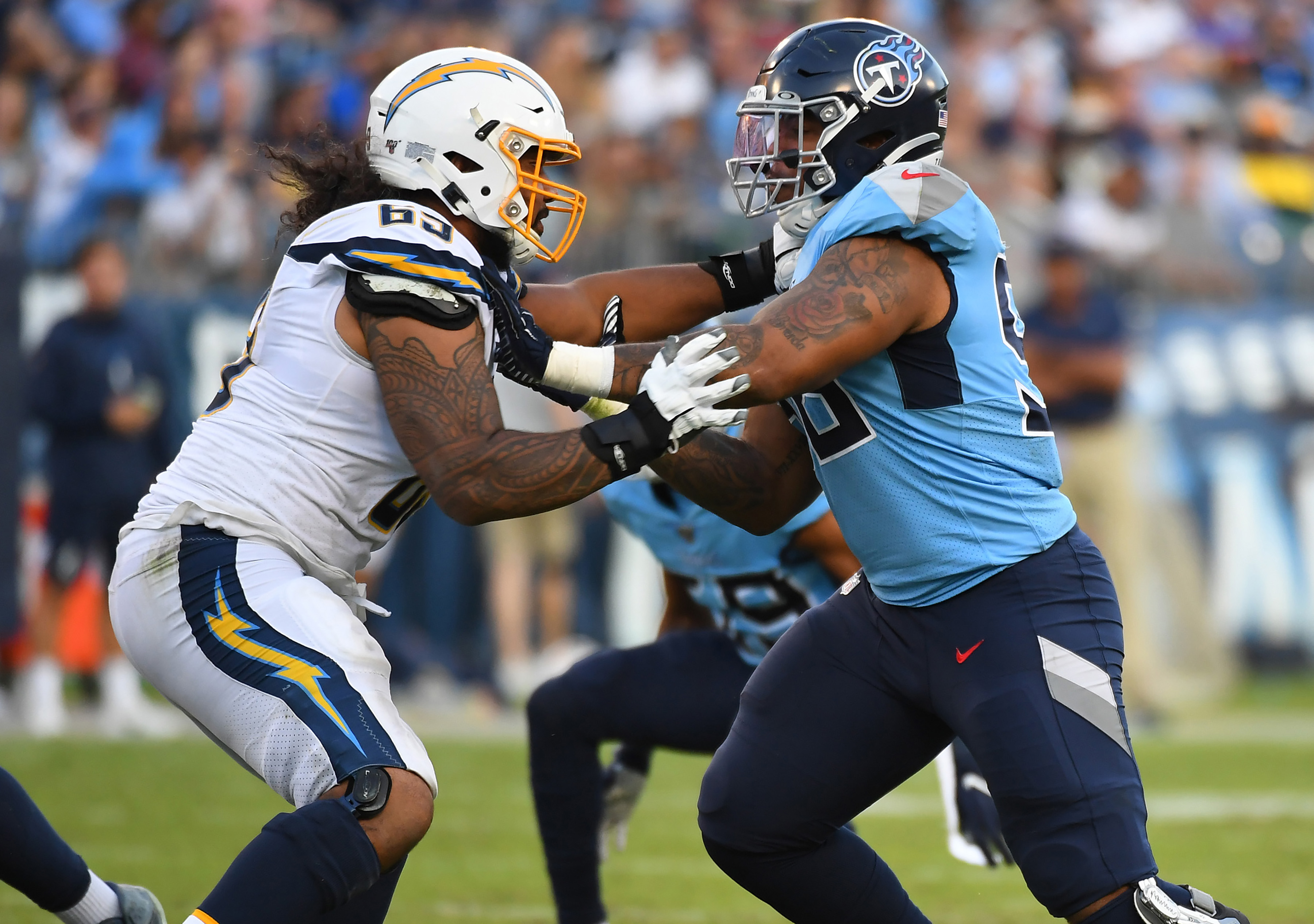 Tennessee is another team set to field a defensive line that relies on the development of its young players.
Jeffery Simmons had a debut to remember after recovering from an ACL injury that many thought would sideline him for the entire season. Simmons notched a sack, two hurries and three defensive stops in a performance that earned a PFF grade of 90.6 and set pulses racing, but he never quite hit those heights again over the remainder of the season. Simmons is hugely talented, and the team was confident enough in his ability to trade away stalwart defensive lineman Jurrell Casey for a throwaway late-round draft pick, but now is the time Simmons needs to prove them right.
Harold Landry is the other young player who needs to take a step forward. His sack total more than doubled in his second season, and his total pressures leaped from 34 to 66, but his pass-rushing grade actually got worse (57.8 from 59.4 as a rookie) because his pass-rushing snaps also almost doubled. Landry has flashed the potential to be a high-end rusher but now needs to show more than potential and the ability to pick off low-hanging fruit.
After Cameron Wake, DaQuan Jones was the team's best-graded lineman last year, and he was the best-graded among players with serious playing time (Wake saw just 195 total snaps). Jones was a plus run defender and a solid pass-rusher, and he simply needs to have that kind of performance again in 2020.
Depth is a concern along this defensive line, with little in the way of proven quality or even players who have shown well across limited snaps. Rookie Larrell Murchison was a fifth-round pick who has solid but not spectacular grades over the past two seasons at NC State. And while he was more of a run defender than a pass-rushing force, he will hope to earn some playing time as a rotational body early on.
The Falcons have one of the best defensive linemen in the game in the shape of Grady Jarrett, but the issue is that they don't have much around him.
Jarrett earned an overall PFF grade above 90.0 last season, and he racked up 40 defensive stops as well as 46 total pressures, but the next closest PFF grade among Falcons linemen who played more than 100 snaps was 71.7, and the player who earned that grade, Adrian Clayborn, is no longer on the roster.
Former first-round picks Vic Beasley Jr. and Takkarist McKinley have been disappointments, with Beasley now departed and McKinley likely on his last chance. However, the Falcons have added multiple former first-round picks to see if they can do any better.
Charles Harris comes over after three underwhelming seasons in Miami, while Dante Fowler Jr. was able to parlay a career year with the Rams into a chance in Atlanta. Fowler recorded 67 total pressures and 15 sacks playing alongside Aaron Donald, but his PFF pass-rushing grade was just 73.3 thanks largely to how much of a factor Donald was in those pressures: 33 of Fowler's pressures (49.3%) were either unblocked, clean-up or pursuit plays and not true "wins." And while Jarrett is an elite player in his own right, he is not Aaron Donald and likely won't give the same boost to Fowler's numbers.
The Falcons also drafted Auburn's Marlon Davidson in the second round of the draft, a player who ranked 44th on PFF's Big Board. Davidson could provide a second pass-rushing threat inside, but he will be transitioning to that role and may take some time to develop.
Preseason Hall of Famer Steven Means may only have half the preseason games (at most) this year to state his case for regular-season snaps, but he has an absurd 41 total pressures over his last three preseasons. With the competition for playing time fairly open, maybe he could finally earn some playing time in 2020.
A couple of years ago, the Jacksonville defensive line — a united that adopted the nickname "Sacksonville" — was among the very best in the game. That unit has since been chipped away at, though, and the departure of Calais Campbell this offseason sees the best player from the group leave town. 
There is still the chance that this front could be very good, but it relies on improvement from the players drafted to ensure a smooth succession plan. The team spent back-to-back first-round picks on Josh Allen and Taven Bryan, but both have yet to become impact players. 
A disruptive player in college, Bryan has been a better run defender than he has been a pass-rusher and has just 37 total pressures across two seasons and 380 rushes. Allen notched 49 pressures as a rookie — though he had 388 rushes to get there — and his overall grade was more good than great. 
The Jaguars also add first-rounder K'Lavon Chaisson, who has the highlight reel of a first-rounder with incredible burst and flashes of power, though it's a concern that he graded at just 72.7 last year at LSU. Yannick Ngakoue is also in the midst of a contract standoff with the team, and while he is still only 25 years old, he hasn't been a genuinely elite edge-rusher since his 2017 season. 
This team is unusually well-stocked with run-defending nose tackles, with Abry Jones, Al Woods and rookie Davon Hamilton all on the roster. The talent is there for this defensive front to still be a plus unit, but it is far more of a question mark than it has been in the past couple of seasons. It now relies on the development of the talent the team has earmarked over the past couple of drafts. 
The Vikings' defensive line has undergone significant changes this offseason, with the departure of arguably their best two players from the unit over the past few seasons in the shape of Linval Joseph and Everson Griffen. Joseph is now with the Chargers, while there remains the possibility that Griffen could return as long as he is on the open market still unsigned.
While Danielle Hunter had a career year last season, the team brought in Michael Pierce from Baltimore to serve as the Joseph replacement. Pierce isn't coming off his best season, but prior to that was a dominant run defender who had a grade in that area of 92.0 in 2018. Pierce is a huge load in the middle (340-plus pounds at just 6-feet in height) and should give the Vikings a run-stuffing presence who is also able to push the pocket against the pass.
Hunter and Pierce are the two proven commodities on the line, but the other two starting spots and the depth are a major concern.
Shamar Stephen played 580 snaps in the regular season last year and had just six total pressures. Ifeadi Odenigbo flashed potential on the edge, with 25 total pressures and at least three high-end games, but he now needs to take a step forward as an every-down starter. Anthony Zettel was added to the roster, but he has shown little in his NFL career outside of the surprise 2017 season and had just seven total pressures last season.
The Vikings have taken several late-round shots on the defensive line over the past few seasons, but none have yet emerged to be positive role-players beyond Odenigbo. They will be hoping that changes this offseason or this line could be in for a significant regression.
The New England defensive front has undergone some significant turnover this offseason. Kyle Van Noy was the best-graded member of the group a season ago but will now be plying his trade in Miami in 2020, while Danny Shelton has moved on to the Detroit Lions. 
That frees up plenty of opportunities for players to earn time, particularly to replace Van Noy. Second-year edge rusher Chase Winovich was impressive as a rookie but played fewer than 300 snaps in his first year. He did notch 23 total pressures across 232 pass-rushing snaps, however, and could be a candidate to step into a larger role. 
Deatrich Wise Jr. was the most efficient pass-rusher of the group a season ago, and over his time in the NFL has one of the best pass-rush win rates of any defensive lineman. Still, at times he was a liability in the run game and has seen his playing time decrease in each season in the league. John Simon was solid in 2019, grading at 73.3 overall on just under 500 snaps, but it's unlikely that he has the upside to replace Van Noy's production. 
The most intriguing additions to the team and the competition for playing time came in the draft, where the Patriots added Michigan's Josh Uche and Alabama's Anfernee Jennings in back-to-back rounds. In particular, Uche was one of the most efficient pass-rushers in college football, but he is undersized and has never been deployed as a full-time edge rusher. He perfectly fits the mold of a defense that is excellent at putting players in a position to succeed rather than fail, and he could hit the ground running in terms of pass-rush production. Anfernee Jennings, on the other hand, is a classic power edge from Alabama who can contribute on early downs in the classic New England-hybrid role. 
The Patriots also brought in Beau Allen to replace Shelton. Allen has been a rotational body for the majority of his career, but he will compete for snaps opened up by Shelton's departure. 
The interior options, such as Allen and Lawrence Guy, are solid yet unspectacular, but last year's fifth-round pick Byron Cowart could be a dark horse candidate to earn some more playing time. He barely featured for the team in the regular season but impressed in the preseason.
The policy in New York under general manager Dave Gettleman has been getting bigger, tougher and meaner against the run on the defensive line.
Dexter Lawrence was their first-round pick a year ago, and Leonard Williams was acquired to add serious weight inside. Add Dalvin Tomlinson and B.J. Hill to the mix, and this team is awash with powerful run-stoppers. All four players earned a PFF run-defense grade above 70.0 last season, but none was a difference-maker as a pass-rusher.
Lawrence — all 342 pounds of him — had the best pass-rush grade of the four, but it was just 64.5. The former first-rounder had only 30 total pressures from 412 rushes, which falls into the category of "good for a nose tackle" but some way short of dominant overall.
Williams' pass-rushing grade improved after he was traded to the Giants (69.1 against 61.4), but he has never quite been the force people expected him to be when he was drafted.
The Giants are short on interior players who can truly pressure the passer and instead will rely on just squeezing the pocket. And that strategy that could work if they had plus play on the edge — the problem is that they don't have that proven commodity yet.
Lorenzo Carter has flashed that ability, while 2019 third-round pick Oshane Ximines has yet to show he can translate his college production to the NFL. Kyler Fackrell was also added to the mix, but again, his production has come in spikes and flashes at the NFL level, and he never managed to be a consistent threat during his time in Green Bay.
The Giants have a group of solid options but don't have much in the way of proven players who can get after the quarterback in a league that has never been more pass-happy.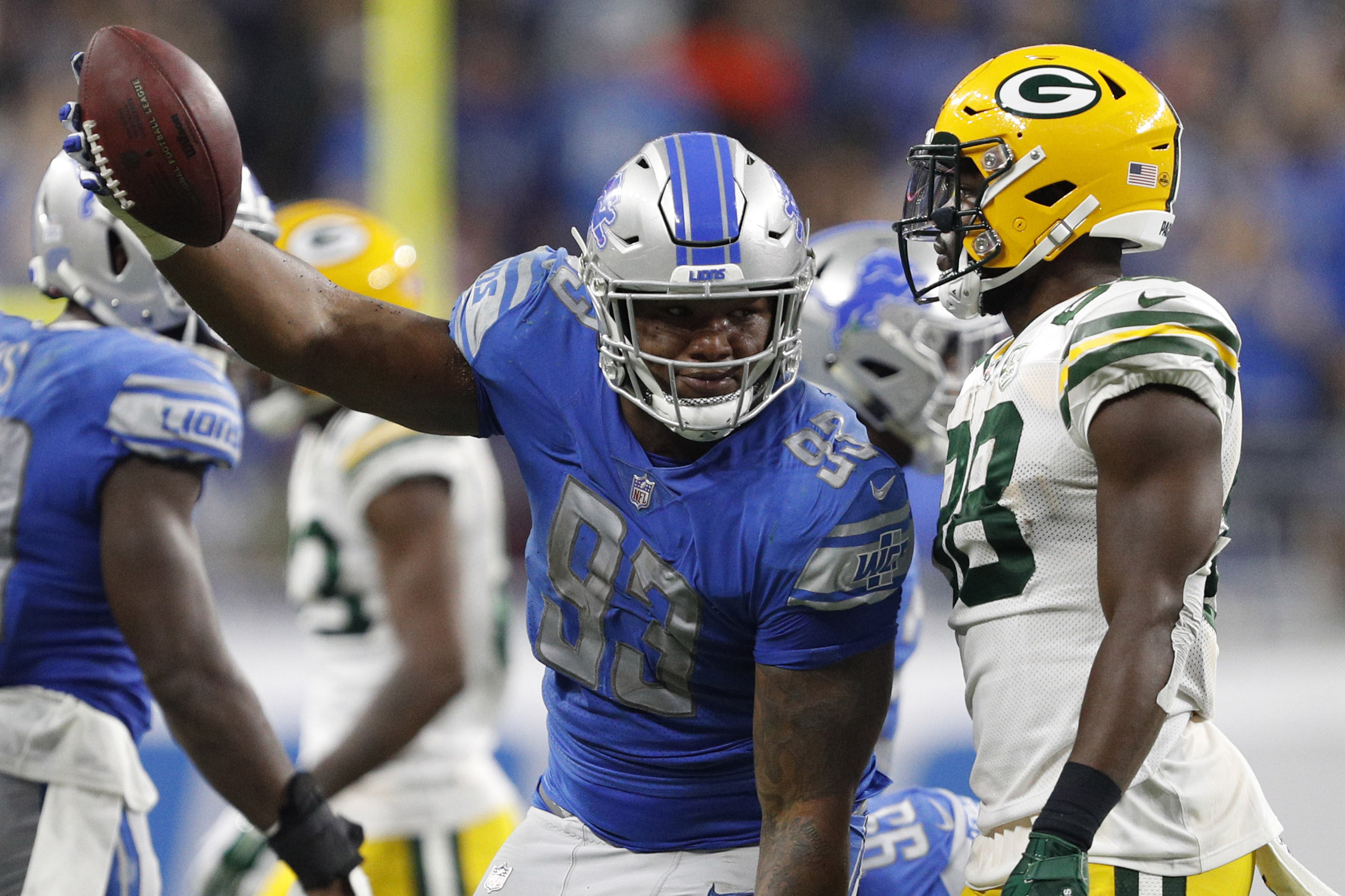 The Detroit defensive line is still trying to find its identity and consistency under Matt Patricia. 
Last season, defensive end Trey Flowers was the only consistently impressive member, earning an overall PFF grade of 83.0 and notching 63 total pressures. That wasn't the best season Flowers has ever had, but it's probably a fair return in his first year as their big-money free-agent acquisition. 
The issue is that Flowers had very little help. Veterans Mike Daniels and Damon Harrison broke down with injuries and just weren't the same players they had been in the past. Combined, they were on the field for fewer than 750 snaps, and neither player graded particularly well, especially given their past performances.
 There also wasn't much in terms of pressure coming from anybody other than Flowers. Devon Kennard had the next highest pressure total, at 43. He is now in Arizona, leaving Romeo Okwara and his brother Julian to be the most likely candidates to bring some heat on the quarterback. Romeo had 34 total pressures on 377 pass rushes last season, and his PFF pass-rushing grade was actually below average (58.2). Meanwhile, Julian was the No. 4 edge rusher on PFF's Big Board and certainly has the talent to provide pressure, even if he might need a situational role early. 
Injuries robbed Da'Shawn Hand of most of his second season after such a strong showing as a rookie, but he is a player who could still feature heavily. In addition, Danny Shelton was brought in from the Patriots to anchor the middle of the line. Shelton is primarily a run-stuffing force, and for added insurance in that area, the team also drafted Utah's John Penisini in the sixth round. 
This defensive front likely relies on finding somebody beyond Trey Flowers to be a consistent force, particularly when it comes to generating pressure on opposing quarterbacks. Most of the personnel on the roster are more run-focussed, which likely leaves the Okwara duo to take advantage of their pass-rushing snaps and prove they can hurry the quarterback.
The Las Vegas Raiders begin life in a new city still trying to replace what they had in Khalil Mack. And while Maxx Crosby looked impressive as a rookie, a significant portion of his hype stems from the fact that he outperformed fourth overall pick Clelin Ferrell.
Crosby notched 45 total pressures as a rookie, but he rushed the passer 481 times and needs to build on that encouraging rookie year to match the hype in Year 2. Ferrell was a solid run defender but offered almost nothing as a pass-rusher, which is obviously an unacceptable return for the fourth overall pick in the draft.
Maurice Hurst was the team's best pass-rusher in 2019, and the former Michigan star may be about to enter a breakout year. Hurst is an undersized interior rusher, but his development has been impressive over two NFL seasons. Another step forward in his third year would see him emerge as one of the better interior pass-rushers in the league. Hurst earned a pass-rushing grade of 77.8 last season and racked up 38 total pressures in the process.
Maliek Collins comes on board from Dallas after four underwhelming seasons, though, to his credit, he has improved in every year of his career. Collins earned a good pass-rushing grade in 2019, notching 48 total pressures, and he could provide a formidable interior duo with Hurst if the pair continue to improve their game.
Edge rusher is the key to this team's performance, as one of their young players needs to become a force offensive lines fear. Arden Key was the other young option on the edge last season, but he logged just 179 snaps of playing time and has just 43 total pressures in two years.
Few franchises have undergone more change this offseason than the Carolina Panthers, and that extends to their defensive line. Every pick the team made in the 2019 draft was spent on defense — three of those picks were spent on defensive linemen, including first-round pick Derrick Brown.
Few players were as divisive as Brown in the pre-draft process. Nobody doubted his dominance and ability, but there were questions as to whether he could be an effective enough pass-rusher at the next level to justify a high first-round pick. The Panthers evidently believed he can be, and whether they were right will go a long way to determining how good this group can become. Brown had back-to-back seasons in college with a PFF grade above 90.0, and he has the kind of power and strength that few other players have.
The Panthers doubled down on the defensive line in the second round, adding Yetur Gross-Matos to play outside of Brown. Gross-Matos is a classic example of a player whose traits have thus far been more impressive than his production or tape, but the Panthers will be hoping they can harness the things you can't teach and develop the things you can.
Bravvion Roy was a late-round addition as a rotational nose tackle who has freakish movement skills for such a fire hydrant of a body and could stick around given his ties to new head coach Matt Rhule. Stephen Weatherly was also added in free agency, and he has been remarkably consistent in his inability to pressure the passer at a high level. Weatherly has three seasons of more than a couple of snaps, and all three saw him post a pass-rushing grade in the 50s.
The new additions will be joining stalwart Kawann Short and last season's first-round pick Brian Burns. Short missed almost all of last season but was playing the best football of his career before that point, while Burns flashed pass-rush skills as a rookie.
There are a lot of unknowns when it comes to this group, but there is a very believable scenario where the talent comes together quickly and makes them a very formidable unit to contend with.
Last season, the Dolphins' defensive line earned the lowest pass-rush grade in the NFL, at just 57.6.
The team has added Kyle Van Noy to the mix, a player who rejuvenated his career as a classic Patriots hybrid defensive end/outside linebacker. Van Noy set career highs in pass rushes (464), pressures (60) and pass-rush grade (72.1) last season, while also dwarfing his career best with an 83.7 grade against the run, fourth-best among edge defenders. The Dolphins will insert him into a similar role, and they need him to duplicate those results.
Miami also added Shaq Lawson, who also set a career high with a 68.7 pass-rush grade to go with 40 pressures last season. Lawson is more of a base defensive end who has done his best work in the run game throughout his career. Emmanuel Ogbah adds depth on the edge after he posted the best grade of his career, a 70.1 overall mark last season with the Chiefs. Other hybrid linebackers include Vince Biegel, who led the team with 34 pressures a year ago, and Curtis Weaver, a fifth-round pick with first-round tape.
Inside, former first-rounder Christian Wilkins ranked seventh among rookie interior defensive linemen with a 64.4 overall grade last season. He carried over his college profile of being better against the run than the pass, and he must improve his 58.6 pass-rush grade to justify his price tag.
Davon Godchaux is also slated to start inside after three up-and-down seasons, while second-round pick Raekwon Davis should add yet another strong run defender into the mix.
The Dolphins have plenty of question marks hovering over the pass rush, though they've accumulated a strong group of run-stoppers up front.
So much of what the Jets expect from their defensive front relies on the development of Quinnen Williams, who was the Jets' top pick of the 2019 NFL Draft.
Williams was one of the best interior prospects we have ever seen and earned the highest pass-rush grade we have ever given to an interior pass-rusher, but his rookie season was a letdown, particularly in the one area he was supposed to excel — generating pressure. The Alabama product notched just 19 total pressures across 349 pass-rushing snaps a season ago, making him one of the least efficient pass-rushers in the league. And while his run defense was solid, that's not why you draft a player with the third overall pick.
If Williams can show why he was such a coveted prospect and become a force as a pass-rusher in Year 2, he has the potential to transform this unit single-handedly.
Outside of Williams, the defensive line is populated by solid players who largely defend the run better than they rush the passer. Steve McLendon played the second-most snaps of the group last year after Williams, and his PFF run-defense grade was 81.4, second only to Folorunso Fatukasi on the team.
Henry Anderson had a down year in 2019 but has shown the ability to be solid across the board, and he will likely have to fend off competition from Nathan Shepherd and rookie Jabari Zuniga for playing time.
Meanwhile, the edge remains a problem for the Jets — as it has for a number of years. Tarell Basham, Jordan Jenkins and Kyle Phillips all topped 500 snaps in 2019, but none of them were able to generate more than 40 total pressures or earn a pass-rushing grade north of 70.0.
Once more, it's difficult to see who the obvious source of edge rush pressure for this team will be, and that has been the Jets' Achilles' heel for the better part of a decade. Overall, the Jets defensive line is not swimming in high-end talent, but the one player who was supposed to possess that in abundance could break out and change the entire dynamic of the group. The development of Quinnen Williams likely determines how good this group can be in 2020.
With Jadeveon Clowney still unsigned at the time of writing, Seattle's best defensive lineman from 2019 isn't on the roster anymore, and the gap between him and the next best player is not a small one.
Poona Ford has impressed in the NFL so far, but more as a run defender than as any kind of pass-rush force, and he has just 19 total pressures over two years. Jarran Reed looked like he might develop into an all-around force before legal issues sideswiped his career and he didn't look the same player. In 2018, he recorded 55 total pressures and earned solid grades across the board, but he was markedly worse in 2019.
Much will also be expected of L.J. Collier, the team's 2019 first-round pick. That draft selection was something of a surprise to most, and his 48.6 PFF grade on just 152 snaps won't have helped that impression. Collier had just one hurry from 86 pass-rushing snaps in an impressive lack of production. If he can't make a sizeable leap forward in 2020, it's difficult to see where the pressure will come from.
Tennessee's Darrell Taylor, the team's second-round pick this year, was a similarly underwhelming prospect but represents a significant investment they will likely expect to contribute. Bruce Irvin returns for a second stint with the team that drafted him in the first round back in 2012, but Irvin hasn't earned a pass-rush grade north of 70.0 since his second season in Seattle.
Rasheem Green saw north of 500 snaps a season ago but had below-average grades in all facets of play and just 30 total pressures from 376 rushes. Last season the team experimented with deploying Shaquem Griffin on the edge as a situational pass-rusher despite his weight (likely in the 215-220-pound range), in an attempt to generate some pressure. He flashed occasionally but ended up with just 10 pressures on 94 rushes.
The Seahawks' defensive line was hugely dependent on Jadeveon Clowney in 2019. If they don't have him for 2020, they need to find a new source of pass rush.