Last time around, we looked at a number of wide receivers who had exceptionally easy or difficult cornerback matchups last season. First, we broke it down by PFF grade, looking at wide receivers who saw a high percentage of targets against top-20- or bottom-20-graded cornerbacks. Then we looked at wide receivers by average PFF grade of the cornerbacks covering them on each target. Finally, we introduced "expected fantasy points per target" based on the average fantasy points per target allowed by each cornerback covering them on each target. This was an effective way of measuring strength of cornerback schedule, and who might be likely to regress positively or negatively next season, but this told us nothing of efficiency.
By contrasting "expected fantasy points per target" with actual fantasy points per target of each wide receiver (against all cornerbacks to see at least 25 targets), we can see which wide receivers fell below or exceeded expectations last year.
Among all wide receivers with at least 50 cornerback targets, here is who stood as performing especially well (above expectation):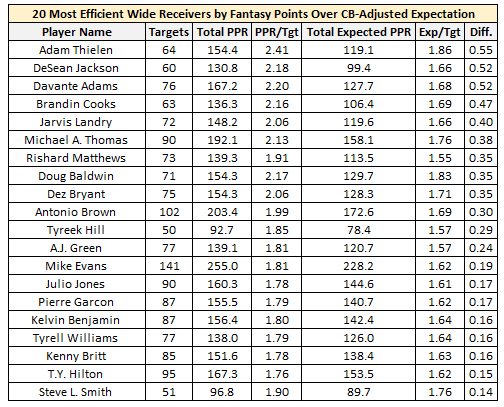 Here's who stands out to me:
Adam Thielen, Minnesota Vikings
Despite having the easiest cornerback schedule of any wide receiver with at least 50 qualifying targets, Thielen certainly made the most of it, also leading in fantasy points per target over expectation. Now, not only was this the easiest schedule last season, but it was the easiest of the past decade. Still, Thielen's 2016 also ranked ninth-best by any wide receiver of the past decade (min. 75 targets) in depth-adjusted yards per target. It's hard to penalize Thielen too much for his easy schedule, considering how well he performed over this high expectation. Now, here's where things get tricky. Most per-target efficiency statistics aren't terribly sticky or predictive year over year. Volume is typically what we're concerned with when building fantasy projections. So, what does this mean for Thielen? He's undoubtedly likely to regress in efficiency in 2017, but that doesn't mean volume won't improve. High efficiency numbers are positive indicators for future volume. Though perhaps the most important reason for optimism, in this regard, is the three-year, $17 million contract (with an additional $10 million in performance-related bonuses) Thielen signed during the offseason. Although, still, a startling 22.4 percent of his total receiving fantasy points came in just one game against Green Bay (who led the league in fantasy points allowed to wide receivers last season) and his schedule should get significantly tougher next season, the numbers suggest he's still an incredible bargain at current ADP (WR50).
Subscribe to PFF Edge to continue reading
Already have a subscription? Sign In