People ask me all the time how I come up with my different statistics and articles. It's easy: I ask a lot of questions and then I try to find out the answer. In the case of today's piece, I asked myself, "What matters most for fantasy running backs?" This question will ultimately lead to another question, "How do I test this?" The answer for this one was simple, but time-consuming. Build out a database of every running back week over the past four seasons. Look only at running backs to play on at least 25 percent of their team's snaps in any game, and test the correlation between a number of different volume or efficiency-based statistics to PPR fantasy points.
Here's what I found: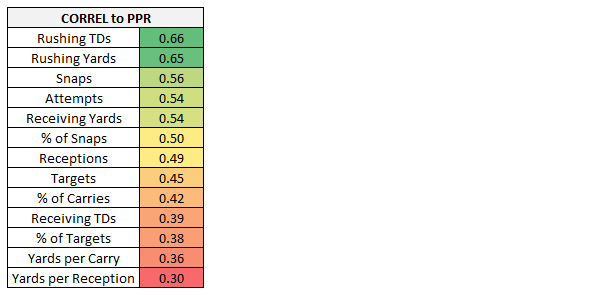 For fantasy running backs, touchdowns and rushing yards mattered more than any other statistic. This wasn't surprising, and not especially useful considering how unpredictable both statistics are. What was surprising was how highly "snaps" and "percentage of snaps" ranked. Running backs don't gain any added fantasy points for just being on the field, yet it ranked higher than other volume-based statistics like attempts and targets, and even receptions and receiving yards. It's especially notable considering the numbers were slightly skewed by the minimum-snap threshold. With the rate stats lower on the list, the short version of the second takeaway is that it's quantity of use, not necessarily quality, that drives fantasy success. The importance of carries and targets should be self-evident.
I did this same study (and same article) last year, and it completely changed how I approach the running back position in DFS and season-long leagues. I'm now primarily concerned with running backs projected to see a large amount of playing time and volume, rather than hyper-efficient running backs in great situations. I'm mostly neglecting running backs in committees like Devonta Freeman and Tevin Coleman and targeting running backs like Melvin Gordon who have limited depth behind them and are likely to see a larger percentage of the team's running back usage.
This realization, however, only led to more questions. Who are the running backs with the most ideal fantasy roles? How do we quantify this? Well, we can look at this a number of different ways. We can (and I did) look at running backs by their Actual Opportunity score – a metric that adds up the value of each carry by distance from end zone and down and distance and the value of each target by distance from end zone and depth of target.