Each week in this space, we'll be taking a look back at Sunday's games to find five of the most important stats for fantasy football owners going forward. With 14 of 15 games from NFL Week 5 in the books, here are the five stats you need to know:
1A. Zach Ertz leads all tight ends in targets (57), receptions (41), yards (437), and fantasy points (90.7). Among all receivers, Ertz ranks third in targets, third in receptions, ninth in receiving yards, and 15th in total fantasy points.
In a season where the tight end position has been decimated by injuries, you have a massive edge over the rest of your opponents if you happen to own one of the big three: Ertz, Rob Gronkowski, and Travis Kelce. And right now, Ertz stands head and shoulders over the rest of them, and, actually, over all but a handful of receivers.
1B. Ertz averages 16.7 fantasy points per game across his last 20 games. Over this span, only the following receivers rank higher: Antonio Brown, DeAndre Hopkins, Michael Thomas, Odell Beckham Jr., Davante Adams, Keenan Allen, and Adam Thielen.
Not only has Ertz been fantastic this season, but he's been tremendous over a fairly long sample, and one marred by a few events. He's played five of these games without his starting quarterback (Carson Wentz) and also left two additional games early due to injury. As far as I'm concerned, Ertz should be treated as a borderline-WR1 – rather than a high-end TE1 – until further notice.
2. To start the season, Adam Thielen has five consecutive games of 100 or more receiving yards. He is the first player to accomplish this feat through the first five weeks of the season. Across any consecutive five-game stretch, this has only been done 22 times. Jerry Rice and Randy Moss never did it.
Entering Monday night, Thielen leads all receivers in targets (65), receptions (47, by five), receiving yards (589, by 25), and fantasy points (123.9, by 18.8). He is on pace to break or tie all-time NFL records in targets and receptions, and rank second in receiving yards and (among wide receivers) fantasy points. Given Thielen's volume and productivity over the past two seasons, and especially this season, it's hard to argue against him as a top-five fantasy wide receiver moving forward.
I wouldn't count against him extending his 100-yard streak to six games next week either. He plays the Arizona Cardinals and they currently rank bottom-10 in yards allowed to opposing slot wide receivers (where Thielen runs 61% of his routes).
3. It appears Patrick Mahomes has finally fallen back down to earth. He threw 13 touchdowns and zero interceptions through the first three weeks of the season. Over his last two games he's thrown only one touchdown and two interceptions.
Mahomes threw 13 touchdown passes and scored 92.4 fantasy points through the first three weeks of the season. In both cases, that had never been done before in the history of the NFL. Since then he's disappointed, or at least so it would seem, ranking 14th at the position in total fantasy points (40.7). However, given the matchups, I wouldn't say that's been the case at all. Mahomes totaled 304 passing yards against the Denver Broncos in Week 4, or the most by any quarterback against Denver since 2014. He also totaled 22.9 fantasy points, or the second-most by any quarterback since 2016. In Week 5, he threw for 313 yards against the Jacksonville Jaguars, which was the most by any quarterback since the 2016 season. Relative to his opponents, Mahomes is still playing out of his mind.
I have my ticket punched for the Patrick Mahomes hype train and I'm not getting off any time soon. He'll be among the top-three quarterbacks in my rankings this week, Sunday night against the Patriots.
4A. Todd Gurley has scored at least 20 fantasy points in each of his last nine games, and averages a whopping 31.4 fantasy points per game over this stretch.
Gurley is awesome. Duh!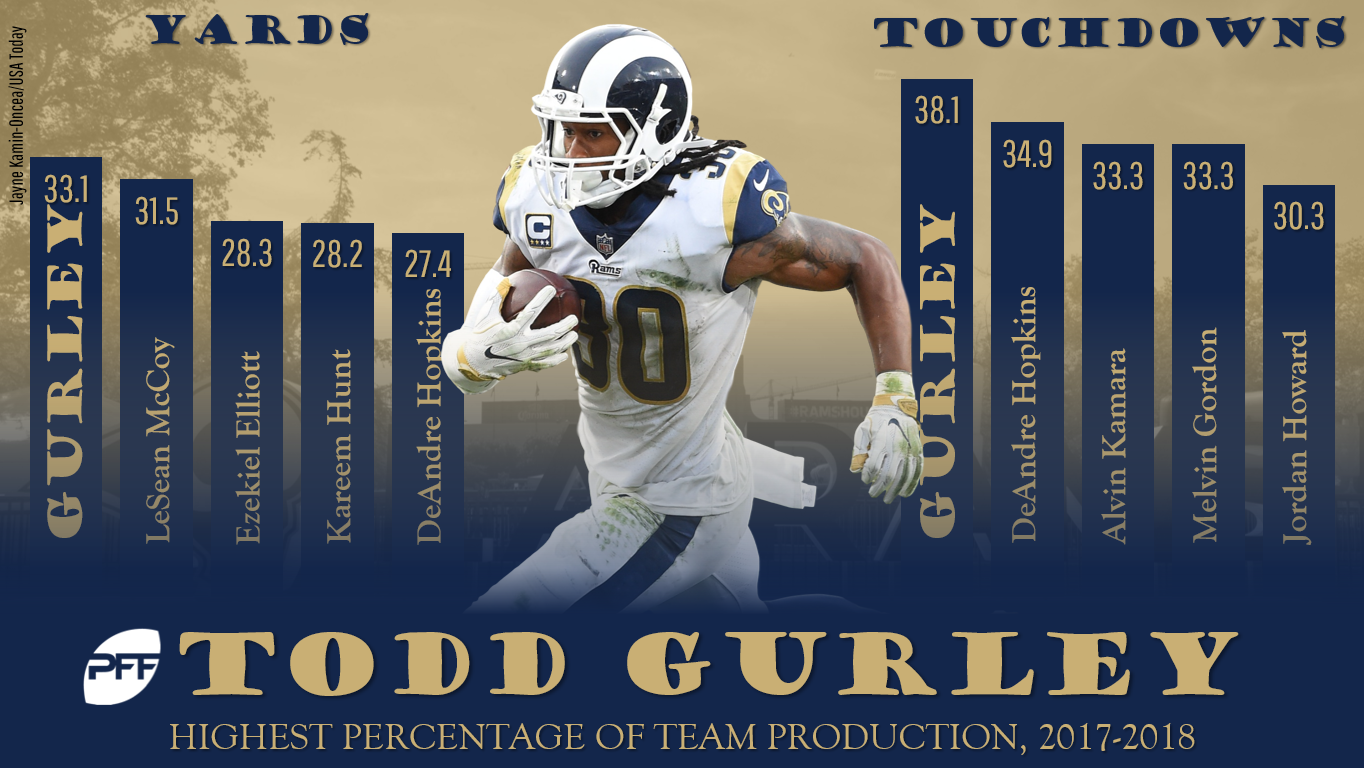 4B. Since Week 1 of 2017, Gurley leads all players in percentage of his team's total yards with 32.7 percent. The next-closest player is LeSean McCoy with 26.5 percent. More impressively, over this span, he's accounted for 43.8% of his team's total offensive touchdowns. The next-closest player is Melvin Gordon at only 33.3 percent.
It's hard to describe just how valuable Gurley is. He's the heart and soul of his team's offense, which just so happens to also be the best offense in football. Since Week 1 of last season, the Rams lead the NFL in points scored by 22. Over this span, Gurley leads all players in touchdowns by eight and in yards from scrimmage by 514.
In DFS, if the Rams are projected to put up big points, Gurley is always going to be your best bet.
5. In Week 4, Davante Adams saw 14 targets. Aaron Rodgers said "he should have had 20." On Sunday, he saw 12 targets and finished the day as fantasy's highest-scoring wide receiver. He now ranks fifth among all wide receivers in fantasy points. This is despite having what's probably the toughest cornerback schedule to start the year.
In Week 1, Adams ran 54% of his routes against Prince Amukamara, who entered Week 5 as our third-highest-graded cornerback (of 109 qualifying). In Week 2, he ran 88% of his routes against Xavier Rhodes, who ranked as our 27th-highest-graded cornerback in 2017. In Week 3, he ran 53% against Quinton Dunbar who came into the week as our seventh-highest-graded cornerback. In Week 4, he ran 77% of his routes against Tre'Davious White, our sixth-highest-graded cornerback last year. On Sunday, he ran 83% of his routes against Darius Slay, who came into the week ranking as our ninth-highest-graded cornerback.
Adams is a true fantasy WR1 and maybe even a potential buy-low candidate despite the high-end production in recent weeks. The volume he's been seeing, despite the tough matchups, is especially interesting given Rodgers' previous history against tough cornerbacks. Adams will have a much softer matchup this week against the 49ers. Richard Sherman is our 12th-highest-graded cornerback this season, but he hasn't shadowed once this year, and despite Sherman's high grade, San Francisco (as a team) ranks third-worst in PFF pass coverage grade.
Bonus Stat: On Friday, when asked about his connection with Ben Roethlisberger, Antonio Brown responded "It's like WiFi, you know? Sometimes the connection is poor, sometimes the connection is great." On Sunday, the box score made their connection appear strong – Brown hauled in six passes for 101 yards and two touchdowns. However, Roethlisberger also threw another interception (his fourth of six) when targeting Brown. The more in-depth metrics suggest someone in Pittsburgh might need to double-check the router.