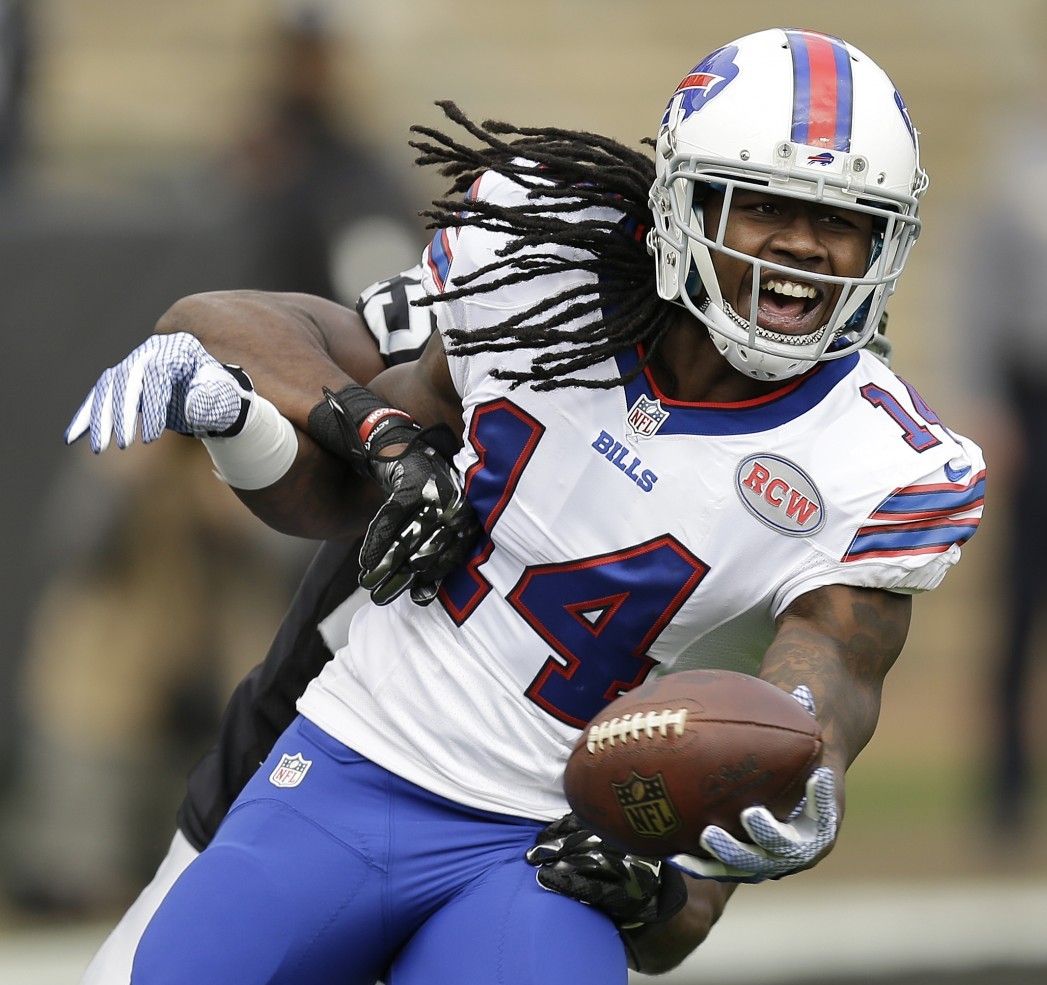 Buffalo Bills wide receiver Sammy Watkins (14) reacts after catching a 42-yard touchdown pass in front of Oakland Raiders cornerback D.J. Hayden during the first quarter of an NFL football game in Oakland, Calif., Sunday, Dec. 21, 2014. (AP Photo/Ben Margot)
When examining a wide receiver's fantasy value, one of the most overrated statistical categories is catch rate. But that's only because we often look at catch rates in a vacuum. For example, if Player A caught 75 percent of his targets, and Player B caught 50 percent of his targets, which player is a better fantasy option?
That's an impossible question to answer, because catch rates are only useful when looked at relative to other numbers. In fact, when catch rates are examined in relation to other categories, they become a highly telling statistical category.
One of the most important categories to examine when studying a wide receiver's catch rate is his average depth of target. For all passes thrown to wide receivers beyond the line of scrimmage from 2007-2015, the relationship between aDOT and completion rate has an r-squared of 0.975, meaning a quarterbacks' completion percentage (and thus a wide receiver's catch rate) can be almost entirely explained by how far the ball was thrown down the field.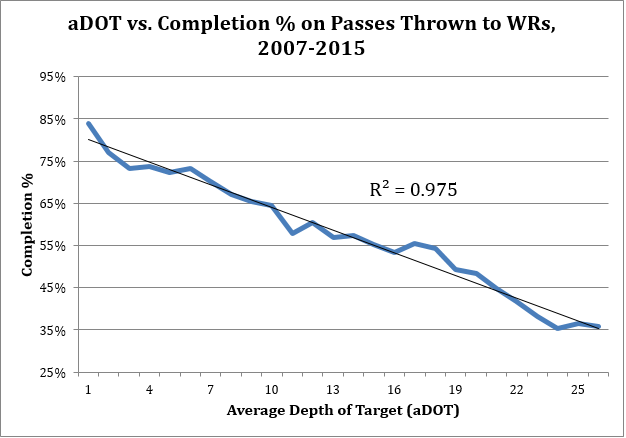 We examined 2015 data to determine which wide receivers had higher- or lower-than-expected catch rates, and also determined how many fantasy points they gained or lost compared to expected. We also adjusted all wide receivers' actual catch rates based on their quarterbacks to even the playing field (i.e. players with less-accurate quarterbacks weren't punished for lower catch rates).
The full list can be found below, and we've pulled out some of the more interesting names for further examination:
Sammy Watkins, Buffalo Bills
| | | | | | | |
| --- | --- | --- | --- | --- | --- | --- |
| Player | Tm | aDOT | Expected C% | QB-Adjusted C% | C% +/- | Points +/- |
| Sammy Watkins | BUF | 18.3 | 49.1% | 66.5% | 26.2% | 41.6 |
Watkins was the king of this study. Due to his high aDOT of 18.3, Watkins' expected catch rate last season was 49.1 percent. However, his QB-adjusted catch rate was 66.5 percent. This meant Watkins caught 26.2 percent more passes than expected (most among all wideouts), which led to 41.6 more fantasy points on the season as a whole (also most among all wideouts).
You must have PFF Edge to continue reading...