Saturday's Senior Bowl will mark my 10th consecutive trip to Mobile, and one of the major themes throughout the past decade has been a lack of elite play at the wide receiver position. In fact, despite being a position often highly-targeted in first rounds, just two Senior Bowl receivers since my first trip in 2009 — A.J. Jenkins in 2012 and Phillip Dorsett in 2015 — have been selected in Round 1 of the proceeding draft.
[Editor's Note: The 2018 NFL Draft Guide is coming. For PFF Edge & Elite subscribers, a comprehensive guide featuring player profiles of signature stats, grades and exclusive PFF content will be released on February 26.]
A major reason for this has been the propensity for top underclassmen at the position to declare early, in advance of their eligibility for the scouting community's biggest event of the year. This year is no exception, as 20 wide receivers declared their eligibility for the 2018 draft by last week's deadline, headlined by possible first round selection Calvin Ridley of Alabama.
This year's event could feature two of the top receivers taken off the board, however, as Colorado State's Michael Gallup and Oklahoma State's James Washington are set to arrive in Mobile, and are likely the two best senior receivers at the Senior Bowl in the last decade.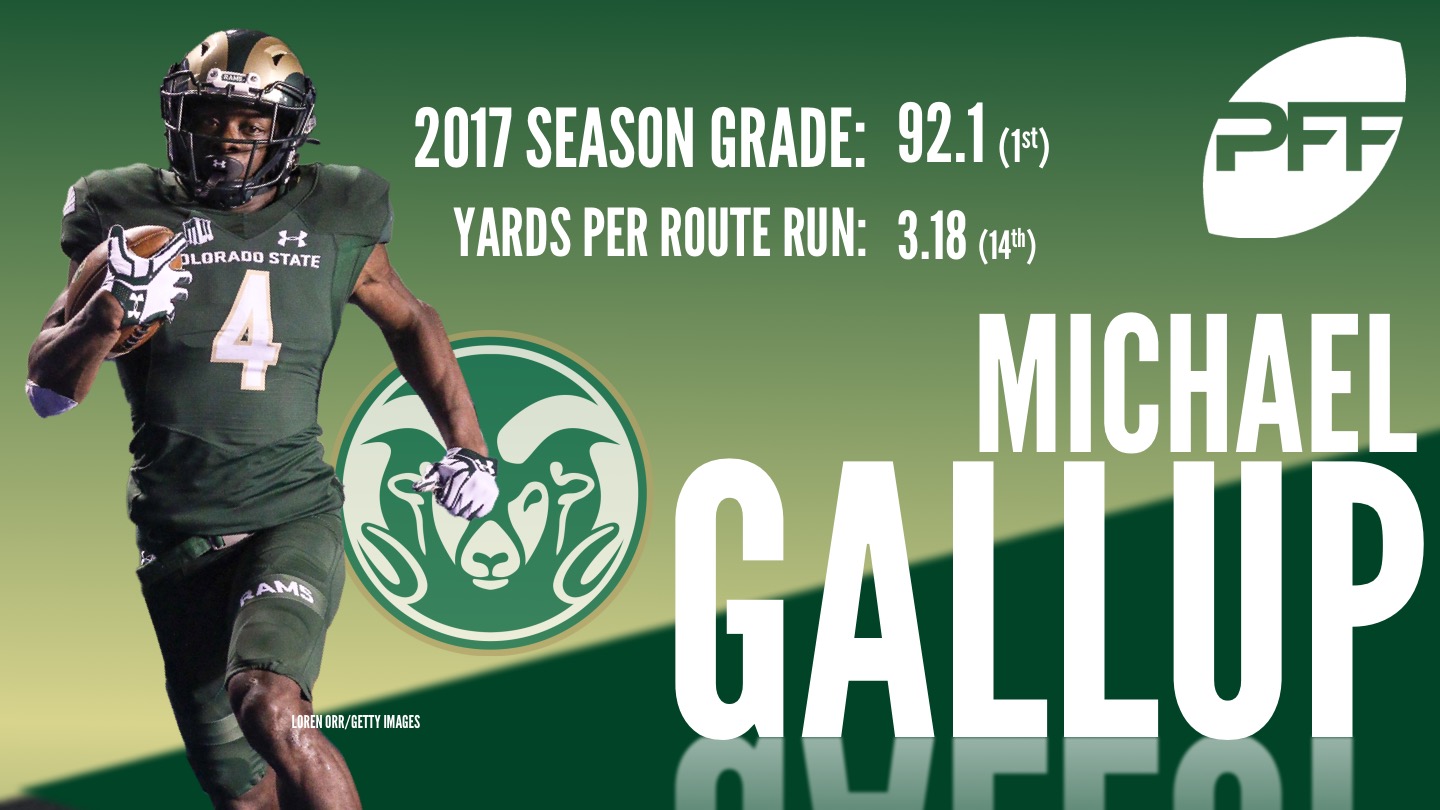 Gallup is a natural outside receiver, who split his time almost equally on the right and left boundaries with just 8.9 percent of his snaps coming from the slot in 2017. He was one of the most efficient producers at his position this year, as his 3.47 average yards per route run ranked third among draft prospects, and 14th across the nation's receivers.
He was the highest-graded receiver in the country this year (92.1), due in part to his ability to make would-be tacklers miss. He forced an impressive 20 missed tackles, which ranked ninth among all FBS receivers.

With 21 percent of his 163 targets coming on screen passes, he certainly had the volume needed to elude underneath defenders as often as he did, but the bulk of his production came on vertical-breaking routes. Corner, post and 'go' routes accounted for 40 percent of his targets at an average depth of target of 22.8 yards. Those routes accounted for 21 of his 100 receptions and 559 of his 1,413 yards, as well as 160 of his 323 yards earned after the catch not off of screen passes. The terror he reigned upon opponents downfield also came in the form of points for the offense, as six of his seven touchdowns on the season came on his vertical routes.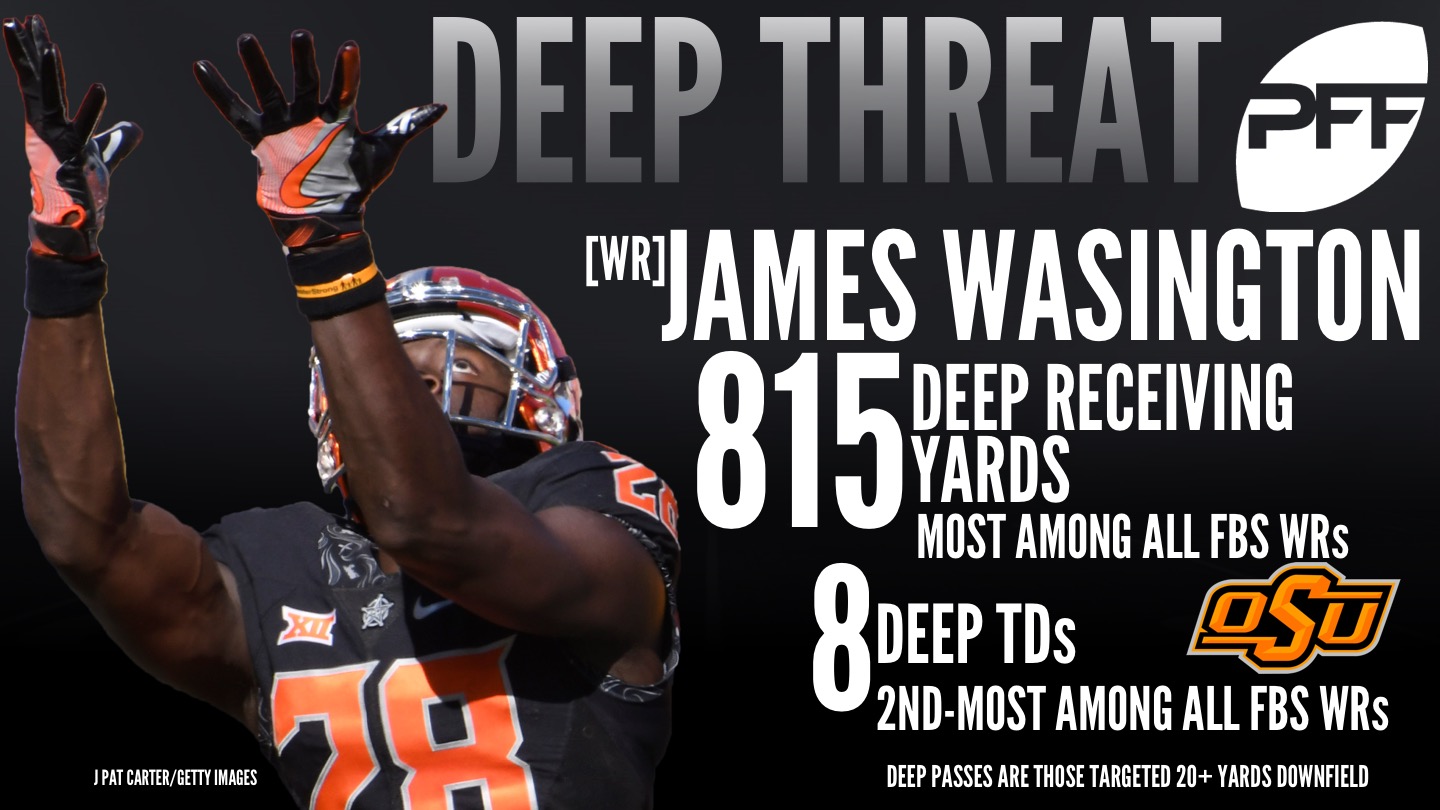 Speaking of downfield ability, no receiver in college football this past season was more effective vertically than Washington. He led the country in deep receptions (balls that travel 20-plus yards through the air from the line of scrimmage) with 17, and yards with 715. His game-breaking speed and tracking ability made him a constant deep threat and the focal point of Oklahoma State's outstanding offense.
He matched Gallup in yards per route run, and his 131.4 passer rating when targeted ranked second in the country among draft prospects with at least 100 targets. He also doubled-up Gallup with 14 scores, making it the third-consecutive season Washington hit pay dirt at least 10 times.
Not surprisingly, 39 percent of Washington's routes were downfield, as 'go' and post routes two of his three most-targeted routes. His yards per reception on these targets was absolutely absurd: 45.9 on posts, and 37.3 on 'go's, and 924 of his 1,544 receiving yards came when running either of these routes.
Two things teams will want to see from Washington in Mobile are his elusiveness on underneath routes (he broke just seven tackles after the catch in 2017) and his versatility, as 92 percent of his routes last season were run wide to the right side of the field. Overall though, his production as a senior was outstanding, as his 87.8 receiving grade ranked seventh among draft prospects at the wide receiver position.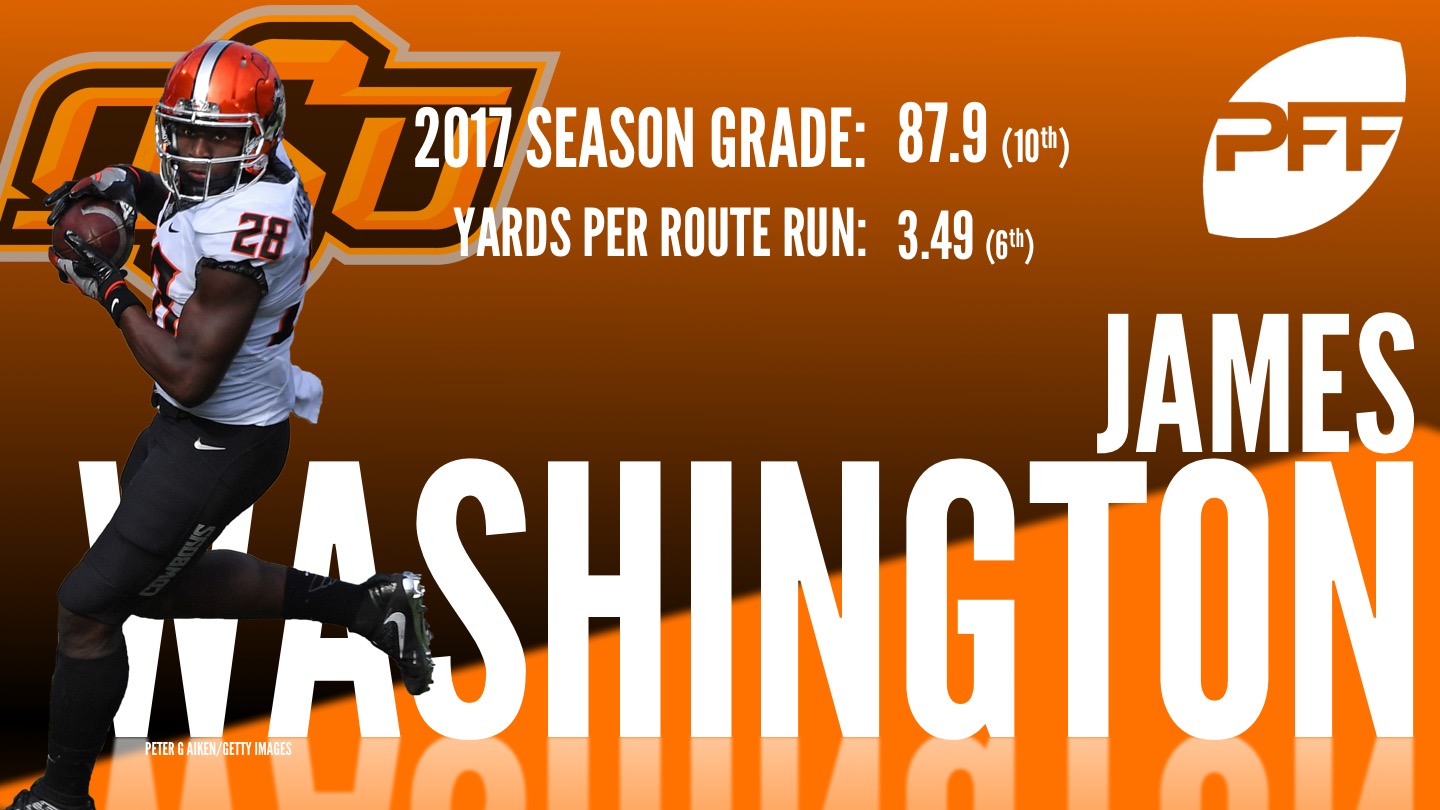 Washington and Gallup are certainly the headliners next week, but there is significant talent throughout this year's expected Senior Bowl class. Marcell Ateman of Oklahoma State, Allen Lazard of Iowa State, Tre'Quan Smith of Central Florida and Cedrick Wilson of Boise State have all accepted their Senior Bowl invites, and each posted elite overall grades in 2017 of over 85.0.
Much of the buzz heading into Mobile is on the quarterback class, and rightfully so, but it's the wide receiver group that will be truly elite next week.