Just how reliant have NFL teams become on the passing game nowadays? Look no further than how running backs are deployed, as 14 backs posted more than 50 catches this past season. In particular, this has become an avenue for rookie production, with Saints RB Alvin Kamara and Panthers RB Christian McCaffrey combining for 161 catches for 10 touchdowns while forcing 48 total missed tackles after the catch.
This year's draft class again looks to be rich in passing game talent, as a number of backs had strong performances in this phase of the game throughout there college careers. Here is a look at some of the more notable backs ready to contribute in the passing game immediately as rookies, both in terms of receiving and blocking.
[Editor's Note: The 2018 NFL Draft Guide is coming. For PFF Edge & Elite subscribers, a comprehensive guide featuring player profiles of signature stats, grades and exclusive PFF content will be released on February 26.]
Saquon Barkley, Penn State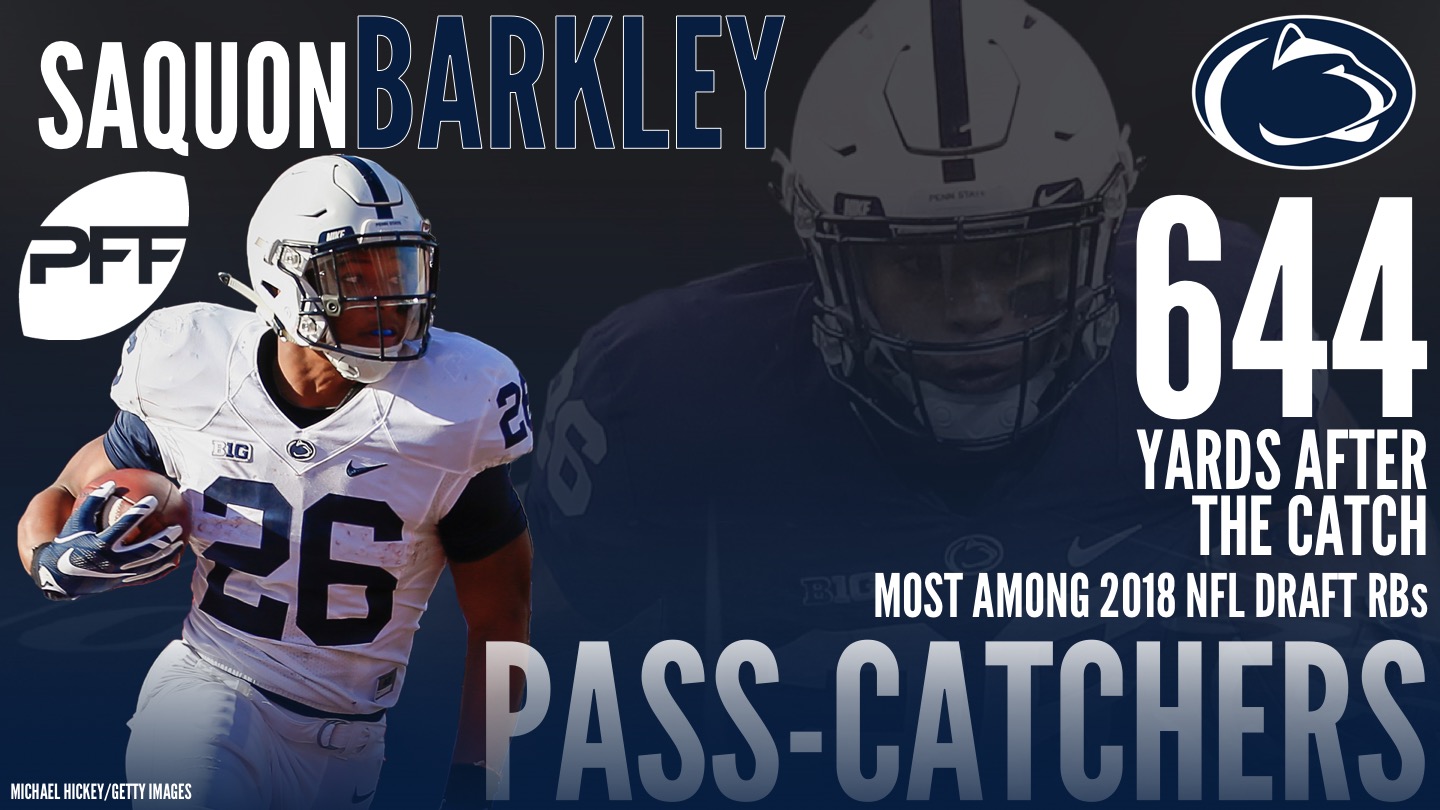 NFL personnel caught a glimpse of Barkley's versatility against Michigan this past season, when he aligned as a slot receiver for seven snaps, an outside receiver for three and a wildcat quarterback for five. On the season, he caught 47 passes and earned 586 yards after the catch, the most of any back in this draft class. He also forced 14 total missed tackles after receptions, which tied for second-best. His pass protection needs significant work, as he allowed eight total quarterback pressures in 2017 after yielding 10 in 2016, but his ability to run routes efficiently and create space from receiver alignments should put him on the field for all three downs.
Rashaad Penny, San Diego State
Penny was not used as a receiving weapon often at SDSU (20 catches on 27 targets in 2017), but he made the most of his opportunities by forcing five missed tackles after the catch and posting 30-plus yard gains on three separate occasions during the season. He also showed well during Senior Bowl practices, winning 67 percent of his 1-on-1 passing reps against linebackers, the second-best mark among running backs for the week. After some struggles early in the season, he surrendered just two total pressures in pass protection over the final six games and will need to continue to elevate this portion of his game for the next level.
Jordan Wilkins, Mississippi State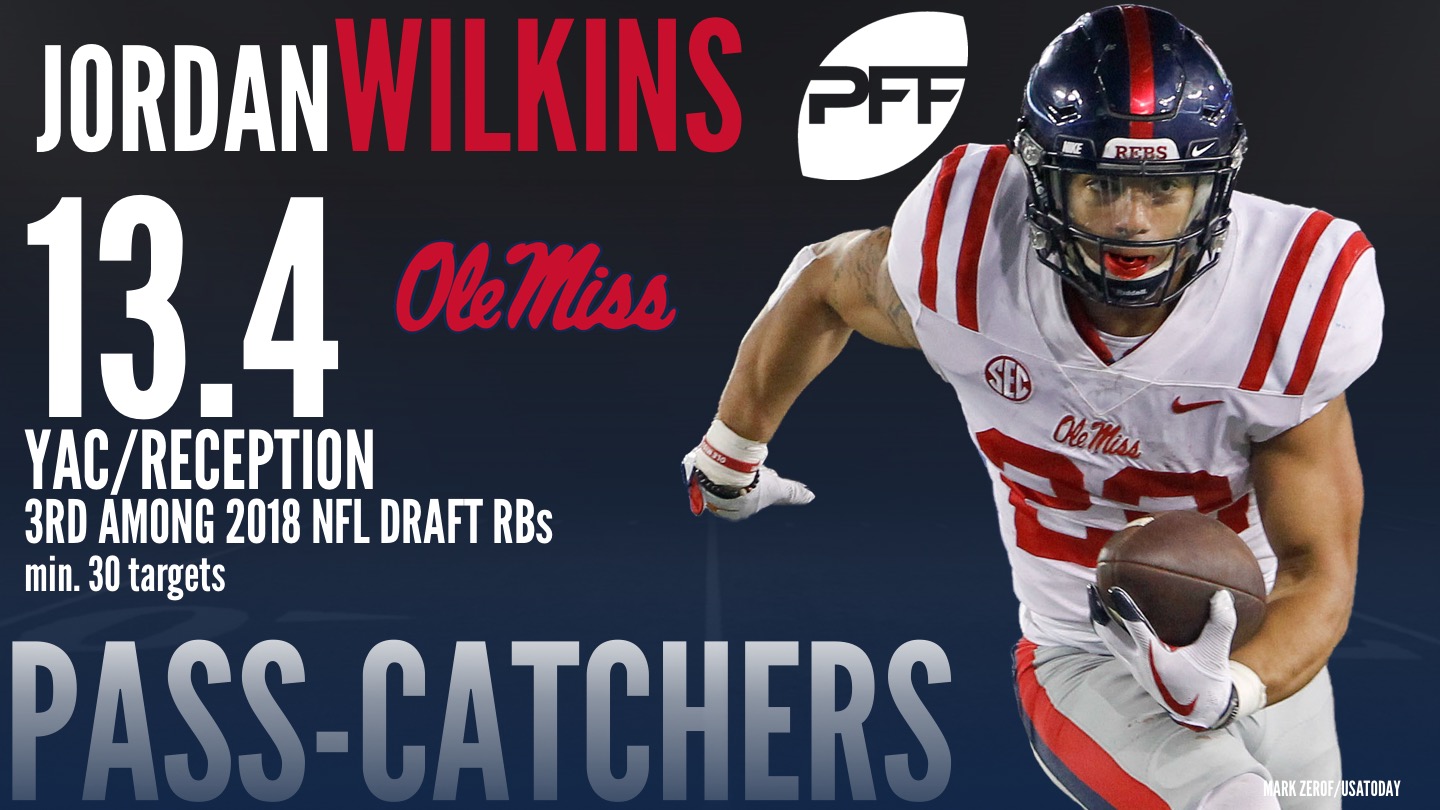 Wilkins isn't expected to blaze the 40-yard dash at the combine next week, but his ability on third down should have plenty of teams interested in his services. His elusiveness after the catch was outstanding in 2017 also, as he forced 11 missed tackles on just 27 receptions and earned an impressive 13.4 yards after the catch per reception. He was also excellent in pass protection, as his 85.2 pass-blocking grade was fourth-best among this year's draft class.
Kalen Ballage, Arizona State
Ballage is another back who did not have a strong senior season, especially in terms of his production in the passing game, but NFL teams will certainly be going back to his junior film for a better understanding of his full skill set. In 2016, he snagged 44 balls for 469 yards, earning a Power 5-leading 511 yards after the catch. His elusiveness was also outstanding, as he forced 18 missed tackles after the catch. He was top back at the Senior Bowl in terms of 1-on-1 play, as he won an impressive 80 percent of his reps and snatched 8-of-9 catchable balls thrown to him during drills. One minor concern about his game is his inconsistent hands, as he dropped 8-of-90 catchable balls thrown his way during his three years of play for Arizona State.
Phillip Lindsay, Colorado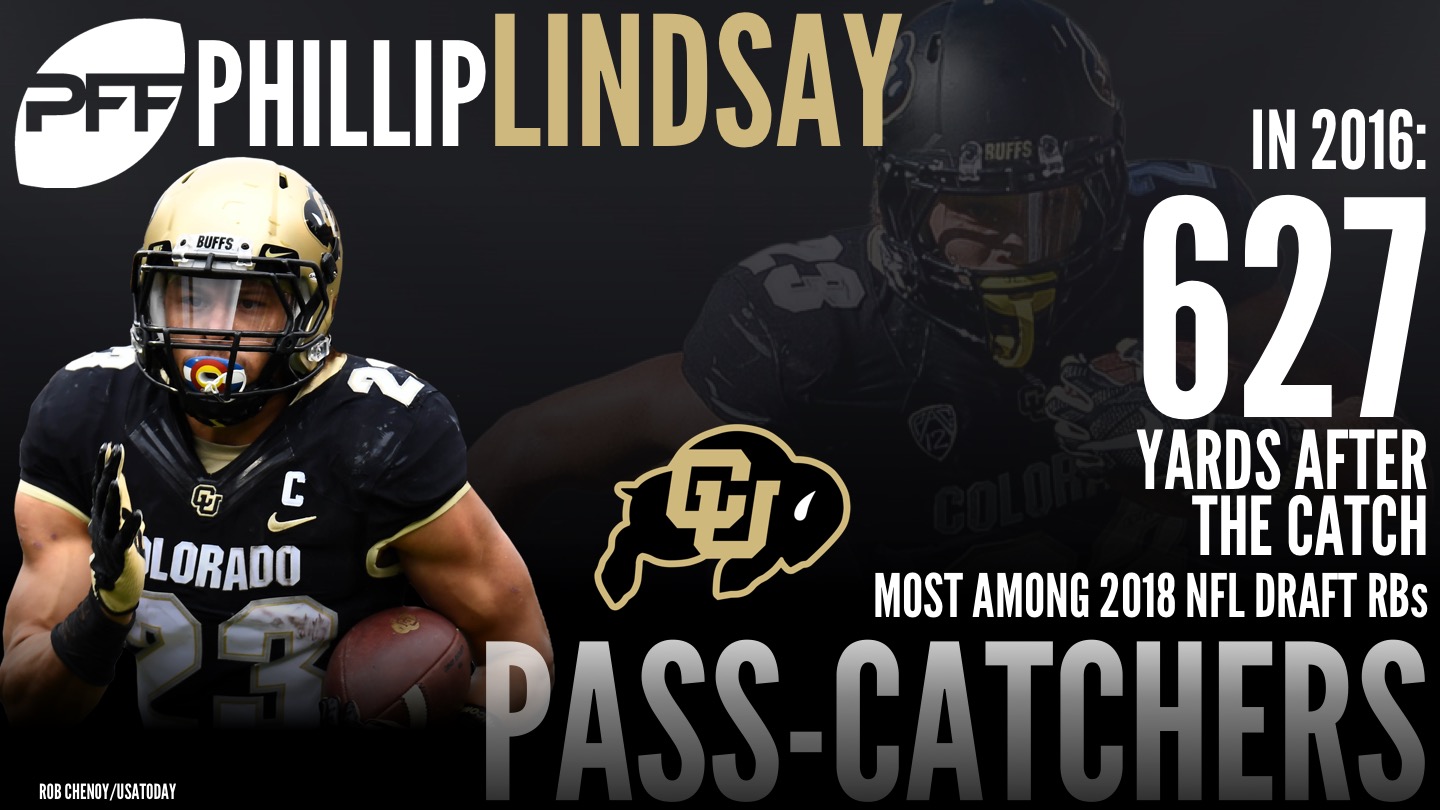 Lindsay is a combine snub, most likely because he measured in at just over 5-foot-7, 185-pounds in the spring, but he was pound-for-pound one of the toughest players in college football in 2017. On 117 career catches at Colorado, he forced 36 missed tackles and dropped just four targets. The most impressive aspect of his game, however, is his pass-blocking, as he surrendered just one sack on 483 career pass protection reps in Boulder, and his 91.2 pass-blocking grade last season topped all FBS running backs.